In this day and age, there's this misconception that very little manufacturing is done in the United States. After all, most of our computers, our electronics, our mobile phones and our textiles are either manufactured in China or in a different third world country.
In fact, when my wife and I first launched our online store, we went straight to China for our goods. But recent events have caused us to switch gears with our sourcing strategy and we are now looking to buy wholesale clothing in the United States.
For one thing, prices in China have gone up significantly over the years and continues to go up at a rapid pace. More and more of the Chinese workforce no longer want to work in the factories and those that remain are receiving significant raises.
Now don't get me wrong. We still get most of our products from China but there are some inherent disadvantages in doing so. For example…
The lead times for receiving product are on the order of months – For example, we typically have to order our goods 3-4 months in advance which makes inventory planning extremely important
The minimum order quantities are higher – The prices in China are super low but you have to commit to larger quantities in order to make it worth your while
Communication can be a problem – In order to communicate with our factories, we either have to stay up late or wake up super early. Designing new products in China can be somewhat problematic as well.
But when you source product in the United States, everything is a whole lot easier. Your vendor is just a phone call away. The timezones are manageable and in the worse case, it's really easy to hop on a plane and visit.
In addition, more and more of our customers have been looking to buy goods made in the good old USA so we've decided to make an effort to source product locally as opposed to overseas.
Get My Free Mini Course On How To Start A Successful Ecommerce Store
If you are interested in starting an ecommerce business, I put together a comprehensive package of resources that will help you launch your own online store from complete scratch. Be sure to grab it before you leave!
Enter The LA Fashion District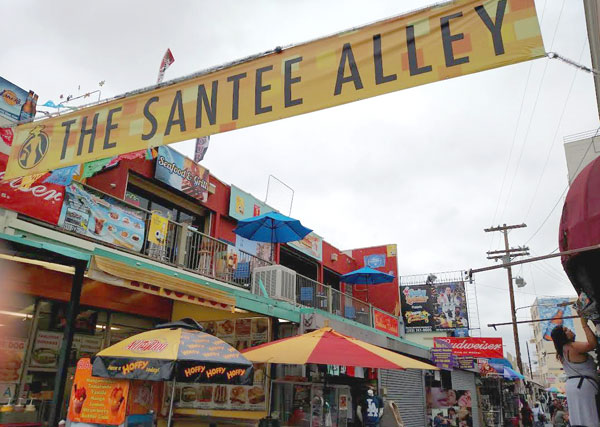 A while back, I had my buddy Emmanuel Eleyae on my podcast and he inspired me to take a trip to the LA Fashion/Garment District to look for suppliers.
For all of you who don't know who Emmanuel is, he's the founder of SatinLinedCaps.com and he produces all of his products locally. You can catch his podcast episode here.
Anyway, Emmanuel sources all of his fabrics and his labor from Los Angeles and his cost of goods are actually quite reasonable. Plus, it's refreshing to hear that you can easily find contract seamstresses and designers willing to work for a small shop.
So two weeks ago, my family and I took a trip down south to the LA Fashion District in search of new suppliers for our products. Here's how our trip went.
First Impressions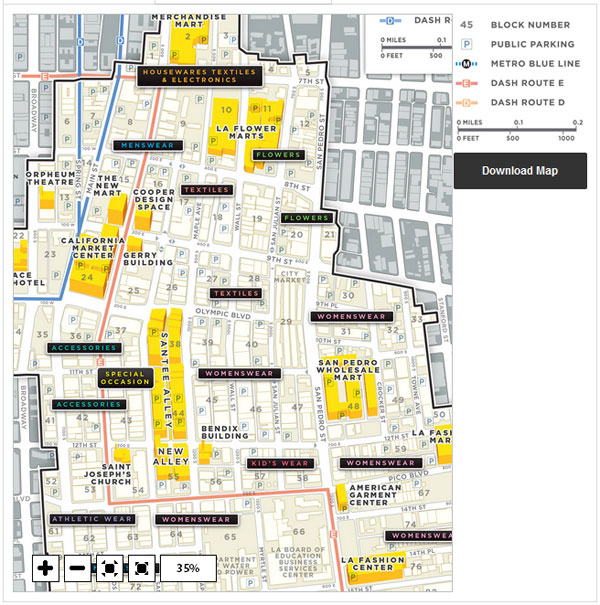 The LA Fashion District is located in downtown Los Angeles and is known for being a creative center for the fashion industry. It's a top destination for wholesale buyers, retail shoppers, clothing designers, fashion students and Hollywood stylists.
And what's nice is that everything is all densely packed and completely walkable (the whole area is about 10 blocks square). While my wife and I didn't cover the entire thing, we did manage to visit a decent portion of the fabrics and textiles section.
What's funny is that as soon as my wife and I arrived at Santee Alley, one of the main streets of the district, I immediately felt like I was in China (with the exception that very few Chinese people were in sight).
There were stables and stables of clothing shops and accessory stands all over the place. Merchandise was everywhere and it was quite overwhelming.
If you've ever been to the Ladies Market in Hong Kong, you'll know exactly what I'm talking about.
Finding Wholesale Clothing Vendors
Anyway so we get there and start aimlessly looking for shops that sell products similar to what we want to stock in our shop. And it's crazy how much variety that you can find over here. In fact, there was so much to see and visit that I decided to contact Emmanuel for some advice. After all, I figured that there must be some method to the madness…
Hey Emmanuel,

This place is pretty overwhelming:)

Where is a good place to start? We brought along samples of our products to be created.

Any advice would be awesome:)

Thanks,
Steve
And here's how Emmanuel replied…
Samples are a great idea, significantly speeds up the conversation.
I prefer to think about the LA Fashion District as a treasure hunt. There really isn't a "destination" you're going to or "starting point." More like steps in a discovery process to your destination.

I would try and find something as close to what you're looking for to start(this can even be done online before getting there), then when they tell you they don't have it ask "who does." After 4 or 5 you'll finally start to get closer. After 4 or 5 more you might find it. (Or you might get lucky and find it right away.)

The important part is to prepare mentally to be walking around all day and stopping into 10-15+ shops… And also, never forgetting to ask "who else might have this." Even other store visitors and not just the owners of the shops.

Respectfully,
Emmanuel
I guess I was wrong! There's no real method to the madness at all. If this was easy, then everyone would be doing it:)
Our Journey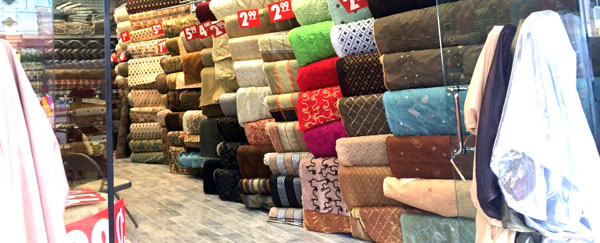 So we took Emmanuel's advice to heart, started walking door to door, and asked questions to vendors that sold items similar to what we wanted to sell. I remember ending up at this one gigantic fabric warehouse and learning a ton of info about the different types of fabrics and their uses.
What's funny here is that we never had to deal with any of this stuff importing from China. For our Chinese vendors we simply attended the Canton Fair, picked what we wanted from their samples and off we went.
Here in the garment district, you kind of have to know what you want and then you can start asking more intelligent questions. Thankfully, my wife brought actual samples of product from our shop to show everyone so that we had something physical to refer to. But our entire journey was 100% random!
To give you an idea of the randomness, we visited this one shop run by a nice Chinese lady that sold dresses and womens clothing. And the reason we stopped at her shop was because her business card indicated that she was a "manufacturer of clothing".
Anyway after chatting with her for 5 minutes, we discovered that she didn't have what we wanted and that she only manufactured her own designs. But when we showed her some of the sample aprons we brought, she offered to help us make them.
Next thing you know, we start chatting about prices and the manufacturing process and she refers us to some other people within the fashion district to talk to. In fact, our entire journey in the LA Fashion District was just one referral to the next.
In any case, if you ever decide to go, be prepared to do a lot of walking and being pointed in different directions.
The Upshot
The upshot of our aimless wandering was that we learned a lot about the manufacturing process and all of the pieces involved. And to summarize, we learned that…
The prices to have our goods made were roughly 2-3X what it costs to make the same item in China (just the labor)
You can have a prototype made on the spot if you have a design pattern and fabric in hand
There are many different steps and players involved in making a single piece of clothing
The LA Fashion District is a great place to find wholesale clothing vendors
Overall if you want to have something made in the LA Fashion District, it helps to have a prototype in hand to show to the vendors. That way, you can get an accurate quote for how much it costs to make.
And when it comes to fabrics, it can be terribly overwhelming unless you know what type of fabric you need. In fact, you should spend sometime doing the research before you go to the fashion district so you don't end up going crazy.
But to sum it up, the experience was exactly how Emmanuel described it. You simply have to do the legwork and be inquisitive to get what you want. After all, there are a lot of people out there hungry for your business and you simply have to reach out and ask.
For textiles at least, it's worth looking to source locally at first before making a larger commitment to overseas manufacturing.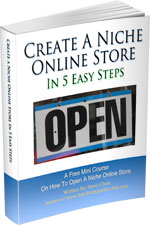 Ready To Get Serious About Starting An Online Business?
If you are really considering starting your own online business, then you have to check out my free mini course on How To Create A Niche Online Store In 5 Easy Steps.
In this 6 day mini course, I reveal the steps that my wife and I took to earn 100 thousand dollars in the span of just a year. Best of all, it's free and you'll receive weekly ecommerce tips and strategies!
Note: This post above may contain affiliate links, which means that I may receive a commission if you make a purchase when clicking a link. Please consult our privacy policy for more information.
Related Posts In How To Find Products To Sell
About Steve Chou

Steve Chou is a highly recognized influencer in the ecommerce space and has taught thousands of students how to effectively sell physical products online over at ProfitableOnlineStore.com. 

His blog, MyWifeQuitHerJob.com, has been featured in Forbes, Inc, The New York Times,  Entrepreneur and MSNBC.  

He's also a contributing author for BigCommerce, Klaviyo, ManyChat, Printful, Privy, CXL, Ecommerce Fuel, GlockApps, Privy, Social Media Examiner, Web Designer Depot, Sumo and other leading business publications.

In addition, he runs a popular ecommerce podcast, My Wife Quit Her Job, which is a top 25 marketing show on all of Apple Podcasts. 

To stay up to date with all of the latest ecommerce trends, Steve runs a 7 figure ecommerce store, BumblebeeLinens.com, with his wife and puts on an annual ecommerce conference called The Sellers Summit.  

Steve carries both a bachelors and a masters degree in electrical engineering from Stanford University. Despite majoring in electrical engineering, he spent a good portion of his graduate education studying entrepreneurship and the mechanics of running small businesses.