Have you ever wondered how Alibaba makes money and how they compare to Amazon? The post will provide an in depth comparison of Alibaba vs Amazon.
There's no question that Alibaba and Amazon dominate the worldwide ecommerce market. Amazon is the 800 pound ecommerce gorilla in the USA and across Europe.
Meanwhile, Alibaba has established itself as Amazon's strongest competitor and the world's largest B2B ecommerce marketplace.
Both companies have built a strong brand presence in their respective territories which is why the two are often compared to one another.
At a high level, Alibaba and Amazon appear to have many features in common, but in reality they are completely different in their philosophies and their way of doing business.
This post takes a deep dive into the features of Alibaba vs Amazon, including each platform's history, business model, and profitability.
Get My Free Mini Course On How To Start A Successful Ecommerce Store
If you are interested in starting an ecommerce business, I put together a comprehensive package of resources that will help you launch your own online store from complete scratch. Be sure to grab it before you leave!
The History Of Amazon And Alibaba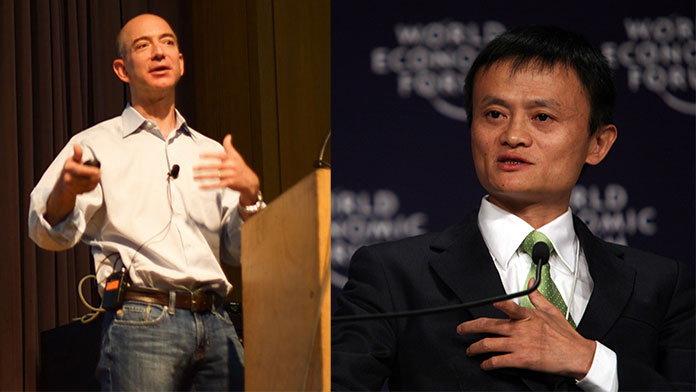 Amazon was founded in the mid-90s by Jeff Bezos after quitting his job as a VP at a Wall Street firm. Although Amazon started out as an online bookstore, it has since grown into the ecommerce behemoth it is today.
The online retailer has branched out into every category you can imagine, having acquired Twitch, Whole Foods, and over 40 other subsidiaries. Furthermore, Amazon is the largest online retailer in North America with a $1 trillion market value.
Around five years later, Jack Ma founded Alibaba, a China-based marketplace connecting Chinese factories and Western businesses.
Unlike Bezos, the Alibaba founder did not have a background in technology or business. In fact, Jack Ma was an English teacher who had failed at two previous business ventures.
Despite his early business flops, Jack Ma carried on and raised money from family and friends, ultimately launching Alibaba.com. His company became profitable after 3 years and is today known as the largest ecommerce company in the world with a market cap of over $800 billion.
The Philosophical Differences Between Alibaba Vs Amazon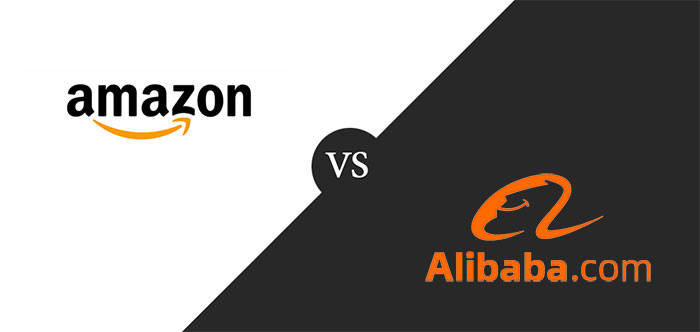 Amazon and Alibaba may be the two top players in the ecommerce space, but they have completely different philosophies.
Amazon focuses its business efforts on building the world's most customer focused company. If you've ever shopped or sold on Amazon before, you know that the customer is always right.
Refunds are freely given even if the customer is at fault. And they offer competitive pricing, delivery times and customer support to over 214.8 million monthly users.
Amazon truly dedicates itself to the customer, providing the best possible prices often at the expense of sellers and content partners.
In fact, Amazon has been known to create their own private label brands to undercut their own 3rd party sellers to gain market share.
Editor's Note: Read this post for more information on the dangers of selling on amazon
Meanwhile, Alibaba works on a different philosophy that focuses on helping small businesses grow.
Here's a quote from a recent earnings call where Alibaba Group CEO Daniel Zhang reiterated his company's top priorities:
"As the world's largest ecommerce platform, Alibaba's primary commercial focus in the US is to support American brands, retailers, small businesses and farmers to sell to consumers and trade partners in China, as well as the other key markets around the world."
In line with the company's goals, Alibaba's largest site Taobao charges neither its sellers nor its buyers to complete transactions. Instead, Taobao generates revenue from sellers who pay to rank higher on the site's internal search engine.
Overall, Alibaba is almost the complete opposite of Amazon. They are much more seller focused whereas Amazon is all about the customer.
Similarities Between Alibaba And Amazon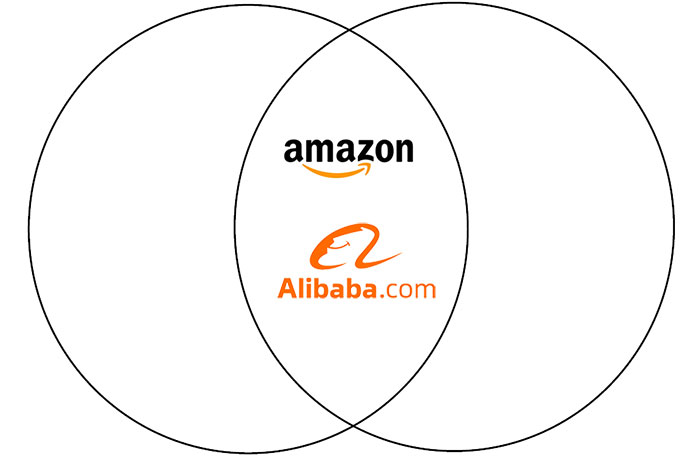 Despite their differences in philosophy, both Alibaba and Amazon do have a few things in common.
For example, both companies enjoy the luxury of having very few competitors and they dominate their respective home countries.
As of 2019…
Alibaba's Tmall, Pinduoduo, and JD.com accounted for 80% of the total online retail sales in China.
Amazon hit over a 50% market share in the US ecommerce market, outperforming eBay (6.6%), Apple (3.9%), and Walmart (3.7%) combined.
In addition to dominating ecommerce, both Alibaba and Amazon also have their own proprietary payment systems:
Alibaba has Alipay, a mobile and online payment system with over 700 million yearly active users.
Amazon has Amazon Pay, a payment service that allows people to use their Amazon accounts to buy items on non-Amazon sites.
But outside of these 2 similarities, Alibaba and Amazon have entirely different business models.
Alibaba Vs Amazon – Business Model Differences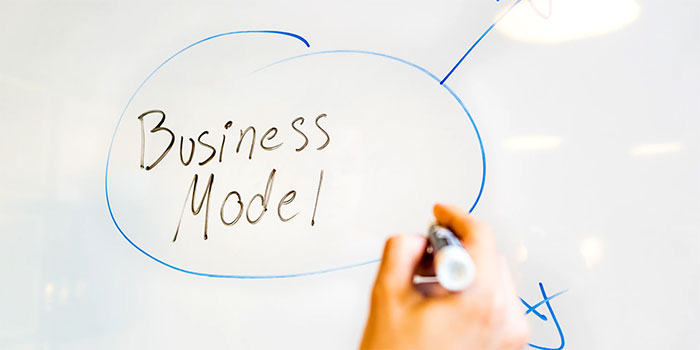 On the surface, it's not obvious how Alibaba makes money.
Most people think of Alibaba as just a directory of Chinese suppliers without a direct to consumer ecommerce presence. But Alibaba has several subsidiaries that bring in the the bulk of their revenue.
First off, the main difference between Alibaba vs Amazon is that Alibaba merely functions as a middleman for businesses and Chinese suppliers. What's more, Alibaba does NOT own the inventory.
Conversely, Amazon has its own inventory and supply chain, and the company directly sells its own products to customers. This means that Amazon often competes with the same merchants who try to sell products on the Amazon website.
Here's a deeper dive into the business models of each ecommerce company.
Alibaba's Business Model

The Alibaba Group operates through a combination of many different businesses: Alibaba, Aliexpress, Taobao, and Taobao Mall(TMall).
While most people know Alibaba as a B2B platform, the company's core business is similar to eBay or Amazon. In fact, Alibaba generates most of its income from domestic ecommerce, amounting to 65 percent of the company's total revenue.
Alibaba enables B2C and C2C transactions through its range of websites:
Taobao.com is Alibaba's largest website, which provides a fee-free marketplace to sellers and buyers. The platform enables business-to-consumer or consumer-to-consumer transactions. As a result, small businesses and individuals can open online stores through the site.
Aliexpress is very similar to Taobao except that it serves the international market. Whereas Taobao is completely in Chinese and caters to Chinese consumers, anyone in the world can order from AliExpress. There are 16 versions of the AliExpress website that address most languages and countries.
Taobao Mall(TMall) is an ecommerce platform dedicated to larger brands, such as Nike, Apple, and Gap. The website is more similar to Amazon, where big businesses and brands can directly sell to customers.
Alibaba.com is a directory and marketplace for Asian suppliers. They generate revenue through commissions on transactions as well as charging sellers to host a storefront on their website. Learn how to buy from Alibaba here
Alibaba primarily generates its revenue from sellers, deposits, annual user fees, and sales commissions from retailers.
Aside from ecommerce, Alibaba also makes a cut of every sale through Alipay, a third-party online payment platform with over 1.2 billion users worldwide.
To give you an idea of Alibaba's magnitude, Alibaba generated almost 80% of all online retail sales in China in 2019!
In fact, Alibaba significantly outperforms Amazon in terms of ecommerce market share in their home country. Comparatively, Amazon has only a 50%+ market share of US ecommerce sales.
Amazon's Business Model

Compared to Alibaba, Amazon's business model has many more moving parts, including direct sales, partner retailers, subscriptions, web services and more.
First off, Amazon's online storefront sells goods directly to the consumer and they hold much of their own inventory. While Amazon sells some of their own private label brands, over 50% of Amazon's marketplace revenue comes from 3rd party sellers.
The main difference between Alibaba vs Amazon is that Amazon stores and fulfills their own products and they have a large network of warehouses where they keep the inventory.
Shoppers are drawn to the Amazon website because they offer extremely fast shipping times and the lowest prices online.
As mentioned earlier, Amazon makes most of their ecommerce revenue by acting as a selling platform for other retailers. However, 3rd party Amazon sellers don't have to pay a fee to list items on the website.
Instead, Amazon takes a commission for every completed sale. Sellers also have to pay to advertise their products on the Amazon website.
In addition to product sales, Amazon also generates revenue through Amazon Prime. For an annual fee, customers get free two-day or same-day shipping on selected items, as well as access to Amazon's movie and music streaming services.
Amazon Prime has achieved consistent growth in the United States, with an estimated 112 million subscribers as of December 2019.
Aside from ecommerce, Amazon also offers a comprehensive suite of web services which power a significant percentage of the web today.
Alibaba Vs Amazon – How They Make Money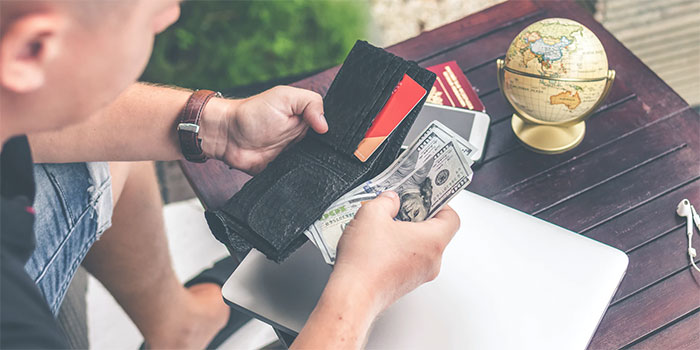 The main difference between Amazon vs Alibaba lies in the way they charge their customers.
For context, Amazon makes money by charging fees to both their buyers and their sellers. 3rd party sellers on Amazon have to pay a percentage of revenue for completed sales as well as Amazon advertising fees and other miscellaneous costs.
Meanwhile, buyers are compelled to sign up for Amazon Prime which gives them access to 2 day or same day shipping along with a suite of other perks.
Alibaba, on the other hand, does not charge nearly as many fees as Amazon. For example, it's 100% free to sell on the Taobao marketplace and there are no service or final value fees for either the seller or buyer.
However, you do have to pay to rank higher on Taobao's internal search engine to gain visibility for your products.
In contrast, merchants on Amazon have to pay BOTH a percentage of their revenues in addition to Amazon advertising fees to be successful on the platform.
Alibaba Vs Amazon – Which Company Moves More Merchandise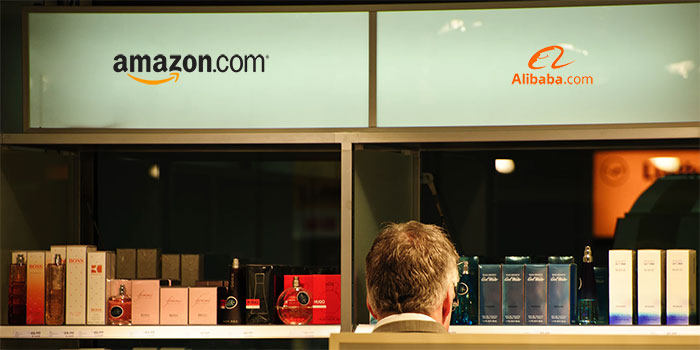 To provide an apples to apples comparison of Alibaba vs Amazon in terms of pure ecommerce volume, both platforms will be compared based on GMV.
GMW or gross merchandise volume refers to the value of sales or placed orders and NOT the company's actual revenues or profits.
For example, a $100 purchase for a coffee maker on the Alibaba site will account for $100 worth of Alibaba's GMV. But only a tiny fraction of that amount, say $2, will go into the company's actual earnings.
To calculate which company moves more product, GMV provides more insight into a company's performance. Here are the numbers.
Alibaba's GMV amounted to $1 trillion for fiscal year 2020.
Amazon marketplace generated a total GMV of $335 billion in 2019, as estimated by Marketplace Pulse based on Amazon's disclosed figures.
From the data above, Amazon's figures are significantly smaller than Alibaba's numbers and it's not even close. Alibaba easily moves more product than Amazon which just goes to show how large the Chinese market truly is!
Alibaba Vs Amazon – Which Company Generates More Revenue?
In the second quarter of 2020, Alibaba earned a total revenue of $22.22 billion. Meanwhile, Amazon's revenue amounted to $88.91 billion in the same period.
Despite the disparity in revenue, Alibaba may well catch up with Amazon in the next few years based on analyst projections. In fact, Alibaba has achieved consistently high growth rates every year.
In 2019, Alibaba annual revenue increased by 40.74% from 2018, amounting to $56.152 billion.
In 2018, Alibaba revenue increased by 73.51% from 2017, amounting to $39.898 billion.
By comparison, here are Amazon's annual revenue growth rates.
In 2019, Amazon annual revenue increased by 20.45% from 2018, amounting to $280.522 billion.
In 2018, Amazon annual revenue increased by 30.93% from 2017, amounting to $232.887 billion.
As you tell from above, Amazon's growth is significantly lower than Alibaba's and in the long run, Alibaba will eventually catch up to Amazon on its current trajectory.
Alibaba Vs Amazon – Which Company Has More Potential For Expansion?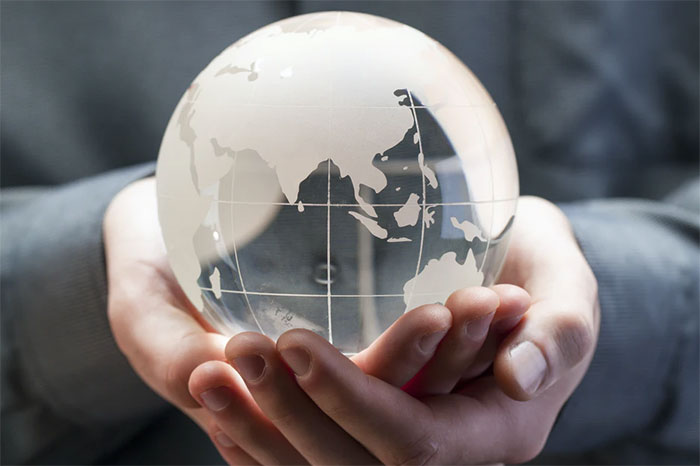 Alibaba generates most of its income from ecommerce sales within China. Conversely, Amazon generates a significantly higher percentage of its revenue (compared to Alibaba) from outside the United States.
Here is the geographical revenue distribution for Alibaba vs Amazon:
Alibaba Group's international ecommerce sales accounted for only 5% of the company's revenue.
Alibaba earned 66% of revenue from ecommerce retail sales within China.
Amazon generated around 27% of sales from international revenue channels.
The data above tells us that Amazon has a much better track record in terms of international sales. But if you look at the numbers from a different perspective, the sky's the limit for Alibaba in terms of international expansion.
Alibaba recently introduced new platform features that benefit US based sellers and is investing heavily into international expansion.
Whereas many large brands are foregoing the Amazon marketplace due to counterfeit concerns, Alibaba's TMall has grown by more than 40% year-over-year.
Alibaba Vs Amazon – Which Company Is More Profitable?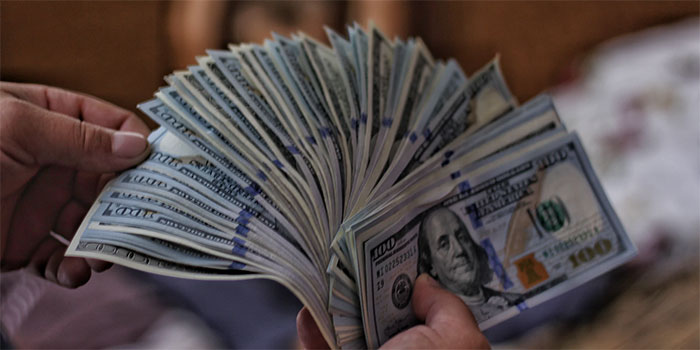 Alibaba moves more product whereas Amazon earns more from each sale.
However, when it comes down to which company actually makes more money, Alibaba is the definite winner.
According to Forbes, Alibaba generated a net profit of $13.1 billion in 2019. By comparison, Amazon's net profit in the same year was $11.6 billion.
Furthermore, Alibaba made a profit margin of 23.3%, a significantly higher figure than the 4.1% profit margin of Amazon.
Why Is There Such A Large Profit Disparity?
The massive difference in Alibaba's and Amazon's margins can be summed up in one word, infrastructure.
In order to dominate the ecommerce market, Amazon stocks its own products and spends an enormous amount on warehousing and shipping infrastructure.
Not only does Amazon have to deal with the complex logistics of building and running a network of warehouses but they are also trying to simultaneously build a shipping company to compete with FedEx and UPS.
Meanwhile, running Alibaba requires much less overhead. Remember, Alibaba merely facilitates ecommerce transactions rather than sell its own merchandise.
And while Alibaba is technically the largest ecommerce company in the world, they function more like a software company than an ecommerce retailer.
Amazon's business model requires a significant amount of capital to grow but their investments are creating such a high barrier to entry that it will be almost impossible to compete with them in the long run.
On the other hand, Alibaba's hands off approach has enabled the company to achieve fast and consistent growth. Alibaba's low overhead business model allows them to achieve significantly higher margins and more scalable growth.
Overall, it remains to be seen which company's business model will prevail in the long run.
Wrapping It Up
Alibaba is the undisputed leader in the Chinese ecommerce market. In addition, Alibaba's "no touch" business model gives the company an advantage in expanding to new markets.
But Alibaba has yet to establish a foothold in Western countries. Personally, I don't see Alibaba grabbing a significant marketshare in the US due to the negative sentiment towards Chinese based companies but they 100% own the China market which is large in itself.
Meanwhile, Amazon has secured its position as the U.S. ecommerce leader and has a better track record with international expansion.
The biggest problem with Amazon is that they have a major counterfeit and piracy problem and their "customer is always right" philosophy has led to mass fraud in their marketplace.
Overall, Alibaba and Amazon have completely different priorities in how they treat sellers and buyers and it will be interesting to see how it all plays out.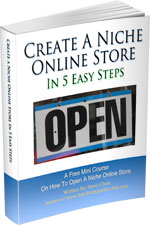 Ready To Get Serious About Starting An Online Business?
If you are really considering starting your own online business, then you have to check out my free mini course on How To Create A Niche Online Store In 5 Easy Steps.
In this 6 day mini course, I reveal the steps that my wife and I took to earn 100 thousand dollars in the span of just a year. Best of all, it's free and you'll receive weekly ecommerce tips and strategies!
Note: This post above may contain affiliate links, which means that I may receive a commission if you make a purchase when clicking a link. Please consult our privacy policy for more information.
Related Posts In Ecommerce Marketplaces
About Steve Chou

Steve Chou is a highly recognized influencer in the ecommerce space and has taught thousands of students how to effectively sell physical products online over at ProfitableOnlineStore.com. 

His blog, MyWifeQuitHerJob.com, has been featured in Forbes, Inc, The New York Times,  Entrepreneur and MSNBC.  

He's also a contributing author for BigCommerce, Klaviyo, ManyChat, Printful, Privy, CXL, Ecommerce Fuel, GlockApps, Privy, Social Media Examiner, Web Designer Depot, Sumo and other leading business publications.

In addition, he runs a popular ecommerce podcast, My Wife Quit Her Job, which is a top 25 marketing show on all of Apple Podcasts. 

To stay up to date with all of the latest ecommerce trends, Steve runs a 7 figure ecommerce store, BumblebeeLinens.com, with his wife and puts on an annual ecommerce conference called The Sellers Summit.  

Steve carries both a bachelors and a masters degree in electrical engineering from Stanford University. Despite majoring in electrical engineering, he spent a good portion of his graduate education studying entrepreneurship and the mechanics of running small businesses.