Selling on the Walmart Marketplace is a great way to expand your online presence and increase your sales.
Although the Walmart Marketplace launched in 2009, their seller, customer, and sales numbers increased significantly in the past 3 years.
If you've been considering selling on the Walmart Marketplace, you should be aware that they don't accept all seller requests. Selling on Walmart requires a strict application process, and they only allow certain sellers on their platform.
In this guide, I'll show you how to successfully apply and how to sell on the Walmart Marketplace and list your products. I'll also explain the costs of selling on Walmart, and how Walmart SEO works.
Get My Free Mini Course On How To Start A Successful Ecommerce Store
If you are interested in starting an ecommerce business, I put together a comprehensive package of resources that will help you launch your own online store from complete scratch. Be sure to grab it before you leave!
What Is Walmart Marketplace?
The Walmart Marketplace is an online platform that allows third-party sellers and small business owners to list and sell their products alongside Walmart's own inventory.
The Walmart Marketplace works almost exactly the same way as Amazon or Ebay. You can list your own products and create your own storefront on the Walmart Marketplace.
When a sale is made, you can either ship your order yourself or take advantage of Walmart's fulfillment services where Walmart will store and ship your products from their warehouse similar to Amazon FBA.
To become a seller on the Walmart Marketplace, you must first apply and be accepted. Once you are approved, you can list your products, set your own prices, and manage your own inventory. Walmart handes all the payment processing, customer service, and shipping.
Why Sell On Walmart?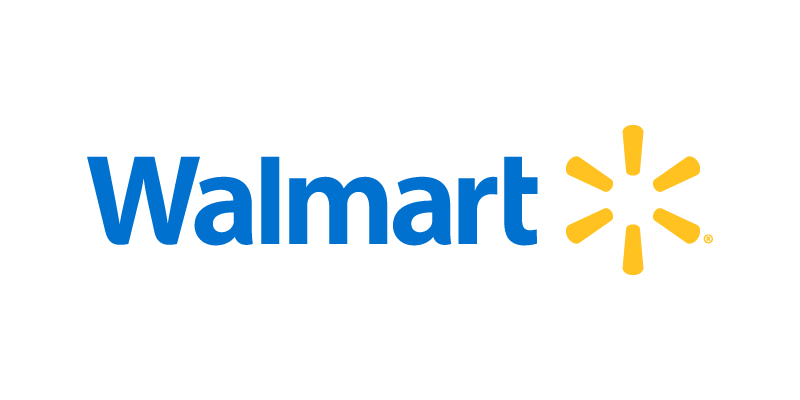 With over 500 million monthly active users, Walmart Marketplace is one of the largest marketplaces in the world for online sellers.
Here's why you should consider selling on Walmart:
Large built-in customer base: With over 500 million monthly users, Walmart has a huge customer base that you can tap into by listing your products.
High visibility: Because Walmart is a household name, you can increase the visibility and reach of your products.
Access to Walmart's fulfillment services: Walmart offers a fulfillment service similar to Amazon FBA, so you don't have to handle inventory.
Easy inventory management: You can use Walmart's tools to manage your inventory, fulfill orders, and track your sales.
Increase brand awareness: Shoppers know and trust Walmart. As a result, listing your products on Walmart will increase your brand awareness and credibility.
Unlike other marketplaces like Etsy or Ebay, Walmart doesn't charge listing fees, making it a cost-effective option for selling.
Even if you're already selling on Amazon, expanding to channels like Walmart helps to diversify your risk and reduces your dependence on a single platform. If Amazon shuts down your account or listings overnight, you won't lose all your revenue.
Although Walmart has only a 6.5% market share compared to Amazon's 39.8%, Walmart is still the second largest ecommerce marketplace in the US.
And Walmart is growing by 100% year-over-year, with a 79% ecommerce sales jump in the third quarter of 2022 alone.
In addition, Walmart has only 150,000 sellers compared to Amazon's 6.3 million sellers, which makes it far less competitive as a seller. Walmart has an 800:1 ratio of customers to sellers, compared to 124:1 on Amazon.
What Type Of Sellers Should Sell On Walmart?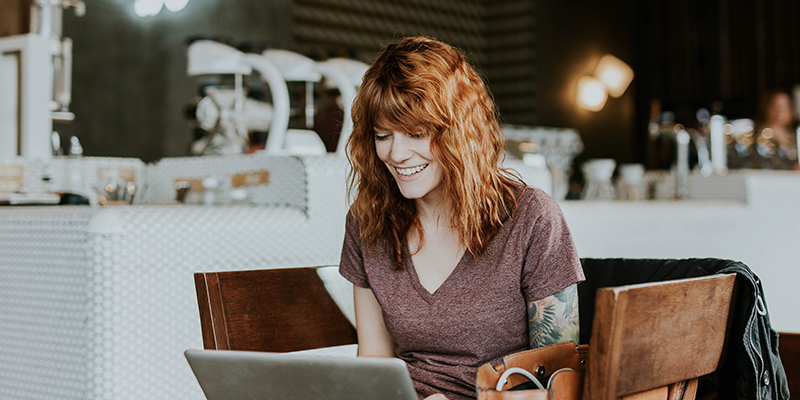 You need at least 12 months of sales to be approved for a seller account on the Walmart Marketplace.  As a result, Walmart is best suited for established brands with a solid sales history.
In addition to strong revenue, you also need to have a minimum of ten SKUs. Although it's not an official requirement, having more SKUs allows you to test different pricing strategies to understand which products perform better on the Walmart Marketplace.
Walmart used to only allow US-based sellers on their marketplace before 2021. But today, sellers from Canada, China, India, Japan, Mexico, and the UK are allowed to apply.
Overall, Walmart is an excellent marketplace for established brands looking to expand their sales channels, reach a new audience, and grow their business.
Which Products Sell Well On Walmart?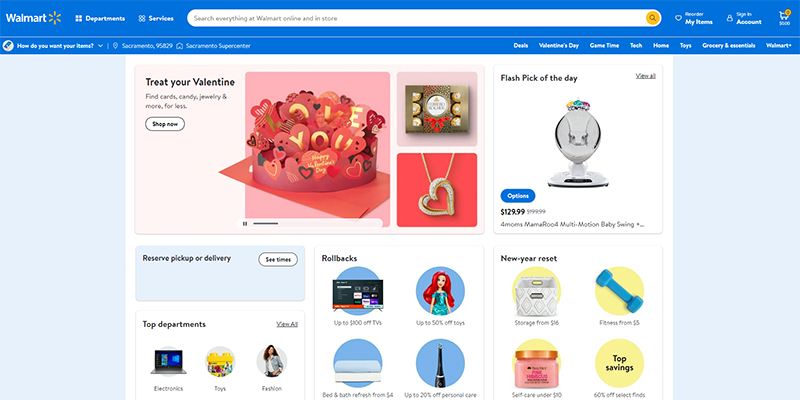 Generic products that appeal to a wide audience in categories such as fitness, home, and pets sell extremely well on the Walmart Marketplace compared to niche products.
Price is a leading consideration for Walmart shoppers, who prefer more affordable products. As a result, premium, niche, and higher-priced products don't sell well on Walmart.com.
Walmart also restricts personalized products featuring artwork, images, or text, although they occasionally allow custom items on a case-by-case basis.
To find profitable products to sell, you can use product research tools like Helium10 and Jungle Scout. These tools provide data points such as average price, ratings, reviews, listing quality scores, and Walmart sales.
What Can You Not Sell On Walmart?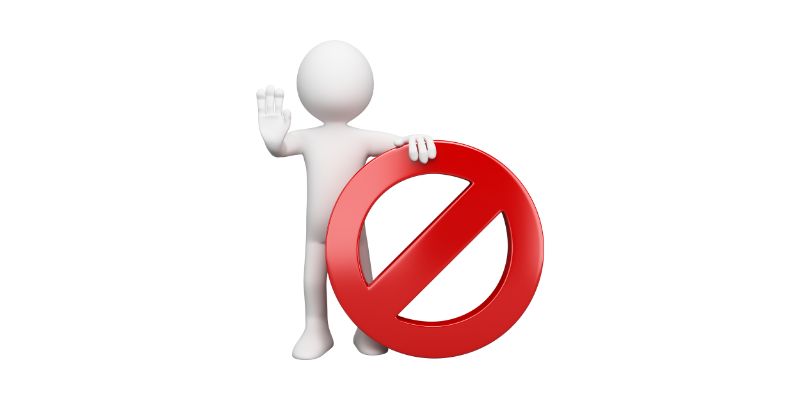 Here's a list of what you cannot sell on Walmart:
Alcohol
Animals
Unauthorized Art
Artifacts and Antiquities
Cars
Autographs and Collectibles
Baby products
Used/Expired Cosmetics
COVID products
Currency, Gold, and Precious metals
Dietary supplements
Digital goods
Drugs and biomedical products
Funeral products
How Does Walmart Marketplace Work?
The Walmart Marketplace places your products in front of millions of online shoppers on Walmart.com. You can manage your listings and track sales through the Walmart seller portal.
If you wish to outsource order fulfillment, Walmart Fulfillment services will store and ship your products to the end customer and handle customer service.
Here's a high-level overview of how Walmart works:
You apply to sell on Walmart Marketplace.
After you're approved, you register for a Walmart seller account.
Complete the necessary product research and list your products.
Once a customer places an order, Walmart ships it for you if you use their fulfillment service or you ship the product yourself.
How To Sell On Walmart Step By Step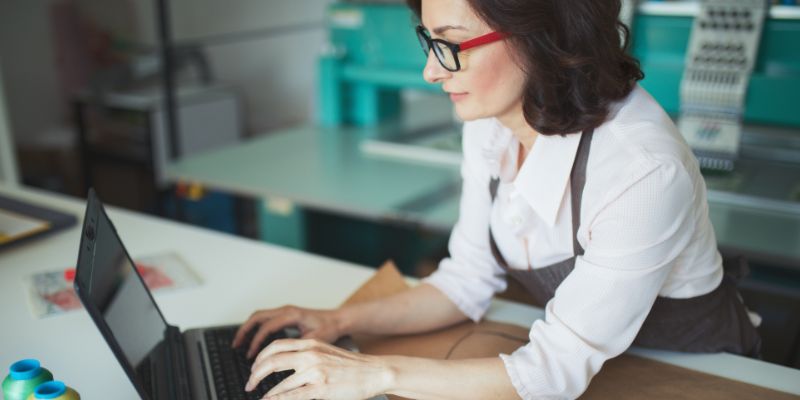 Here's a step-by-step guide explaining how to use Walmart Marketplace:
Step 1: Apply To Sell On Walmart Marketplace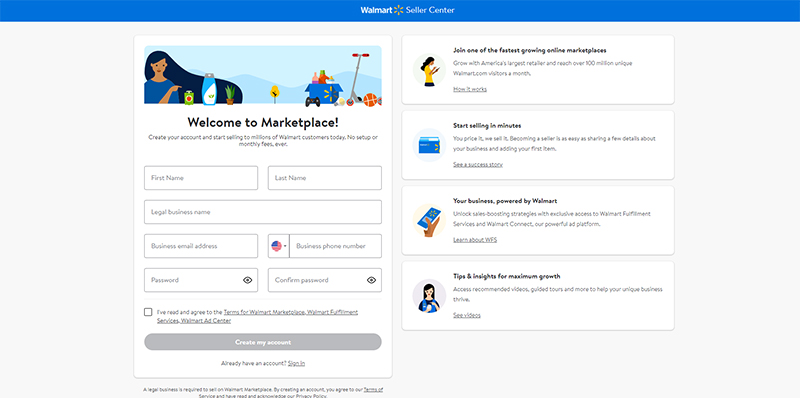 Walmart Marketplace's application process is simple but strict. Recently, Walmart opened its marketplace to international sellers. 
Here's a list of items you'll need to provide to join Walmart Marketplace:
Business Tax ID or Business License Number. You must have a valid local license if your business is registered outside the US.
Supporting documents to verify your business name and address.
History of success in selling on any other marketplace, your website, or other channels. If your business is registered outside the US, you must provide a history of selling in American stores or marketplaces.
Primary product categories.
A list of existing marketplaces you sell on and direct links to your stores.
A detailed and clear explanation of why you're a good fit for Walmart Marketplace.
Make sure you provide as much information as possible upfront. Walmart cares about their customers' experience, so they usually prefer sellers with plenty of experience selling online.
Once you've applied to become a Walmart seller, they can take anywhere between one business day to four weeks to approve or reject your application.
Step 2: Set Up A Walmart Seller Account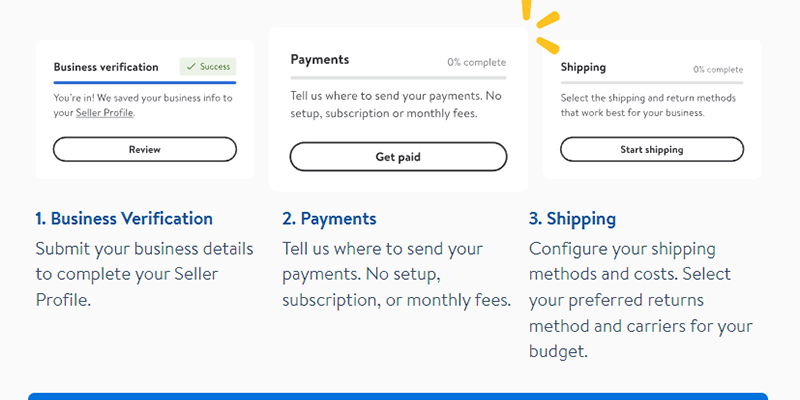 Once approved, you will receive an email link to register for a Walmart seller account.
There are five steps in the Walmart Marketplace registration process:
Account creation
Company registration
Tax forms
Payment info
Shipping info
First, click the registration link and create an account. Review and accept the Walmart retailer agreement.
For the "Company Registration" step, add the following information:
Display name: The name that will appear on Walmart.com.
Corporate address: Your company's address.
Next, fill out all relevant tax forms. If you're US-based, you'll need to submit a W-9 form.
Walmart has partnered with PayPal alternatives Payoneer, and Hyperwallet, to process payments on their marketplace. Make sure you're registered with at least one of those payment processors.
For the last step, you need to fill out the following shipping details:
Shipping Price Model: Determined by the item's price or weight.
Shipping Method: Walmart offers value, standard, expedited, 2-day, and next-day delivery options. You must offer at least the value and standard shipping options.
Shipping Rates: Shipping rates for each selected shipping method.
Transit Times: Transit times for each selected shipping method and region.
Standard Processing Schedule: Number of days you can process and ship orders in a week.
Step 3: Decide On A Fulfillment Method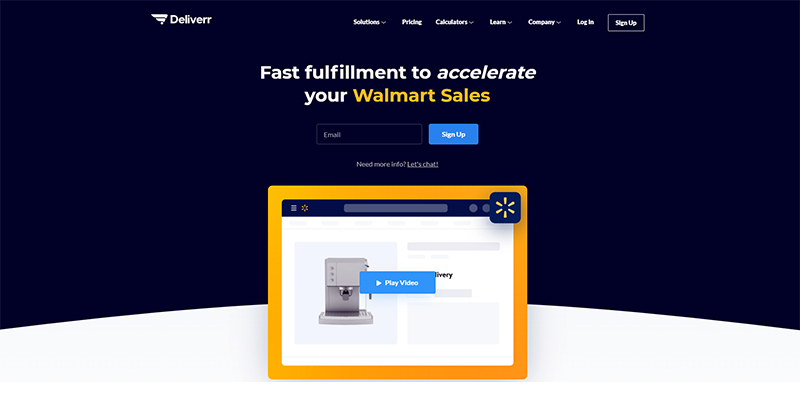 There are three ways to fulfill orders on the Walmart Marketplace:
Walmart Fulfillment Services (WFS)
Partner Fulfilled by Deliverr
Seller Fulfilled
Walmart Fulfillment Services (WFS) is similar to Amazon FBA, where Walmart takes care of storing, packing, and shipping your orders.
Walmart has been investing heavily in their fulfillment infrastructure and offers cheaper shipping rates than Amazon through their partnership with FedEx.
Walmart is constantly adding new warehouses. As a result, WFS shipping times have improved and are close to being on par with Amazon. The only products that may require longer shipping are oversized and hazardous goods.
Like Amazon, Walmart provides optional item labeling services through their Prep Services program.
Products must meet the following requirements if you want to ship using Walmart Fulfillment Services (WFS):
Non-perishable
Non-regulated
Up to 150 lb
Up to 108" in length
Up to 165" in length + girth
Walmart WFS doesn't ship car batteries, charcoal, household cleaners, car fluids, temperature-controlled items, and tires.
If you aren't satisfied with WFS, you can use Deliverr, a third-party logistics company (3PL). Deliverr has 80+ warehouses across the US and offers two-day delivery.
If you choose the Seller Fulfilled option, you'll be responsible for everything, including storage, packing, shipment, returns, and customer service.
Step 4: List Your Products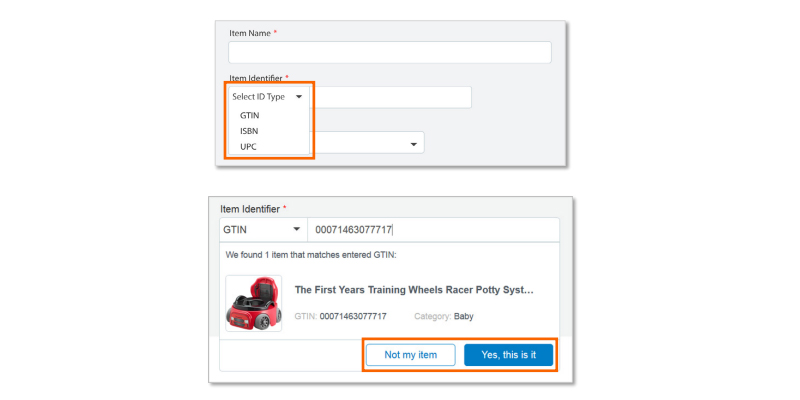 You can add products on Walmart Marketplace in two ways: individually or in bulk.
Here's how to add a single item on the Walmart Marketplace:
Go to Seller Center and click "Add New Items" under the "Items & Inventory" section of the menu.
Click "Add New Item" on the Manage Items page.
Add the item identifier, such as GTIN, ISBN, or UPC. If the result matches your item, click "Yes, this is it."
If the item identifier result doesn't match, click "Not my item." Then you need to fill in your SKU, description, brand, product name, category, and other attributes. Note: to list a brand new item on Walmart, you will need to purchase a GS1 Barcode.
Add key features, multipack quantity, and count per pack.
Click the "Images & Media" tab > "Add Images" > "Select Images Files" from the dropdown to upload product images.
Fill out "General Listing Settings" fields such as price, shipping weight, and product tax code.
Click "Submit Item."
If you have a large number of SKUs, you can add products in bulk by uploading the Full Item Spec sheet.
Go to Seller Center, select "Product Catalog" from the left side menu panel, select "Items," and click "Add Items."
Select the Walmart template hyperlink under the "Upload a spreadsheet" section.
Select fulfillment type under "Add items in bulk."
Download a spec sheet for each of your product categories. You can choose up to seven categories from the "Find a Category" dropdown under the "Full Setup" section.
If you are adding products that already exist on Walmart, follow the instructions in Setup by Match in Seller Center.
If it's a new product, fill out the item specs, add images, set up the variant group, add key features, provide sales restriction type, and add conditional attributes.
Upload the completed spec sheet in the same place where you downloaded the file.
If you get an error message, correct the errors highlighted in yellow, and re-upload the sheet.
You can track the status in the "Activity Feed" dashboard under the "Product Catalog" section on the left menu.
Step 5: Advertise Your Products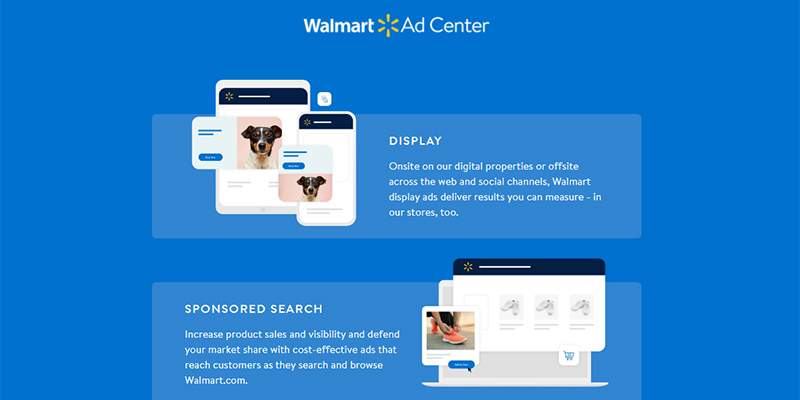 You can run paid ads on Walmart Marketplace through Walmart Connect.
Walmart Connect offers two types of Sponsored Search advertising options:
Sponsored Product ads: The ads appear in high-visibility places such as relevant search results on item pages.
Sponsored Brands: This premium ad is available only to Walmart Marketplace brand owners registered within Walmart Brand Portal.
What Is Walmart Brand Portal?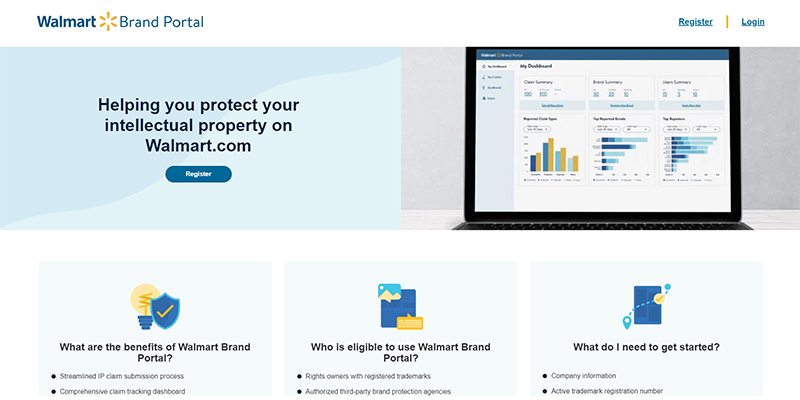 Walmart Brand Portal is a tool that allows you to protect your brand identity and intellectual property on Walmart.com.
Walmart Brand Portal is similar to Amazon Brand Registry. If someone copies or knocks off your product, you can submit your IP claim quickly and track all claims from a single dashboard.
To get started, go to the Walmart Brand Portal homepage and select "Login." Then, select "Use Seller Center Account" and enter your Seller Center details.
Complete the registration information and submit your company profile and brand details.
The best part about filing claims through the Walmart Brand Portal is that Walmart responds and takes down listings very quickly.
Note: You can use the Walmart Brand Portal only if you're the patent owner, an authorized third-party brand protection agency, or an authorized legal representative or brand owner.
How Much Does It Cost To Sell On Walmart?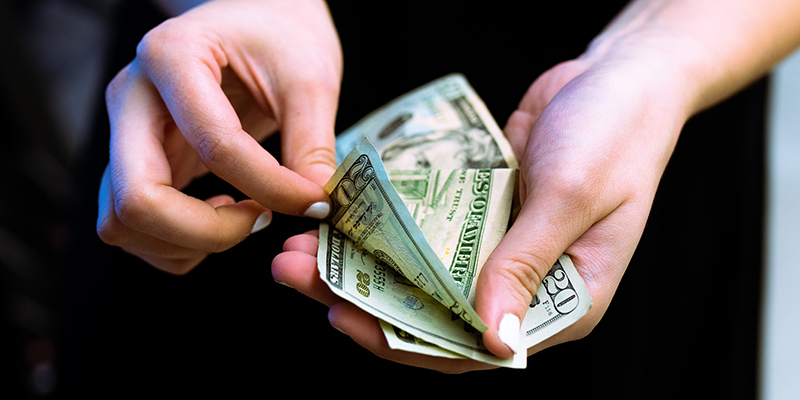 On average, selling on Walmart will cost you between 8-15% of your product price in commission fees and an additional 8% to 15% of your total revenue in Walmart fulfillment fees, depending on your product size and weight.
If you fulfill orders yourself, Walmart charges a referral fee of 8% to 15% per product, but they don't charge setup, listing, or monthly fees.
Walmart Fulfillment Service fees are similar in cost to Amazon FBA seller fees. The main difference is that WFS fees are more expensive for heavy-weight items, and Amazon charges additional storage fees for the last quarter of the calendar year.
How Much Can You Make On Walmart?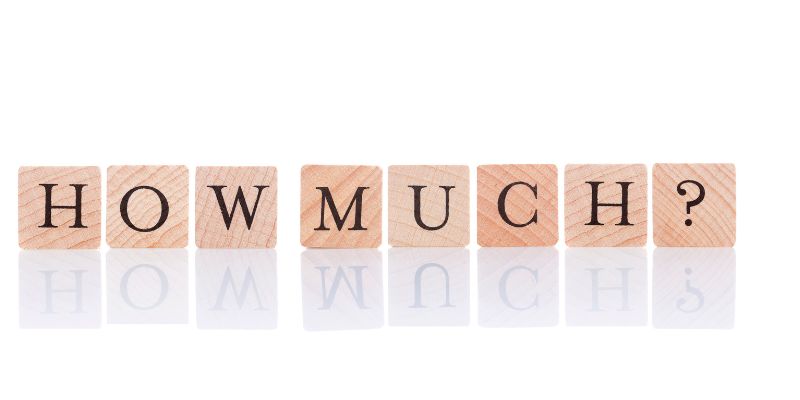 If you are already selling on Amazon, you can expect to make an additional  4-12% of your revenue on Walmart for a well-established brand depending on the category. '
You should also take into account that selling fees can be lower on Walmart compared to Amazon, which means you get to keep more of the profit per sale.
Right now, the competition is just not that fierce on Walmart compared to Amazon. If you have items declining on other platforms because of high competition, then move them to Walmart and they will likely sell well.
Is Selling On Walmart Worth It?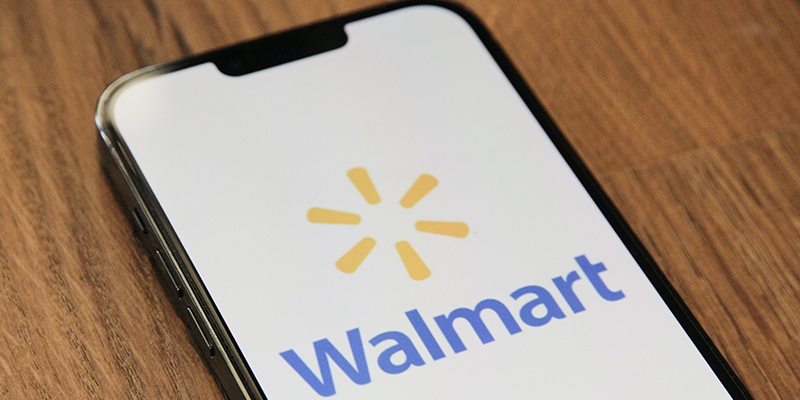 Selling on Walmart is 100% worth it if you're already selling on Amazon and you want to diversify to other marketplaces.
Amazon is increasing their FBA fees faster than Walmart, which means lower profit margins for sellers.
The average Walmart seller receives 27,000 monthly visitors, while Amazon sellers receive only 2100 monthly visitors.
If your products aren't competitive on Amazon and aren't selling well, list them on Walmart for better results.
If you're a big brand looking to connect with buyers in Walmart retail stores, join the Walmart marketplace at least a year in advance to form an online relationship with your buyers.
If your products sell well on Walmart.com, Walmart may choose to carry your products in their brick and mortar stores.
Overall, if you want long-term growth and control over your brand, joining Walmart Marketplace as a seller is a great opportunity because there's very little competition.
Tips For Selling On Walmart Marketplace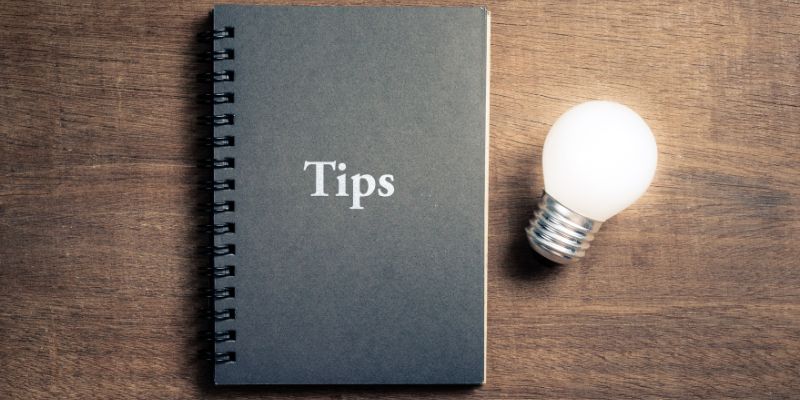 Whether you're selling on Walmart, Amazon, or any other online marketplace, you can't expect to have success by listing your products and hoping that buyers will find you.
Walmart Marketplace has thousands of sellers, and the platform is very competitive. Here are five tips to help you have success selling with Walmart.
1. Optimize Your Listings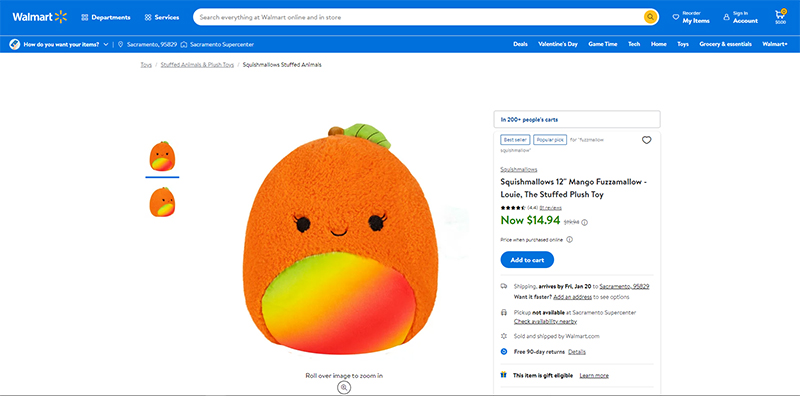 Optimizing your listings is crucial in order to rank higher in the Walmart search results. Here are some tips to optimize your product listings: 
Avoid adding too many keywords as Walmart's algorithm doesn't like keyword stuffing.
Use relevant keywords like brand, model, and color in the product title. Walmart recommends the following title formula for apparel: Brand + Style Name + Descriptive Feature, Material, Size + Pack Count.
Keep the title short, within 50 to 75 characters.
Add three to ten key features and a minimum of 150 words in paragraphs in the product description.
Avoid using generic phrases.
Add relevant attributes. Check similar Walmart listings to see what attributes are displayed in the left-hand navigation.
Focus on product photography. Upload four professionally shot, high-resolution images. Explain the benefits in one of the images. You can also add an image that shows the family of products across your brand.
Use optional Rich Media Enhanced Content to add 360-degree product images, videos, manuals, and size charts to show more about the product. Walmart's Rich Media is equivalent to Amazon's Enhanced Brand Content (EBC).
2. Use The Listing Quality Dashboard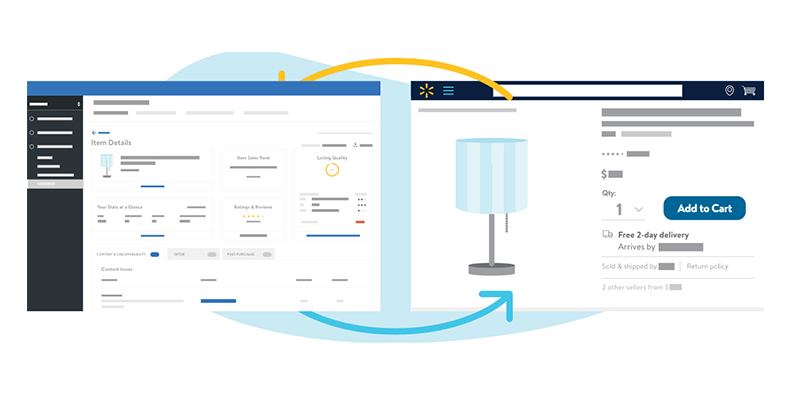 Walmart's Listing Quality Dashboard is a free tool that helps you analyze your listings and improve your performance in the marketplace.
Follow these steps to access the Listing Quality Dashboard:
Log into the Seller Center.
Select "Growth Opportunities" under "Analytics & Reports" in the left side menu panel.
Select the "Listing Quality" tab.
You'll see the average listing quality score, an overall breakdown of the listing quality, and an overview of each item in your catalog.
You can click on an item to expand and check the details of each component, such as:
Content & Discoverability: Content is the product data that includes information like name, description, key features, and images. Discoverability is essentially how easily your product is recommended in the search results. Common discoverability attributes include brand, colors, and sizes.
Ratings & Reviews: Ratings and reviews show how well Walmart customers like your product.
Offer: The Offer metric measures a product based on price, shipping speed, and stock. The listing score will be higher if the product has competitive pricing, fast shipping times, and is always in stock.
Walmart will highlight any issues and offer tips to improve your score.
3. Don't Copy Your Amazon Listing Content To Walmart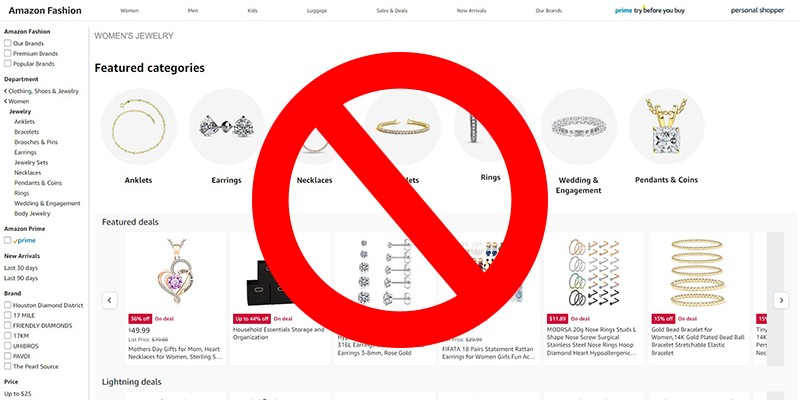 Most sellers wrongly assume that Amazon SEO is the same as Walmart SEO. For example, long tail titles work well on Amazon but not on Walmart.
Walmart focuses more on content quality and overall listing score. On the other hand, Amazon emphasizes SEO and keyword research.
The process of optimizing your Walmart listings is similar to optimizing for Google Search. Add only relevant content, and avoid keyword stuffing.
The average listing quality score is 60% on Walmart. So a score of 80% or above can help you rank higher in the Walmart search results.
4. Go For The Pro Seller Badge
Top-performing Walmart sellers receive a Pro Seller Badge. The badge instantly makes you stand out from other listings, increases customers' confidence, and boosts conversion.
Here are the criteria for earning a Pro Seller Badge: 
Order cancellations of 2% or less in the last 90 days.
Orders delivered on time for 90% or more orders in the last 90 days.
70% of your trending catalog has a Listing Quality Score of 60% and above.
More than 100 orders in the last 90 days.
You should be active for at least 90 days.
No Performance Standards or Trust & Safety violations.
5. Choose Walmart Fulfillment Services (WFS)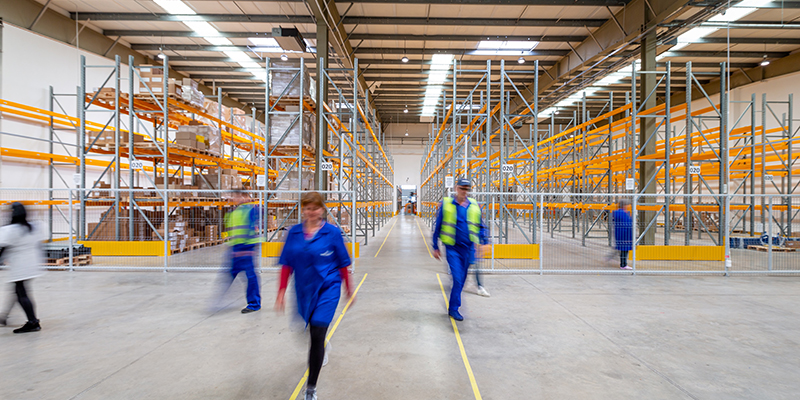 One of the top product ranking factors is the speed of delivery. Walmart Fulfillment Services offers low-cost, two-day shipping across the US.
In addition, WFS items are displayed with "Fulfilled by Walmart" and "Two Day Delivery" tags. As per Walmart, having the two tags results in higher search rankings, increases Buy Box wins and leads to an average 50% increase in sales.
WFS also enhances the post-purchase buyer experience by managing all your returns and customer inquiries.
Walmart allows customers to return items purchased online to physical Walmart stores. More than 29% of customers appreciate the ability to return goods at their local Walmart store instead of online.
Put simply, you should choose WFS because it improves product visibility and lets you focus on sales.
Pros Of Selling On Walmart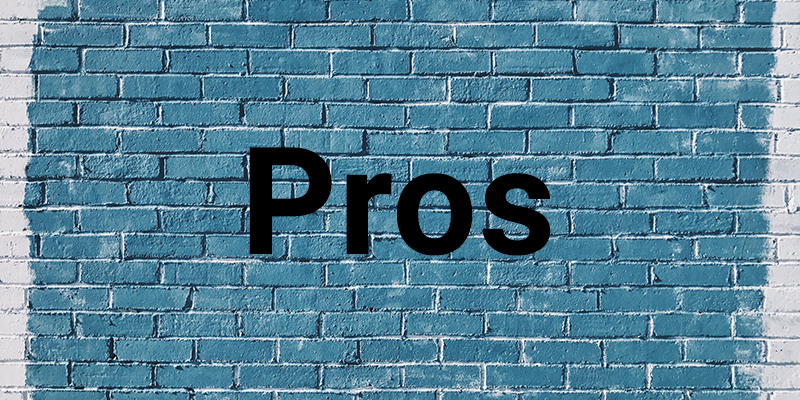 High product visibility: Walmart.com receives more than 500+ million visitors a month.
Less competition: Walmart has only 150,000+ sellers compared to Amazon's 1.6 million. In addition, Walmart is the second-largest online marketplace in the US. That means you will get more views per seller on the Walmart Marketplace.
No monthly fees: Walmart doesn't charge a subscription fee, unlike Amazon, which charges $39.99 monthly for a professional account.
Great network: Walmart has 31 fulfillment centers and 4700 stores located within ten miles of most of the US population.
Simple cost structure: Walmart's WFS costs are straightforward and easy to understand. Meanwhile, Amazon FBA fees vary depending on many factors such as inventory size, duration of storage, and the time of year.
Cons Of Selling On Walmart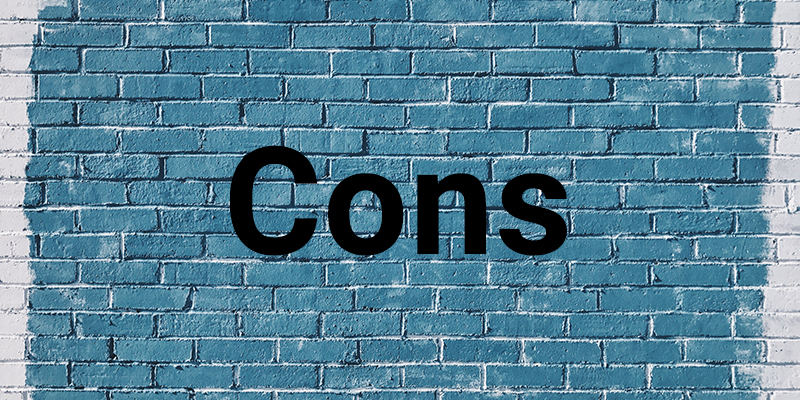 Not for niche or expensive products: Generic or cheap items do better on Walmart. You're better off selling niche or expensive items on Amazon or elsewhere.
No custom products: Walmart Marketplace doesn't allow personalized products such as apparel and mugs with photos.
Strict Application Process: Walmart requires a decent sales history on marketplaces and your online store and prefers established brands over small sellers.
Competitive pricing: Walmart regularly delists products with uncompetitive pricing. If you list a product on Walmart with higher pricing than your online store or Amazon, the product will be removed from their marketplace.
Poor customer service: Unlike Amazon's customer service, Walmart's support is less responsive and helpful.
Final Thoughts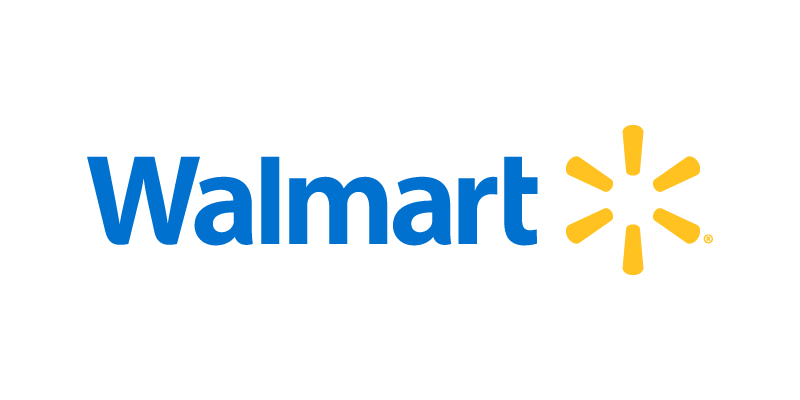 Overall, Walmart Marketplace is an excellent platform that you can use to reach a large customer base.
If you're an Amazon seller with a successful history of hundreds of thousands of dollars in annual sales, Walmart Marketplace provides an opportunity to expand your business.
The one significant downside is that Walmart forces sellers to list products at competitive pricing. If another seller lists the same product as yours at a significantly lower price, your product may be removed from Walmart Marketplace.
Otherwise, Walmart Marketplace is the next best place to list your products after Amazon.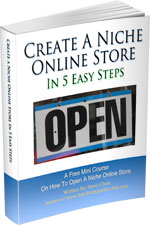 Ready To Get Serious About Starting An Online Business?
If you are really considering starting your own online business, then you have to check out my free mini course on How To Create A Niche Online Store In 5 Easy Steps.
In this 6 day mini course, I reveal the steps that my wife and I took to earn 100 thousand dollars in the span of just a year. Best of all, it's free and you'll receive weekly ecommerce tips and strategies!
Note: This post above may contain affiliate links, which means that I may receive a commission if you make a purchase when clicking a link. Please consult our privacy policy for more information.
Related Posts In Ecommerce Marketplaces
About Steve Chou

Steve Chou is a highly recognized influencer in the ecommerce space and has taught thousands of students how to effectively sell physical products online over at ProfitableOnlineStore.com. 

His blog, MyWifeQuitHerJob.com, has been featured in Forbes, Inc, The New York Times,  Entrepreneur and MSNBC.  

He's also a contributing author for BigCommerce, Klaviyo, ManyChat, Printful, Privy, CXL, Ecommerce Fuel, GlockApps, Privy, Social Media Examiner, Web Designer Depot, Sumo and other leading business publications.

In addition, he runs a popular ecommerce podcast, My Wife Quit Her Job, which is a top 25 marketing show on all of Apple Podcasts. 

To stay up to date with all of the latest ecommerce trends, Steve runs a 7 figure ecommerce store, BumblebeeLinens.com, with his wife and puts on an annual ecommerce conference called The Sellers Summit.  

Steve carries both a bachelors and a masters degree in electrical engineering from Stanford University. Despite majoring in electrical engineering, he spent a good portion of his graduate education studying entrepreneurship and the mechanics of running small businesses.