Ecommerce marketplaces are perfect for those who want to open an online store but don't necessarily have the time to build one from the ground up. They're also the place to go if you want to sell an online store you already own.
But with several available marketplaces, knowing where and how to buy an online store can be difficult.
In this Shopify Exchange review, I'll cover everything you need to know about this popular Shopify store marketplace – its pros and cons, and a step-by-step guide to buying and selling on the platform.
Get My Free Mini Course On How To Start A Successful Ecommerce Store
If you are interested in starting an ecommerce business, I put together a comprehensive package of resources that will help you launch your own online store from complete scratch. Be sure to grab it before you leave!
What Is Shopify Exchange?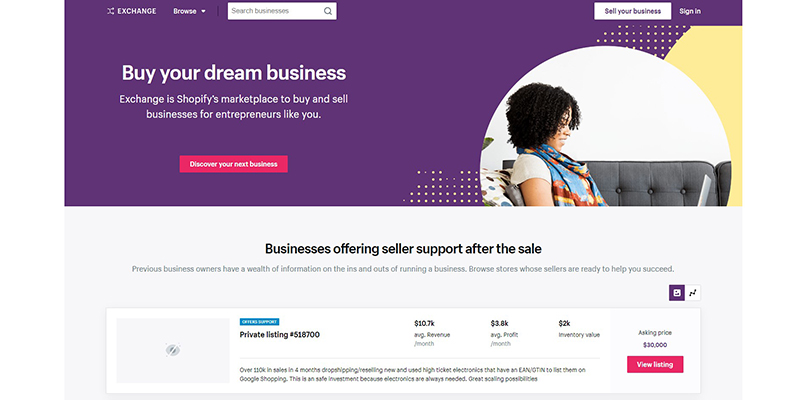 Shopify Exchange is a marketplace where you can buy and sell Shopify ecommerce stores. Because Shopify owns the platform, they have access to every store's metrics which ensures that the data is accurate.
You'll find large and small stores covering all industries on Shopify Exchange. It's perfect for those who want to start an online store but don't necessarily have the time to build one from the ground up.
There are currently 8500+ online stores for sale on Shopify Exchange. The pricing for the stores starts from roughly $50 to upwards of $3 million based on several factors such as profit, catalog, and customers.
What Are The Benefits Of Buying A Business From Shopify Exchange?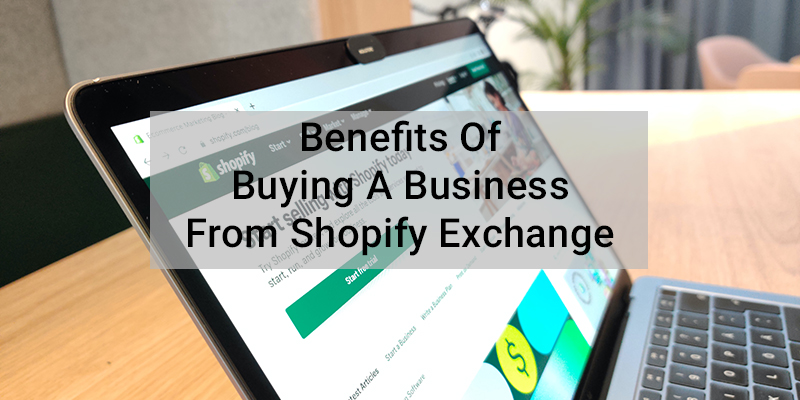 There are many places you can buy ecommerce sites online, but going through Shopify Exchange has several benefits, including:
Easier buying decisions. Shopify Exchange automatically pulls data such as sales and traffic directly from Shopify to verify sellers' claims.
Secure transactions. Shopify has partnered with Escrow.com for safe transactions on Exchange. When you purchase a website,  your funds are only released to the seller after you've received everything as agreed.
Large ecommerce store catalog. Shopify Exchange allows you to access over 8500 store listings.
How Does Shopify Exchange Work?
Shopify Exchange works by allowing buyers to access a searchable database of Shopify stores for sale and facilitating a secure sales transaction directly on the platform.
Here's how a transaction on Shopify Exchange works step by step.
A seller creates a listing which is published on the Exchange Marketplace.
A buyer finds the listing and sends questions to the seller.
If the buyer is interested, he/she makes an offer.
If the seller accepts the offer, an escrow transaction is created.
The buyer submits payment.
Shopify Exchange notifies the seller to transfer assets to the buyer.
The buyer marks the assets as received and performs due diligence.
If the buyer confirms the transaction, payment is released to the seller.
Shopify changes the store details with the buyer as the new owner.
Things To Consider When Buying A Store On Shopify Exchange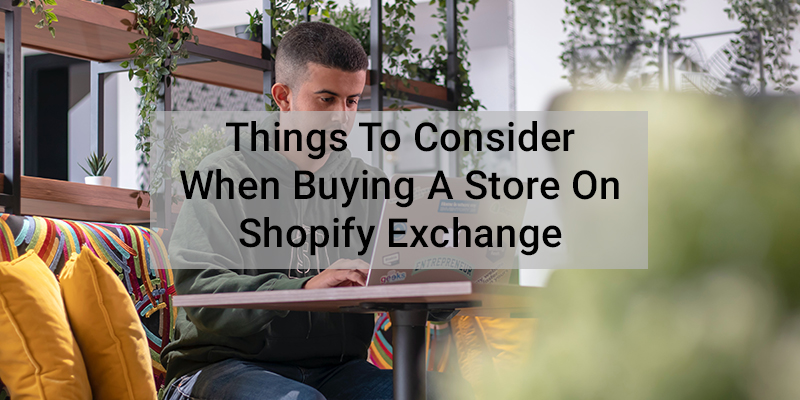 Before you buy any ecommerce store, it's important that you do the proper research. Here are four things you should consider before you make a final decision.
Choose Your Budget
Shopify stores on the Shopify Exchange can cost from $50 to $3 million dollars or more. Before you go shopping, you must decide how much you are willing to spend on buying and maintaining a website.
Start by listing your financial resources and then ask yourself the following questions:
What is your purpose for buying a store on Shopify Exchange?
How much are you willing to invest in your first store?
Do you have the budget to improve the website design and functionality?
How much can you invest in inventory, ads, and other things needed to improve the business?
How long can you wait before the store becomes profitable?
These questions will help you identify your financial position and outline a budget for your purchase. Remember, you'll need to allocate some of your budget for website maintenance, improvement, and marketing.
Choose The Type Of Business To Buy And The Distribution Model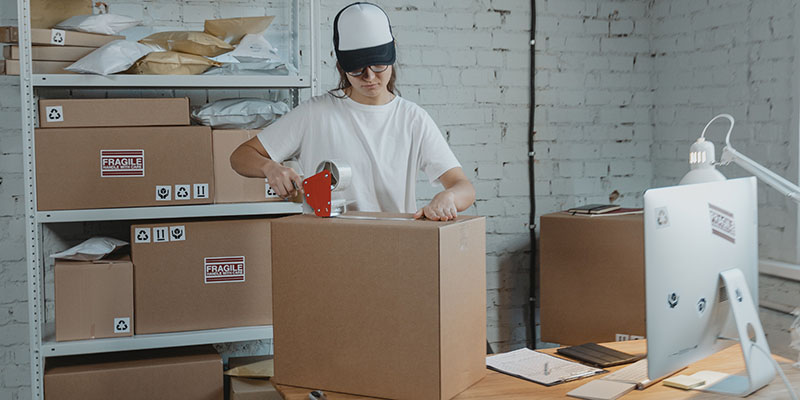 There are many types of ecommerce businesses you can buy, but you'll most likely encounter two types on Shopify Exchange:
Business-to-business (B2B): These businesses sell services or products to other companies, such as software and wholesale supplies.
Business-to-consumer (B2C): These businesses sell directly to customers and are the most common type of ecommerce business.
Both business types have their pros and cons.
For example, B2B average order values are generally higher than B2C. Plus, B2B sales are more consistent. Once you have a B2B customer, they will order from you for an extended period.
The downside is that B2B sales cycles are longer, and it's more difficult to market to B2B customers.
With B2C businesses, the sales cycle is significantly shorter, and the cost of business is lower than with B2B. But the competition is extremely high, and the margins are lower.
Once you decide on a business model, it's time to look at your distribution model.
Here are the six most popular distribution models for ecommerce businesses on Shopify Exchange:
Dropshipping: Buy products on demand from a supplier that ships the products directly to your customers. You don't carry any inventory with dropshipping, so the startup costs are low. Examples of dropshipping include selling tshirts, mugs and apparel through a print on demand company
Digital goods: Sell digital goods such as art, images, tools, templates, online games, eBooks, and audio. Digital products are a great source of passive income since you don't need to store, pack, or ship products. But it's highly competitive and piracy can be a problem.
Subscription: Charge customers a recurring fee to access products or services. The revenue is more predictable, making it easier to plan your expenses and inventory.
Private labeling: Place your brand or label on a product manufactured by a third party. Private labeling is the best way to create a strong brand and offers higher profit margins compared to wholesale and dropshipping.
Wholesaling: Sell your goods wholesale to individuals or businesses. By imposing a minimum order quantity for orders, you can sell your products in bulk to online and brick and mortar retailers.
Most drop shipping and private labeling distribution businesses on Shopify Exchange operate as B2C.
Decide What Stage And Size Of Business To Buy
Once you decide on the business type and distribution model, it's time to determine the stage and size of the business you should buy.
Are you looking for an early-stage business to grow or something more established?
Answering the following questions will help you narrow down the best business size and stage:
What are your skills? Figure out your strengths and weaknesses to understand what you need to improve on to grow the business. For example, you can choose an early-stage business if your strength is business development.
Have you dealt with a business of this size? Smaller businesses will demand more time and capital to scale. If you haven't run a small business or acquired one before, be prepared to put in long hours to grow it.
What are your interests? Your biggest advantage is experience. Operating an online store is challenging, so having subject matter expertise or previous experience helps reduce the learning curve.
Do Your Due Diligence
Before you buy any business, you must do your due diligence to find weaknesses and areas that you can potentially improve and grow.
Does the business have a solid foundation for sales and a consistent source of leads? Is the business making money because of a lucky mention on social media that went viral?
Begin with the basics, such as website SEO, to understand the store's domain authority, monthly organic traffic, and the keywords it's ranking for.
Use a site explorer tool like Ahrefs or Moz to find the keywords the website ranks for and understand its backlink profile.
Next, you can contact the seller and ask for the following business information:
Liabilities and debts
Profit and loss statement
Permits, licenses, and other documents
Make sure you ask all questions you have before you make a purchase. Once the transaction is complete, the seller isn't responsible for your losses unless they have falsified documents or misled you.
How Much Does The Shopify Exchange Cost?
Listing an online store on the Shopify Exchange is 100% free. However, sellers are charged a service fee based on the final sale price of the business which can range from .89% – 6.5%.
Buyers do not have to pay any fees to Shopify to purchase a business.
Below is a table of fees from Escrow.com.
| Transaction Amount (Merchandise + Shipping) | Standard | Concierge | Payment Processing Fee |
| --- | --- | --- | --- |
| $0-$5,000 | 3.25% ($10.00 minimum) | 6.5% ($100.00 minimum) | Standard or Concierge fee + 3.05% |
| $5,000.01-$25,000 | $162.50 + 0.26% of amount over $5000 | $325 + 0.52% of amount over $5000 | Not available |
| $25,000.01 + | 0.89% | 1.78% | Not available |
How To Buy A Shopify Store On Exchange Marketplace
Here's a step-by-step process for buying a store on Shopify Exchange:
Find The Right Shopify Store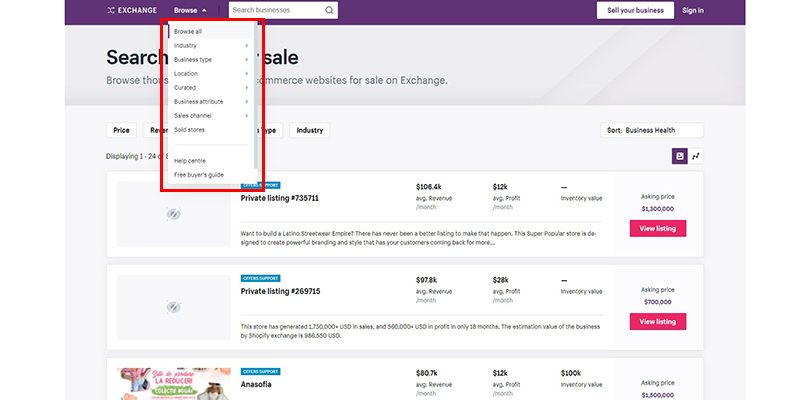 Search for stores using the following criteria:
Industry
Business type
Location
Business size
Sales channel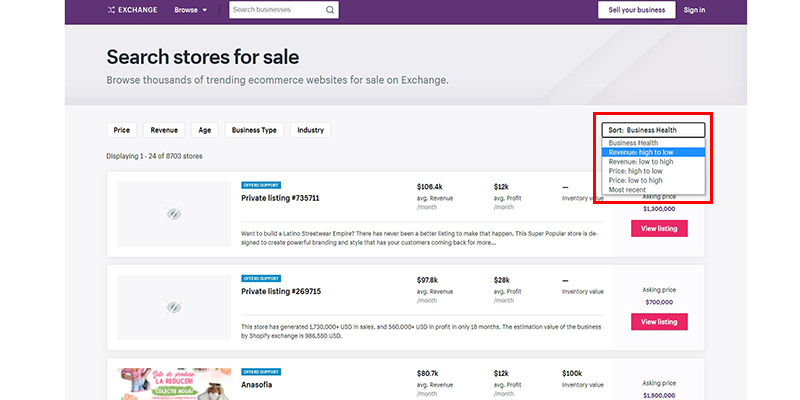 After that, sort the websites by business health, revenue, price, age, and most recently listed.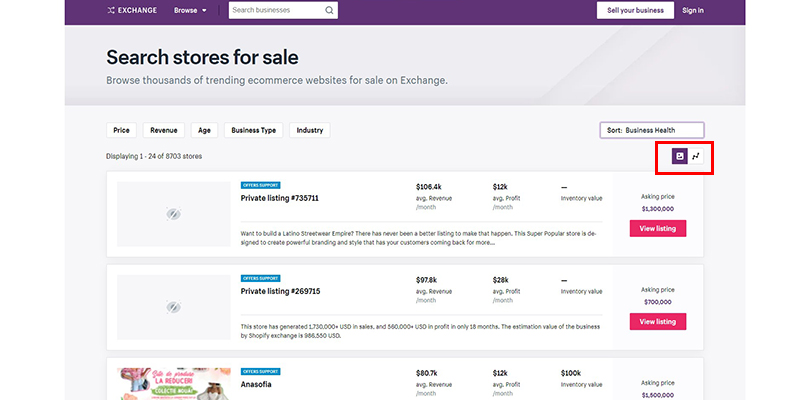 Listings on Shopify Exchange include a screenshot of the website's revenue or homepage in the search results. Use that information to shortlist your top choices quickly.
Research The Business
After you've found multiple websites that meet your requirements, review each listing and look at its important business metrics.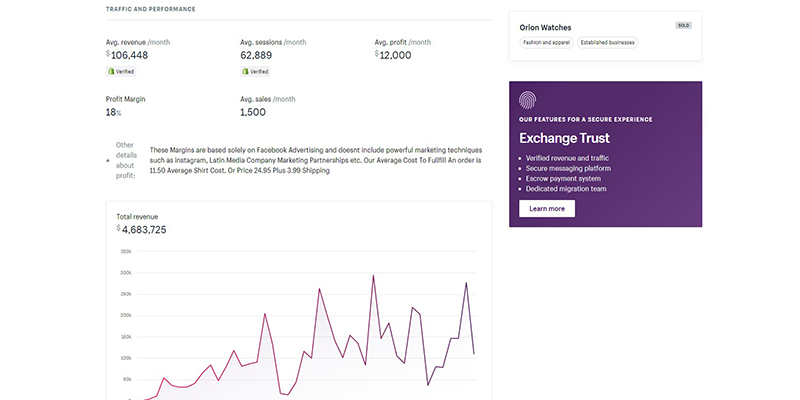 Shopify Exchange provides the following information:
The average revenue per month
Average profit per month
Inventory value
Average sessions a month
Profit margin
Average sales a month
Total revenue
Total expenses
Check the "Sales Includes" section, which contains branding assets, product images, social media, mailing list, and supplier information.
Contact The Seller
If a store looks attractive, contact the seller through Shopify Exchange's secure messaging platform and request any information not included in the listing.
For example, find out how the seller fulfills orders and their profit margins after all expenses.
If applicable, find out about their sales on Etsy, Amazon, and other platforms. Shopify can only verify sales figures and data from the seller's Shopify store.
Tip: Keep your communications on the Shopify Exchange platform so all conversations can be tracked and recorded by Shopify. Be wary of sellers who want you to pay outside of Shopify's escrow service, Escrow.com.
Make An Offer
Based on the company's metrics, assets, and liabilities, make an appropriate offer. You don't have to match the asking price as Shopify Exchange allows you to submit lower offers.
In general, you should avoid lowballing the seller and try to offer at least 75% of the asking price. If your offer price is lower than the asking price, include a reason why.
Although you aren't obligated to follow through with the purchase, you should only make an offer if you are serious.
Complete The Transaction
When the seller accepts your offer, they will create an Escrow.com transaction. You'll receive an email notification with all the terms and conditions of the sale and instructions on how to pay through Escrow.com.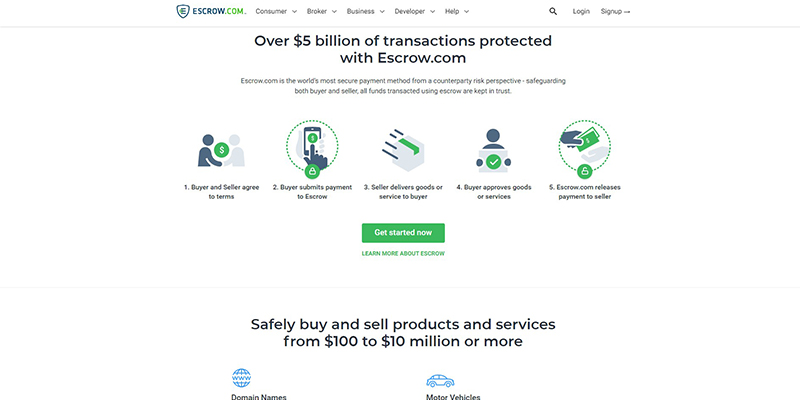 Once you send your payment, the seller will receive a notification to transfer all the assets to you.
Inspect And Approve Your New Shopify Store
Shopify allows you to set an inspection period between 3 to 30 days. During this period, Shopify will give you access to the store through a staff account.
You must verify that you have complete access to the website, domain, apps, social media accounts, and physical inventory.
You should also inspect the claims made by the seller, such as profit margins, traffic sources, and expenses.
Be careful to avoid exporting data or altering any store settings such as shipping, products, and payment configuration.
If you wish to proceed with the sale, mark all assets as "accepted" in escrow.
Tip: Email exchange-support@shopify.com should you have trouble accessing assets like domain and social media accounts.
Shopify Appoints You As The Official Store Owner
After you accept the assets, Shopify will change your staff account to an administrator account in 3 business days.
Once the transfer completes, you'll receive an email confirmation, and Escrow.com will transfer your payment to the seller.
Tip: Make sure you change passwords for all accounts and remove the seller's access to them.
Pros Of Buying A Shopify Store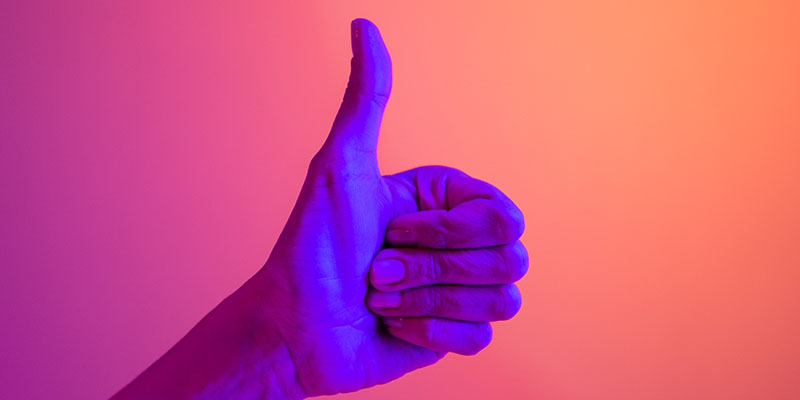 Saves Time And Energy
Purchasing a ready-made Shopify store conserves the time and energy you spend building a business from scratch.
While creating a Shopify store is relatively easy, you still need to invest time and money to:
Add product descriptions and images.
Add apps to improve website functionality.
Test the effectiveness of the products.
Buying an existing Shopify store gives you access to customers with verified data and sales records.
Secure Transactions
Shopify Exchange uses Escrow.com for secure transactions. Once you make payment, there's an inspection period where you can reject the purchase if you find that the seller has falsified information.
Escrow.com only releases the payment to the seller after the inspection period is complete or when you've approved the sale.
Cons Of Buying A Shopify Store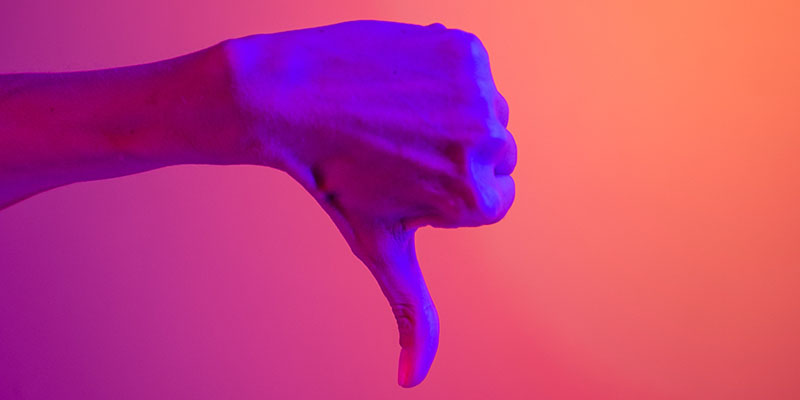 Limited To Shopify Stores
Shopify Exchange only lists stores built with Shopify. Although plenty of options are available, you might not find a store in your niche or industry.
Many other website marketplaces such as Flippa and Empire Flippers, have more options with comprehensive data about the seller.
No Auction Format
Shopify Exchange does not support auctions.
Auctions create a competitive market for buyers like you. They also eliminate long negotiation periods and reduce the time it takes to purchase a website.
How To Sell A Shopify Store On Exchange Marketplace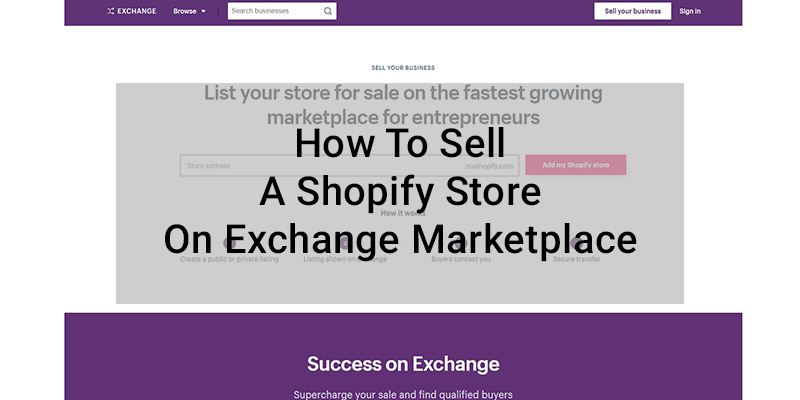 Here are step by step instructions how to sell an online store on Shopify Exchange:
Determine Your Eligibility
Make sure you're eligible to list your online store by reviewing the Exchange Marketplace guidelines.
Here are some of the important eligibility requirements:
You must be the store owner of a Shopify website.
You must have a Shopify paid or development plan, excluding Shopify Plus. If you're on the Shopify Plus plan, you'll need to contact support and downgrade to an eligible plan.
Your store shouldn't have any history using Shopify Balance.
You can't have active funding from Shopify Capital.
Install The Exchange App And Create A Listing
Next, install the Exchange Marketplace app. Shopify will automatically pull data from your store and add it to the listing.
Create a compelling business story to explain why you started the business and the reason for selling it. You want the buyer to feel confident it's worth the price.
Add accurate values in the "Performance" and "Expenses" sections, and mention all the assets you'll include in the "Sale Includes" section.
You can also share some advice for the buyer in the "Seller's Advice" section on how they can potentially grow the business further.
Respond To Buyer Queries
Interested buyers will message you with queries or try to negotiate your asking price.
Be responsive and provide all the information needed to create a good impression.
Accept An Offer
Once you accept an offer, create an Escrow transaction from the Exchange app.
You'll receive an email once the buyer accepts your terms and conditions and makes payment.
Transfer Assets To The Buyer
After Escrow receives funds from the buyer, you'll receive an email to transfer all assets to the buyer.
You'll need to make a staff account for the buyer for the inspection period. Once the buyer completes the inspection and approves the sale, they'll mark it as "accepted."
Wait For Escrow To Release Your Payment
Once the buyer proceeds with the purchase or the inspection period is complete, you'll receive an email from Escrow.com, after which they will release the money to your account in 4 to 5 business days.
Shopify Exchange will deduct a service fee disclosed to you when creating a listing, and Escrow charges a standard $10 disbursement fee in addition to a transaction fee.
The final fees will be displayed in the Escrow transaction.
Is Buying From Shopify Exchange Worth It?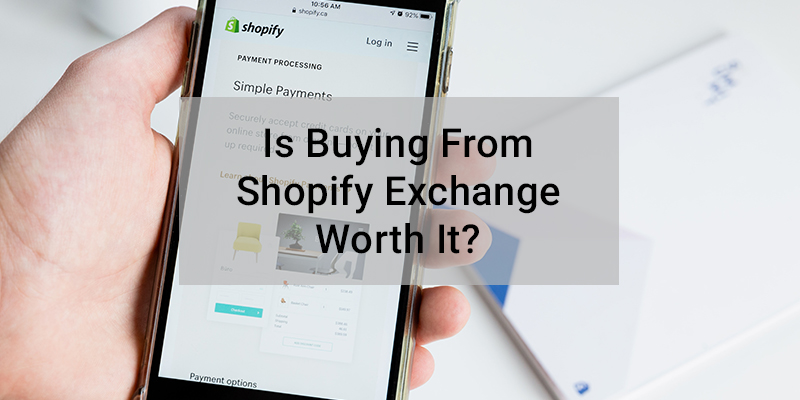 Shopify Exchange is worth it if you want to buy an existing Shopify store. Because Shopify verifies all sales data through its platform, buying an ecommerce business from the Shopify Exchange is safe and easy.
You can acquire a functioning Shopify store for as little as $50, grow its sales and then use the proceeds to purchase a bigger shop.
Shopify's use of Escrow.com for transactions makes the buying process secure and allows you to start selling from day one.
Buying a website instead of starting from scratch allows you to dive directly into marketing and make money immediately.
What Are The Benefits Of Buying An Existing Business?
The main benefit of buying a business is that you can make money immediately. The initial setup has already been completed, the legal registrations are in place, and you can instantly access an existing customer base.
Owning an existing business with a track record also allows you to get financial assistance more easily because it has a lower risk of failure (compared to a new business).
How Much Can A Shopify Store Sell For?
A Shopify store can sell for between $50 to $1 million (and more), depending on its revenue, profit, traffic, and other essential metrics.
A typical Shopify store carries a 2.5X-4X multiple on EBITDA. For example, a Shopify store with a monthly profit of at least $4000 over 12 months will likely have a six-figure valuation.
The exact number will be higher or lower based on several factors, such as business liabilities, intellectual property, traffic sources and customer retention rates.
Should You Use Shopify Exchange?
Shopify Exchange is an excellent platform if you're looking to buy or sell a Shopify store. The Exchange allows you to buy and list Shopify stores for free, utilize Escrow.com for secure transactions, and have access to over 8500 active listings.
The Exchange marketplace is the best place to begin your search if you want a Shopify store. If you're open to other ecommerce platforms, I recommend including other marketplaces, like Flippa and Empire Builders, in your search.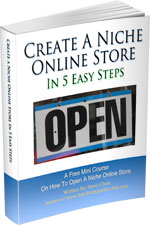 Ready To Get Serious About Starting An Online Business?
If you are really considering starting your own online business, then you have to check out my free mini course on How To Create A Niche Online Store In 5 Easy Steps.
In this 6 day mini course, I reveal the steps that my wife and I took to earn 100 thousand dollars in the span of just a year. Best of all, it's free and you'll receive weekly ecommerce tips and strategies!
Note: This post above may contain affiliate links, which means that I may receive a commission if you make a purchase when clicking a link. Please consult our privacy policy for more information.
Related Posts In Ecommerce Marketplaces
About Steve Chou

Steve Chou is a highly recognized influencer in the ecommerce space and has taught thousands of students how to effectively sell physical products online over at ProfitableOnlineStore.com. 

His blog, MyWifeQuitHerJob.com, has been featured in Forbes, Inc, The New York Times,  Entrepreneur and MSNBC.  

He's also a contributing author for BigCommerce, Klaviyo, ManyChat, Printful, Privy, CXL, Ecommerce Fuel, GlockApps, Privy, Social Media Examiner, Web Designer Depot, Sumo and other leading business publications.

In addition, he runs a popular ecommerce podcast, My Wife Quit Her Job, which is a top 25 marketing show on all of Apple Podcasts. 

To stay up to date with all of the latest ecommerce trends, Steve runs a 7 figure ecommerce store, BumblebeeLinens.com, with his wife and puts on an annual ecommerce conference called The Sellers Summit.  

Steve carries both a bachelors and a masters degree in electrical engineering from Stanford University. Despite majoring in electrical engineering, he spent a good portion of his graduate education studying entrepreneurship and the mechanics of running small businesses.