Helium 10 vs Jungle Scout. Which Amazon seller tool is the best for you? This post will break down and compare the 2 most popular Amazon tools from the perspective of a 7 figure ecommerce business owner who has used both services.
In order to be successful selling on Amazon today, you absolutely need to use an Amazon seller tool. Otherwise, you'll be at a severe disadvantage compared to other Amazon FBA sellers.
Over the years, there have been many different players in the Amazon software space but the industry has consolidated to just a few companies offering all in one tools that do everything.
For example, for one fixed monthly price, today's tools allow you to…
Perform Keyword Research – Find out which keywords to target for your products that have high search volume and low competition.
Conduct Product Research – Track product sales and spot trends in the market.
Listing Optimization – Create a high converting listing that generates sales.
Inventory Management – Manage your inventory effectively to make sure you never run out of stock.
Analytics And Tracking – Track your profitability by taking into account Amazon's many fees.
Manage Your Amazon Advertising – Manage your pay per click advertising without hiring an agency.
Find Suppliers – Discover the suppliers that your competitors are using.
Launch Products Effectively – Launch a product that generates reviews and ranks on Amazon.
Right now, Jungle Scout and Helium 10 are the 2 leaders in the Amazon automation tools space and there's a significant overlap in the functionality they provide.
However, each tool has its pros and cons.
In this post, I've written up a full comparison of Helium 10 vs Jungle Scout. And unlike other reviews you see on the Internet, I've actually used and evaluated both services for my 7 figure ecommerce business.
Get My Free Mini Course On How To Start A Successful Ecommerce Store
Are you interested in creating a strong, defensible brand for your products? If so, I put together a comprehensive package of resources that will help you launch your own online store from complete scratch. Be sure to grab it before you leave!
Helium 10 Vs Jungle Scout – The Evaluation Criteria
When it comes to choosing between Helium 10 and Jungle Scout, it can be confusing to compare the two because their tools are packaged differently.
It also doesn't help that Helium 10 has some crazy names for their products like Cerebro, Frankenstein, Scribbles, Black Box, Misspellinator etc…
In this post, both Jungle Scout and Helium 10 have been evaluated based on the following criteria.
Pricing – Which Amazon tool is cheaper.
Revenue Estimates – Which research tool offers better sales accuracy.
Keyword Search Accuracy – Which keyword research tool is more accurate.
Features – Which tool has more useful features.
Value – Which tool provides more value for the cost.
Helium 10 Vs Jungle Scout – Which Tool Is Cheaper?
Jungle Scout is less expensive than Helium 10 across the board. However, Helium 10 offers a free plan that Jungle Scout does not which provides a sample set of its features.
When it comes to pricing, both Helium 10 and Jungle Scout charge a fixed monthly fee regardless of revenue. Both tools also offer the option of paying for a year up front at a discount.
Here is Jungle Scout's current pricing for month to month plans.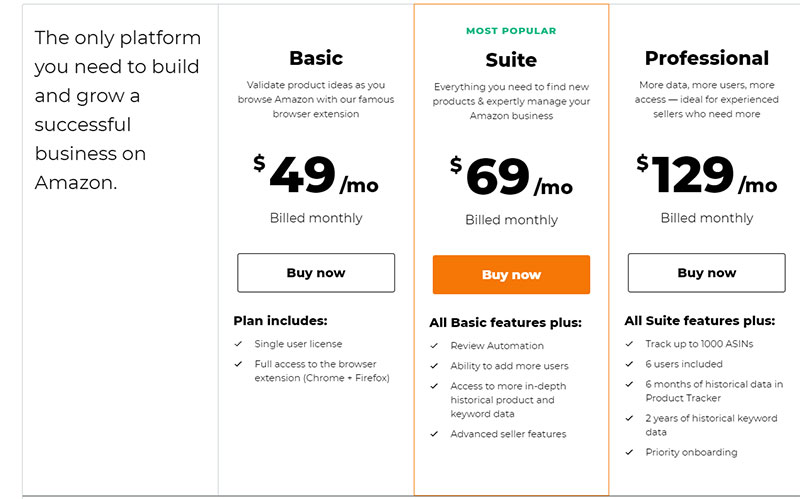 Meanwhile, here is Helium10's pricing for month to month payments.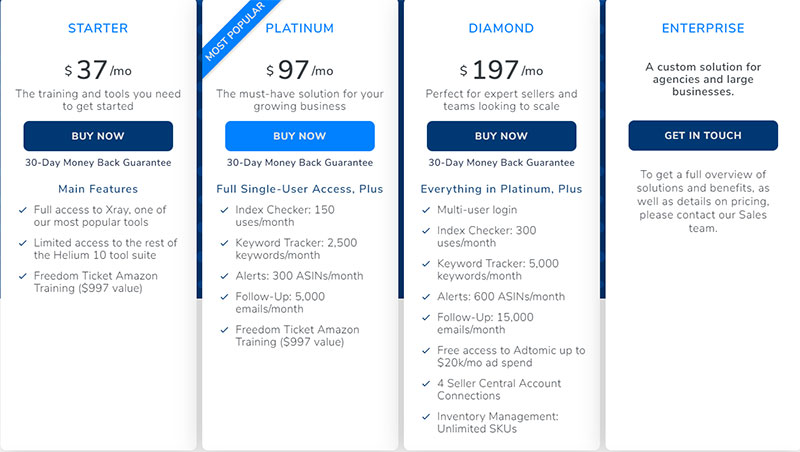 It's important to note that the "Basic" plan for Jungle Scout and the "Starter" plan for Helium10 are limited versions of both products.
Realistically speaking, any serious Amazon seller will need at least the "Suite" plan for Jungle Scout or the "Platinum" plan for Helium10.
While the introductory plans for both tools are useful for giving you a taste of the overall functionality, the use limits are too low for a serious Amazon seller.
As a result, Helium 10 is the more expensive tool compared to Jungle Scout by a significant margin. The Platinum plan costs $97/month whereas Jungle Scout is $69/month.
However, Helium 10 does offer a free plan with very limited functionality that Jungle Scout does NOT have.
With Helium 10's free plan, you get 20 uses of their product research tool, 50 uses of their Chrome extension and 2 uses per day of their keyword research and reverse ASIN lookup tool.
All in all, you can't beat free and Helium 10's free plan is pretty good for the price.
However once you have to pay, Jungle Scout will be significantly cheaper than Helium10 by about 30%.
Winner: Jungle Scout
Helium 10 Vs Jungle Scout – Which Tool Has More Accurate Revenue Estimates?
Jungle Scout's revenue estimates are more accurate than Helium 10 based on actual data from an Amazon portfolio of over 50 products. Both tools tend to inflate the real sales numbers by 20-30%, but Jungle Scout is more accurate overall.
Both Helium 10 and Jungle Scout offer a sales estimation tool which will tell you approximately how much revenue a product is generating on Amazon on a 30 day trailing basis.
Here's a snapshot of Helium 10's XRay tool which I ran for garlic presses selling on Amazon.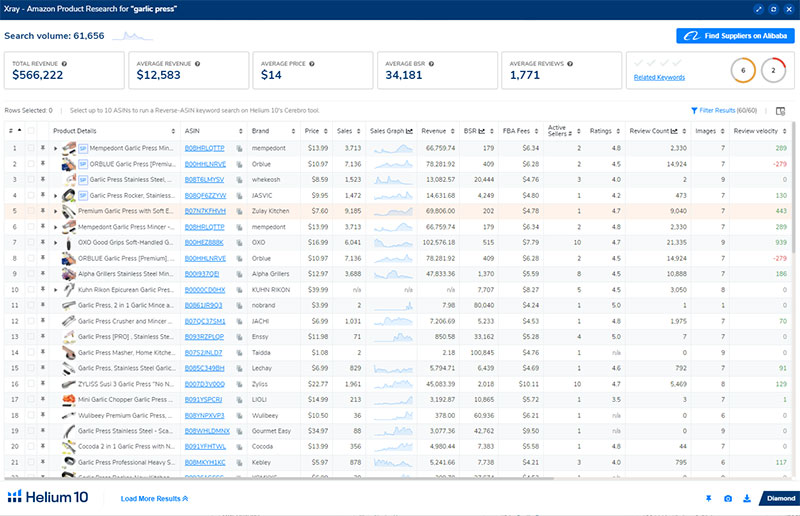 As you can see, the Helium 10 Chrome extension provides many useful product metrics such as sales, revenue, fees, review count and review velocity.
You can also dig deeper into the sales history of any product to view trends and sales velocity.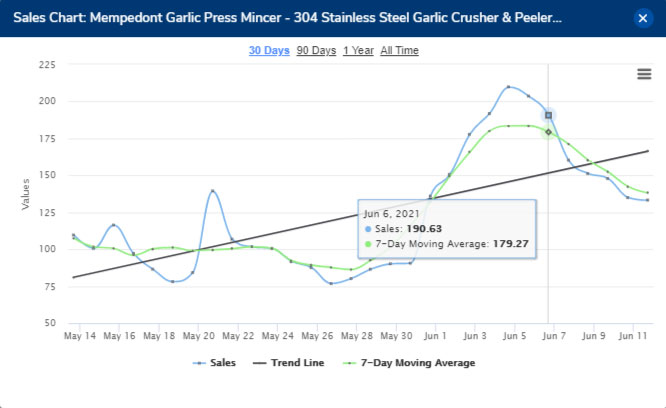 Meanwhile, the Jungle Scout Chrome extension provides near identical functionality to Helium 10 when it comes to product research.
Here's a similar analysis of garlic presses using the Jungle Scout Chrome extension.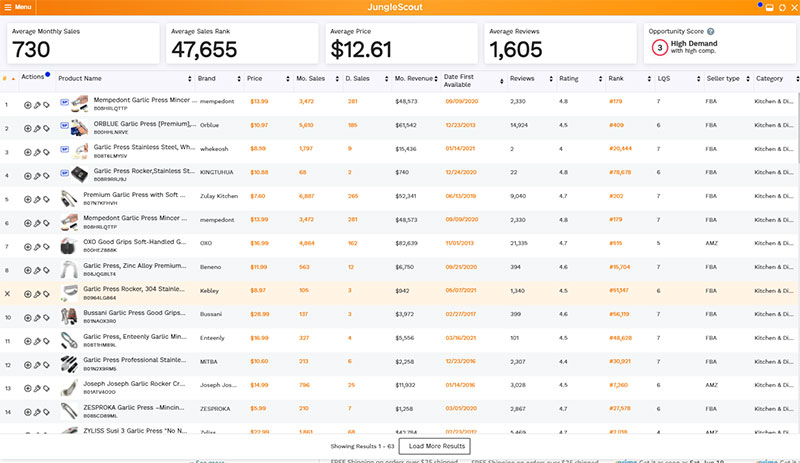 Like Helium 10, you can also click on any product to view its sales history with Jungle Scout.

Here's a snapshot of 3 of my own Amazon products.
Here's what I found.
| | | |
| --- | --- | --- |
| Product | Jungle Scout Estimate | Helium10 Estimate |
| ASIN 1 | 21% Higher | 30% Higher |
| ASIN 2 | 130% Higher | 171% Higher |
| ASIN 3 | 16% Higher | 34% Higher |
Based on my research, both Helium 10 and Jungle Scout seem to inflate the actual sales numbers but Jungle Scout is more accurate overall when looking at my product portfolio.
in general, you should always take sales estimates from any Amazon tool with a grain of salt.
I saw discrepancies of up to 171% for my products which is pretty huge. Overall, you should apply a plus minus of 20-30% for any ASIN you research using either tool.
Winner: Jungle Scout
Helium 10 Vs Jungle Scout – Which Keyword Research Tool Is More Accurate?
Helium 10's keyword research tool is more accurate than Jungle Scout based on data from the Amazon Brand Analytics tool.
Because Amazon does not reveal actual keyword volume for their A9 search engine, all keyword search numbers for both Helium 10 and Jungle Scout should be taken with a grain of salt.
However, Amazon publishes overall keyword rankings on their Brand Analytics tool.
The Brand Analytics tools allows brand registered Amazon sellers to analyze search terms, demographics and repeat purchase frequency.
Here's a snapshot of the Amazon Brand Analytics tool.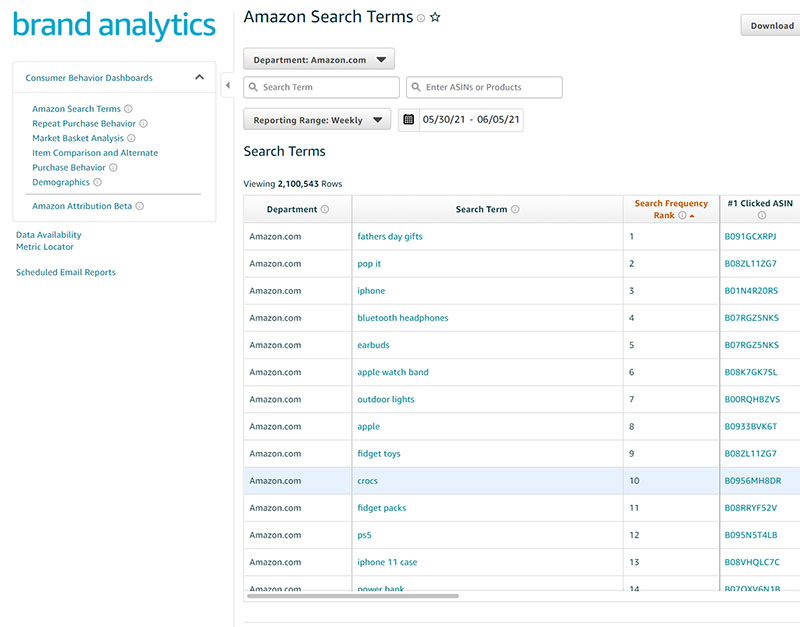 To compare the accuracy of the keyword research tools for Jungle Scout vs Helium 10, I chose different ranked keywords from Amazon's Brand Analytics tool to make sure that their relative search volumes were as expected.
Here are the keywords I used for this experiment.
Rank #5000 Bullet Journal
Rank #6250 Outdoor Cushion
Rank #7500 Standing Lamp
Rank #10000 Drawer Liner
Rank #12500 Nintendo Switch Lite Accessories
Rank #15000 Midi Dress For Wedding Guest
Rank #20000 Velcro Strips
Here are the search volume results for Helium 10 vs Jungle Scout
| | | |
| --- | --- | --- |
| Keyword | Jungle Scout Estimate | Helium10 Estimate |
| #5000 Bullet Journal | 79799 | 62790 |
| #6250 Outdoor Cushion | 48682 | 52745 |
| #7500 Standing Lamp | 31618 | 44280 |
| #10000 Drawer Liner | 28318 | 37605 |
| #12500 Nintendo Switch Lite Accessories | 24477 | 29619 |
| #15000 Midi Dress For Wedding Guest | 12211 | 25786 |
| #20000 Velcro Strips | 14085 | 20701 |
When performing this analysis, you should expect to see a descending search volume on the table above with lower ranking keywords.
And for the most part, this trend held true for Helium 10 but Jungle Scout had a blip where "velcro strips" had more search volume than "midi dress for wedding guest".
As a result, I give Helium 10 the edge here.
Winner: Helium 10
Features That Both Tools Have
As mentioned earlier, both Helium 10 and Jungle Scout offer overlapping functionality. Here are the features that both tools have in common.
Product Research Tool
By entering different parameters for products to sell, both Helium 10 and Jungle Scout will output Amazon product ideas that meet your exact criteria from their product database.
Jungle Scout And Helium 10's product database is useful for discovering product ideas and profitable product niches that you never would have thought of.
In this example, Helium 10 returns products that generate at least $2000/month, priced at $20 with a review count of less than 200.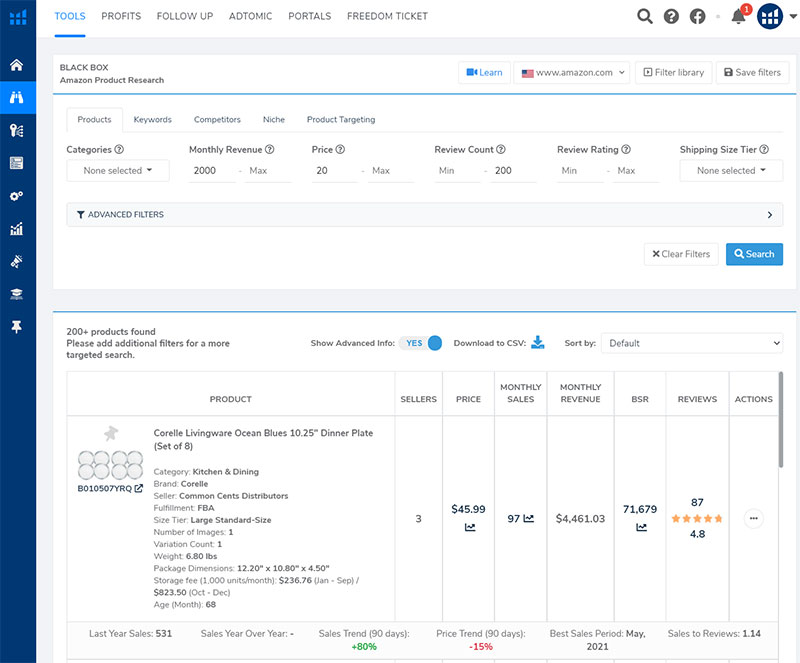 This search can be conducted on a keyword level as well.
In this example, the Jungle Scout Opportunity Finder returns search terms yielding at least 300 monthly units sold with a search volume of at least 1000 searches priced at $20 or higher.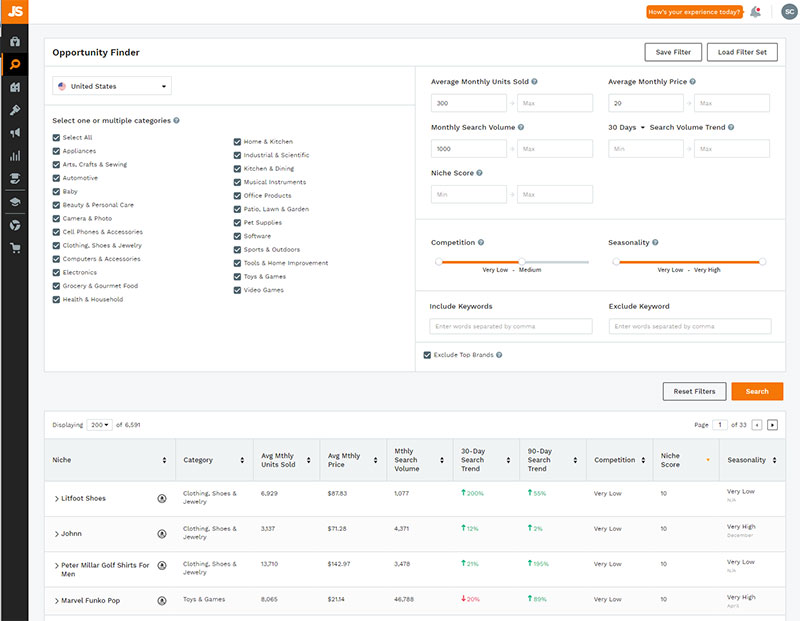 Listing Optimization
Both Jungle Scout and Helium 10 provide tools to help you create and optimize your Amazon listing.
The Jungle Scout web app provides a nice wizard which walks you through the entire process.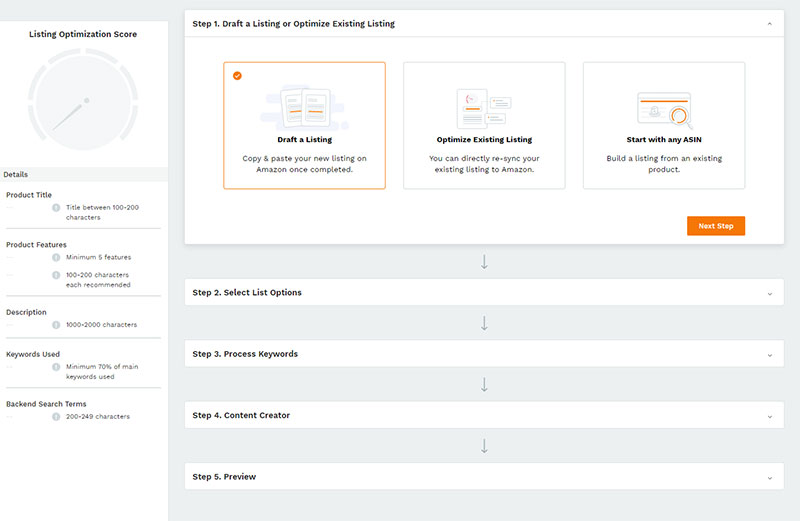 Meanwhile, Helium 10 provides a listing optimizer tool called Scribbles to help you create an optimized listing.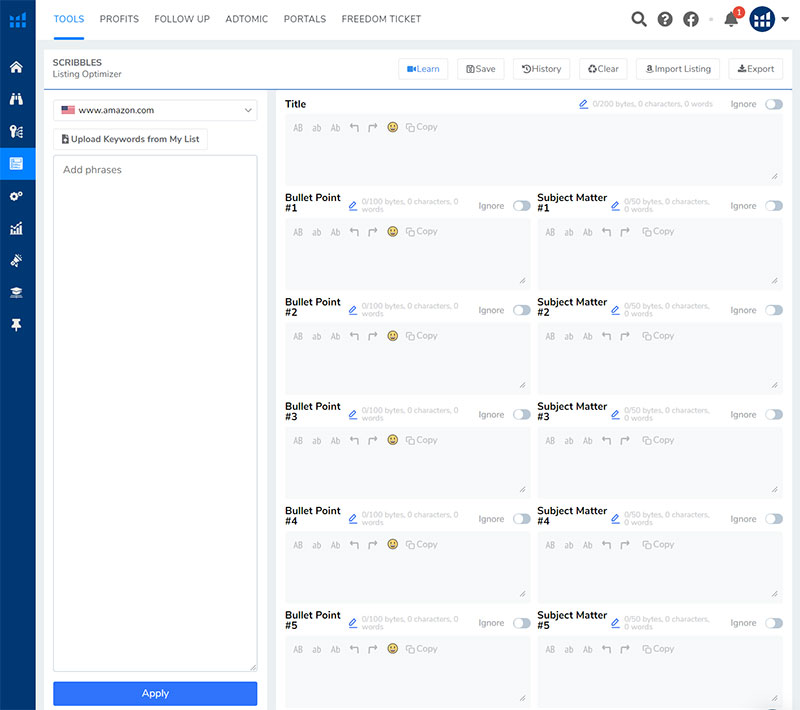 Keyword Tracker
Amazon SEO is a crucial aspect of selling on Amazon and it's important to track your search rankings.
Both the Helium 10 and Jungle Scout keyword tracker allows you to track your targeted keywords for your products over time so you can manage your search engine optimization efforts.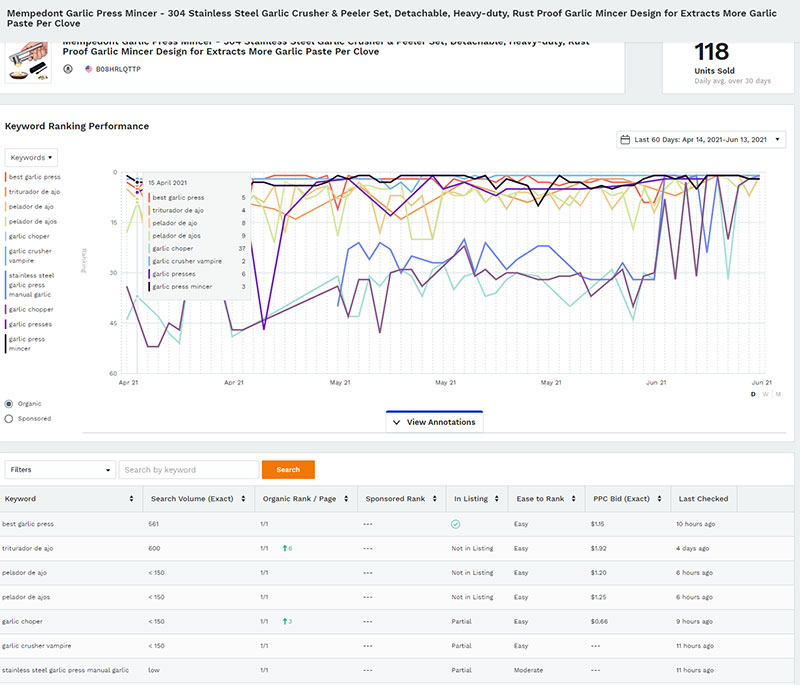 Sales Analytics
When you sell on Amazon, it's very easy to get caught up with your sales numbers and forget about the most important metric of all, profitability.
Both Jungle Scout and Helium 10 provide detailed profit and loss dashboards so you can monitor the health of your Amazon account.
You can also get a high level picture of all of the Amazon Seller fees that are eating away at your profits.
Review Automation
When it comes to running a successful ecommerce business, you have to understand how to get reviews on Amazon.
Not only do reviews provide social proof for your listing, but they increase your conversion rate as well.
Both Jungle Scout and Helium 10 offer tools to automate review generation.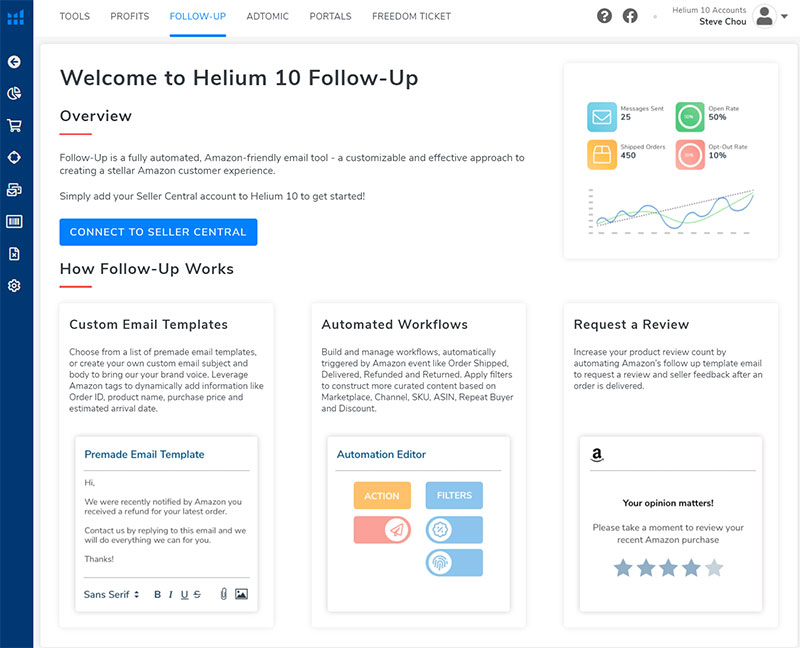 Listing Alerts And Notifications
Amazon alerts keep you informed about critical changes to your Amazon product listings so you can take action fast.
For example, you can monitor changes to your products such as your titles, images, categories and piggybackers. You can also set alert thresholds for BSR and product rating.
Most importantly, you can receive an alert every time you receive a negative review so you can respond appropriately.
Both Helium 10 and Jungle Scout offer automated alerts so you can monitor all of your Amazon listings at the same time.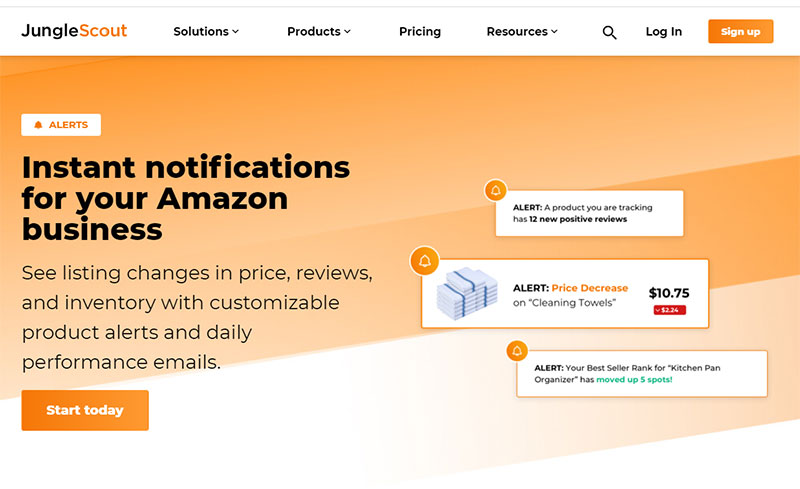 Inventory Manager
The inventory manager for Helium 10 and Jungle Scout allow you to accurately predict how much stock you'll need for your Amazon FBA business and when to order more inventory.
You'll be able to…
Calculate your inventory needs
Predict your sales and future profit
Maintain a high Amazon IPI score
Avoid Amazon long term storage fees
Prevent sold out listings

Product Tracker
The product tracker for Jungle Scout and Helium 10 allows you track how a group of products perform on Amazon over a period of time.
Certain products may be seasonal and certain products may be on a downward sales trend. It's important to analyze a product's sales history before deciding whether to sell.
Both tools allow you to closely track sales trends, average sales, revenue and best seller rank of any product sold on Amazon.
You can also create groups of similar products to view how certain classes of products perform in aggregate.
All product tracker data can be displayed in a fully customizable table to get a high level view of the competitive landscape.
Product tracker data can also be exported into CSV format for further manipulation.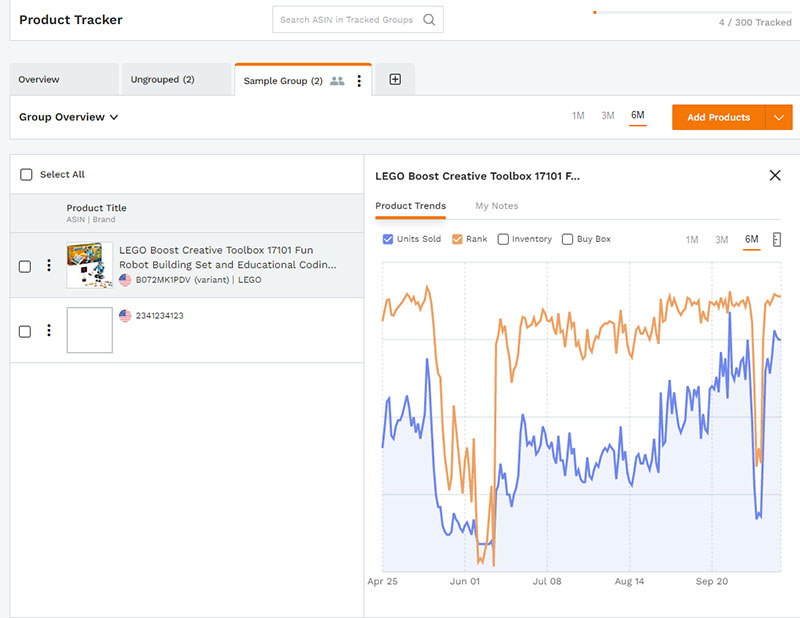 Features Jungle Scout Has That Helium 10 Does Not
The most important feature that Jungle Scout has that Helium 10 does not is the Supplier Database. In fact, this feature alone can make Jungle Scout more attractive than Helium 10.
Every shipment that arrives into the United States by sea is documented on the public record. Every container, every boat and every product imported into the US can be easily accessed if you use Jungle Scout's Supplier Database tool.
Here's how it works.
Jungle Scout Supplier Database
Once you're logged into the Jungle Scout web app, click on the tab labeled "Supplier Database".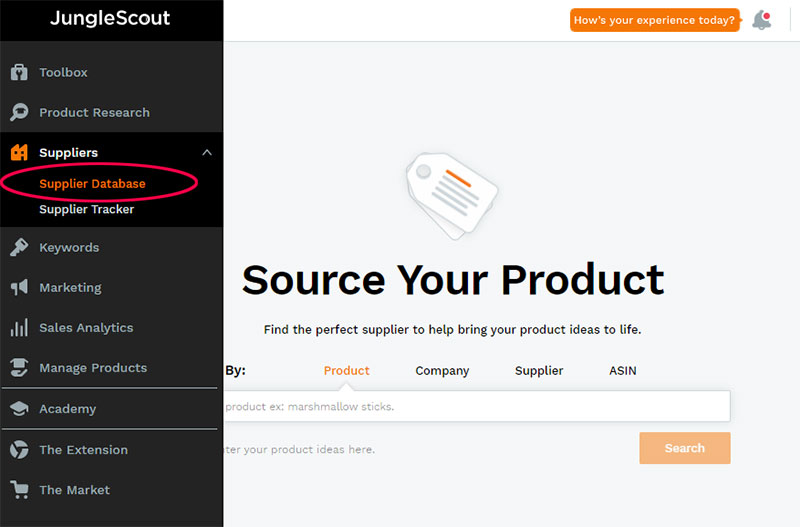 Enter the company you want to research.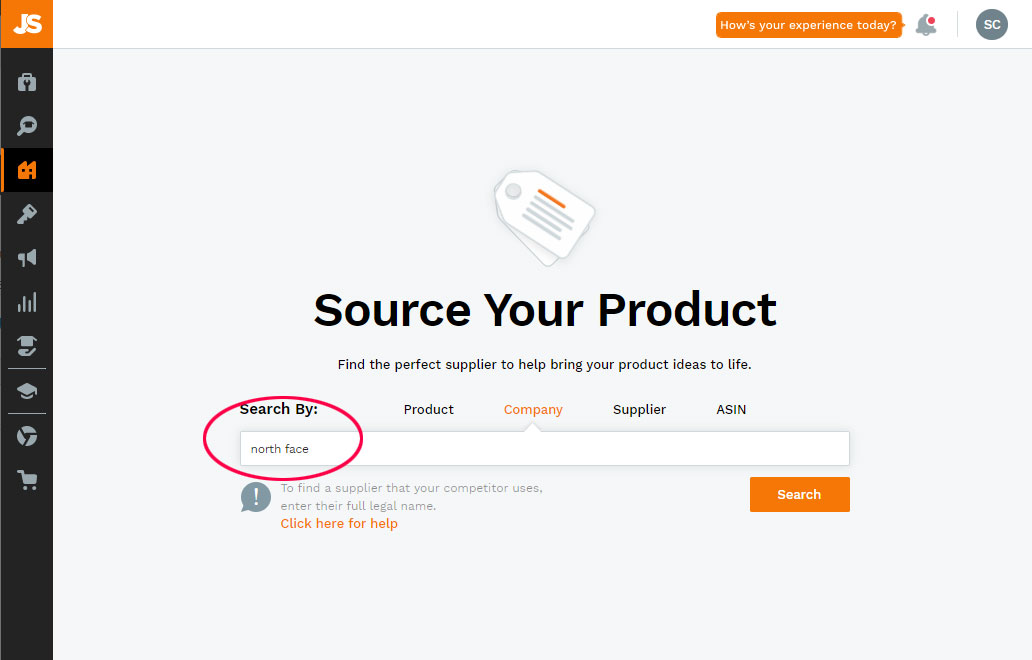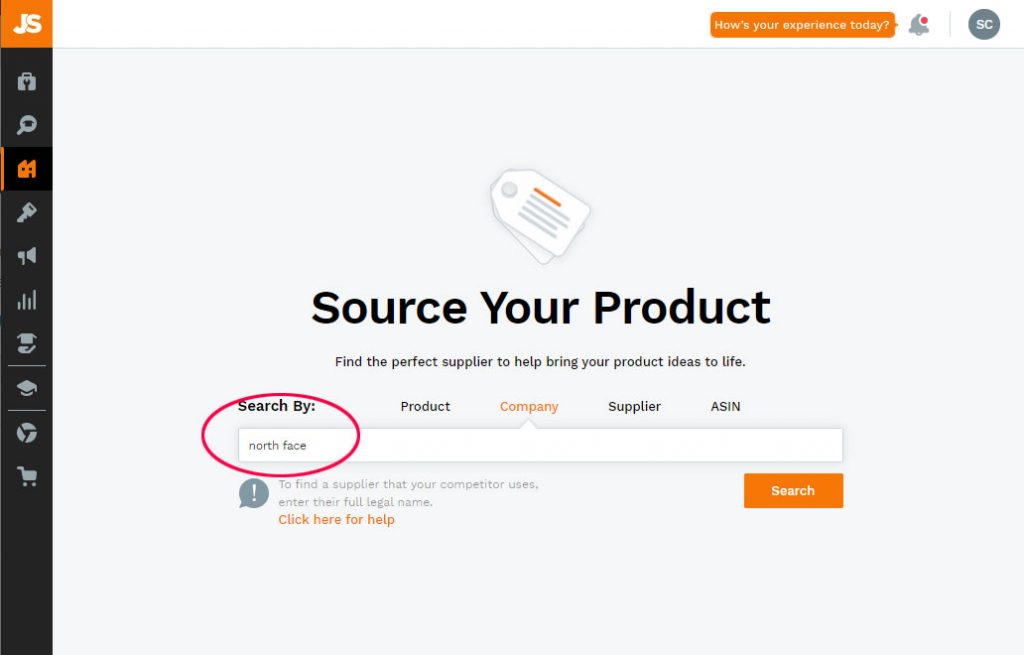 Here's an example of a search conducted with The North Face.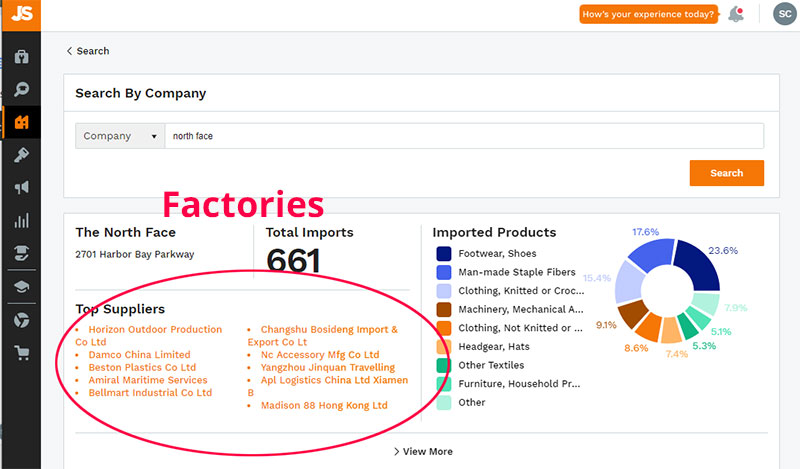 With a single click, you can see any Amazon seller's suppliers and their shipment volume.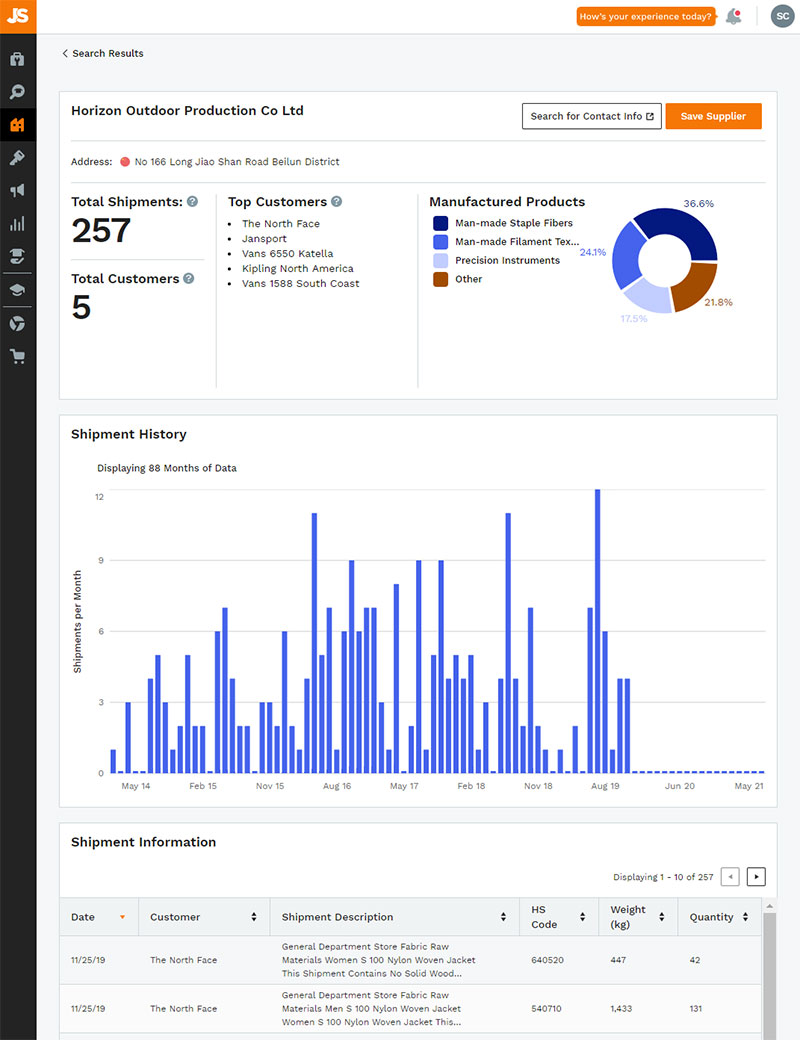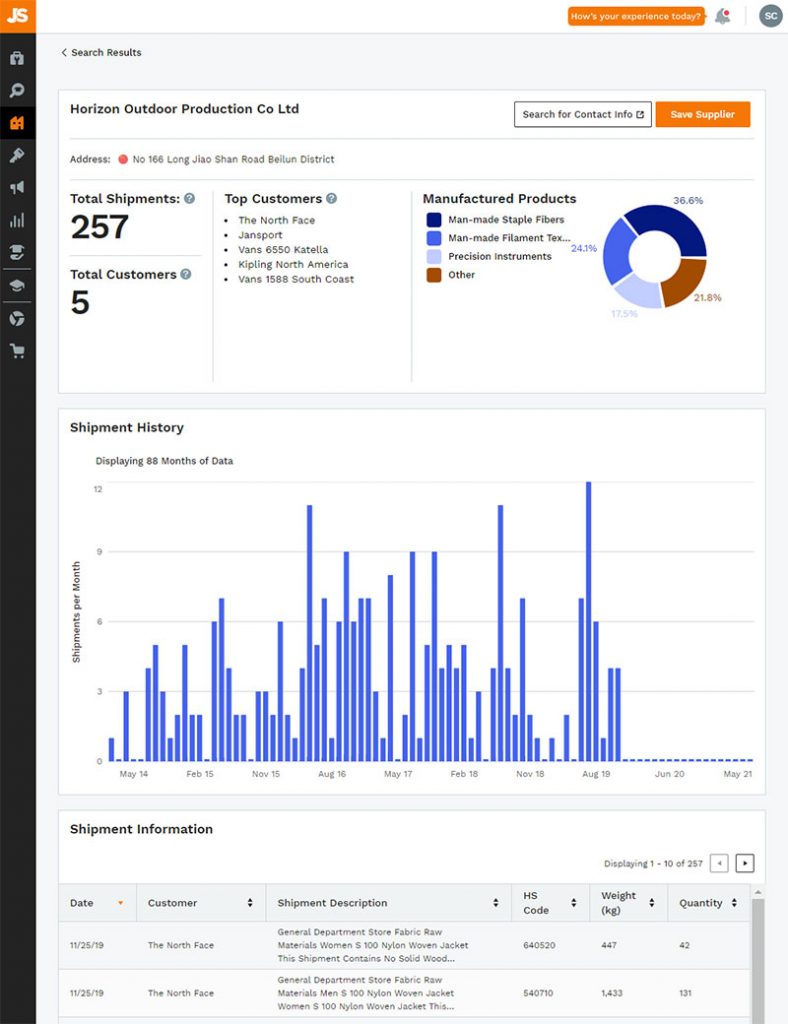 Then, you can reach out to these exact same factories to produce your own products.
Jungle Scout Promotions
Jungle Scout also provides a marketplace of ready to buy shoppers that you can tap into to launch brand new products.
By listing your products on the Jungle Scout marketplace, you can make some quick sales and generate some early reviews.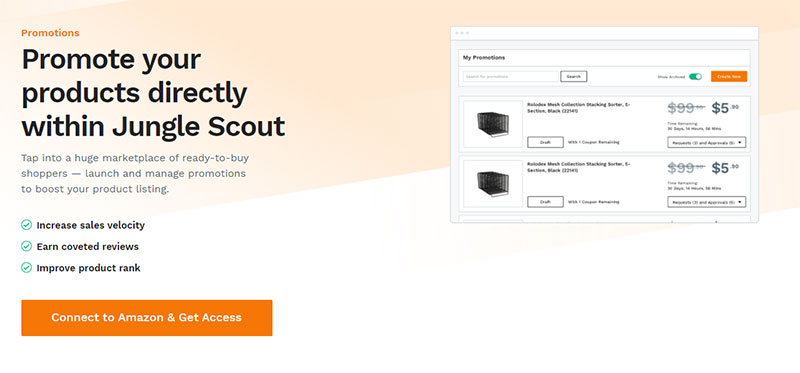 Jungle Scout Freelancers
If you need help managing your Amazon business, Jungle Scout provides a handy marketplace of freelancers that can help.
The Jungle Scout Freelancer Extension can be used to find…
Listing optimization experts
Graphic designers
Photographers
Video editors
Legal assistance
Writing and copywriting services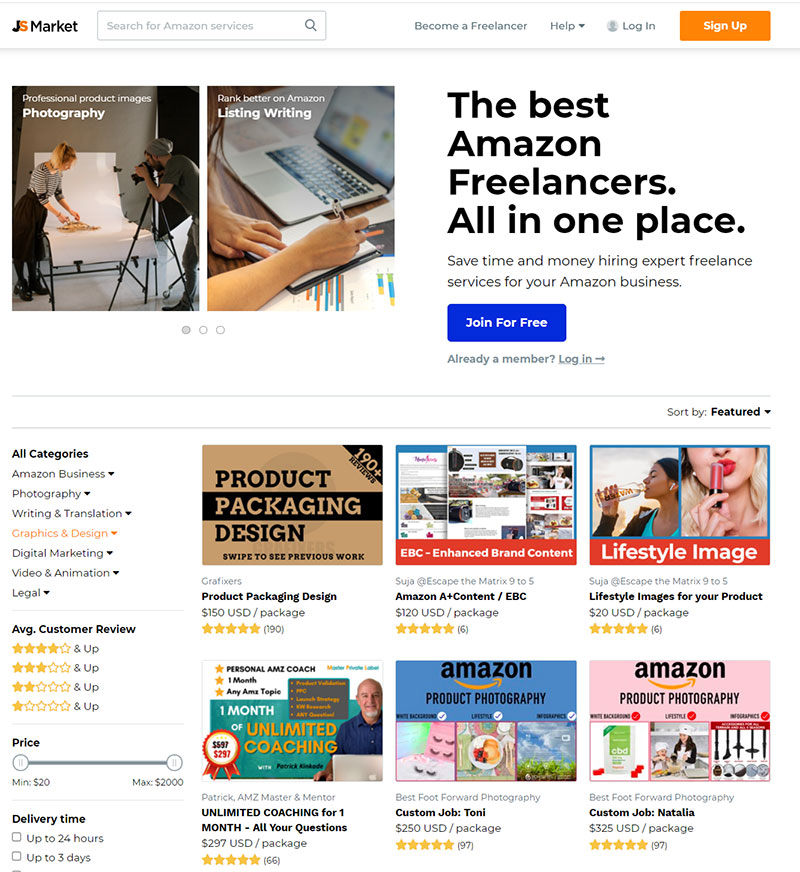 Features Helium 10 Has That Jungle Scout Lacks
On the surface, Helium 10 offers many more tools than Jungle Scout from a sheer quantity perspective. But many of Helium 10's tools don't do very much.
For example, their Misspellinator tool finds common misspellings of your target keywords which you can use in your backend listing keywords.
But realistically, any good keyword tool will find these misspellings for you during the research process.
Helium10 also offers a review downloader to save you time. Instead of copying and pasting Amazon reviews onto a spreadsheet, the Helium 10 review downloader allows you to aggregate all reviews from a designated ASIN at the push of a button.
Helium10 also offers a mobile app which makes checking your Amazon stats much easier on your smart phone. They also have a profitability calculator built into their chrome extension which makes calculating the viability of a product niche much more convenient.
All of the examples above are "nice to have" features but definitely not essential.
Below are the features that Helium 10 offers over Jungle Scout that I believe are worth highlighting.
Helium 10 Refund Genie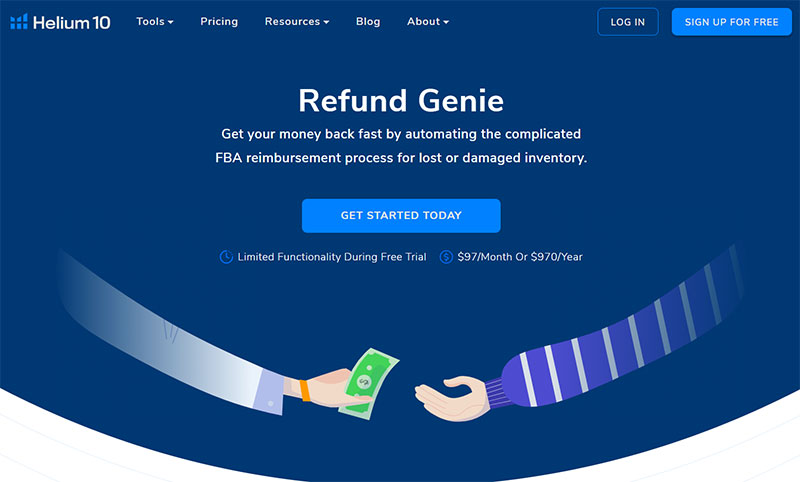 Amazon loses your inventory all the time. Helium 10's Refund Genie helps you get your money back fast by automating the FBA reimbursement process for lost or damaged inventory.
Here's how it works…
Refund Genie automatically checks your account for FBA reimbursement opportunities.
Once an opportunity is found, you can cut and paste pre-written messages to send to Amazon for reimbursement.
Refund Genie provides an Amazon refund estimate and keeps track of outstanding refunds that are owed to you.
This tool is extremely useful and comes free with Helium 10's platinum plan.
Editor's Note: There are other "fully automated" Amazon reimbursement tools like GETIDA that provide a similar service where they handle everything for you including the messaging process but you have to give up a portion of your refund. While Refund Genie is free, you still have to manually send messages to Amazon.
Helium 10 Listing Analyzer
The Listing Analyzer tool from Helium 10 is handy if you want a quick and dirty analysis of your product listing.
Often times, the Listing Analyzer can find "low hanging" fruit opportunities to optimize your listing.
Here's an example.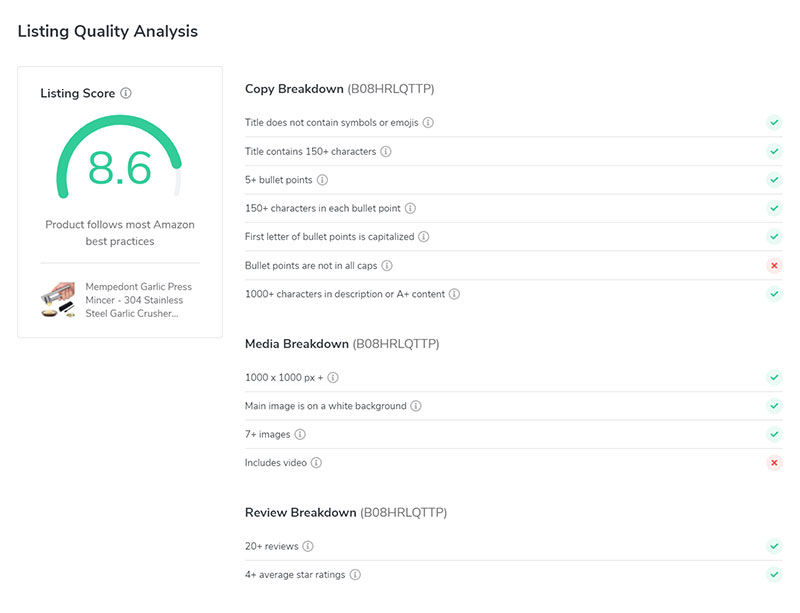 Helium 10 Adtomic

Helium 10's Adtomic tool is an AI powered Amazon advertising platform that helps you optimize your Amazon PPC ads.
Normally, running Amazon Sponsored Products ads through Seller Central is inconvenient because the Amazon user interface sucks. Adtomic allows you to fully manage your ads within the Helium 10 backend.
You'll receive keyword bidding suggestions so you don't have to sift through pages and pages of Excel reports.
Full disclosure: I have never used Adtomic before and instead use a different software solution to run my Amazon ads. But Adtomic looks promising especially if it comes for free as part of the Helium 10 software suite.
It's also worth noting that Adtomic is only available on the Diamond Plan and above.
Helium 10 Audience Polls
Helium 10's Audience tool is essentially a rebrand of the popular service PickFu where you can get feedback from real humans about your listing before you launch.
For example, you can quickly split test product images to get a real human's opinion to optimize your listing.
Here's an example poll that I ran in the past when deciding which t-shirt design to sell.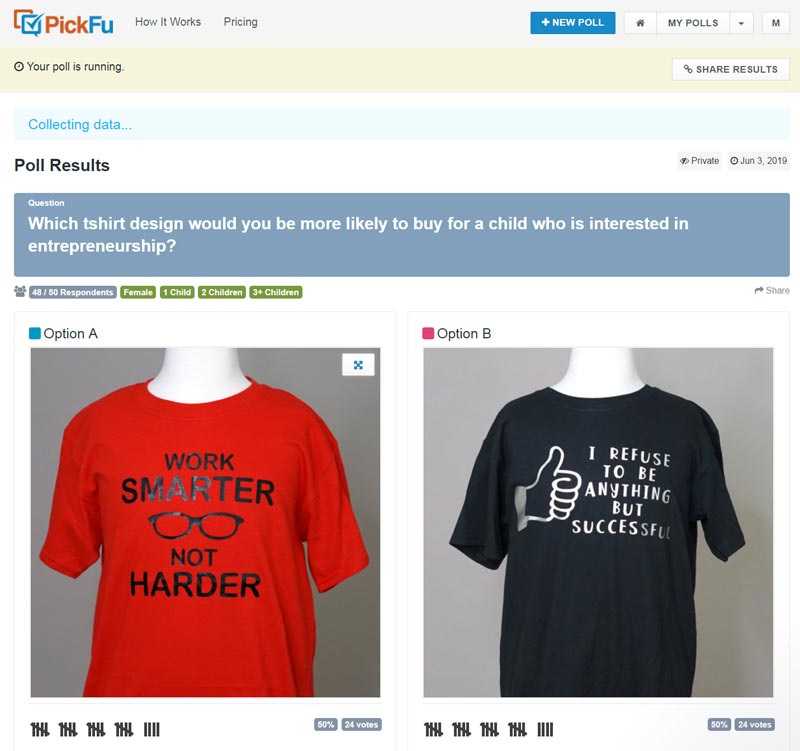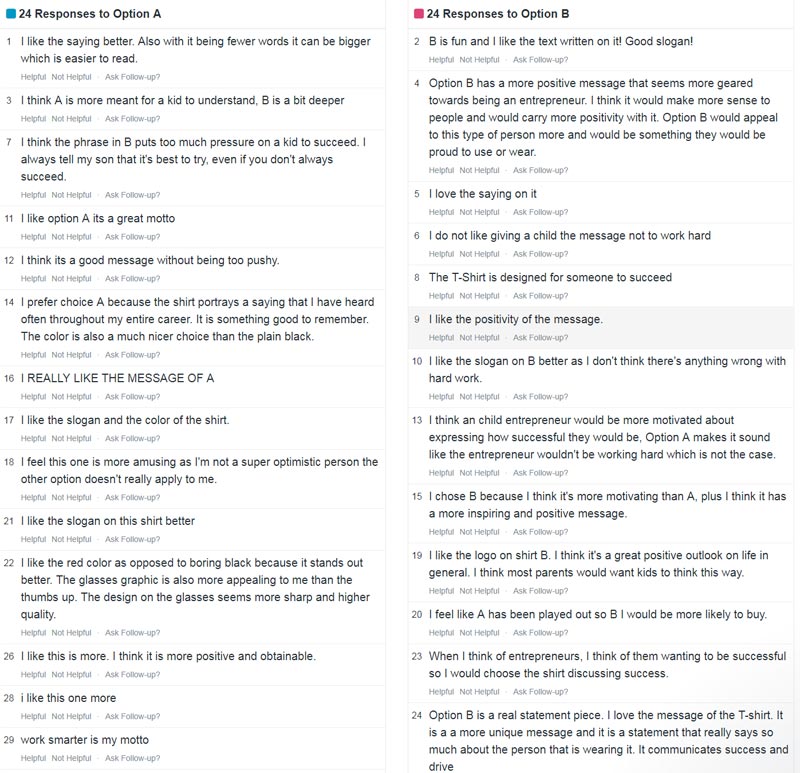 Helium 10 Vs Jungle Scout – Which Amazon Tool Offers The Best Value?
Overall, Jungle Scout is a better value than Helium 10. Because Helium 10 and Jungle Scout share many of the same essential features, your decision basically comes down to price and whether each tool's unique features appeal to you.
First off, Jungle Scout is 30% cheaper for their "Suite" plan which is the plan that 90% of you will be using for your Amazon business.
Personally, I find the Jungle Scout Supplier Database extremely useful for finding new suppliers and I value that feature over Helium 10's Refund Genie, Audience and Listing Analyzer tools.
Why?
Right now, I use a fully automated Amazon reimbursement service called GETIDA which handles everything for me for a percentage of my reimbursement. I'd rather not have to message Amazon ever so I don't use Refund Genie. But you can't beat free:)
The Helium 10 Listing Analyzer is a nice to have feature but it's not as useful if you already know what you are doing.
Meanwhile, the Helium 10 Audience tool is simply a rebrand of PickFu and you can run your polls directly on the PickFu website.
In fact, here's a coupon you can use for PickFu directly.
The only wildcard is the Adtomic Amazon Advertising Tool. If you plan on signing up for the Helium 10 Diamond Plan and you need Adtomic, then it's probably worth signing up for Helium 10.
But if you want the best bang for your buck and access to the Jungle Scout Supplier Database, then Jungle Scout is currently my recommended Amazon tool overall.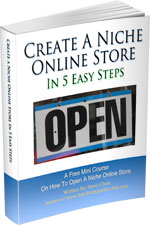 Ready To Get Serious About Starting An Online Business?
If you are really considering starting your own online business, then you have to check out my free mini course on How To Create A Niche Online Store In 5 Easy Steps.
In this 6 day mini course, I reveal the steps that my wife and I took to earn 100 thousand dollars in the span of just a year. Best of all, it's free and you'll receive weekly ecommerce tips and strategies!
Note: This post above may contain affiliate links, which means that I may receive a commission if you make a purchase when clicking a link. Please consult our privacy policy for more information.
Related Posts In Amazon Seller Tools
About Steve Chou

Steve Chou is a highly recognized influencer in the ecommerce space and has taught thousands of students how to effectively sell physical products online over at ProfitableOnlineStore.com. 

His blog, MyWifeQuitHerJob.com, has been featured in Forbes, Inc, The New York Times,  Entrepreneur and MSNBC.  

He's also a contributing author for BigCommerce, Klaviyo, ManyChat, Printful, Privy, CXL, Ecommerce Fuel, GlockApps, Privy, Social Media Examiner, Web Designer Depot, Sumo and other leading business publications.

In addition, he runs a popular ecommerce podcast, My Wife Quit Her Job, which is a top 25 marketing show on all of Apple Podcasts. 

To stay up to date with all of the latest ecommerce trends, Steve runs a 7 figure ecommerce store, BumblebeeLinens.com, with his wife and puts on an annual ecommerce conference called The Sellers Summit.  

Steve carries both a bachelors and a masters degree in electrical engineering from Stanford University. Despite majoring in electrical engineering, he spent a good portion of his graduate education studying entrepreneurship and the mechanics of running small businesses.