Dropshipping has a reputation for being a get rich quick scam because it sounds too easy.
You don't need to store inventory.
You don't need to ship or fulfill orders.
You don't need much money to get started.
You can run a dropshipped store from anywhere in the world.
While these statements are all technically true, a common misconception is that running a successful dropshipped store is easy.
But in reality, success with dropshipping has many pros and cons and isn't as straightforward as you are led to believe.
In this post, I answer all of the in depth questions related to dropshipping to provide you with a complete view of what it takes to run a profitable dropshipped store.
Get My Free Mini Course On How To Start A Successful Ecommerce Store
If you are interested in starting an ecommerce business, I put together a comprehensive package of resources that will help you launch your own online store from complete scratch. Be sure to grab it before you leave!
What Is Dropshipping?
Dropshipping is an ecommerce business model where you sell physical products online without purchasing inventory, without owning a warehouse to store your products and without dealing with shipping and handling.
Basically, your dropshipping supplier handles all of your product fulfillment needs. When an order comes in, you notify your dropshipper and they ship your products directly to the customer on your behalf.
Is Dropshipping Legal And Legit?
Dropshipping is 100% legal as long as you use legitimate dropship suppliers.
For example, if you sell Disney merchandise on your online store and your supplier dropships fake Disney merchandise on your behalf, you could be liable for fraud.
As long as you are careful about who you work with and only use officially licensed distributors for the brands you carry, dropshipping is legit and safe.
Does Dropshipping Require A Sellers Permit And Business License?
In the United States, you absolutely need a sellers permit in order to legally sell online. Most states require you to charge sales tax to customers where you have economic nexus and dropshipping is no exception.
If your locality requires a business license, then you must get a business license as well.
Remember, dropshipping is simply a method of order fulfillment. Your dropshipping business is a real business and must be registered as such.
How Profitable Is Dropshipping?
Because your supplier is doing most of the heavy lifting when it comes to product fulfillment and inventory storage, the margins for dropshipping are much less than other ecommerce business models.
Typical margins for dropshipping are between 10-30% compared to 50-66% for private label and traditional wholesale which makes dropshipping far less profitable.
The best products to dropship are higher ticket items that yield more revenue per sale.
Is Dropshipping Worth It?
Despite the low margins, dropshipping can be a great way to get started selling online. For less than $3, you can start a fully featured ecommerce business that carries hundreds of products.
Dropshipping is worth it for product research as well. Without any upfront risk, you can list many products online to see what sells.
Then, based on your own sales data, you can private label or carry inventory for your bestselling products and keep more of the profit.
Can Dropshipping Be Automated?
Dropshipping can be 100% automated EXCEPT for customer service.
Most established dropshipping suppliers support EDI which stands for Electronic Data Interchange. EDI is an electronic system that allows your website and your supplier's website inventory to automatically stay in sync.
For example, if your supplier runs out of stock on a particular product, your website's inventory will automatically be adjusted. In addition, all orders placed on your website are automatically transmitted to your dropshipper for fulfillment.
However, even though order fulfillment is automated, you are still responsible for answering questions and performing customer service.
How Dropshipping From Your Own Website Works
If you use a well supported ecommerce platform like Shopify, BigCommerce or WooCommerce, setting up dropshipping is a straightforward process.
Here's exactly how dropshipping from your own website works.
A customer places an order on your website and you accept payment.
The customer's order is electronically transmitted to your dropship supplier where you are charged the agreed upon wholesale price for your goods.
Your dropship supplier then ships the order to the end customer.
You pocket the difference in cost as profit.
How Dropshipping Works On Amazon
With dropshipping, you are not limited to just selling on your own website. You can also dropship products on Amazon.
Here's how Amazon dropshipping works.
You list your products for sale on the Amazon marketplace as a merchant fulfilled seller.
When an order is placed on Amazon, you electronically send the order to your dropship supplier who then ships the products to the end customer.
Overall, Amazon dropshipping is a much riskier business model than dropshipping from your own website because you have to follow Amazon's terms of service to the letter.
First off, you must source your products from a legit wholesaler. You are NOT allowed to dropship your products from another marketplace like AliExpress, Ebay or Walmart. Otherwise you will get banned.
As a result, Aliexpress dropshipping on Amazon is expressly prohibited.
Amazon also imposes very strict requirements for shipping and fulfillment that must be met. If you have a series of late shipments or inventory mishaps, your account will get banned.
But outside of following Amazon's terms of service, dropshipping on Amazon works much the same as dropshipping on your own website.
How Dropshipping Works On Ebay
With Ebay dropshipping, you list your products for sale on Ebay as an auction or store listing. Then, when an order is placed, you electronically notify your supplier who fulfills the order.
Similar to Amazon, you must source your products from legit dropship suppliers and not marketplaces like Amazon or Walmart. Otherwise you will get your account suspended.
As a result, get rich quick schemes like buying products from Amazon and dropshipping them on Ebay at higher prices is expressly prohibited.
How Dropshipping Payments Work
When you sign up with a dropshipping supplier, you will be asked for a form of payment. Typically, you can pay by…
Credit Card – Your supplier keeps your credit card on file and simply charges your card when an order is placed.
ACH Or Direct Transfer – Your supplier keeps your bank information and automatically places a transaction at the end of the day/week/month for all products purchased.
Payment Terms – Some suppliers will offer you payment terms which means you do not have to pay for your products until 30 or 60 days later.
Whenever an order is placed on your website, 2 payment transactions occur in the background.
The first transaction takes place when you accept payment from your customer and deposit the money into your bank account.
The second transaction takes place when you pay your supplier for the raw cost of goods and any related dropship fees.
Where To Find Dropshipping Suppliers
There are 4 main ways to find dropshipping suppliers depending on your budget and the types of products you want to sell.
Dropship Supplier Directory – A dropship directory is a quick and easy way to access a library of dropshipping suppliers organized by category. By paying a fee, you can perform a search and instantly have access to hundreds of pre vetted suppliers.
Dropshipping Companies – A dropship company acts as a middleman who automatically connects you to a dropship supplier. You simply list the products that the dropship company offers and they handle the entire fulfillment process. As a result, you do NOT have to find or interact with any suppliers.
Dropshipping Tradeshows – By attending local wholesale and dropshipping tradeshows, you can form dropshipping arrangements face to face.
Print On Demand Companies – Print on demand companies allow you to print your own designs on select merchandise to sell online without any upfront cost.
How To Find Wholesalers Who Dropship
The easiest way to find dropship wholesalers is by using Google, a directory like Worldwide Brands or by attending wholesale tradeshows.
Many wholesalers are reluctant to dropship for your store unless they know you can move product. If there's a brand who refuses to dropship for you at first, you should purchase and sell their products wholesale to start.
Then, once you've demonstrated a track record of sales, you can request a dropshipping arrangement.
Where To Find Products To Sell For Dropshipping
More than half the battle of starting a successful online store involves finding the right products to sell online.
The best way to find profitable products to sell online is to leverage sales data from Amazon. Because Amazon owns over 50% of the ecommerce market, you can get an accurate view of the supply and demand for practically any product sold online.
To perform product research on Amazon, I recommend a tool called Jungle Scout.
Jungle Scout is a software tool that tells you how much revenue a product listing is generating on Amazon for the last 30 days. All sales information is collated for you in a nice table for your review.
Below is a 5 minute demo on how to use Jungle Scout for product research.
Click here to save 30% on any Jungle Scout plan
When To Use Dropshipping
Because the margins for dropshipping are low, dropshipping is generally not a good long term business model. Furthermore, because you are selling other people's brands, you will be directly competing with other sellers offering the exact same product.
As a result, dropshipping is best used to collect data for potential products to private label or buy wholesale.
Because dropshipping allows you to instantly sell hundreds of products online without any upfront cost, you can easily test a bunch of products, find out what sells and then private label your winners.
In other words, you should use dropshipping as a stepping stone to create your own branded products for sale!
Dropshipping is also an excellent business model for dipping your toes in the ecommerce waters without a large budget.
What Are The Best Dropshipping Companies?
Most dropship companies are middlemen who help online store owners quickly list products from ecommerce marketplaces like AliExpress, Taobao and 1688.
The main advantage of using a dropship company is that you instantly have access to millions of products WITHOUT having to build relationships or negotiate pricing.
Simply install a plugin to interface your store to your favorite dropshipping company and you can instantly sell hundreds of products at the push of a button.
Here's a list of my favorite dropshipping companies.
Who Pays For Shipping When Dropshipping?
Every dropship supplier charges their own shipping rates.
For example, Printful charges $3.99 for the first t-shirt and $1.25 for every additional t-shirt shipped using USPS First Class delivery.
When a customer places an order on your website, you can either eat the shipping cost yourself or pass the shipping cost along to your customer.
Using the t-shirt example above, you can either choose to charge the customer $3.99 for shipping or offer free shipping and cover the cost yourself.
For our online store, we charge a flat rate of $5 for all orders and offer free shipping for anything over $75.
Do Dropshippers Ship Internationally?
Some dropshipping suppliers will ship packages internationally at an additional cost.
However, international shipping is extremely expensive and getting accurate shipping quotes that account for customs duties, VAT and other fees is quite complex.
As a result, it can take longer for a dropshipper to process an international order.
How Do Returns Work With Dropshipping?
Even though dropshippers take care of product fulfillment, you are responsible for processing returns and providing customer service for defective merchandise.
Here is how a typical return is handled for dropshipped merchandise.
The customer contacts you for a refund.
You ask your supplier for an RMA (return authorization) number.
Your customer sends the product (in its original packaging) back to your supplier with the RMA number clearly marked.
Your supplier refunds the wholesale cost back to your account once the package is received.
You refund your customer after you've been refunded by your supplier.
Some dropship suppliers will charge you a restocking fee which you must pay or pass onto your customer.
Can You Use Multiple Dropship Suppliers?
You can use as many dropship suppliers as you want as long as your orders are routed correctly and as long as you set the proper expectations with your customer.
For example, let's say you sell 3 different products that are sourced from 3 different dropship suppliers.
If a customer buys all 3 products in a single order, here's how the order is fulfilled.
Your shopping cart will route product 1 to dropshipper 1, product 2 to dropshipper 2 etc.
Your customer will receive 3 separate packages in the mail.
Because 3 packages are shipped, you must pay the cost of shipping for 3 packages in the mail. In addition, you should notify your customer to expect 3 packages instead of 1 as well.
Most ecommerce platforms will handle order routing among different dropshippers automatically.
Why Dropshipping Is Good
Dropshipping is a good business model because it's a risk free way to sell products online.
You don't have to handle inventory, shipping or fulfillment. As a result, you can run your business from anywhere in the world.
There is little or no upfront investment. You can literally start a dropshipping store for free with Shift4Shop. Read my Shift4Shop review here.
Your store is infinitely scalable. It's approximately the same amount of work to make $100/month as it is to make $100K/month.
Most importantly, dropshipping can be used to research products to sell that you can eventually private label to maximize your profits.
Why Dropshipping Is Bad
Dropshipping is a bad business model because the margins are low at 10-30%.
As a result, you have to generate a large amount of traffic and revenue to make a significant profit.
Furthermore, customer service, product quality and delivery is entirely at the mercy of your dropship supplier. If your supplier is flaky or ships orders out late, it will reflect poorly on your company.
If you dropship on Amazon or Ebay, late shipments can result in a suspension.
Most importantly, there's little or no brand recognition with a dropship store. Because you are selling other people's products, you will face pricing pressure from other competing retailers offering the exact same goods.
What Big Stores Use Dropshipping?
Almost every large retailer leverages dropshipping to a certain extent. For example, big box stores like Home Depot often dropship large products from their catalog.
Wayfair is a multi million dollar ecommerce company that is entirely dropshipped!
Bottom line, you can make money with dropshipping when done at scale.
Will Dropshipping Be Profitable in 2022?
With warehouse space and inventory at a premium, dropshipping will still be a profitable business model in 2022 and beyond. However, it will be much more difficult to make a significant profit due to poor margins.
Ultimately, the best ecommerce business model is to start your own private label brand. By being in control of the product design and the entire supply chain, you can future proof your business and command the highest profits.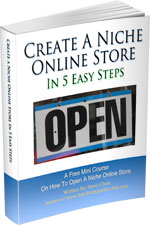 Ready To Get Serious About Starting An Online Business?
If you are really considering starting your own online business, then you have to check out my free mini course on How To Create A Niche Online Store In 5 Easy Steps.
In this 6 day mini course, I reveal the steps that my wife and I took to earn 100 thousand dollars in the span of just a year. Best of all, it's free and you'll receive weekly ecommerce tips and strategies!
Note: This post above may contain affiliate links, which means that I may receive a commission if you make a purchase when clicking a link. Please consult our privacy policy for more information.
Related Posts In Dropshipping
About Steve Chou

Steve Chou is a highly recognized influencer in the ecommerce space and has taught thousands of students how to effectively sell physical products online over at ProfitableOnlineStore.com. 

His blog, MyWifeQuitHerJob.com, has been featured in Forbes, Inc, The New York Times,  Entrepreneur and MSNBC.  

He's also a contributing author for BigCommerce, Klaviyo, ManyChat, Printful, Privy, CXL, Ecommerce Fuel, GlockApps, Privy, Social Media Examiner, Web Designer Depot, Sumo and other leading business publications.

In addition, he runs a popular ecommerce podcast, My Wife Quit Her Job, which is a top 25 marketing show on all of Apple Podcasts. 

To stay up to date with all of the latest ecommerce trends, Steve runs a 7 figure ecommerce store, BumblebeeLinens.com, with his wife and puts on an annual ecommerce conference called The Sellers Summit.  

Steve carries both a bachelors and a masters degree in electrical engineering from Stanford University. Despite majoring in electrical engineering, he spent a good portion of his graduate education studying entrepreneurship and the mechanics of running small businesses.