The main difference between Alibaba vs AliExpress is that AliExpress sells to consumers whereas Alibaba sells to businesses.
On Alibaba, you can purchase direct from the manufacturer in bulk at factory prices. Meanwhile on AliExpress, you can purchase products individually at retail prices.
Both Alibaba and AliExpress are very similar but they serve completely different markets.
Alibaba exclusively targets companies for business to business transactions whereas AliExpress serves the general consumer.
Alibaba helps businesses find factories to make bulk purchases at wholesale prices. Meanwhile, AliExpress allows businesses and individuals to purchase products in single unit quantities with no minimum order requirements.
In this post, we'll compare Alibaba vs AliExpress to teach buyers and sellers the right way to leverage these 2 marketplaces.
You learn about the key features of both platforms and how to use each marketplace for your business.
Editor's Note: If are apprehensive about buying from either platform, rest assured that Alibaba is legit and AliExpress is safe.
Get My Free Mini Course On How To Start A Successful Ecommerce Store
If you are interested in starting an ecommerce business, I put together a comprehensive package of resources that will help you launch your own online store from complete scratch. Be sure to grab it before you leave!
Who Owns Alibaba and AliExpress?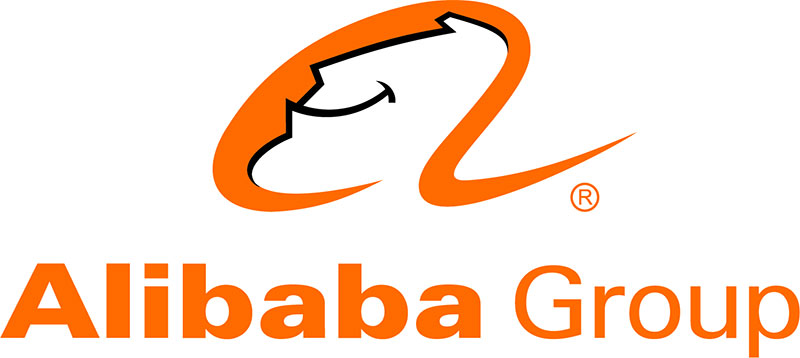 Alibaba and AliExpress are owned by the same parent company, Alibaba Group. Alibaba Group was founded by Jack Ma in 1999 to help facilitate commerce between China and the rest of the world.
The Alibaba Group owns many subsidiaries which include…
Alibaba – A platform to connect ecommerce businesses and factories in China.
AliExpress – A platform that allows businesses in China to reach consumers all over the world.
Taobao– A marketplace for consumer to consumer retail that primarily serves China, Hong Kong, Macau and Taiwan.
TMall– A marketplace for business to consumer retail that serves Chinese speaking countries.
These subsidiaries serve different markets and when combined, make the Alibaba Group one of the largest ecommerce companies in the world.
Because Taobao and TMall cater mainly to Chinese speaking consumers, the rest of this article will focus on Alibaba vs AliExpress. Both Alibaba and AliExpress serve customers worldwide.
What is Alibaba?

Alibaba is a business to business(B2B) marketplace that helps businesses find wholesale suppliers, manufacturers and factories across Asia.
Even though most of the suppliers in Alibaba's directory are from China, you'll also find suppliers in the surrounding Asian countries such as Vietnam, India, Thailand, Pakistan and Bangladesh.
Alibaba is meant to be used by businesses only and you can not buy single units of any product. Instead, every supplier that you find on Alibaba has a minimum order quantity.
The main value add of using Alibaba is that you can create your own private label products from the factories you find on the platform.
In other words, you can create and design your own products from complete scratch with your own custom brand and logo. Adding your own brand and logo is the norm when working with an Alibaba wholesale supplier.
You can also white label existing products from Alibaba factories.
What Is AliExpress?

AliExpress is a business to consumer (B2C) marketplace that allows businesses to sell products directly to consumers all over the world. AliExpress is known as the Ebay of China and you can find a wide variety of products across many categories.
Even though AliExpress serves businesses in many countries worldwide, almost every supplier on AliExpress resides in China.
The main downside of AliExpress is that you won't find factories and wholesale suppliers on the AliExpress marketplace. Because AliExpress caters to retail buyers and consumers, there are very few manufacturers on the platform.
Instead, you'll find many trading companies and small mom and pop sellers on AliExpress. In fact, it's quite common to find individual sellers on AliExpress who buy up excess inventory from factories and sell them piecemeal on the platform.
There are no minimum order quantities on AliExpress. Anyone can make a purchase and all AliExpress products are ready for immediate shipment.
Because the prices on AliExpress are much cheaper than the US and most first world countries, AliExpress dropshipping has become a popular business model for ecommerce business owners.
The Difference Between Alibaba Vs AliExpress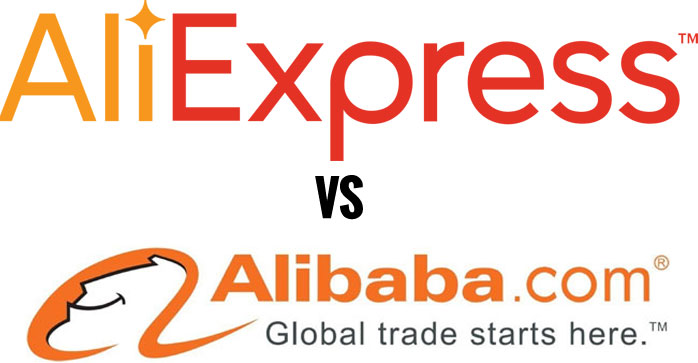 The primary difference between Alibaba vs AliExpress is that AliExpress sells to consumers whereas Alibaba sells to businesses.
Here's an in-depth comparison of the differences between Alibaba vs AliExpress.
Alibaba is a business to business (B2B) platform whereas AliExpress is a business to consumer (B2C) platform. B2B vs B2C is the fundamental difference between Alibaba vs AliExpress.
Alibaba focuses on businesses looking for Chinese suppliers to create their own private label products. Meanwhile, AliExpress is a shopping site for consumers to find cheap products from China. AliExpress was not originally created for drop shipping, but you can create a dropshipping business with AliExpress using an app like Oberlo or CJDropshipping.
Buying from Alibaba requires that you request a quote from your supplier and detail your exact specifications for the product you want to create. On AliExpress, everything is ready made and you can make a purchase immediately.
The prices on Alibaba will almost always be lower than AliExpress. As a result, you can sell Alibaba products at a high profit margin compared to AliExpress.
Alibaba is a directory of factories and manufacturers and does not offer order fulfillment. Meanwhile, AliExpress is an ecommerce marketplace consisting of many small merchants. AliExpress sellers are rarely factories.
Alibaba lead times for manufacturing are long and it can take months before your product ships. AliExpress shipping is immediate because they sell pre-made products.
Alibaba prices and minimum order quantities are always negotiable. Meanwhile AliExpress products are sold at a fixed price just like a regular retail site.
Alibaba does not allow dropshipping. On AliExpress, dropshipping is fair game. However, be aware that Amazon dropshipping and Ebay dropshipping from AliExpress is against terms of service.
The Similarities Between Alibaba And AliExpress
The main similarities between Alibaba and AliExpress are that both services offer a shared vision and philosophy when it comes to ecommerce.
Here's what you can expect from both Alibaba and AliExpress.
Alibaba Group owns Alibaba and AliExpress. As a result, the user interface is very similar between the two platforms. If you know how to use Alibaba, the AliExpress shopping experience is very similar.
Alibaba and AliExpress guarantee the safety of your purchase. Alibaba offers a trade assurance program and AliExpress offers a buyer protection program. Both guarantee that you will be satisfied with your order or your money back.
Alibaba and AliExpress offer many different payment methods online. You can pay by wire transfer, credit card, AliPay and more.
Alibaba and AliExpress offer similar products. In fact, sometimes you'll find the exact same product with identical photos on both platforms.
When To Use Alibaba Vs AliExpress

You should use Alibaba vs AliExpress if you are looking for private label manufacturers for your ecommerce business.
If you have a private label product idea and you need a factory to make your own custom products in bulk, then Alibaba is the right platform for you.
The inexpensive labor costs in China make manufacturing a custom product much more economical than any first world country.
For example, a handkerchief that costs 15 cents to source from China would cost 4 dollars or more in the United States.
The best part is that you can find an Alibaba supplier that will make whatever you want. Because the Alibaba directory is so large, you'll find manufacturers willing to make custom products, plastic molds, machined parts and more.
When To Use AliExpress Vs Alibaba

As an ecommerce business owner, there are 2 mains reasons to use AliExpress vs Alibaba to find products to sell online.
You are looking for dropshipping suppliers for your online business. By dropshipping products from AliExpress, there are little or no upfront costs to start an ecommerce store because you don't have to store or manage inventory.
You want to validate a product idea without investing much money upfront. If there's a product you want to sell but you are not quite ready to commit to a bulk order, you can first source a similar product on AliExpress to test the market.
For example, let's say you want to sell a coffee press online. Instead of committing to a bulk purchase from an Alibaba supplier that costs thousands of dollars, you can buy a similar "unbranded" coffee press from AliExpress first and try to sell it online.
If the AliExpress coffee press sells well, you can create a private label version of that product under your own brand.
How To Buy From Alibaba Vs AliExpress
Shopping at Alibaba vs AliExpress is a completely different experience. Buying from AliExpress is similar to shopping at an Ebay store. You browse a list of products and purchase directly online.
Buying from Alibaba, however, requires negotiation and manual outreach. Below is a guide on how to buy from Alibaba vs AliExpress.
How To Use Alibaba
At a basic level, Alibaba is a search engine for factories and manufacturers. There are no membership fees and you don't need to setup an account until you are ready to make a purchase.
Remember, Alibaba is not an online shopping site so you won't find a shopping cart or buy buttons. Because Alibaba suppliers cater to private label sellers, you have to work with each supplier individually to design and manufacture your own products.
Here's a step by step guide on exactly how to buy from Alibaba.
Step 1: Go to Alibaba.com and signup for an account. Alibaba will ask you for your company name, phone number etc… But you don't need to have a legal company or a business license to buy from Alibaba. Simply insert a placeholder for now.

Step 2: Conduct a search for a product that you want to sell. Make sure that you filter the search results to only contain gold suppliers and verified suppliers that support trade assurance. A gold supplier is a supplier that has been vetted by Alibaba to be a legitimate business.

Step 3: Find a supplier that meets your needs. Make sure you check the supplier's profile page to confirm that they are legit and have a history of on time shipments with great reviews.

Step 4: Use the "Contact Supplier" button to reach out and ask for more information about the products you want to buy. You can also post a request for a quotation (RFQ) on the Alibaba website and let Alibaba sellers come to you with their custom quotes. If you go the RFQ route, make sure you draft a document that outlines the exact specifications of your products.

Step 5: Purchase a sample and confirm that the product meets your specifications. The product must meet your standard of quality before making a bulk order.
Step 6: Negotiate pricing, minimum order quantity, shipping costs and the delivery date with your supplier. Consult a freight forwarder to obtain different shipping cost estimates depending on the size of your order.
Step 7: Pay using your desired payment method through Alibaba Trade Assurance. Trade assurance is a buyer protection service offered by Alibaba that acts like an escrow service. Alibaba will withhold the payment from the manufacturer until the product is shipped to you. In addition, Alibaba will help mediate any disputes in case you are not happy with your delivered products.
Step 8: Hire an inspection company like Qima to inspect the products at the factory in China before they are shipped.
Because the process of buying from Alibaba requires back and forth communication with your supplier, Alibaba dropshipping is not possible.
Even if you see a seller willing to sell products in single unit quantities on Alibaba, you can not find dropshipping suppliers on the platform.
How To Buy From AliExpress
Buying from AliExpress is simple, easy and 100% safe. In fact, buying from AliExpress is just like buying from Amazon or Ebay except the shipping times are much longer.
There are no membership fees and you don't need to setup an account until you are ready to make a purchase.
Unlike Alibaba, AliExpress is a pure online shopping site with a fully featured shopping cart built in to the platform. All products are pre-fabricated and ready to ship immediately.
As a result, there's no communication required between you and the seller and transactions can be conducted right on the platform.
Here's a step by step guide on how to buy from AliExpress safely.
Step 1: Go to AliExpress.com and create a free account. You can also download the AliExpress shopping app.

Step 2: Search for the product that you want to buy.

Step 3: Read the ratings and reviews for the product to make sure it's what you want.

Step 4: Review the shipping costs and options. For some products, the shipping time can vary up to one month or more.

Step 5: Add the item to your shopping cart and checkout using the payment method of your choice and your shipping address.

Step 6: Once the order is confirmed, you'll be provided with a tracking number once your order ships.
If you are afraid of buying from a seller in China, AliExpress offers a 100% money back guarantee if you are not satisfied with your purchase.
Even though the dispute process can take a while, the AliExpress buyer protection program will refund your money as long as the transaction was conducted on the AliExpress website.
For a dropshipping store, the process of buying from AliExpress is completely different depending on the dropshipping app you choose to use.
In most cases, your dropshipping app will automatically place orders on AliExpress on your behalf and ship products to the end customer without your intervention. You shouldn't have to lift a finger!
Alibaba Vs AliExpress: Which Should You Use?
You should use AliExpress if you want to sell dropship products online. The low startup costs associated with dropshipping allow you to easily launch a WooCommerce store or a Shopify store for less than $50.
You should use Alibaba if want to sell your own branded private label products. Most suppliers on Alibaba allow you to make modifications to existing products or design your own products from scratch.
The expectation for Alibaba suppliers is for you to brand the products that you buy.
Overall, choosing between Alibaba vs AliExpress depends on your ecommerce business model and your budget for product sourcing.
If your startup budget for your ecommerce store is less than $2000, you don't really have a choice. You have to go with drop shipping. Most private label ecommerce stores need at least $2-$3k to launch their first product.
After all, suppliers on Alibaba will not sell you fewer than several hundred units at a time. Alibaba is meant for business buyers and wholesale buying only.
Alibaba Vs AliExpress: Which Platform Is Better?
Determining whether Alibaba is better than AliExpress (or vice versa) for an ecommerce store is highly dependent on your income goals.
If you are on a low budget and want to make a few bucks here and there, then you can offer dropshipping through AliExpress.
But dropshipping is not a good long term business model. Not only is quality control a major issue with the individual suppliers on AliExpress but the shipping times are extremely long.
Imagine placing an order on Amazon.com and being notified that you'll receive your products in a month! The AliExpress fulfillment experience is far from ideal.
Meanwhile, the suppliers that you'll find on AliExpress are not really suppliers. In fact, AliExpress was not designed to be a dropshipping platform. Most AliExpress merchants are independent sellers trying to resell existing merchandise just like Ebay.
In fact, it's not uncommon for AliExpress listings to come and go and you can never depend on a single, consistent source for the products you list in your online store.
However with Alibaba, you can find multiple suppliers and real factories for your ecommerce business. You can fabricate your own custom products with your own logo and establish a strong brand.
In the long run, owning your own private label brand is the key to running a sustainable business because you can offer low prices and control the entire supply chain.
Overall, here's my recommended flow if you are on a major budget. You can start by selling dropship products through AliExpress if that's the only business model that you can afford.
But once you start generating some sales, you should look for suppliers directly on Alibaba and buy in bulk. Reinvest your profits back into your business and own your brand.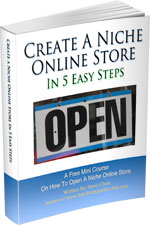 Ready To Get Serious About Starting An Online Business?
If you are really considering starting your own online business, then you have to check out my free mini course on How To Create A Niche Online Store In 5 Easy Steps.
In this 6 day mini course, I reveal the steps that my wife and I took to earn 100 thousand dollars in the span of just a year. Best of all, it's free and you'll receive weekly ecommerce tips and strategies!
Note: This post above may contain affiliate links, which means that I may receive a commission if you make a purchase when clicking a link. Please consult our privacy policy for more information.
Related Posts In How To Find Products To Sell
About Steve Chou

Steve Chou is a highly recognized influencer in the ecommerce space and has taught thousands of students how to effectively sell physical products online over at ProfitableOnlineStore.com. 

His blog, MyWifeQuitHerJob.com, has been featured in Forbes, Inc, The New York Times,  Entrepreneur and MSNBC.  

He's also a contributing author for BigCommerce, Klaviyo, ManyChat, Printful, Privy, CXL, Ecommerce Fuel, GlockApps, Privy, Social Media Examiner, Web Designer Depot, Sumo and other leading business publications.

In addition, he runs a popular ecommerce podcast, My Wife Quit Her Job, which is a top 25 marketing show on all of Apple Podcasts. 

To stay up to date with all of the latest ecommerce trends, Steve runs a 7 figure ecommerce store, BumblebeeLinens.com, with his wife and puts on an annual ecommerce conference called The Sellers Summit.  

Steve carries both a bachelors and a masters degree in electrical engineering from Stanford University. Despite majoring in electrical engineering, he spent a good portion of his graduate education studying entrepreneurship and the mechanics of running small businesses.