Having your Amazon Seller account suspended is one of the main dangers of selling on Amazon. The good news is that you can appeal Amazon's decision and have your account successfully reinstated, but you must follow the proper steps.
In this article, I'll explain the suspension appeal process in detail, help you understand why you were suspended, and outline the steps to get reinstated.
I'll also share key tips for crafting a persuasive appeal letter to help you reverse your suspension.
Get My Free Mini Course On How To Start A Successful Ecommerce Store
Are you interested in creating a strong, defensible brand for your products? If so, I put together a comprehensive package of resources that will help you launch your own online store from complete scratch. Be sure to grab it before you leave!
What Are The Types Of Amazon Suspensions?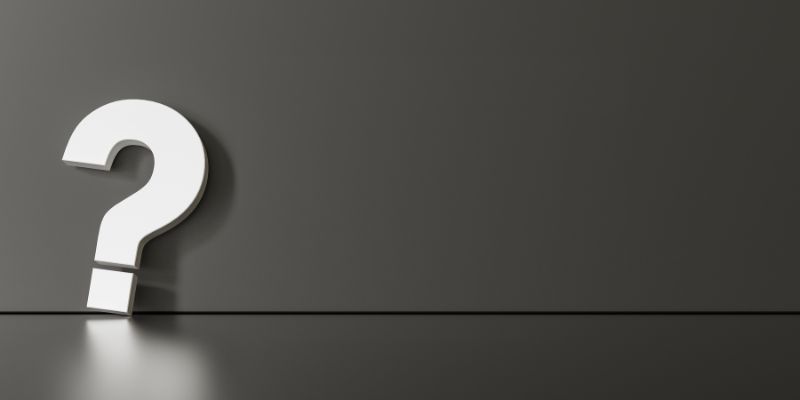 There are three main reasons why your Amazon account can be suspended: poor performance metrics, a violation of Amazon's Terms of Service, and an error on Amazon's end. Let's take a closer look at each one.
Amazon Suspension Reason #1: Poor Performance Metrics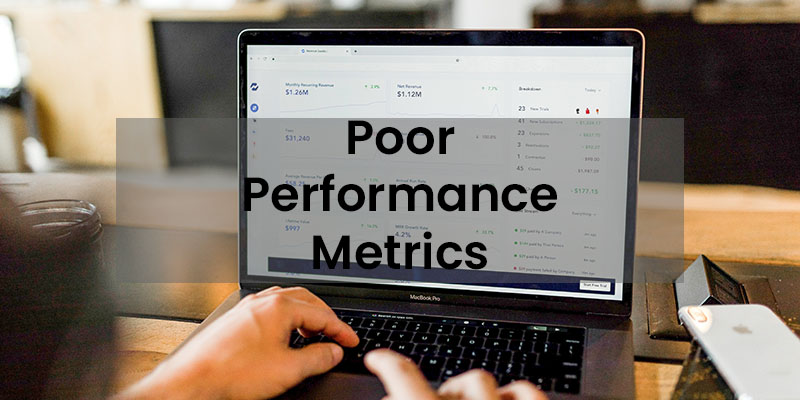 Poor seller performance in Customer Service, Policy Compliance, and Delivery Performance can result in an Amazon account suspension.
Amazon expects you to comply with their requirements, and they won't hesitate to suspend your account if they don't think you're managing it properly.
You can check the overall performance of your account by following these steps:
Log in to your Seller Central account.
Go to the "Performance" tab.
Select "Account Health."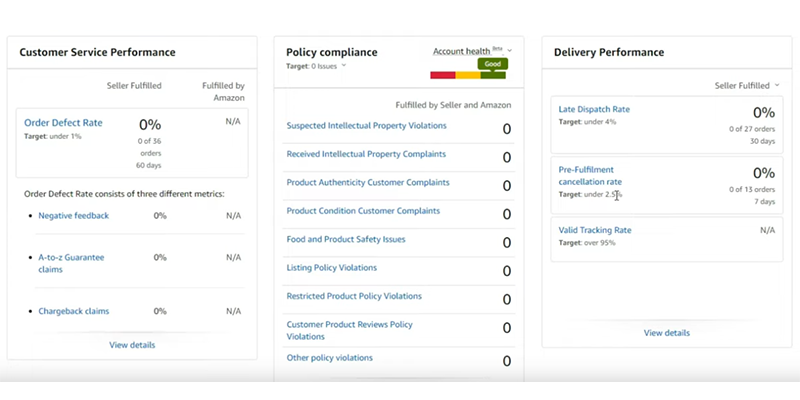 Three categories determine your account's health:
Customer service performance
Policy compliance
Shipping performance
The "Customer Service Performance" section uses an Order Defect Rate (ODR), which consists of negative feedback, A-to-Z Guarantee claims, and chargeback claims. Your ODR must stay below 1%.
Under the "Policy Compliance" tab, you'll see a rating bar indicating whether your account health is good, at risk, or poor. Amazon uses a health rating bar that shows a score based on a scale of 1000.
Below the rating is a list of potential violations, such as product authenticity complaints, product quality customer complaints, and food and product safety issues.
The "Shipping Performance" section displays your late shipment, pre-fulfillment cancellation, and valid tracking rates. Amazon expects you to maintain a late shipment rate below 4% and a pre-fulfillment cancel rate below 2.5%.
If you exceed these limits for a prolonged period, your account will likely be suspended.
For example, if more than 1% of your orders are delivered after the expected delivery date, you'll receive a warning that your late shipment rate has exceeded the minimum threshold.
You'll need to work on fixing your ODR metric to avoid Amazon escalating the warning into a suspension. In most cases, Amazon will wait for 15 days after giving the warning to see if you improve your metrics before suspending.
How To Appeal A Performance Metric Suspension
You can appeal a performance metric suspension by writing an email to Amazon.
First and foremost, you must acknowledge that you've made a mistake and that your customers and Amazon have been negatively affected by it.
Next, you need to outline the steps you will take to improve your metrics. And finally, you must apologize for your poor performance.
Here's an example of one successful appeal:
Dear Seller Performance Team,
I want to begin by emphasizing how my company values customer experience. I truly understand the significance of delivering orders on time.
Not delivering orders before or on the expected delivery date can cause inconvenience for customers, and I aim to address this promptly.
To ensure timely deliveries, I'll implement the following measures:
My three employees and I will work on improving our workflow efficiency by checking for new orders received twice a day.
I'll aim to dispatch orders received before 12 pm the same business day by automating our order processing and shipping systems.
I'll also use Zapier to automate the uploading of tracking numbers.
My team and I are committed to improving our services and providing a better experience to our customers.
Please let me know if there is anything else I can do to avoid similar incidents.
I recognize that selling on Amazon is a privilege that few sellers get, and I would be grateful if you lifted the suspension on our account.
Best regards,
John Doe
A well-crafted appeal for performance metric suspensions is often successful.
Amazon generally takes one business day to respond to minor violations like a poor valid tracking rate, but if it's a serious offense like a high late shipment rate, they can take up to four weeks to reply.
Amazon wants to see if you're serious about not repeating the same mistakes. That's why you should devise a good action plan to prevent performance issues from happening again.
That said, if you aren't guilty of the alleged offense, you shouldn't admit to it. Instead, you can provide the steps you took to resolve buyer issues, if any, and list your action plan.
Amazon Suspension Reason #2: Violation Of Amazon's Terms Of Service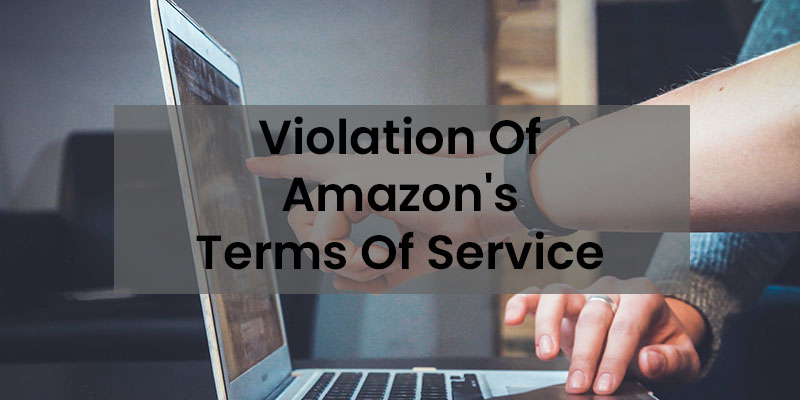 Amazon sellers often get banned for violating Amazon's Seller Code of Conduct or Terms of Service.
For example, Amazon might suspend your account for selling restricted or counterfeit products, buying fake reviews, or operating from more than one Seller Central account.
If your first offense is selling restricted or trademarked items, it may lead to a product listing suspension which is also known as ASIN suppression.
But if you're buying fake positive reviews, selling counterfeit items, or using two or more accounts, Amazon will ban your account for three years or more with no option to appeal.
Some sellers will try to open a new Amazon account after a ban by using a different email address. However, Amazon is good at identifying these attempts, and they have systems in place to block those sellers.
Amazon Suspension Reason #3: A Mistake On Amazon's End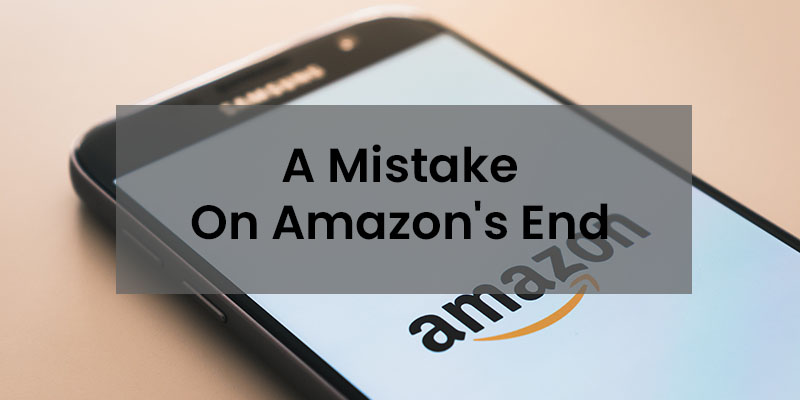 On occasion, Amazon has incorrectly suspended or banned accounts. For example, there have been cases where Amazon has automatically banned accounts because their algorithm thought sellers were selling counterfeit goods.
If this happens, you can appeal and get your account back by submitting the necessary documentation to prove your innocence. However, you must be prepared for an extended battle since such cases take a long time to resolve.
I recommend reaching out to someone from Amazon's head office in Seattle to help you resolve the issue. If you don't know anyone at Amazon, then attend an ecommerce conference like Sellers Summit or Prosper, and you'll meet lots of Amazon reps.
You can also email jeff@amazon.com if you feel as though you were unfairly suspended.
The Last Resort: File For Arbitration With Amazon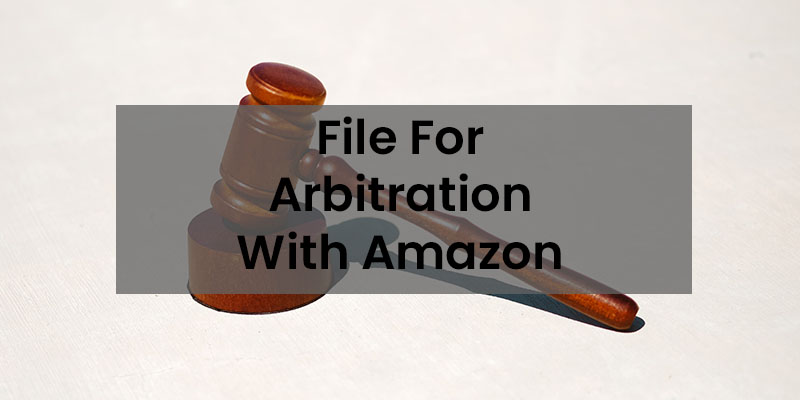 If you've been unfairly suspended and have exhausted your resources for appeal without success, you can file for arbitration with Amazon.
The Amazon Seller agreement states that each party can resolve disputes or claims through arbitration. That said, filing arbitration is often expensive and can cost you a few thousand dollars.
The total cost of arbitration depends on your claim amount, payment schedule (standard or flexible), and case type (domestic or international).
As per the American Arbitration Association, the minimum amount for a $75,000 claim is $1725 in filing fees.
You also need to account for legal counsel. Although you can draft a Demand for Arbitration by yourself, hiring a lawyer specializing in Amazon cases is the best way to navigate the process.
If you're worried about being liable for Amazon's arbitration fees if you lose your case, here's the good news: you won't be liable unless you file frivolous claims. And if you win, Amazon will also reimburse your arbitration costs up to $10,000.
Tips To Prevent Amazon Account Suspensions
Here are some quick tips to prevent Amazon account suspensions:
Monitor your account regularly for warnings.
Avoid excessive negative feedback and returns by responding to customer complaints within a few hours and improving your product based on the feedback.
Pay attention to your metrics. Keep negative feedback below 5%, order defect rate below 1%, pre-fulfillment cancel rate below 2.5%, and late shipment rate below 4%.
If any of your metrics take a hit, act immediately and implement measures to improve them.
Avoid price gouging, particularly during high-demand periods.
Final Thoughts On Amazon Suspension Appeals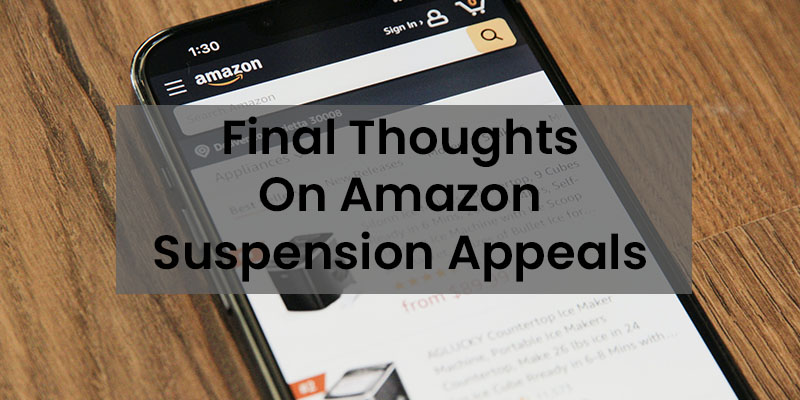 Getting suspended by Amazon can be challenging, but it's possible to have the suspension decision overturned by providing all the necessary details and explaining the steps you'll take to improve your account health.
However, you have a limited number of appeals before Amazon bans your account permanently. Make sure you follow Amazon's Terms of Service closely to avoid any further issues.
Finally, if Amazon is your only sales channel, you're putting your entire business at risk. That's why you should start your own online store and build your own brand. That way, if you ever do get banned by Amazon, it's not the end of the world.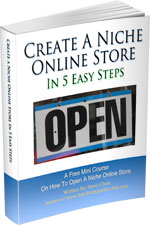 Ready To Get Serious About Starting An Online Business?
If you are really considering starting your own online business, then you have to check out my free mini course on How To Create A Niche Online Store In 5 Easy Steps.
In this 6 day mini course, I reveal the steps that my wife and I took to earn 100 thousand dollars in the span of just a year. Best of all, it's free and you'll receive weekly ecommerce tips and strategies!
Note: This post above may contain affiliate links, which means that I may receive a commission if you make a purchase when clicking a link. Please consult our privacy policy for more information.
Related Posts In Fighting Dirty Amazon Sellers
About Steve Chou

Steve Chou is a highly recognized influencer in the ecommerce space and has taught thousands of students how to effectively sell physical products online over at ProfitableOnlineStore.com. 

His blog, MyWifeQuitHerJob.com, has been featured in Forbes, Inc, The New York Times,  Entrepreneur and MSNBC.  

He's also a contributing author for BigCommerce, Klaviyo, ManyChat, Printful, Privy, CXL, Ecommerce Fuel, GlockApps, Privy, Social Media Examiner, Web Designer Depot, Sumo and other leading business publications.

In addition, he runs a popular ecommerce podcast, My Wife Quit Her Job, which is a top 25 marketing show on all of Apple Podcasts. 

To stay up to date with all of the latest ecommerce trends, Steve runs a 7 figure ecommerce store, BumblebeeLinens.com, with his wife and puts on an annual ecommerce conference called The Sellers Summit.  

Steve carries both a bachelors and a masters degree in electrical engineering from Stanford University. Despite majoring in electrical engineering, he spent a good portion of his graduate education studying entrepreneurship and the mechanics of running small businesses.