If you aren't selling on Amazon today, then you're probably missing out. Because Amazon's marketplace is so large, it's pretty straightforward to make money selling physical products if you know what you're doing.
What's also nice about selling on Amazon is that they do most of the heavy lifting for you. All you have to do is source product and Amazon handles the rest by providing you with an endless stream of traffic to your listings.
In fact, a bunch of students in my Create A Profitable Online Store Course are all making significant money in a short period of time simply because Amazon's reach is so large.
But here's the thing.
As with anything that sounds too good to be true, it usually is. And the problem that I'm seeing is that more and more entrepreneurs are abandoning their own websites to go all in on Amazon.
Now on the surface, going with Amazon 100% doesn't sound like a bad idea and it often makes business sense to do so in the short term. After all, why should you waste time on activities that won't generate you revenue as quickly?
But if you do go all in, you do so at your own peril.
Now I've already written about the dangers of selling on Amazon and other Amazon horror stories. So today, I thought that I'd tackle this topic from a different perspective.
Did you know that there are many strategies that you can implement on your own website that you can't do on Amazon?
Did you know that there are certain types of products that you can only sell on your own website?
Did you know that your own website can be superior to Amazon if you are willing to put in the effort?
Today I'm going to show you why your own branded website is a must have in the long run. And hopefully you'll realize that starting your own online store is a much better play.
Get My Free Mini Course On How To Start A Successful Ecommerce Store
Are you interested in creating a strong, defensible brand for your products? If so, I put together a comprehensive package of resources that will help you launch your own online store from complete scratch. Be sure to grab it before you leave!
You Can Build Brand Equity
The other day I was chatting with my mom and she was gushing about how awesome and convenient it was to shop on Amazon. (She had recently signed up for Amazon Prime.)
Here's how the conversation went
Mom: Did you know that you can buy everything on Amazon and have it delivered within 2 days free? You really ought to try it.

Me: Uh Mom. We've been buying on Amazon using Prime for a long time now. And we've been selling on there too for the past year!

Mom: Really? Wait…You can sell your own products on Amazon too? I didn't know that regular people could sell on there.

Me: **Head** **Table** **Head** **Table**
I then proceeded to educate my Mom on how Amazon is built up of many individual sellers selling under the Amazon umbrella and she was completely shocked!
Frustrating as this conversation was for me, it illustrated a very important point.
People who shop on Amazon think that they are buying from Amazon even though it's your products that they are buying.
When someone shops on Amazon, you have zero brand equity!
To summarize, this means that
Amazon is getting all of the credit for your sales
You can never build your own brand on Amazon
Customers don't care who they are buying from as long as they find the product they are looking for
Have you ever looked for your brand on an Amazon listing before? Look at how tiny the link is…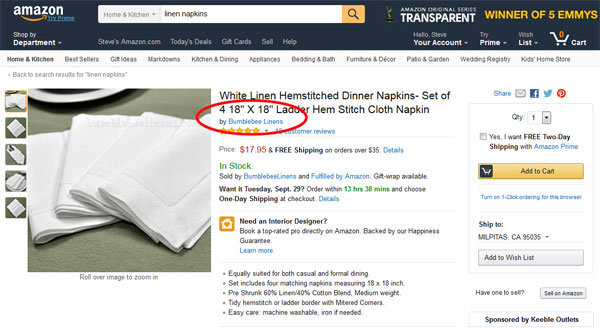 And to make matters worse, you don't even have access to your customer list!
You Can Build An Email List And A Solid Customer Base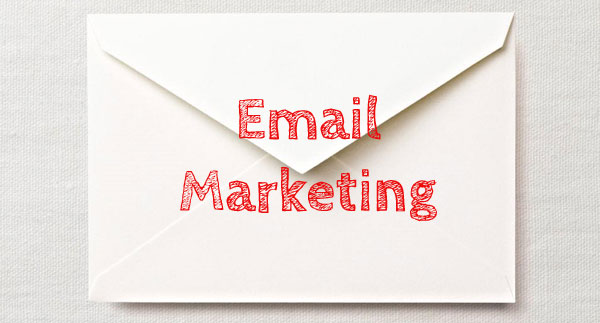 Probably the number one disadvantage of selling on Amazon is that you can never have access to your customer base. And by not being able to access prior customers, you are missing out on huge revenue opportunities.
Have you ever heard the saying that getting a repeat customer is infinitely cheaper and easier than acquiring a brand new customer? Well it's 100% true.
For example if I want to generate instant sales for my online store, all I have to do is send out a single email to my list and customers will come a running.
But on Amazon, I have no such list.
In fact, I have to claw and fight for new sales in the midst of new competitors popping up every day. Did you know that just in the past month, I've discovered 7 new competitors piggy backing on top of my Amazon listings?
With your own branded site, you have a complete database of every single person who has ever purchased from you.
You know what they bought.
You know how much they spent.
You have their contact information.
You know what they like.
You know their shopping patterns.
As a result of having this information, there are a million strategies that you can implement. For example, here are some cool things you can do off the top of my head
You can create a special promotion for all customers who purchased a specific product
You can alert customers of an upcoming sale
You can create a lookalike audience in Facebook and advertise to demographically similar customers
You can build trust by sending your customers useful content
The possibilities are endless. And most importantly, you are sending customers back to a web property that you own and control!
You Can Advertise And Increase Your Reach Beyond Amazon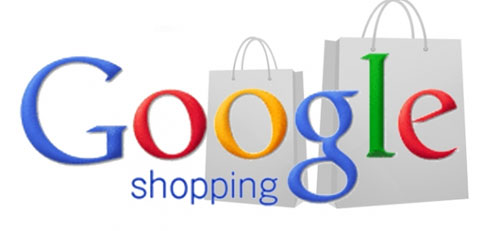 While Amazon is definitely a juggernaut in the ecommerce space, by no means do they have the majority of the ecommerce market. So if you are putting all of your eggs in the Amazon basket, you are missing out on a huge percentage of potential sales.
When you own your own website, you can buy your own advertising, drive traffic directly to your own website and keep 100% of the profits.
Now one could argue that you can buy ads for your Amazon listings as well but here's the thing.
If you were to buy ads for Amazon, not only would you be building up Amazon's brand and not your own, but you would also have no way to track your conversions either.
By having your own website, you can take advantage of the following customer acquisition platforms while simultaneously building up your brand equity
Google Shopping And Google Adwords
Bing Shopping And Bing Ads
Comparison Shopping Engines – Shopping.com, Price Grabber, NexTag, ShopZilla etc…
Facebook Ads and Facebook Retargeting
Instagram
Pinterest
You Tube
Today, roughly 30% of our sales are directly attributed to these advertising and social media platforms and we track our sales very closely.
You Can Generate B2B Sales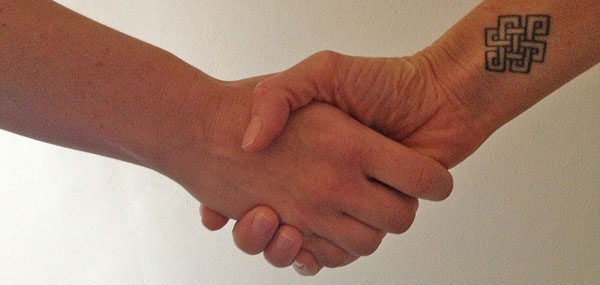 A large part of our online store sales also come from our business customers. For example, every year 30% of our revenues are derived from wedding planners, event planners, hotels, bed and breakfasts, airlines etc…
Now these customers would never buy their goods from Amazon because they need consistent quality and a little extra hand holding.
For example if you were planning a wedding, would you take a chance and buy linen napkins for the most important day of your life from a random Amazon seller? Or would you buy them from a business that you know and trust?
I don't know about you, but when I shop on Amazon I often have problems getting consistent quality from what I buy. In fact, I have a lot of problems finding and purchasing the exact same product from month to month.
Just the other day, I was looking to buy new electrical pads for my TENS unit and I could not for the life of me find the exact same product that I purchased a month ago!
By putting all of your eggs in Amazon's basket, you are pretty much throwing all of your potential B2B business out the window. And the worst part?
B2B customers are the most valuable customers that your business can have. They buy product from you at consistent intervals. They buy in bulk and they provide stability to your sales.
For our online store, we have a database of all of our B2B customers and we treat them like royalty.
If a wedding planner calls us and needs the exact same quality napkins and linens as their last purchase, we're on it. If they need their napkins embroidered with a special monogram or symbol? Done!
By providing an extra level of service for these special customers, we are rewarded with consistent and valuable business from month to month without even trying.
You Have Much More Product Flexibility With Your Own Shop
If you sell on Amazon and run your own online shop, you've undoubtedly noticed many limitations with Amazon's selling platform.
For example, a large part of our business is selling customized and personalized goods. But if you sell using Fulfilled By Amazon, there is no way to offer personalization because Amazon's warehouse simply can not handle it.
The same goes for any type of product that requires a little extra hand holding or customer education. When you list a product on Amazon, you have to follow their canned list of procedures and fields.
For example let's say that your product sells much better with a video alongside the listing. You can't do that with Amazon.
Let's say your product requires different customization options that change dynamically depending on what options were already chosen. You can't do that with Amazon.
Let's say you need a wizard to help customers choose and customize the right product. Sorry! You can't do that with Amazon.
Because all of Amazon's listings are uniform and designed to give your store zero brand recognition whatsoever, you have to obey their rules when listing your products.
But when you have your own shop, you have the ability to do whatever you want.
If you want to sell personalized products, so be it.
If you want to add extra elements to your listing to enhance sales. Do it!
If you want to add photos within your product descriptions. No problem!
Conclusion
Most people that I encounter often understand the need to have their own branded website but they are scared off by the prospect of having to generate their own traffic.
The truth is that starting your own website is a longer term project than selling on Amazon but the rewards are far greater. So if you take anything away from this post, it's that you need to spend at least a little bit of time on your own web property.
Amazon is like a drug that provides you with instant sales but they can be taken away at any time. In the long run, you need to think about building up your brand and creating an ecommerce business that is built to last.
photo credit: handshake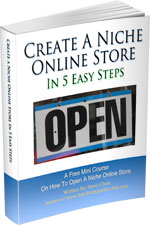 Ready To Get Serious About Starting An Online Business?
If you are really considering starting your own online business, then you have to check out my free mini course on How To Create A Niche Online Store In 5 Easy Steps.
In this 6 day mini course, I reveal the steps that my wife and I took to earn 100 thousand dollars in the span of just a year. Best of all, it's free and you'll receive weekly ecommerce tips and strategies!
Note: This post above may contain affiliate links, which means that I may receive a commission if you make a purchase when clicking a link. Please consult our privacy policy for more information.
Related Posts In Fighting Dirty Amazon Sellers
About Steve Chou

Steve Chou is a highly recognized influencer in the ecommerce space and has taught thousands of students how to effectively sell physical products online over at ProfitableOnlineStore.com. 

His blog, MyWifeQuitHerJob.com, has been featured in Forbes, Inc, The New York Times,  Entrepreneur and MSNBC.  

He's also a contributing author for BigCommerce, Klaviyo, ManyChat, Printful, Privy, CXL, Ecommerce Fuel, GlockApps, Privy, Social Media Examiner, Web Designer Depot, Sumo and other leading business publications.

In addition, he runs a popular ecommerce podcast, My Wife Quit Her Job, which is a top 25 marketing show on all of Apple Podcasts. 

To stay up to date with all of the latest ecommerce trends, Steve runs a 7 figure ecommerce store, BumblebeeLinens.com, with his wife and puts on an annual ecommerce conference called The Sellers Summit.  

Steve carries both a bachelors and a masters degree in electrical engineering from Stanford University. Despite majoring in electrical engineering, he spent a good portion of his graduate education studying entrepreneurship and the mechanics of running small businesses.