Recently, I switched email marketing providers for the 3rd time in 7 years. The evaluation process took several months to complete and I looked at every possible alternative in order to avoid making the change.
But ultimately, I bit the bullet because email generates 90% of the revenue for my blog and my old service wasn't cutting it.
In 2016, MyWifeQuitHerJob.com made over a million dollars and in 2017, my blog will grow another 35% largely on the backbone of email.
Because there is so much money on the line, I'm extremely picky about my email marketing provider. And since it's such a major hassle to switch, I NEVER ever change without a strong, compelling reason.
Anyway here's what I discovered while doing my research. Most of the email marketing platform reviews out there are superficial and shallow.
On the surface, every email marketing provider seems to have similar features. Every email marketing platform seems to promise high deliverability and provide awesome customer support.
But in my experience, the only way to truly understand the pros and cons of an email provider is to get your hands dirty with REAL money on the line.
Today, I'm going to talk about my experiences with 4 major email services, each of which I've used for at least 1 year or more.
And at the end of the post, I'll summarize the pros and cons of each to help you decide what to sign up for.
Quick Note: A few of you have emailed me asking whether I still use Klaviyo for email. Just to be clear, I use Klaviyo for my online store but I use Drip for my blog.
Get My Free Mini Course On How To Start A Successful Ecommerce Store
If you are interested in starting an ecommerce business, I put together a comprehensive package of resources that will help you launch your own online store from complete scratch. Be sure to grab it before you leave!
My Experience With MailChimp

Since 2010, I've gone through 4 different email providers Drip, Convert Kit, Aweber and Mail Chimp.
My first email marketing provider was Mailchimp. And to be honest, the only reason that I signed up for them was because they offered 500 email subs for free (I believe you now get 2000 free subs).
But after only a single year of use, I realized why MailChimp is so cheap.
For one thing, they only offer email support and they are quick to the ban hammer. In addition, trying to get a human on the phone is impossible.
As a result whenever anything goes wrong, you have to wait up to 48 hours to get a response. My journey with Mailchimp finally came to an end when they banned my account out of the blue.
I didn't receive any warning, I couldn't get ahold of support and I was stuck without email for several weeks as I had to scramble to find a new provider.
A similar incident happened with my online store when I was using Mailchimp as well.
One day in the middle of the holiday season, my account was banned and all of a sudden I couldn't send any email during the busiest time of the year!
As a result of my experiences, I can't recommend MailChimp to anyone UNLESS you are on a major budget and just want the free 2000 subs.
Because of their lack of phone support and their penchant for banning accounts without warning, you can easily lose more money than you save.
There's a reason why Mailchimp is so cheap. Don't use them for anything mission critical. In fact, here's a list of Mailchimp alternatives.
Further Reading: To hear the full story, read my post on MailChimp Vs Aweber – A Comparison Of Two Email Marketing Providers
My Experience With AWeber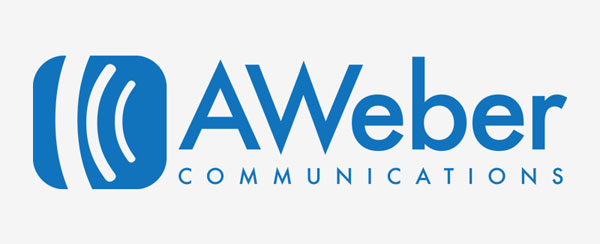 After moving on from MailChimp, I switched to AWeber where I stayed for 6 years.
Back in the day, Aweber was the defacto standard for email marketing and they quickly took over a large percentage of the blogging market.
But over the last several years, they have been much slower to adopt essential segmentation features that other upstart companies offer out of the box.
For example, I switched away from Aweber in 2015 because I desperately needed the ability to tag my subscribers based on what they clicked on in a broadcast email.
And even though they said this feature was on the road map back in 2015, I don't believe it's available yet. In fact to achieve this basic functionality, you need to sign up and pay for a 3rd party tool!
Anyway, here's a summary of the pros and cons of Aweber.
Note: I still have a paid Aweber account so I'm up to date with working knowledge of their platform.
Pros Of AWeber
Despite the slow adoption of new features, Aweber is still one of the most robust email marketing services around.
First off, they have solid deliverability which is a critical aspect of email marketing that many people take for granted.
To measure deliverability, I use a tool called Glock Apps which tells you how many emails actually make it to the inbox vs the spam folder.
When I ran GlockApps on my Aweber account, the number of emails that made it into the inbox was above average compared to other providers that I tested.
Note: There are tons of factors that contribute to deliverability and I tried to limit the variables in my tests. If you want to learn more about email deliverability and how to improve it, read my post on A Simple Tweak To Improve Email Deliverability And Open Rates 50%
Aside from email deliverability, Aweber also has very solid subscriber management tools.
For example, you can easily determine…
Which message a subscriber is on in your autoresponder – I use this information quite often to target specific users based on what they just read.
When a subscriber signed up to your list – I use this to make sure that only new users receive certain promotions
When a subscriber last opened/clicked an email – I use this to cull my list
Where a subscriber resides geographically – I use this to only send offers to US subscribers
Which webpages a subscriber has visited on your site – I occasionally use this to target emails based on what posts people have read on my site.
The best part is that you can personalize an email with almost any user attribute that is stored in their database.
For example, I can easily include the date when a subscriber was added to my list. I can also add the URL where a subscriber signed up to remind them that I'm not a spammer:)

In addition, Aweber's support is fantastic! If you want to talk to someone on the phone, there's very little wait time and you can get ahold of an actual human in the United States. Imagine that!
Cons Of AWeber
The major downside of Aweber is that they don't have intuitive tagging features. While they have added the ability to tag subscribers within campaigns, it's a little bit confusing to use for a new user.
Here's the problem I see with Aweber's UI. Because they've been around for so long, they have a ton of legacy users to cater to in addition to new ones.
As a result whenever they add a new feature, it's almost like it's bolted on because they don't want to break backwards compatibility. As a result, AWeber's user interface can be a little confusing with all the different options.
In addition, they are still double charging for email subs if you happen to have an identical user across different lists!
Note: Aweber has mitigated this problem with the ability to tag subscribers within campaigns. However, it can be confusing to a new user how and when to tag vs creating an entirely new list. Once again, this is the result of having to cater to legacy customers.
AWeber Conclusion
Overall, if you are looking for a robust email platform and you don't need to heavily segment your list, I still recommend Aweber.
Not only are they inexpensive, but they offer great deliverability and solid subscriber management tools at your disposal.
The support is excellent as well. In fact, I never would have switched to ConvertKit if they offered better subscriber tagging features.
My Experience With Convert Kit

The main reason I switched over from AWeber to Convert Kit was for their click to tag functionality.
At the time, I was running webinars very heavily and it was extremely cumbersome to create new lists in AWeber for each one. In addition, the support team over at ConvertKit was excellent and they held my hand through the entire migration.
The first thing that I noticed when I switched to ConvertKit was that their user interface was a breath of fresh air! Everything about the UI was intuitive, well thought out and easy to understand.
It was a platform that I could learn in a matter of minutes without reading an instruction manual. In fact on the surface, I would say that ConvertKit is the perfect email platform for newer bloggers who are tech averse.
But if you are a power user, then you'll outgrow ConvertKit pretty quickly.
Here are the pros and cons of ConvertKit based on my experiences. Note: I still have a paid ConvertKit account that I'm slowly phasing out.
Further Reading: To learn more details about why I switched to ConvertKit, read my post on ConvertKit Vs AWeber – A Detailed Email Marketing Comparison Written By A 6 Figure Blogger
ConvertKit Pros
ConvertKit's main advantage is its simplicity and ease of use. If you are tech averse and you want perhaps the easiest to understand email platform out there, then ConvertKit is your best bet.
In addition, it has very intuitive subscriber tagging functionality so you can easily separate out your email subscribers based on their interests.
You can easily create email autoresponders and move subscribers back and forth across different segments based on what links a user clicks within an email.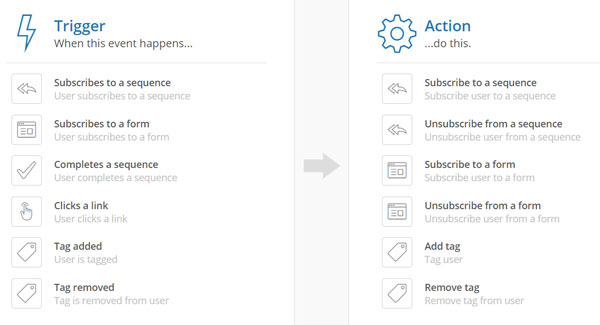 In fact, the behavorial tagging features are what set ConvertKit apart from services like AWeber.
For example, if I want to separate out my readers based on skill level, I can simply send out an email and have them segment themselves based on what they click.
Click here if you are new to ecommerce – Takes people to an introductory ecommerce course
Click here if you want to sell on Amazon – Takes people to an Amazon specific mini course
Click here if you want to start your own ecommerce store – Takes people to an online store mini course.
In short, ConvertKit is a great email platform for bloggers who sell multiple digital products or have an audience of diverse interests.
In an ideal world, you want to send emails out to your readers based on their interests which can only be achieved through segmentation.
Convert Kit Cons
My main gripe with Convert Kit is that it falls short when it comes to subscriber management.
First off, there is no way to tell how active a subscriber is. As a result, if I want to delete subscribers who haven't opened an email in the last X months, it's impossible to do so.
Note: CK has a concept of a "cold subscriber" but you can't control the definition of what "cold" means
In addition, the tagging and segmentation features of ConvertKit are very basic and much less powerful than other competing solutions that I'll describe later in this post.
For example, here are your options when creating a segment in ConvertKit.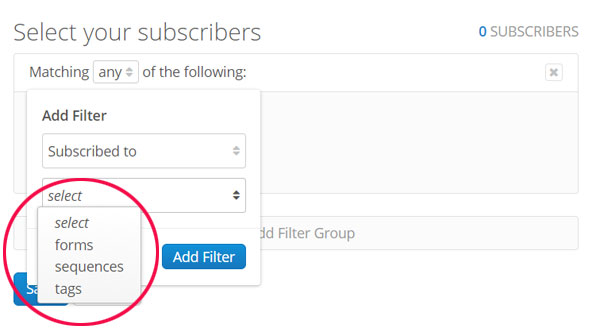 As you can see in the picture above, you can only create segments based on
The form a subscriber used to sign up
The autosponder sequence a subscriber is on
The way a subscriber is tagged
But what if you want to create a segment based on people who opened a particular email, visited a particular webpage or clicked on an untagged link within an email? You can't do that with ConvertKit.
In fact, the only way to segment subscribers is if you already have all of your subscribers nicely tagged ahead of time.
For example, let's say I want to send an email out to people who have opened all of my emails in the last month. You can't easily do this in Convert Kit.
There's also no way to determine how engaged a particular subscriber is on your list even if they are explicitly tagged.
For example, let's say I want to compile a list of my most active subscribers. You can't do this in ConvertKit.
ConvertKit also lacks many email personalization features. Let's say I want to include a short blurb at the end of all my emails to remind subscribers when and where they signed up to reduce "marked as spam" complaints. You can't do this in ConvertKit.
But most importantly, I found ConvertKit's email deliverability to be mediocre. When I ran my GlockApps test last year, both AWeber and Drip performed better.
Note: It has been over a year since I ran this test so you may want to take this with a grain of salt. The team at ConvertKit spent a lot of time with me trying to resolve my problems. But I never could achieve the same level of deliverability as some of the other providers I tested.
ConvertKit Conclusion
Overall, I think ConvertKit is a solid email platform for bloggers. But it is priced slightly higher than AWeber which means you need to decide whether you want the extra features.
If you need click to tag functionality and basic segmentation features in a simple to use interface, then ConvertKit is a great choice.
But if you are concerned about list cleaning or if you crave more advanced subscriber management features, it's probably not for you.
My Experience With Drip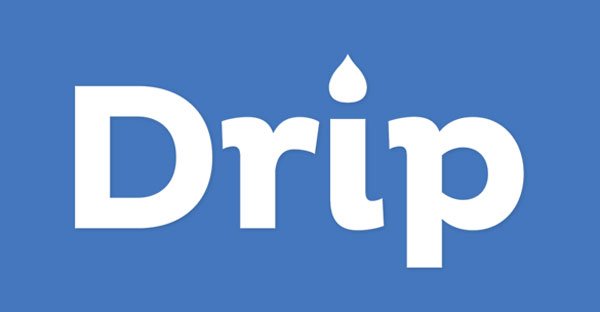 As you can probably tell from the tone of this post, I'm currently using Drip for all of my emails. And after being with them for a while, I can honestly say that it is by far the best platform that I have ever used up until this point.
In fact, Drip is the perfect juxtaposition of ConvertKit and AWeber. They possess all of the segmentation features of ConvertKit AND the advanced subscriber management features of AWeber.
Not only that, but the tagging and automation features of Drip are WAY more advanced than ConvertKit.
Remember when I told you could only segment by forms, sequences and tags in ConvertKit? Well with Drip, you can segment based on practically anything.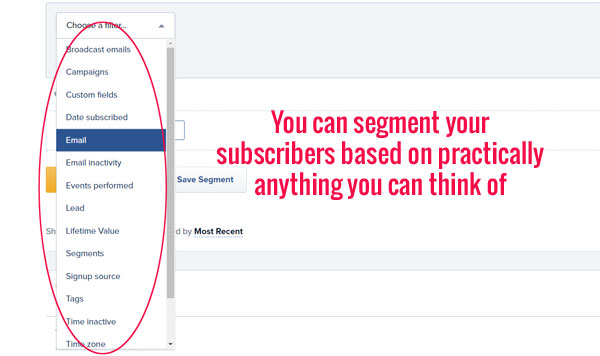 So let's say I wanted to send out an email to someone who just subscribed within the last month, lives in California but didn't open my last 3 emails. It's a piece of cake!
In addition, Drip tracks the actions of every single subscriber on your list and assigns them what is called a "Lead Score"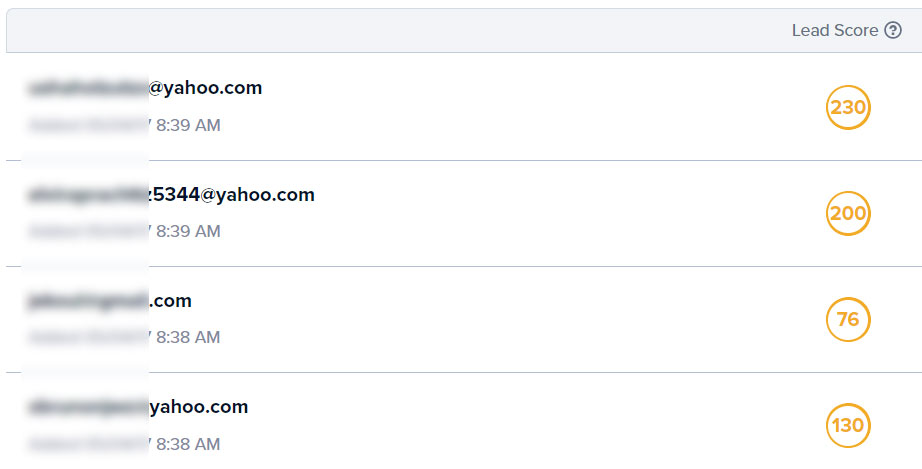 Basically, this is a numerical value given to a person based on activity.
Points are added everytime…
Every time a user opens an email
Every time a user clicks a link
Every time a user visits your website
Every time a user downloads a lead magnet
Points are subtracted at a steady rate based on how long a user is inactive.
As a result, you can easily create segments based on how active your user base is which is extremely powerful!
Let's say I want to run a quick test to my most active readers. Simple!
Let's say I want to offer a special discount to my most loyal fans. No problem!
This lead score feature is especially useful in screening out spam email subscribers which is a growing problem with all blogs.
With ConvertKit, I had tons of fake email subscribers that I could not isolate and remove from my list which inflated my email costs.
But with Drip, I was able to easily create automations to weed out spam subscribers based on their behavior. Below is an automation example of how I detect a robot account.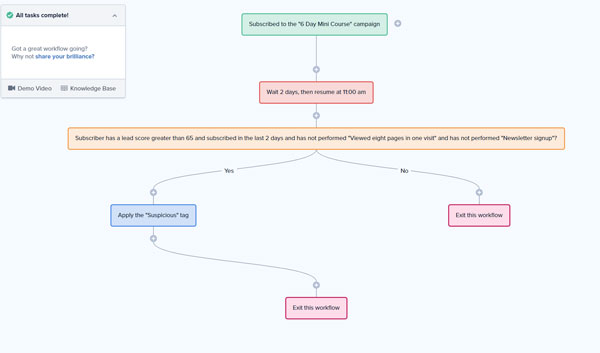 To detect this particular style of bot which clicks on every link in every email sent, I have Drip wait 2 days and then check their lead score. If their lead score is greater than 65, I then mark them as "suspicious" for further review.
In a nutshell, I use a combination of Lead Score and a timer to quickly spot this type of spammer. You can also easily separate out inactive subscribers by checking their Lead Score value outright.
For example, you can have Drip automatically check a subscriber's lead score after 6 months and then auto delete them if they don't meet a certain threshold. This will save you money in the long run!
Further Reading: If you are interested in reading more about how I fixed my email spam problem, read my post on How To Prevent Email Bot Signup Spam And Cut Your Email Marketing Costs By 30%
Drip Pros
In my experience, Drip is by far the most powerful email platform for bloggers out on the market. Not only is the email deliverability top notch, but you can practically do anything with it.
Basically, Drip offers every feature that I currently need and I don't foresee switching any time soon. Not only that, but the user interface is simple, intuitive, and the customer service is excellent.
Drip Cons
The only major con of Drip is that it costs about 25% more than AWeber or ConvertKit.
The other negative is that the user interface is slightly more complicated than ConvertKit because it packs so many more features. As a result, the learning curve will be slightly steeper.
I also have a few gripes about the presentation of my email statistics but that's a minor issue.
Drip Conclusion
Overall, I've been extremely happy with Drip. Their support is top notch and I can create very advanced automations with their built in GUI.
Not only that but Drip essentially solved my email subscriber spam problem which was one of the major reasons why I left ConvertKit. In fact, if Convert had better subscriber management features, I might not have switched due to inertia.
But when I started running deliverability tests, the reason to switch became obvious.
In a nutshell, If you are a blogger that needs advanced segmentation features with the ability to track reader activity on your blog, then Drip is a no brainer.
I think the price premium is worth every penny.
A Summary Of The Providers
If you are looking to change your email provider, here's a short summary to help you with your decision.
Overall, going with Drip is a no brainer if you have the budget. In terms of AWeber and Convertkit, the decision is much more difficult depending on what you value.
Go With Drip If…
You need the most advanced tagging and segmentation features
You want to factor in user activity on your website when creating subscriber lists
You have an email subscriber spam problem
You want detailed information about your subscribers so you can easily prune your list or send email based on how active they are.
You are willing to pay 25% more
Go With ConvertKit If…
You are tech averse and want a very simple and clean user interface
You need "click to tag" segmentation for your list
You don't care about pruning your list of inactive subscribers
You only need basic segmentation features
You are on a budget
Go With AWeber If…
You want a robust email platform that has stood the test of time. Deliverability is excellent.
You have a simple list that doesn't require "click to tag" segmentation for broadcasts
You want advanced subscriber tracking capability
You are on a budget
Go With MailChimp If…
You are a newbie and don't want to spend any money
You don't mind the possiblity of getting banned at a moments notice
You don't mind not having voice support
Quick Note: A few of you have emailed me asking whether I stopped using Klaviyo for email. Just to be clear, I use Klaviyo for my online store but I use Drip for my blog.
[yasr_visitor_votes size="small"]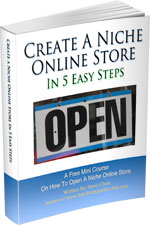 Ready To Get Serious About Starting An Online Business?
If you are really considering starting your own online business, then you have to check out my free mini course on How To Create A Niche Online Store In 5 Easy Steps.
In this 6 day mini course, I reveal the steps that my wife and I took to earn 100 thousand dollars in the span of just a year. Best of all, it's free and you'll receive weekly ecommerce tips and strategies!
Note: This post above may contain affiliate links, which means that I may receive a commission if you make a purchase when clicking a link. Please consult our privacy policy for more information.
Related Posts In Email Marketing
About Steve Chou

Steve Chou is a highly recognized influencer in the ecommerce space and has taught thousands of students how to effectively sell physical products online over at ProfitableOnlineStore.com. 

His blog, MyWifeQuitHerJob.com, has been featured in Forbes, Inc, The New York Times,  Entrepreneur and MSNBC.  

He's also a contributing author for BigCommerce, Klaviyo, ManyChat, Printful, Privy, CXL, Ecommerce Fuel, GlockApps, Privy, Social Media Examiner, Web Designer Depot, Sumo and other leading business publications.

In addition, he runs a popular ecommerce podcast, My Wife Quit Her Job, which is a top 25 marketing show on all of Apple Podcasts. 

To stay up to date with all of the latest ecommerce trends, Steve runs a 7 figure ecommerce store, BumblebeeLinens.com, with his wife and puts on an annual ecommerce conference called The Sellers Summit.  

Steve carries both a bachelors and a masters degree in electrical engineering from Stanford University. Despite majoring in electrical engineering, he spent a good portion of his graduate education studying entrepreneurship and the mechanics of running small businesses.