My wife just closed the books on MyWifeQuitHerJob.com for 2016 and I'm happy to say that I hit 2 major milestones this year.
First off, I reached the magical 7 figure revenue mark for my blog. And second of all, I finally quit my day job as a hardware engineering director last June.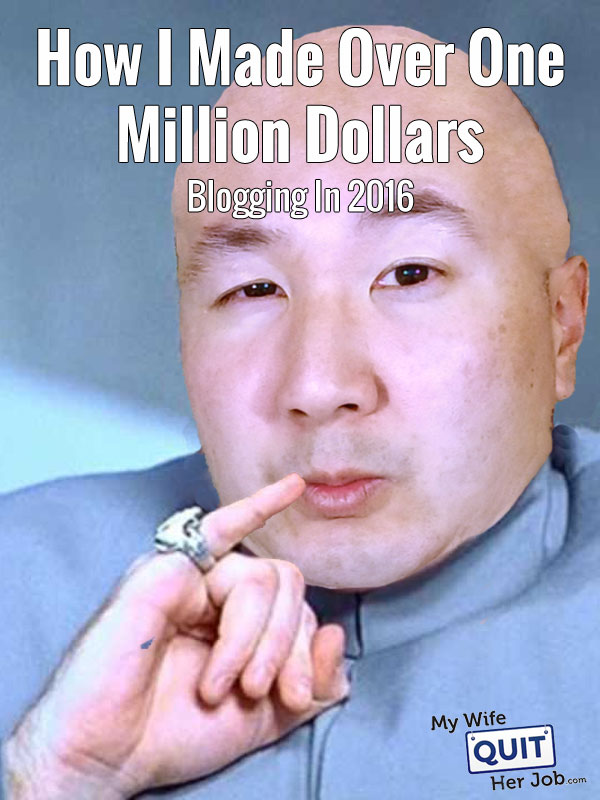 Of the two milestones, quitting my job was especially difficult for me and I ended up announcing my resignation a bit prematurely when I wrote about it on the blog:)
Here's what ended up happening.
Because I'd been with my company for 17 years, I had a lot of technical knowledge that needed to be transferred to my employees and the company asked me to remain on a little longer to ease the transition.
While I initially had no intention of staying, they made me a pretty sweet offer to work another 3 months (after June) for only 2 days per week with a special deal that was too good to refuse.
This arrangement ended up working perfectly and I was happy to hang with my coworkers for a little while longer.
Ultimately, the decision to quit my job was not about losing the income. In fact, I didn't care about the money at all.
It was more about losing my identity. I had spent over 20 years studying microprocessor design and I was about to give it all up FOREVER. I could no longer call myself a hardware engineer. I was forced to turn in my hard core techie membership card.
There was no turning back!
Just the other day, Michael Stelzner of Social Media Examiner asked me how I would describe what I do for a living to strangers and I honestly couldn't come up with a good answer.
I used to proudly say that I was a microprocessor designer. But now it's much more complicated. Am I writer? Am I a podcaster? Am I a teacher? Am I a conference thrower? It's all very ambiguous.
Anyway long story short, I officially left cold turkey on October 1, 2016 and it's been….just OK:)
Most people tend to glamorize "quitting your job" but for me, it's been about figuring out what I want to do with my time because I have a TON of it now.
For the latter part of last year, my schedule consisted of working until about noon, having lunch with my wife, exercising in the afternoon and then taking a short nap before picking up the kids.
In fact, deciding what to do with my time is what prompted me to write this popular post last year on How To Find What Makes You Happy And My Reflections On Life After Quitting My Job
The good news is that I have a bunch of active businesses to keep me busy until I figure out my next steps. Meanwhile, here's how MyWifeQuitHerJob.com did this past year.
Get My Free Mini Course On How To Start A Successful Ecommerce Store
If you are interested in starting an ecommerce business, I put together a comprehensive package of resources that will help you launch your own online store from complete scratch. Be sure to grab it before you leave!
Here Are The Numbers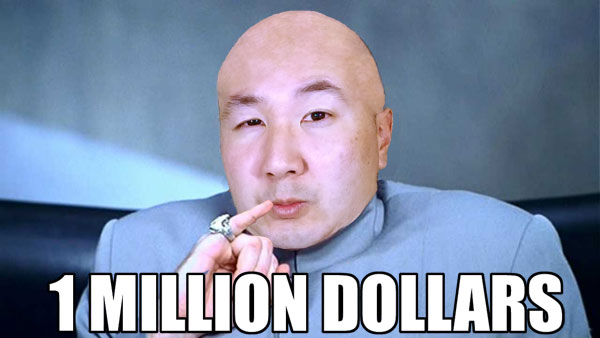 First off, I'm happy to say that MyWifeQuitHerJob.com made over a million dollars in 2016.
When I first started this blog back in 2009, my goal was to have it just cover the mortgage. But it's really blown up over the years and I want to sincerely thank you all for your support.
Here are the numbers for 2016
Revenues increased by 46% from the same period last year
February was the highest month ever where I generated 125K of revenue in a single month!
Traffic increased by 15.3% from the year before
My ecommerce course continues to sell very well despite the price increase
Once again, what I love about blogging is that it's highly scalable. Right now outside of a single assistant, I'm pretty much a one man show and it takes me roughly 15 hours per week to maintain.
Recently, I've been getting some flack from other entrepreneurs about how my blog is "not a real business" because I don't have employees and the business can't run without me being present.
But it works for me. And if not having a "real business" means that I can trade 15 hours per week and a low stress lifestyle for a million bucks, then so be it. Honestly, I prefer to not have to deal with employees at all unless absolutely necessary.
Anyway, you've probably noticed that my blog traffic only increased by 15.3% but my revenues increased by 46%. The reason for the discrepancy is because I have been doing a better job of monetizing my existing visitors.
This year I didn't really work on MyWifeQuitHerJob.com much as I've been focusing my efforts on growing my ecommerce business. But the overall revenue gains for MyWifeQuitHerJob.com can be attributed to the following.
I Ran More Webinars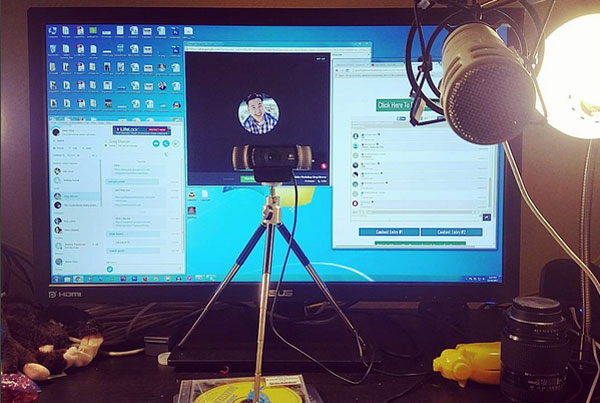 Webinars have been a huge game changer for me as they've allowed me to reach a large audience live without having to travel. Using my poor mans setup of Google Hangouts and ChatWing which are both free, my webinars generated almost 500K in revenue in 2016.
In fact, webinars were so huge that I wrote a comprehensive post about How My First Live Webinar and 1.5 Hours Of Work Resulted In A $60015 Payout.
What was particularly rewarding about that post was that one of the students in my course, Arree Chung, took what I wrote and generated $4315 in cash with his first webinar to just 80 people!
In addition, I gave an in-depth presentation at 2 conferences, Fincon and Digital Colab on "How To Create A High Converting Webinar" that were both very well received. Unfortunately, these presentations were not recorded but I might do a webinar on webinars if there's enough demand:)
I Ran More Facebook Ads
If you're on Facebook, chances are you've seen one of my ads in your newsfeed.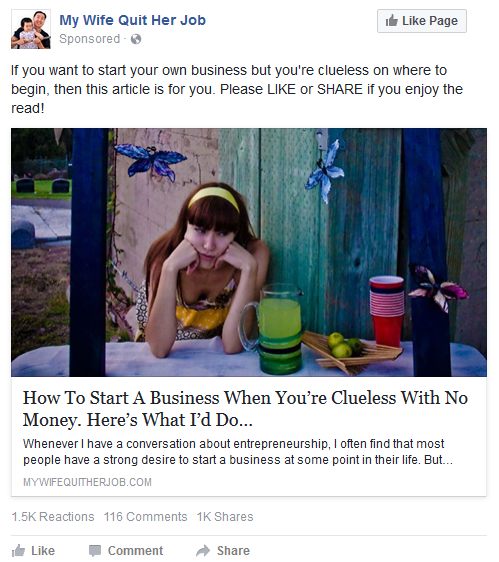 Towards the middle of 2016, I started running content awareness ads to lookalike audiences for people who had purchased my class. And the results have been awesome.
Let's face it.
Most people are not going to purchase a thousand dollar course on impulse. You have to consistently put out great content to gain trust. You have to get people to like you as a person before they are willing to open up their wallets.
The Facebook ads I'm running are extremely cheap on a cost per click basis and they introduce new visitors to my content which I then retarget to an email sign up form.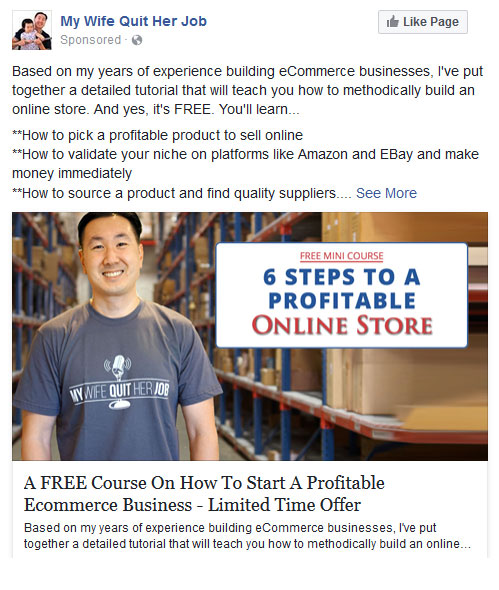 Once they sign up for my email list, I then use a 30 email autoresponder sequence that converts really well. In case you've missed it, I've talked about my email sequence in pretty great depth at various conferences.
Here are a few presentations I've given in case you are curious.
I Ran My First Conference, The Sellers Summit

On May 19th, 2016, I held my very first conference, the Sellers Summit, which ended up being a huge success.
By keeping the conference small and intimate with a focus on actionable ecommerce strategies, my partner Toni and I managed to create a highly specialized event catering to individuals wanting to grow a physical products based business.
We could have easily sold hundreds more tickets but we purposely kept things small and it paid off. All of the speakers and I got a chance to hangout and get to know all the attendees and we had a blast!
In fact, it was so well received that I ended up pre-selling a bunch of tickets for 2017 without a venue or a date. By the way, tickets for the 2017 summit are now on sale on the Sellers Summit webpage.
I can pretty much guarantee you that tickets will sell out this year as we sold out many months in advance in 2016.
Anyway, if you are interested in learning more about my experiences throwing the conference, please check out the following posts.
I Consistently Updated My Course And Sent Out A Survey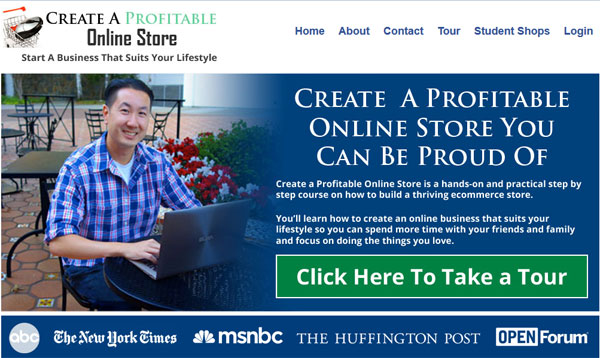 During the latter half of the year after I quit cold turkey, I focused most of my efforts on my ecommerce store and I documented all of my experiences in my ecommerce course.
In addition, I updated some of the older content for the class due to recent changes in the ecommerce landscape.
For example, in the latter half of the year, I…
Published 5 completely new automated email sequences for my ecommerce store – These sequences are set it and forget it and generate sales on autopilot.
Documented my latest Facebook ads strategy – Making PPC advertising profitable is an iterative process and it's important to follow a testing based methodology to narrow down what's working and what's not.
Discussed my conversion rate optimizations – There's no point in getting a new visitor if you can't complete the sale. This past year, I redesigned my site, boosted my conversion rate by 46% and documented everything for my students.
Invited more guest speakers to the class– Because I'm not an expert in every topic, I routinely invite specialists to provide their expertise in specific areas of ecommerce.
Bottom line. Because I'm able to focus more on growing my ecommerce store, I'm creating a lot more new material to teach my class. In fact, the main advantage of my course over the others is that I actively sell on Amazon and run my own ecommerce store.
Remember when I told you that I often get flack for doing everything myself? One of the reasons I insist on getting my own hands dirty instead of hiring outside help is so I can learn how EVERYTHING works firsthand.
I run my own Adwords campaigns. I run my own Facebook ads. I do all of my own email marketing. The best way to learn and teach is to do it yourself first and then use real data from your own shop.
In the second half of the year, I sent out a survey to the students in my class and was pleasantly surprised with the results.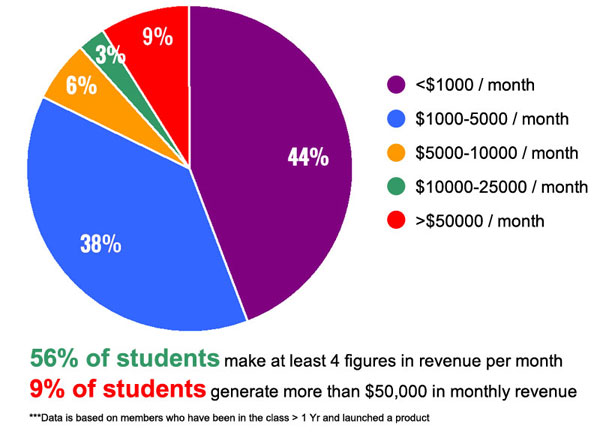 My Plans For 2017
Overall, I'm still getting used to all of this free time and I'm putting it to good use. Going forward in 2017, my plan is make all of my existing projects better instead of starting a bunch of new ones.
However, I am working on a small software project which I'll hopefully introduce sometime later this year. But for now, my goal is to be a good Dad and provide consistent value to my audience.
Here's to a prosperous 2017!
Note: This income report does not include my linens business. Stay tuned for the numbers next week!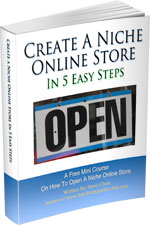 Ready To Get Serious About Starting An Online Business?
If you are really considering starting your own online business, then you have to check out my free mini course on How To Create A Niche Online Store In 5 Easy Steps.
In this 6 day mini course, I reveal the steps that my wife and I took to earn 100 thousand dollars in the span of just a year. Best of all, it's free and you'll receive weekly ecommerce tips and strategies!
Note: This post above may contain affiliate links, which means that I may receive a commission if you make a purchase when clicking a link. Please consult our privacy policy for more information.
Related Posts In Our Story
About Steve Chou

Steve Chou is a highly recognized influencer in the ecommerce space and has taught thousands of students how to effectively sell physical products online over at ProfitableOnlineStore.com. 

His blog, MyWifeQuitHerJob.com, has been featured in Forbes, Inc, The New York Times,  Entrepreneur and MSNBC.  

He's also a contributing author for BigCommerce, Klaviyo, ManyChat, Printful, Privy, CXL, Ecommerce Fuel, GlockApps, Privy, Social Media Examiner, Web Designer Depot, Sumo and other leading business publications.

In addition, he runs a popular ecommerce podcast, My Wife Quit Her Job, which is a top 25 marketing show on all of Apple Podcasts. 

To stay up to date with all of the latest ecommerce trends, Steve runs a 7 figure ecommerce store, BumblebeeLinens.com, with his wife and puts on an annual ecommerce conference called The Sellers Summit.  

Steve carries both a bachelors and a masters degree in electrical engineering from Stanford University. Despite majoring in electrical engineering, he spent a good portion of his graduate education studying entrepreneurship and the mechanics of running small businesses.