When Toni and I first launched the Sellers Summit back in 2016, we quickly learned that launching a brand new conference from the ground up is an uphill battle.
When you're the new kid on the block, it's hard to get speakers. It's hard to attract sponsors. And most importantly, it's hard to convince attendees to fly all the way out to Florida and spend 3 days with you.
But because this was our 4th year running the Sellers Summit, 2019 was a heck of a lot easier.
This year…
People from all over the world contacted us to speak at our event instead of the other way around
Ecommerce companies reached out to us to sponsor the conference in droves
Tickets sold out way in advance and there was a huge waiting list
In fact, because we hit the hard cap on attendees over 3 months prior to the event, I literally had to beg my partner Toni for an extra ticket so one of my students could attend. (Not even joking about this)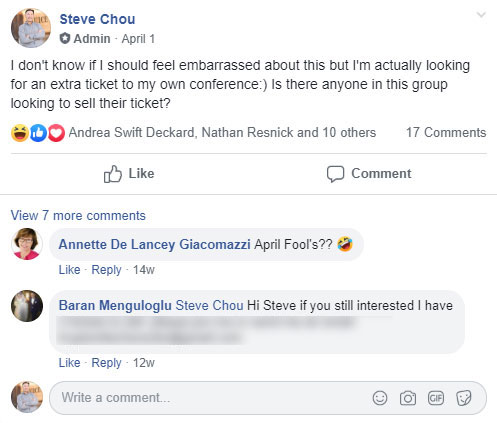 In any case, 2019 was easily one of the best years for the event because we attracted top level speakers, top level sponsors and an incredible group of high powered attendees.
Here are some interesting statistics for Sellers Summit 2019 attendees
The average attendee made $857,407 in revenue in the past year
41% of attendees made over 1M in revenue last year
66% of attendees made over 250K in revenue last year
What's cool was that this was the first year where I could literally turn my head and talk to someone at lunch knowing that they were a 6, 7 or 8 figure seller.
Now that we've been running the Sellers Summit for 4 years, we know what works and what makes for a great event.
In addition, you can check out the sessions from Sellers Summit 2019 by clicking on the link below.
Note: We're shutting down virtual pass sales on August 1, 2019 but until then you can purchase a special bundle for all 4 years (2016-2019)
Get My Free Mini Course On How To Start A Successful Ecommerce Store
If you are interested in starting an ecommerce business, I put together a comprehensive package of resources that will help you launch your own online store from complete scratch. Be sure to grab it before you leave!
Strategy Not Inspiration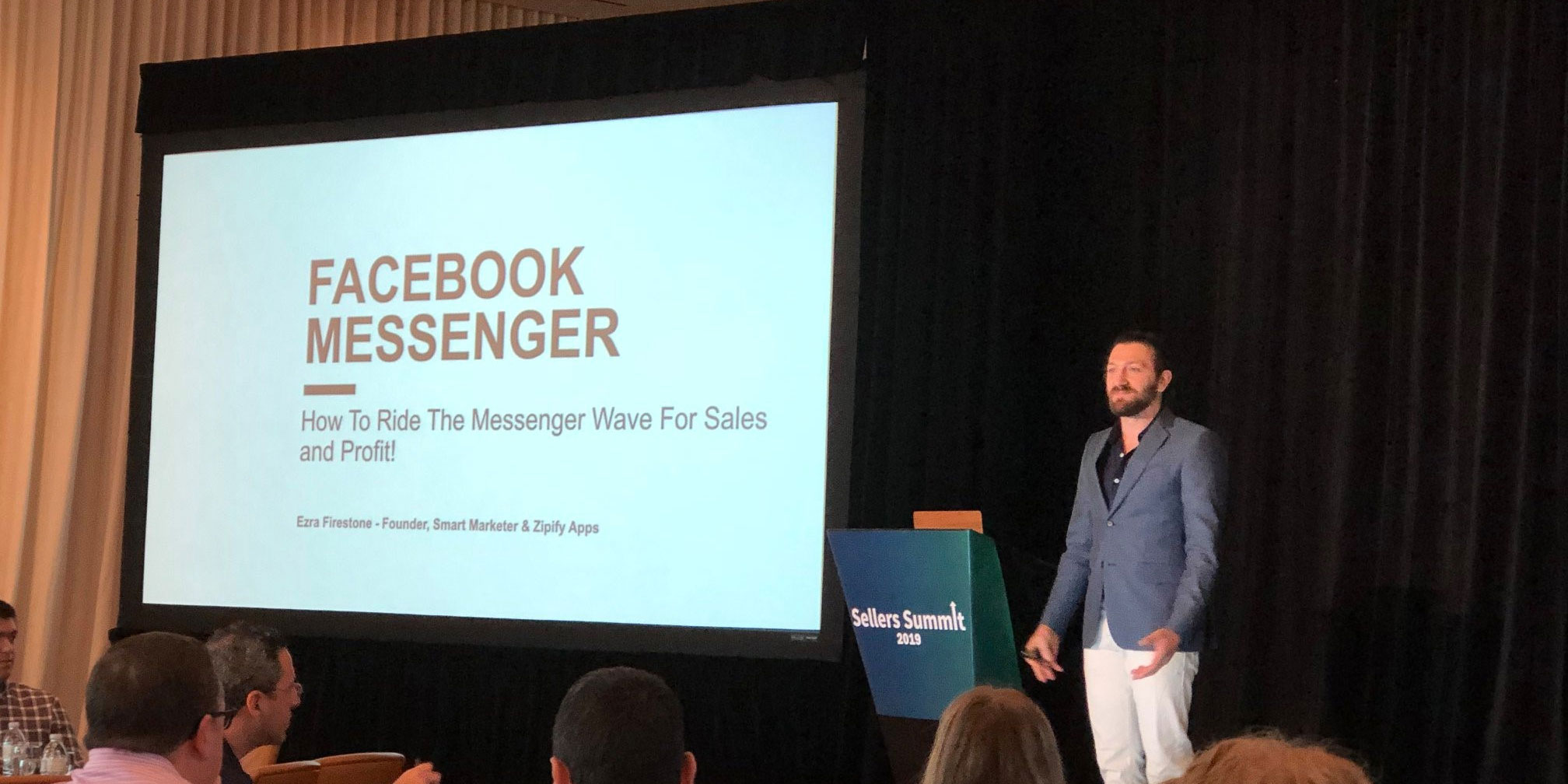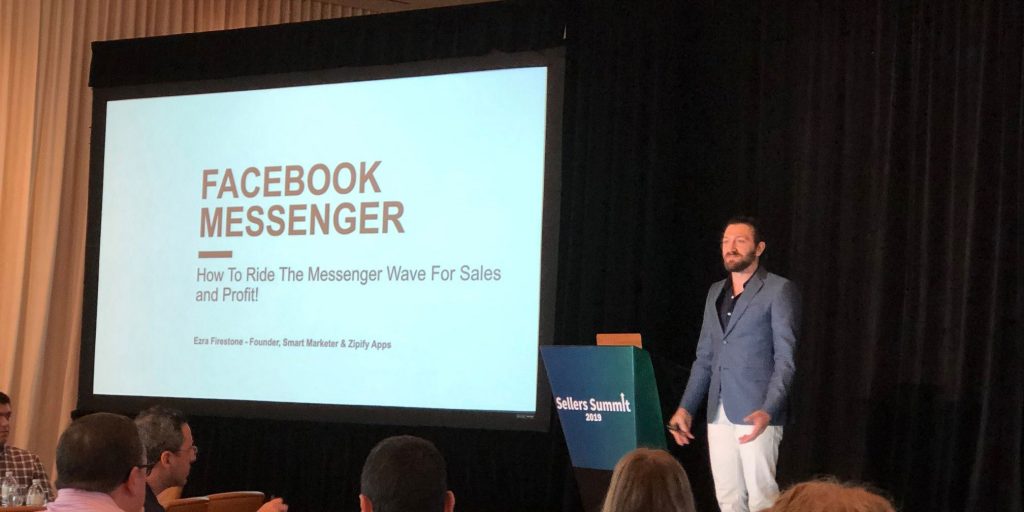 Our mission for the Sellers Summit is to provide an actionable, curriculum based experience. And we want the Sellers Summit to be known as the ultimate learning conference.
There's no fluff and we never invite speakers to talk about their past successes. In fact, we purposely avoid inspirational talks altogether.
To me they are a waste of time and I strongly prefer someone teach me strategy rather than tell me stories of past glory.
We also insist that all speakers be accessible throughout the event. Unlike other conferences where the speakers disappear after their talks, our presenters stick around and hang out.
I liked the networking and the fact that all speakers and attendees are open to visit. It's a fantastic group of people and most are very open to helping others.
Networking Is A Priority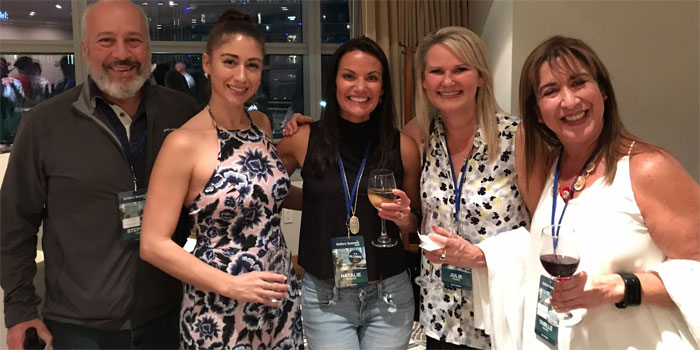 Our entire conference is predicated on placing you in situations that foster deep relationships with other attendees.
Using the same tried and true formula from prior years….
We Held All Sessions In Close Proximity – By holding all the sessions in the same area, people were encouraged to mingle in between presentations.
We Made Everyone Dine Together – Lunch was catered in every single day so people were inclined to eat with each other. In addition, we had sign up sheets for dinner to encourage group dining for attendees.
We Had Open Bar Every Night – A little alcohol always encourages people to loosen up
We Encouraged Participation In Our Private Facebook Group – A record number of attendees created Facebook live video introductions leading up to the event. In addition, the speakers made videos as well which made the FB group much more lively!
Personally, I enjoy observing the body language of attendees over the course of the weekend. A lot of people arrive at the conference apprehensive and shy.
But by the end of weekend, I love seeing people hug each other and joke around like old friends. It makes me really happy!
In fact, attendees kept coming up to Toni and I to tell us that our event was SO much better than other ecommerce conferences because of the networking alone!
It was really cool to be able to randomly have lunch with people. I also liked that it was overall smaller conference.
This is why holding smaller events is so powerful!
Mastermind Sessions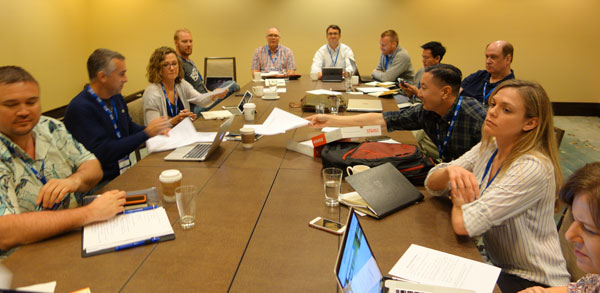 Looking back, the greatest periods of growth for my businesses occurred after I started learning from other like minded entrepreneurs.
After all, it's hard to run your business in a vacuum and everyone can benefit from sharing ideas and strategies with others.
This year, we expanded our mastermind sessions for attendees with established ecommerce businesses.
What is a mastermind session?
It's a hands-on event with a very small group. Basically, we took a handful of established entrepreneurs and spent an entire day together improving each other's businesses.
We catered in lunch, locked ourselves in a room and helped each other solve problems. And by the end, everyone came away with direction, a list of action items and a rolodex of new friends!
In fact, this mastermind offering was a HUGE hit and these were the first tickets to sell out.
Round Tables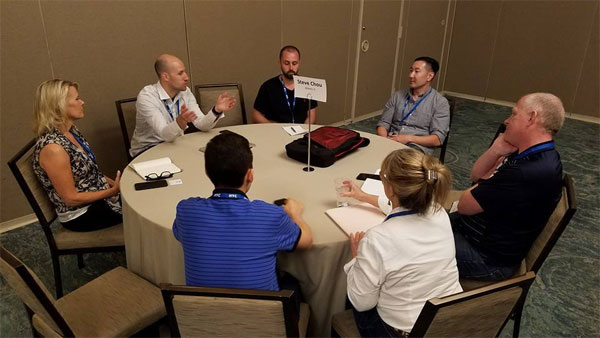 Have you ever attended a conference session and found yourself too shy to ask a question?
Have you ever wanted more time to talk to your favorite speaker but never got a chance?
If you answered yes to any of the above, you would have loved our round table session for attendees.
What exactly is a round table session?
In a nutshell, it's just a large table with 8-10 people where the discussion is run by one of the speakers. And attendees have the opportunity to ask their questions in a more intimate environment.
In fact, we had several attendees tell us that the round tables alone paid for the entire event.
The Theme For 2019 And My Keynote Speech
Every year, we focus on a theme based on the current ecommerce climate.
For 2019, every session was designed to help you build a lasting brand. Right now, with Amazon's growth slowing and rampant piracy, you can't just sit back with a listing of products. You have to build an audience!
Here's a video recording of my keynote speech which set the tone for the event.
Also, here's a podcast that Toni and I recorded to recap the event.
The Sessions And Speakers For 2019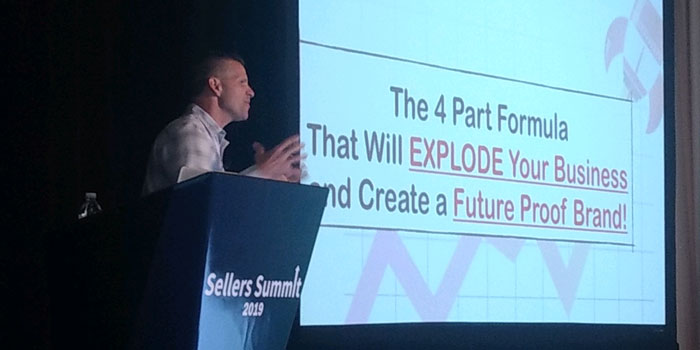 As usual, we had a world class lineup of speakers. Here's a listing of all of the speakers and sessions for Sellers Summit 2019.
If you are interested in purchasing the recordings for these sessions, then Click Here To Buy A Virtual Pass For Sellers Summit 2019 (And All Prior Years)
Note: We are shutting down all virtual pass sales on August 1, 2019
Unlocking Your Profit Potential – The Improved Gross Margin Strategy with Dana Jaunzemis
In this session Dana will teach you how to identify and improve the profit heroes in your catalog to grow your bottom line.
Scaling Advertising for Growth with Edward Ruffin
In this session Edward will teach you how to do a self audit to know when and if you're ready to scale growth through your ads. He'll also share strategies for running your own ads and how to recognize when you may need to hire an expert.
How to Find the Best Suppliers Using a Little Known Technique with Michael Paulson
In this session, you will learn how to use US Government Trade Data to perform due diligence on your overseas suppliers. These thought provoking strategies will help you protect your Amazon FBA business from supplier fraud, negotiate better deals, and build powerful long-term supplier partnerships.
How to Grow Your Business Using the Google Display Network with Ilana Wechsler
In this session, Ilana will show you what is working now on the Google Display Network. She'll also show you how you can leverage your results from Facebook, onto the Google Display Network.
The Lifecycle Of Marketing – How to Extract Max Value from Your Customers with Mike Jackness
In this session you will learn how to take potential customers from a lead, to a customer via a low friction offer, to a repeat customer. This approach has resulted in 500% ROAS and 52% revenue from email. By the end of the session you will see dozens of ads and a complex workflow that produces amazing results.
How to Legally Avoid Duties and Tariffs with Nathan Resnick
Nathan will walk attendees through the process of how any company that imports products from Asia can legally avoid tariffs and duties.
Firing on all Cylinders: High-powered Amazon Business Sales with Brad Moss
If Jeff Bezos looked at your business, what would he say? Do you know every area that you should be working on to maximize your Amazon business? In this session Brad will walk you through the essential business practices to streamline operations, maximize profit, and build a lasting Amazon Business. These guidelines have been used by 7, 8, and 9 figure businesses to streamline for growth. Take away high-level frameworks as well as tactical details to ensure your business is built to last.
Email Deliverability: You Don't Know What You Don't Know with Matt Sanocki
In this talk Matt will review the confusion around email deliverability, why email deliverability matters, and how to set your business's email marketing program up for optimal engagement, health and profitability (or work yourself out of a pickle).
The 4 Part Formula That Will EXPLODE Your Business and Create a Future Proof Brand with Scott Voelker
Scott will be covering his P.A.C.E method where he shows how to drill down into your market and then get attention. From there he will teach how will create additional products and revenue sources using traffic from a variety of sources. P = Preparation and Foundation A = Attention C = Cultivation E – Expansion.
Step-by-Step Guide to Google Shopping Success with Brett Curry
From great product feeds to proper campaign structure to bidding success to reporting and optimization, Brett will walk through the details of what it takes to win with Google Shopping. Learn how to get better product visibility in the shopping results, and how to consistently hit your return on ad spend targets. He'll also explore the latest and greatest from Google and uncover what that means for your Google Shopping campaigns.
How to Clone Yourself – Scaling Past Solopreneurship with Bill DAlessandro
You'll learn how Bill scaled from solopreneur, to a team of VAs, to a company with 33 in-person employees. Bill will share hiring tips, project management systems, and automation hacks to help you scale your company beyond yourself in a quality way.
Facebook Chatbots: Leveraging Artificial Intelligence for Sales & Profit with Ezra Firestone
In this session, Ezra will show you how to leverage Facebook Messenger Chatbots to acquire customers and keep them engaged!
Jump Starting Your Segmentation and Email Personalization Strategy with Alexandra Edelstein
It's time to shift your segmentation into high gear. This presentation provides a complete framework for how to think about the different segments your customers fall into. With those building blocks, you can apply this thinking to your own segmentation, and transform your emails into hyper-targeted revenue-generating machines.
How to Build a Scalable Wholesale Business on Amazon with Trent Dyrsmid
In this session, you will discover the specific tactics and strategies you need to build a highly scalable wholesale business on Amazon. At the end of this presentation, you will understand how massively scalable wholesale is, how to determine which products/brands to carry, how to source their products, how to convince brands to work directly with you, the margins you should expect, and much more!
Professional Services Experts Panel – AMA on Transport & Tariffs, Product Sourcing and Protecting Your IP From Theft with Nathan Resnick, Greg Mercer, Pam Cail, Steve Chou, Steven Weigler
Come prepared to ask our panel of experts anything. In this session our panel will cover everything from transporting your goods to protecting your intellectual property.
How to Drive Sales & Keyword Ranking in 2019 Without Giveaways with Casey Gauss
In this session you'll learn advanced amazon keyword research and optimization as well as how to establish a consistent foundation of profitable sales. Finally, Casey will cover scaling keyword ranking and sales without giveaways.
5 Keys to Success with Facebook Ads in 2019 with Molly Pittman
"Ah! What in the world happened to Facebook ads last year?!" – Everyone No, you're not crazy — Facebook really did change that much! In 2018 the platform experienced its biggest evolution ever, completely changing who sees your ads, how much it costs, and which campaigns are most effective. And while a lot of advertising methods did stop working… Faceboook's algorithm actually got better at finding you customers once you adapt to these changes. In this session, Molly will explain what changed… why, and what this means for us as marketers.
Becoming a Purpose Driven Business With Craig Gentry
How to find meaning and a purpose behind your ecommerce business.
Click the link below if you are interested in purchasing the recordings for these sessions. We're shutting down sales on August 1, 2019
The Tradeoffs Of Running A Small Event
These days, ecommerce events are a dime a dozen. And in order to succeed, you have to double down on your strengths and stick with what you do best.
While Sellers Summit 2019 was a big success, I wanted to give you an inside look at the tradeoffs of running an event based on the numbers.
First off, if you take a look around, you'll notice that most conferences are either extremely large or extremely small. There are very few in between and the primary reason has to do with economics.
In general, running a conference is a terrible way to make money. By the time you factor in the hotel costs, the food and most importantly the time commitment, the numbers just don't add up.
Most conferences will try to offset these high costs by getting sponsors to help pay for the event. But the problem is that you can't get sponsors to sponsor you unless you can attract a huge audience.
That's why most conferences often try to sell as many tickets as possible because more people leads to more sponsors and more $$$.
Most conferences are also very skimpy with food and alcohol because those are the largest expenses for any event.
Editor's Note: Catering lunch and having cocktail parties every night is non-negotiable to me. But just to give you an idea of costs, a gallon of coffee costs $91 from the hotel. Crazy right?
Because the Sellers Summit is so small, we have very little leverage to negotiate price breaks from the hotel. And in general, it's must easier to attract sponsors if you hold a much larger event (which I absolutely didn't want to do).
But fortunately over the years, I've established strong relationships with some incredible companies that I want to recognize below.
Ultimately for me, the Sellers Summit is all about the community and bringing sellers together to establish real relationships.
I'm more than happy to sacrifice a little $$$ to put on the best event possible!
Right now, we are selling tickets for Sellers Summit 2020. And believe it or not, we're already over a third sold even though the event is a year away.
In addition, you can check out the sessions from Sellers Summit 2019 by clicking on the link below.
Note: We're shutting down virtual pass sales on August 1, 2019 so act now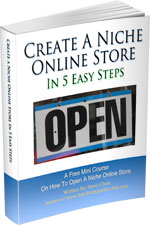 Ready To Get Serious About Starting An Online Business?
If you are really considering starting your own online business, then you have to check out my free mini course on How To Create A Niche Online Store In 5 Easy Steps.
In this 6 day mini course, I reveal the steps that my wife and I took to earn 100 thousand dollars in the span of just a year. Best of all, it's free and you'll receive weekly ecommerce tips and strategies!
Note: This post above may contain affiliate links, which means that I may receive a commission if you make a purchase when clicking a link. Please consult our privacy policy for more information.
Related Posts In Making Money
About Steve Chou

Steve Chou is a highly recognized influencer in the ecommerce space and has taught thousands of students how to effectively sell physical products online over at ProfitableOnlineStore.com. 

His blog, MyWifeQuitHerJob.com, has been featured in Forbes, Inc, The New York Times,  Entrepreneur and MSNBC.  

He's also a contributing author for BigCommerce, Klaviyo, ManyChat, Printful, Privy, CXL, Ecommerce Fuel, GlockApps, Privy, Social Media Examiner, Web Designer Depot, Sumo and other leading business publications.

In addition, he runs a popular ecommerce podcast, My Wife Quit Her Job, which is a top 25 marketing show on all of Apple Podcasts. 

To stay up to date with all of the latest ecommerce trends, Steve runs a 7 figure ecommerce store, BumblebeeLinens.com, with his wife and puts on an annual ecommerce conference called The Sellers Summit.  

Steve carries both a bachelors and a masters degree in electrical engineering from Stanford University. Despite majoring in electrical engineering, he spent a good portion of his graduate education studying entrepreneurship and the mechanics of running small businesses.