Mompreneurs are crushing it at home and work! But what's attracting mothers to entrepreneurship?
For starters, running a business gives moms much-needed flexibility to manage their work and their households. Moms get to prepare their own schedules and structure their days according to their needs.
In this post, I share the stories of 16 inspiring mompreneurs that I've interviewed personally on my podcast, each with a different business model. I invite you to learn more about what motivated them to take the plunge.
Get My Free Mini Course On How To Start A Successful Ecommerce Store
If you are interested in starting an ecommerce business, I put together a comprehensive package of resources that will help you launch your own online store from complete scratch. Be sure to grab it before you leave!
What Is A Mompreneur?
A Mompreneur is a female business owner who successfully balances being a full time mom and running a business.
Thanks to the Internet, women no longer have to choose between family and career. Today, more and more moms are starting their own businesses.
Working moms make great entrepreneurs because they know the value of hard work, they have the right mindset and they are amazing at negotiation and customer service.
Here are my favorite Mompreneur success stories.
Blogger Mom: How To Create A 6-Figure Lifestyle Blog
Toni Herrbach runs a popular blog called thehappyhousewife.com, where she writes about home improvement, raising kids and DIY.
Due to the popularity of her content, Sellers Summit and a popular podcast over at Profitable Audience.
But here's the thing 一 she has seven children and she homeschooled all her kids!
Her secret? She dedicated her limited hours to guest blogging, building a network, and email marketing. She also uses Pinterest, where almost 80% of users are women, to drive traffic to her blog.
Toni's biggest sources of revenue are influencer marketing, advertising, selling physical products and courses and being a brand ambassador.
Next Steps
You can listen to her podcast episode below.
Other Podcast Episodes With Successful Bloggers
Ecommerce Success: Making 6 Figures Selling Jewelry Without Advertising
Angela Li runs an online jewelry store over at AzuraJewelry.com where she sells ethically sourced sterling silver pieces.
Although jewelry is a highly competitive niche, Angela managed to transform her side hustle into a 6 figure business without spending a penny on advertising.
A student in my Create A Profitable Online Store Course, Angela honed in on her unique selling propositions and decided to focus on Instagram and TikTok to promote her jewelry.
I asked Angela what advice she would give people considering starting an online business. Angela said, "Streamline your business by establishing a good system early on and document all the questions customers ask."
Next Steps
You can listen to her podcast episode below.
Other Podcast Episodes With Successful Jewelry Sellers
Fashion Queen: From 0 To $140M Selling Boutique Clothing
Tori Gerbig had a full-time insurance job and a small side hustle selling products on eBay. With her due date approaching fast, she wanted to increase sales on her small eBay store since her job didn't provide paid maternity leave.
Tori then started a Facebook group of local women to sell boutique kids and women's clothing. To her surprise, the group grew to 10,000 members quickly.
After witnessing that growth, Tori and her husband decided to create a website called Pink Lily without any prior technical experience.
Within 6 months of launching, they hit 1 million in sales.
Tori's strategy was simple 一 she took pictures of herself wearing boutique clothing rather than using models and posted them consistently on all her social media platforms every day.
Since then, Pink Lily has scaled to become a $140 million a year business.
You can listen to her podcast episode below.
Next Steps
Podcast Episode With Successful Clothing Sellers
Multi-Millionaire Mama: From Corporate Job to Selling Handkerchiefs
Jen Chou, my wife, was a successful financial analyst who found it challenging to balance her crazy and erratic working hours and her desire to spend time with her kids.
Her entrepreneurial journey started when she was planning her wedding and had a tough time finding good-quality linens for the ceremony. Ultimately, she ended up ordering handkerchiefs from a Chinese vendor in bulk.
After the ceremony, she listed the unused linens on eBay, and to her surprise, they sold like hot cakes. That's when she decided to launch Bumblebee Linens to sell handkerchiefs and linens.
Having her own business allowed Jen to quit her job, stay at home, and take care of her children while running the online store at the same time. Since then, the company has made millions in sales.
Next Steps
You can listen to her podcast episode below.
Other Podcast Episodes With Successful Ecommerce Store Owners
Innovative Mama: Starting A 7-Figure Dropshipping Business
Annette De Lancey sells orthopedic soft goods, such as cast covers and boot covers, through her website Castcoverz.com.
Here's the kicker ー she doesn't have a warehouse or local employees. Her business is 100% online, and she dropships her private label products!
Dropshipping is a business model where sellers don't store the products they sell. Instead, they ask their suppliers to pack and ship the product for them.
Private labeling is when sellers use a third-party manufacturer to produce a product with the sellers' branding.
Annette saw a market for cast covers when her 10-year-old daughter broke her arm and wanted a better looking cast. So Annette dusted off her sewing machine and made her a cute cast cover.
Wherever her daughter went, people started asking her where she got her cast and that's when she knew she was onto something.
Annette then set up booths at orthopedic conferences to promote her new product and networked with orthopedic surgeons.
Later on, she convinced them to join her affiliate program where they would get a cut on every sale made through their office.
You can listen to her podcast episode below.
Next Steps
Other Podcast Episodes With Successful Private Label Sellers
Musician Mom: A Songwriter Made 2 Million By Selling A Course
Cathy Heller has had an exciting journey 一 she went from struggling to make ends meet to making 6 figures as a songwriter.
A passionate music lover, Cathy moved to LA when she was 24 and started sending her demos to record labels. After two years, she was signed to Interscope Records.
One thing led to another and she ended up making music for famous shows like Pretty Little Liars and Criminal Minds.
Cathy decided to create a course called Six-figure Songwriting after several artists asked her to share the valuable lessons she learned along the way. Her course was so successful that she made 2 million dollars in her first year.
When Cathy was pregnant with her third daughter, she started her own podcast, Don't Keep Your Day Job, which now has more than 15 million downloads.
When I asked Cathy what advice she would give someone in a dead-end job, she said, "Spend some time giving ourselves the space to feel and dream, and make a list of like five lives that you'd love to live."
You can listen to her podcast episode below.
Other Podcast Episodes With Successful Online Course Creators
Love For Cross Stitch: A UK Mom Makes 6 Figures By Turning Her Hobby Into A Business
Sally Osborne, a student in my class who is an avid cross-stitcher, sells cross-stitch supplies on her website CaterpillarCrossstitch.com.
Before Sally started her business, she used to post her designs on a Reddit cross-stitch community for feedback. When she started receiving favorable reviews online from her fellow cross-stitchers, she decided to turn her hobby into a business.
Sally used Shopify to create her website and posted consistently on social media platforms. She created tutorials on how to cross-stitch, how to use a hoop, etc., on her YouTube channel.
Sally's followers grew organically, and the sales followed. She now makes 7+ figures per year and has won numerous awards while raising 2 kids.
You can listen to her podcast episode below.
Next Steps
Other Podcast Episodes With Successful Entrepreneurs Who Turned Their Passion Into Business
Party Supplier: From Being Banned On Etsy To Making 90K/Month
Amanda Wittenborn is a student in my course and makes over 2 million per year selling children's party supplies online through her website AmandaCreation.com.
Amanda started creating digital designs for invitations and decorations out of her love for organizing themed parties for her 3 children. After making a name for herself locally, she opened an Etsy shop and built a small number of followers.
Due to a miscommunication between Minecraft and Etsy, she got banned and lost all of her revenue overnight. She hit rock bottom soon after that and needed a year to get back on her feet.
Amanda then built her own website, used VistaPrint to print her own designs and used Amazon FBA for fulfillment. The result? Her sales increased tenfold.
You can listen to her podcast episode below.
Next Steps
Other Podcast Episodes With Successful Amazon Sellers
Fertility Blogger: Making $400K/Year Helping Women With Their Fertility
Kym Campbell is an excellent example of how to make money with digital products and memberships. She has a membership site called SmartFertilityChoices.com, where she sells digital courses.
Kym started blogging to share her personal experience with fertility issues and PCOS. She came up with a 30-day diet challenge which helped increase followers on her Facebook and Instagram pages.
Kym also happens to be a student of my Create a Profitable Online Store course. Although my course mainly focuses on selling physical products, Kym used the lessons to optimize her store for the search engines and improve her advertising.
Kym successfully increased sign-ups for her diet challenge and now makes $400K+ a year via courses and memberships.
You can listen to her podcast episode below.
Next Steps
Other Podcast Episodes With Successful Bloggers
Therapy Product Inventor: Making 6 Figures After Being Laid Off
Chelsea Frank, a mother of 4 kids, went from having $100 in her bank account to making 6 figures. She sells contoured hot and cold therapy products through her website LifeAndLimbGel.com and on Amazon.
Chelsea has an interesting background. She was designing these packs for a company when they laid her off and expected her to continue developing products for them.
Chelsea then borrowed money from her family and made the products by hand until she started getting orders from eBay, after which she employed people under her to keep up with demand.
Chelsea believes in word-of-mouth marketing because it works. Local pharmacies and doctors started carrying her products because patients specifically requested her products.
Chelsea's business has grown exponentially over the years and now has clients all over the world.
You can listen to her podcast episode below.
Other Podcast Episodes With Successful Healthcare Entrepreneurs
Dropshipping Success: 6 Figures Selling Dollhouse Furniture Working < 5 Hours Per Week
Amanda Austin left her corporate job and started her dollhouse furniture shop called ShopOfMiniatures.com to earn money while spending more time with her two kids.
She chose dollhouse furniture as her niche because she had fond memories playing with a handmade dollhouse her grandmother gave her as a kid.
Amanda found a local dropshipping supplier to source and ship her products and sold them from her website. Today, she serves a diverse clientele which includes older women, men, and kids.
Amanda took 3 years to replace her corporate income with her business. And in those 3 years, she worked for another ecommerce company to understand how to market her business and drive traffic with ads.
She then took my course and redesigned her website, which has since grown by more than 250%.
You can listen to her podcast episode below.
Next Steps
Other Podcast Episodes With Successful Dropshippers
Turning Foot Pain Into A Business: Mother Makes 100K/Month Selling High Heel Insoles
Abby Walker sells award-winning high heel insoles through her website VivianLou.com.
Her love for high heels made her start a blog called Mama's Shoes, where she wrote about foot sprays designed to alleviate pain for women who wear high heels.
Seeing the potential with her idea, Abby created her own foot spray without any knowledge of manufacturing or formulations.
Ultimately, she hired people and successfully created the product but failed to scale production for her first business venture.
Then one day, she came across a product called Insolia and ended up becoming the exclusive distributor for Insolia insoles in the US and Canada.
One thing led to another and Abby started generating sales through word-of-mouth. Soon after, Abby got featured in Oprah magazine and HSN, and now makes $100K/month in sales.
You can listen to her podcast episode below.
Next Steps
Other Podcast Episodes With Successful Sellers
Healthy Mammas: From Moms Group To Business Partners To Making 6 Figures Together
Jadah Sellner and Jen Hansard have 300,000 Facebook fans, over 200,000 email subscribers, 370,000 Instagram followers, and they've been all over the press.
They met in a moms group and came together to start a parenting blog called Family Sponge. While running the blog, they came across the idea of starting an Instagram account that showcased green smoothie recipes.
Realizing the potential in this idea, they pivoted from their blog Family Sponge and created a new brand called Simple Green Smoothies.
Want to know how Jadah and Jen managed to build a large following? They created an Instagram account before launching their website and shared images with full recipes without directing people to their website.
This strategy helped them build trust by adding value with their full recipes, which motivated people to share their content.
You can listen to her podcast episode below.
App Success: A Non-Techy Mother Creates An IPhone App For Parents
Erin Matzkin has an unusual story 一 she created an iPhone app without a technical background.
Her motivation? She and her two business partners, who are also working parents like her, shared the same issue of coming home at the end of the day and not knowing what went on with their kids.
To solve this problem, they created an app called Cluck Cluck App that helped busy parents book, pay, and message their children's caregivers.
So how did they grow the app? The trio built relationships with parents and press organically. But their sales went through the roof when their app got featured on TechCrunch and things took off from there.
When asked to offer advice to someone interested in developing an app, Erin said, "I would say my best advice is just to persevere. A lot of small startups, a lot of app companies fail simply because the founders run out of steam and kind of give up."
You can listen to her podcast episode below.
Other Podcast Episodes With Successful App Creators
T-Shirt Story: Side-Hustle To Making 6 Figures While Being Pregnant
Andreea Ayers managed to build a t-shirt brand while she was pregnant and moving across the country.
How did she make 6 figures selling in one of the hardest categories? She reached out to yoga studio owners to sell eco-friendly t-shirts that specifically appealed to yoga practitioners.
Andreea also decided to sell her products wholesale as opposed to retail to avoid losing money with returns and exchanges.
Andreea also had an early mover advantage as there weren't many eco-friendly brands around when she started. She improved her brand's visibility by sending free samples to yoga and mom bloggers.
After turning a side hustle to a full-time business and making 6 figures within the first 18 months of launching her brand, Andreea created LaunchGrowJoy.com, where she helps entrepreneurs get free publicity for their products.
You can listen to her podcast episode below.
Next Steps
Other Podcast Episodes With Successful Wholesalers
Ultimate Mompreneur: From Helping Amazon Sellers To Selling On Amazon Herself
Elizabeth Mercer helped start Jungle Scout, a one-stop-shop for all the tools you need to run an Amazon business.
Despite the success of Jungle Scout, Elizabeth wanted to build her own company from the ground up. So she stepped down from Jungle Scout to start a seven-figure e-commerce business selling ergonomic furniture over at Sleekform.com.
Elizabeth got into furniture selling because she is a self-proclaimed "office organization nerd." She researched the Amazon furniture reviews and used that feedback to build ergonomic products with the help of a designer.
It's been more than 4 years since Elizabeth started Sleek Form. She now makes 7 figures by selling on both Amazon and her website.
You can listen to her podcast episode below.
Next Steps
Other Podcast Episodes With Successful Furniture Sellers
It's Your Turn To Be A Mompreneur
Starting something new when you already have so many responsibilities can be daunting.
But if other moms can do it, then so can you. Give yourself a chance and you can spend more time with your loved ones as opposed to your day job.
Most of the mompreneurs above started their business as a side hustle before switching to full-time. Listen to their stories for inspiration and make a list of things you can do to earn some extra cash on the side.
It also helps to choose a niche that you love. This way, you won't mind putting in extra hours to help your business succeed.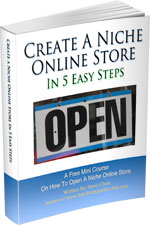 Ready To Get Serious About Starting An Online Business?
If you are really considering starting your own online business, then you have to check out my free mini course on How To Create A Niche Online Store In 5 Easy Steps.
In this 6 day mini course, I reveal the steps that my wife and I took to earn 100 thousand dollars in the span of just a year. Best of all, it's free and you'll receive weekly ecommerce tips and strategies!
Note: This post above may contain affiliate links, which means that I may receive a commission if you make a purchase when clicking a link. Please consult our privacy policy for more information.
Related Posts In Making Money
About Steve Chou

Steve Chou is a highly recognized influencer in the ecommerce space and has taught thousands of students how to effectively sell physical products online over at ProfitableOnlineStore.com. 

His blog, MyWifeQuitHerJob.com, has been featured in Forbes, Inc, The New York Times,  Entrepreneur and MSNBC.  

He's also a contributing author for BigCommerce, Klaviyo, ManyChat, Printful, Privy, CXL, Ecommerce Fuel, GlockApps, Privy, Social Media Examiner, Web Designer Depot, Sumo and other leading business publications.

In addition, he runs a popular ecommerce podcast, My Wife Quit Her Job, which is a top 25 marketing show on all of Apple Podcasts. 

To stay up to date with all of the latest ecommerce trends, Steve runs a 7 figure ecommerce store, BumblebeeLinens.com, with his wife and puts on an annual ecommerce conference called The Sellers Summit.  

Steve carries both a bachelors and a masters degree in electrical engineering from Stanford University. Despite majoring in electrical engineering, he spent a good portion of his graduate education studying entrepreneurship and the mechanics of running small businesses.