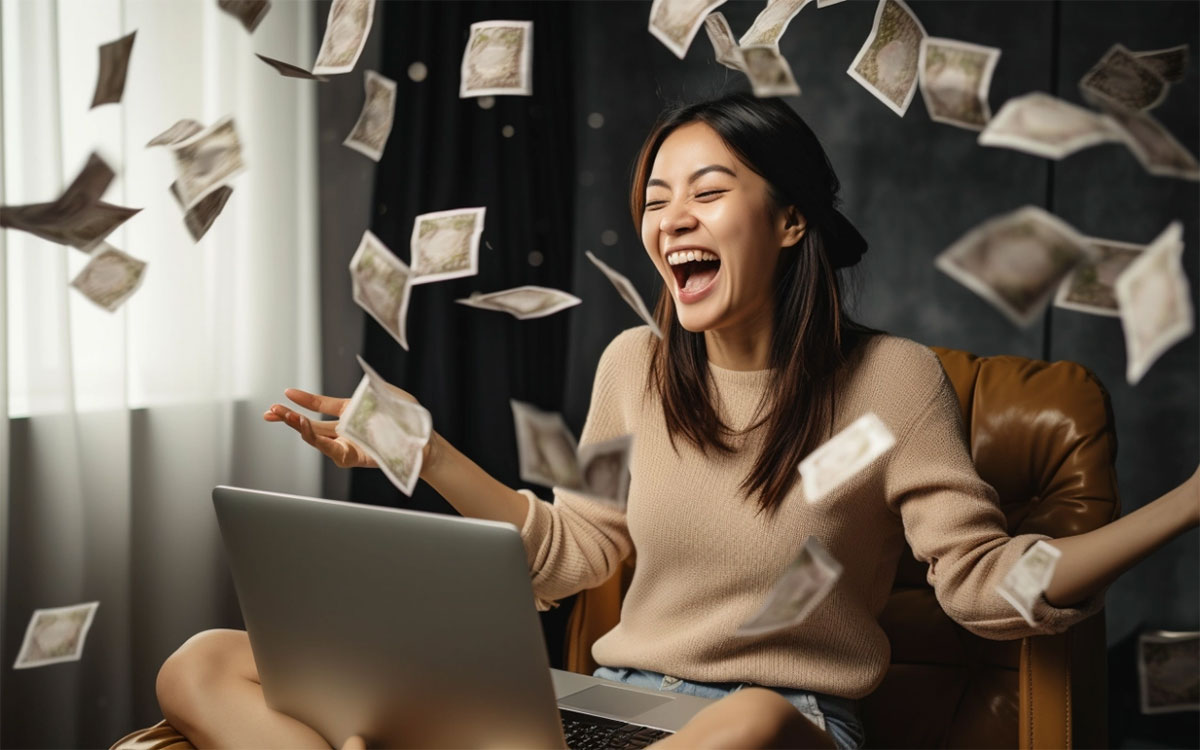 Reselling products online is a smart way to make some extra money online without much upfront risk. You can flip almost any item for profit but the hard part is identifying the best things to resell online and listing your goods on the right marketplace.
In this post, I will teach you the best products to resell and where and how to sell them. Many of these products are free or cost less than $100 and can be flipped from the comfort of your home.
Get My Free Mini Course On How To Start A Successful Ecommerce Store
If you are interested in starting an ecommerce business, I put together a comprehensive package of resources that will help you launch your own online store from complete scratch. Be sure to grab it before you leave!
Characteristics Of The Best Things To Resell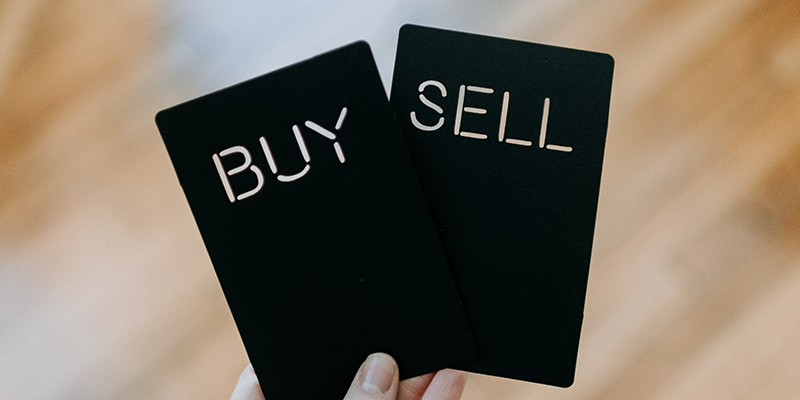 The best things to resell are products that are easy to ship, not fragile, in demand throughout the year, hard to find in local shops, priced competitively, and have opportunities for cross-selling.
Here's a list of characteristics to look for.
Small and lightweight: Small products simplify handling and shipping because they require less packaging and are easier to transport.
Non-fragile: Fragile items are more difficult and expensive to ship as they need extra protective packing, resulting in higher shipping costs.
Hard to find: Unique items not readily available in local stores can command higher prices, as consumers are more inclined to purchase them online.
High demand year-round: Evergreen products maintain consistent demand, providing a steady income, unlike seasonal products that are only popular during certain times.
Cross-selling potential: Offering complementary products alongside the primary product encourages customers to buy more, which increases overall sales and average order values. For example, suggesting phone cases when customers add a screen protector to their cart.
What Are The Best Things to Resell?
The best things to resell are sneakers, garden furniture, websites, appliances, toys and action figures, car parts, and Lego sets, among many others.
Here is my list of the 33 best things to resell:
Antiques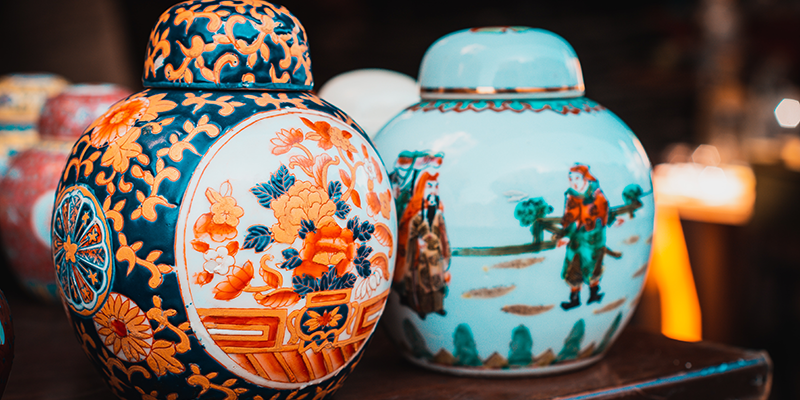 Antiques are items of historical, artistic, or cultural significance that are typically at least 100 years old. Popular antique categories include carpets, jewelry, silver, maritime, and maps.
Reselling antiques can be profitable because they appreciate in value over time, making them attractive investments. In addition, they appeal to collectors and enthusiasts willing to pay a premium for unique items.
You can source antiques from auctions, estate sales, antique shops, flea markets, and online marketplaces. Some of the best online marketplaces for reselling antiques are eBay, Ruby Lane,  Etsy, LiveAuctioneers, and Heritage Auctions.
Concert Tickets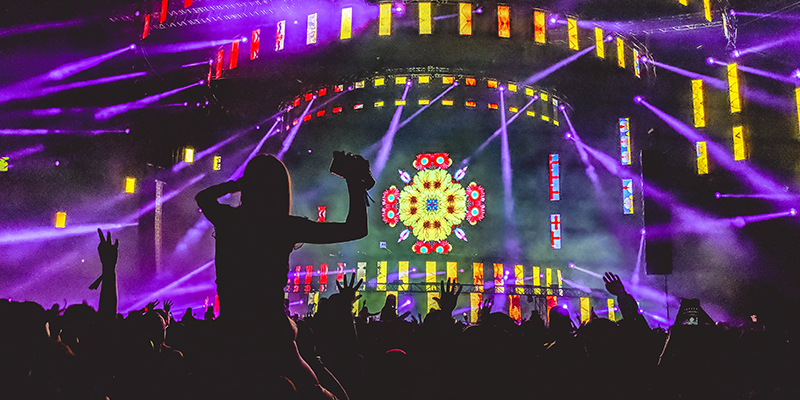 Reselling concert tickets can be highly profitable depending on the artist and the demand they generate.
For example, the average resell price of a Taylor Swift's Eras Tour ticket reached $3,801, a significant markup from the original ticket prices of $49 to $449.
However, not all artists command such high resale ticket prices. The resale value is influenced by an artist's ability to quickly sell out shows and the limited ticket availability based on the venue's seating capacity.
To source tickets, you can explore primary ticketing websites, presale opportunities, or use ticket brokers.
Top online platforms for resale include StubHub, SeatGeek, Viagogo, and local options like Facebook Marketplace.
Clothing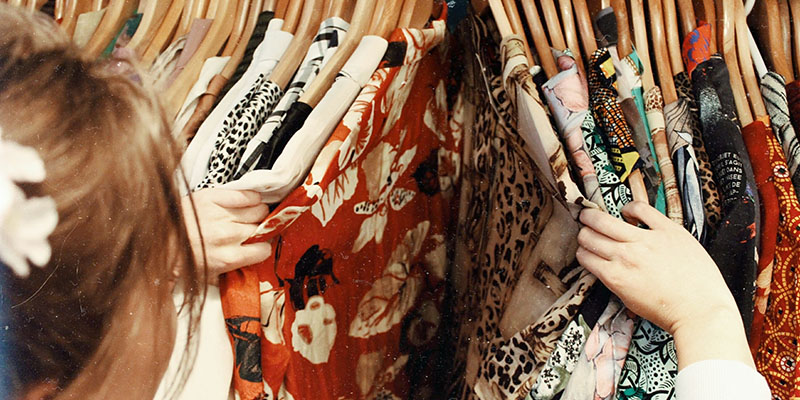 Clothing is an evergreen product category that generates billions of dollars in annual sales.
The best part about reselling clothing is you can start with minimal upfront cash by purchasing second-hand items for a few dollars each.
Moreover, there are many niches in clothing you can focus on, like athleisure, traditional, and bridal.
To source your inventory, look into thrift stores and garage sales, where you may discover vintage clothing and designer labels. Vintage clothing, especially from luxury brands, can fetch thousands of dollars on eBay.
Keep an eye out for maternity wear, a niche often underserved, with expectant mothers willing to pay a premium for quality items.
When selling your clothing finds, check out platforms like Depop, Poshmark, and Mercari.
Phones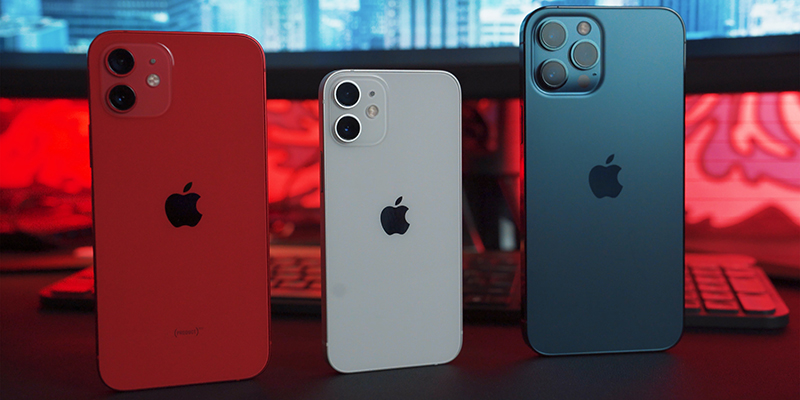 If you're tech-savvy and enjoy repairing devices, reselling phones can be one of the best things to resell in this sluggish economy.
You have two options: Sell used phones with minor issues, or invest in repairs to transform them into like-new. The refurbished phones often command higher prices.
One way to boost profitability further is to buy second-hand cell phones in bulk from liquidation companies or Amazon return pallets and sell them on platforms such as Facebook Marketplace, eBay, Craigslist, or Swappa.
If you want to sell refurbished phones in bulk, you can also look into Amazon Renewed.
Sneakers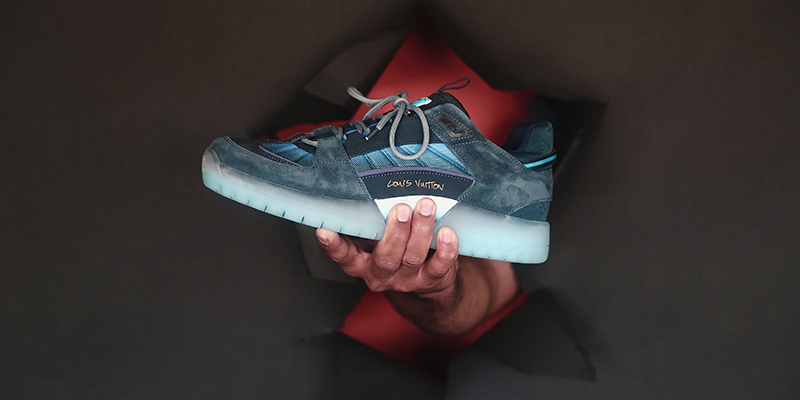 Reselling sneakers involves buying popular or limited-edition sneakers at retail and then selling them at a higher price in the secondary market.
If you're a sneakerhead, you can tap into this profitable niche since it has a broad appeal across various age groups.
You can achieve impressive profit margins of up to 80% by sourcing sneakers at reasonable prices, whether online, locally, or even from thrift stores.
If you search for sneakers on eBay, choose the "sold" listings, and sort by "Highest first," you'll find many shoe listings sold at $5000 and above.
Your profit margin will depend on the sneakers' rarity, demand, and condition. For instance, limited edition sneakers with their original packaging can yield substantial profits, potentially reaching several thousand dollars.
Some of the best platforms for reselling sneakers include eBay, StockX, GOAT, and Stadium Goods.
If you're interested in learning more about sneaker reselling, check out my guide on How To Resell Shoes: A Complete Guide To Sneaker Reselling.
Books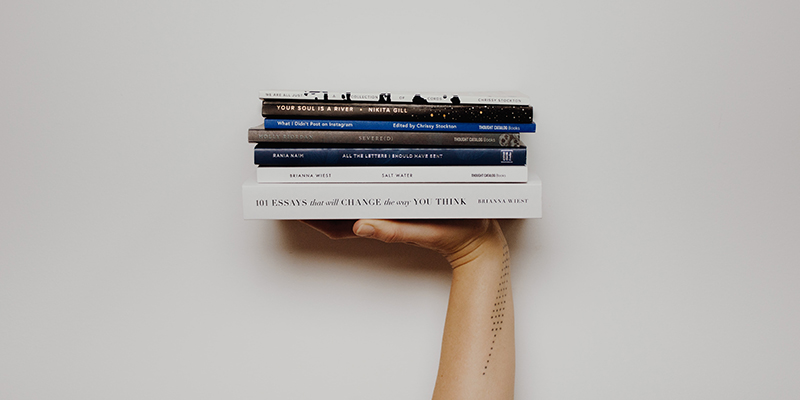 Books are affordable and easy to ship, making it one of the best things to resell online.
You can use the free Bookscouter or Amazon Seller app to quickly check a book's resale value before purchasing.
The most profitable books to sell include textbooks, guidebooks, nonfiction, sheet music, arts and crafts books, and vintage novels. You can sell used books on platforms like Amazon, eBay, and Facebook Marketplace.
Selling books in bundles, especially homeschool curricula, can boost profits, as it offers convenience to buyers who can acquire all they need from a single seller.
Garden Furniture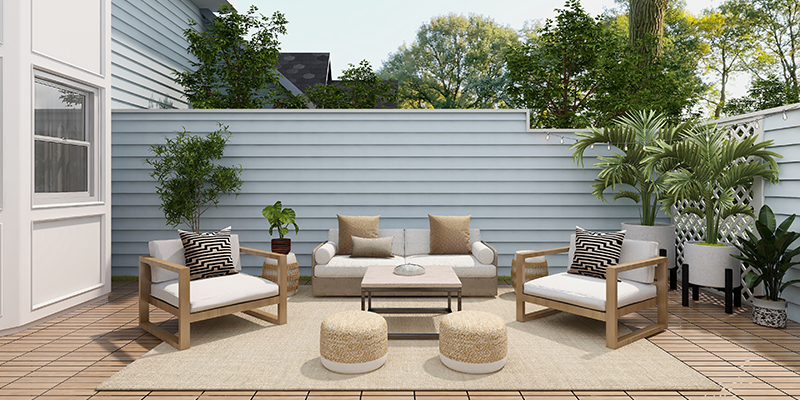 Garden furniture is frequently discarded due to age or dirt. However, a quick pressure wash can restore garden furniture to its original condition.
Here's a tip: Find appealing yet affordable garden furniture during winter. Clean and polish the furniture before flipping these items during the high-demand summer months.
However, selling garden furniture online can be challenging due to its size and shipping costs. Focus on local online marketplaces for quick sales.
Photography Gear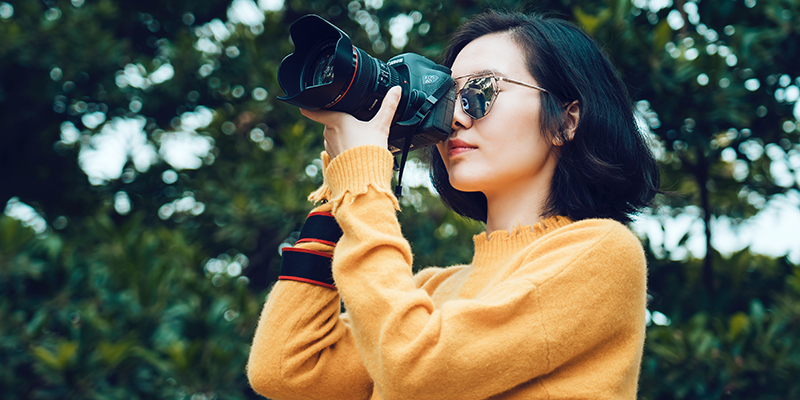 Photography gear is in high demand, appealing to professionals and enthusiasts, as well as content creators looking to improve their content on platforms like YouTube and Instagram.
If you can find used photography gear at a garage sale, you can resell it at a good profit. Alternatively, you can purchase gear in bulk at wholesale prices, either from a local vendor or a wholesaler.
If investing in bulk photography gear is beyond your budget, focus on accessories like tripods, camera bags, and lenses.
To maximize your returns, sell on eBay for access to a global customer base willing to pay top dollar for the right equipment.
Websites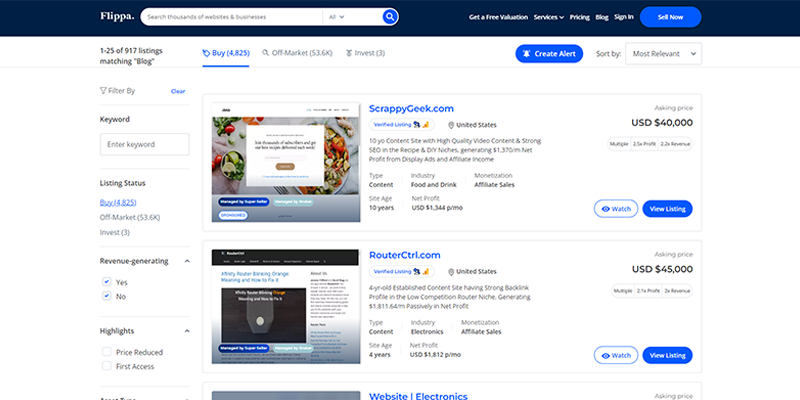 Website flipping is buying websites at a low price, then improving their value through various means such as design, content, SEO, or monetization, and then reselling them for a higher price.
If you have experience in either SEO, monetization, or content writing, this is the ideal reselling idea for you. You can learn the rest of the skills from website flipping Reddit, Facebook, and Discord communities.
The key to finding websites for flipping is to buy a profitable niche website from solo owners. These sites look like they need updating, could use external help, and are often available for purchase at a significantly reduced price.
Popular platforms for buying and selling websites include Empire Flippers, Trademysite, Afternic, and Flippa.
Appliances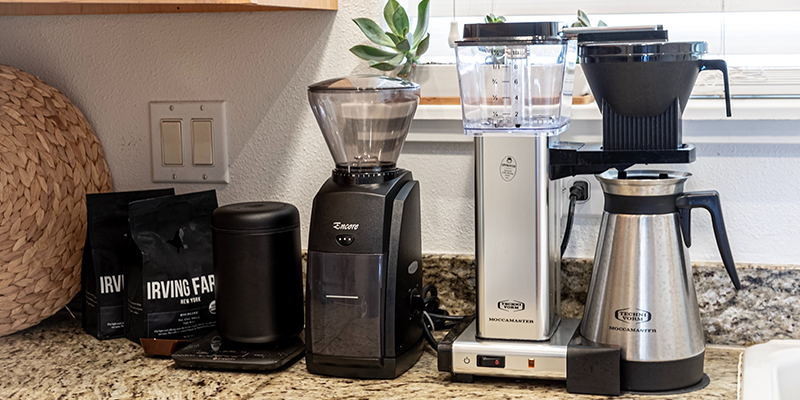 Household appliances, like refrigerators, washing machines, dishwashers, and ovens, remain consistently sought after.
If you can meet this demand and offer competitive prices, selling appliances can be profitable.
You can find used appliances at garage sales, house clearance events, or through platforms like Facebook Marketplace.
People prefer new appliances mainly for the convenience of delivery. If you want to attract customers, offer local delivery.
In addition, shipping appliances is tricky due to their weight and size, making local sales a more favorable option than online sales.
Bicycles
If you have a knack for finding used bike deals on Craigslist or have mechanical skills, you can flip them at a good profit online.
People typically look to buy bicycles as summer approaches. So, scout for affordable bikes during the winter months, repair them and resell them in summer for profit.
You can sell bikes on online platforms like Bicycle Blue Book, Bike Exchange, and Pink Bike.
Many of these platforms will buy your bike, no matter its condition. They'll then fix it up and sell it for a higher price.
Strollers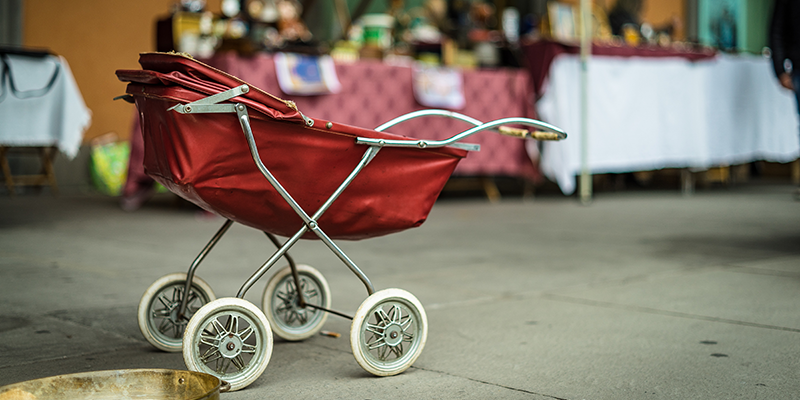 Strollers are expensive wheeled devices to transport infants and young children, often making parents seek affordable second-hand options.
The best part is that you can easily source used strollers as parents want to get rid of them quickly once their kids outgrow them.
Competitive pricing will attract buyers, especially for high-end brands like Mercedes and Jeep. You can also look into push-around buggies since they are also in high demand.
Toys And Action Figures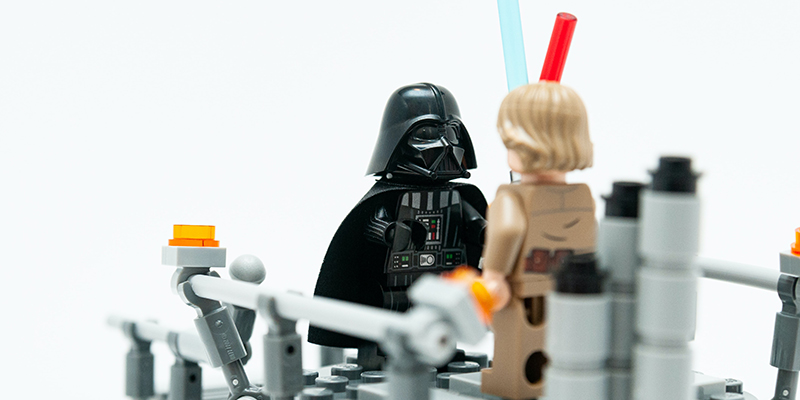 Toys and action figures are collectible items often tied to popular culture, including characters from movies, television series, comic books, and video games.
Since new toys are expensive, parents often prefer to buy second-hand at a more affordable price.
What sets toys and action figures apart is their ability to captivate both children and adults. These items evoke a sense of nostalgia, prompting adults to want to collect them as well.
For instance, Barbie Dreamhouse saw a 2109% boost in revenue shortly before the release of the Barbie movie.
Factors like item condition, packaging, and rarity significantly influence their value. eBay, with its auction-style listings and reserve price options, is the top platform for selling them.
In addition to Barbie, toys and action figures with a large fan base like Star Wars, Marvel, WWF, and G.I Joe also have high resale value.
Car Parts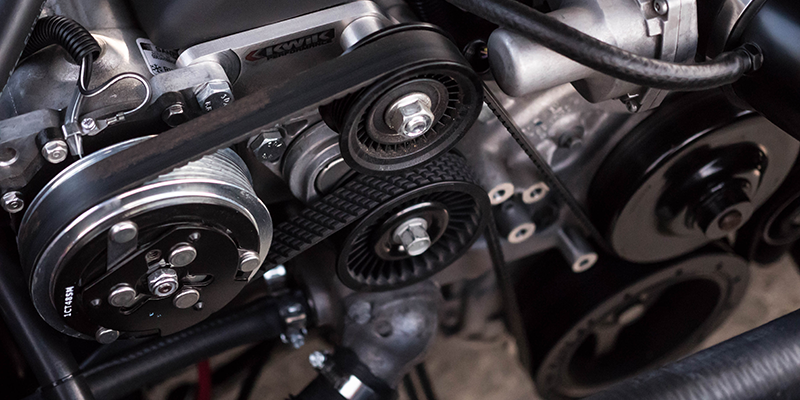 Car parts are components like transmissions, suspension systems, brakes, and fenders designed to maintain or enhance automobiles.
Reselling car parts is lucrative due to the consistent demand from the growing automobile industry.
Car owners also prefer to repair and maintain their vehicles rather than purchase replacements. In addition, certain rare or discontinued parts can fetch high prices from collectors.
To find car parts, explore junkyards, auto wreckers, online marketplaces, auto auctions, and classified ads.
For reselling, platforms like eBay Motors, Facebook Marketplace, and Amazon Automotive offer wide exposure and secure transactions. You can also explore automotive forums where potential buyers seek repair advice.
Sports Equipment
Sports equipment, especially tennis, golf, and snowboarding, are always in great demand.
Quality equipment in these sports can command prices ranging from hundreds to thousands of dollars.
Given this expense, many casual players opt for second-hand gear available on platforms like eBay and Facebook Marketplace.
The advantage here lies in the ability to purchase pre-owned equipment in bulk from local vendors or community-driven marketplaces like Nextdoor or Craigslist. After acquiring these items, simply clean and photograph them to sell them online.
Houses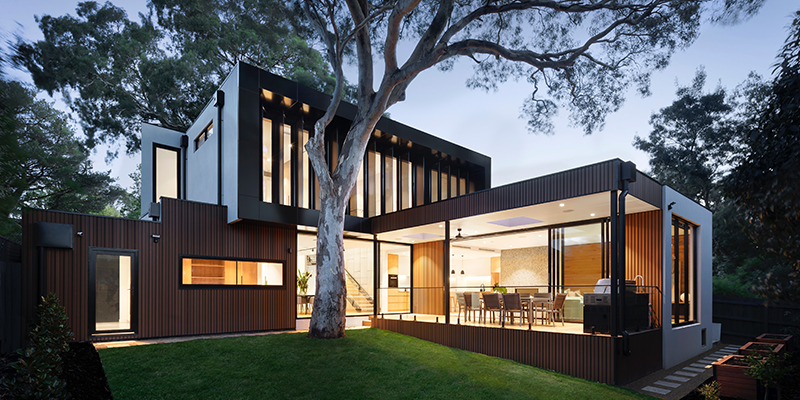 Flipping houses can be profitable, with an average profit of about $67,000 per flip, according to Attom. However, it requires a huge upfront investment.
The key to successful house flipping is acquiring properties at the right price. One effective strategy is to identify homes needing extensive renovations that might deter other buyers.
In addition, explore auctions, foreclosures, and distressed property sales to secure lower-priced houses.
Online platforms like Zillow, Realtor.com, and Redfin offer broad reach and user-friendly interfaces, facilitating connections with potential buyers.
Traditional methods are still effective for house resale, like working with local real estate agencies and relying on word-of-mouth referrals.
Baseball Cards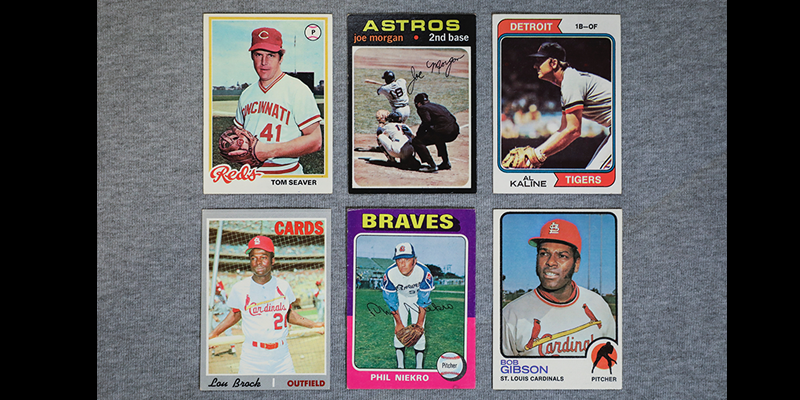 Baseball cards are collectible trading cards featuring baseball players, often including statistics, images, and relevant information.
eBay sees millions in annual sales from sports cards and memorabilia, with baseball cards being a popular category. The "Ultra Rare RC 1987 Barry Bonds Rookie Tiffany #320" baseball card sold for $40,000 in July 2023 on eBay.
If you enjoyed collecting sports cards as a kid, now is a great time to capitalize on this hobby. Alternatively, you can purchase baseball cards from small sellers in Facebook groups and auction them on eBay.
You can also sell your sports cards at local card stores or through niche websites like Check Out My Collectibles, Dave and Adam's Card World, and Sports Card Forum.
Vintage Art
Vintage art pieces typically are 20 to 100 years old and include 20th-century oil paintings, mid-century modern furniture, and antique posters.
You can often find vintage art pieces at thrift stores and estate sales for a low cost.
To maximize your profits, sell these items on popular online platforms such as Etsy, Fine Art America, and eBay. However, be cautious when sourcing vintage art, as counterfeits are common.
Wedding Dresses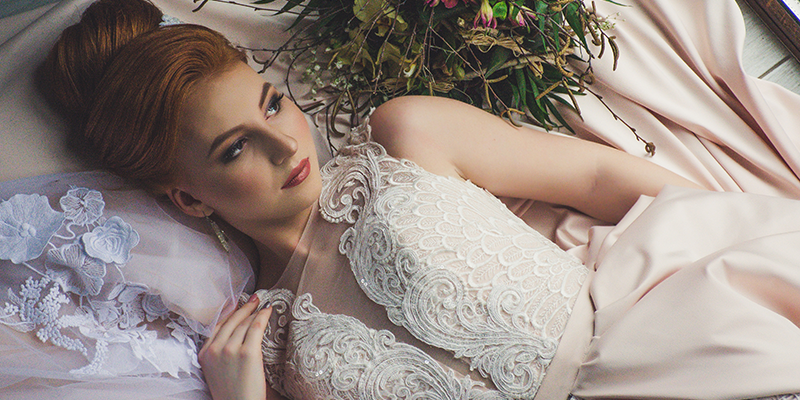 Wedding dresses are expensive and typically worn only once, making them a high-quality item for reselling.
They maintain their value, especially for budget-conscious brides and vintage enthusiasts.
For successful resale, focus on designer dresses in larger sizes, providing room for tailoring. If you have tailoring skills, you can offer custom fittings for a premium.
A good second-hand wedding dress can typically fetch 50% of its retail price.
You can purchase wedding dresses from bridal consignment shops, online marketplaces like eBay, PreOwnedWeddingDresses.com, Still White, and Tradesy, and thrift stores.
Lego Sets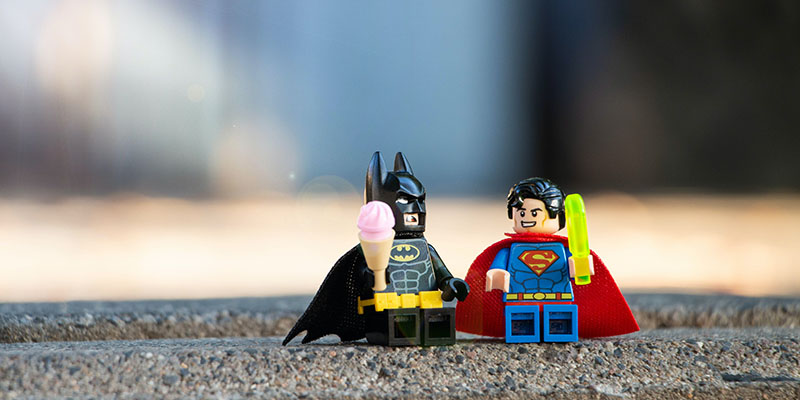 Lego, the iconic plastic construction toys originating in 1932, offers various themed sets for creative building that are fantastic for resale.
Here's why Lego sets are one of the best things to resell:
The Lego Group generated over $8.5 billion in sales in 2022 and continues to increase every year.
Lego has a dedicated fan base with multiple online communities.
The scarcity of retired sets significantly increases their value, attracting collectors.
To start reselling Lego, acquire sets from retail stores, auctions, or purchase bulk from wholesalers.
Once you have Lego sets to resell, choosing the right platform is crucial. eBay offers a versatile option for listing both new and used Lego sets with its global reach and auction-style listings.
You can also use BrickLink, a dedicated marketplace for Lego enthusiasts. For a more localized approach, Facebook Marketplace is also a solid option.
To attract customers, start a YouTube channel tailored to Lego fans. Many content creators with millions of followers regularly unbox and review the latest Lego sets.
This can be a powerful marketing tool to promote your Lego resale business and attract potential buyers.
Jewelry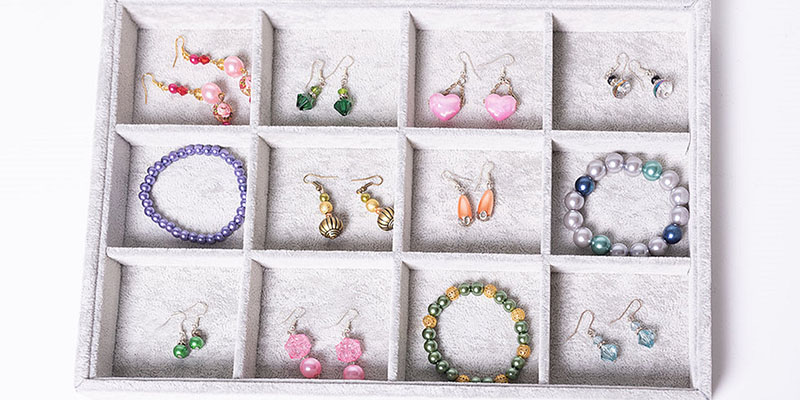 Jewelry is one of the best things to resell because it's easy to ship, and the margins are high.
While there is a market for affordable jewelry, you'll face stiff competition from international sellers from China.
The real profit potential comes from reselling renowned luxury brands such as Tiffany & Co and Bvlgari. You can also make good money selling handmade, fair trade, fine, or vintage jewelry.
If you want to start a jewelry business, Amazon Handmade and Etsy are the best platforms to sell handmade creations. For reselling luxury jewelry, choose eBay, The RealReal, Worthy, and Ruby Lane.
Musical Instruments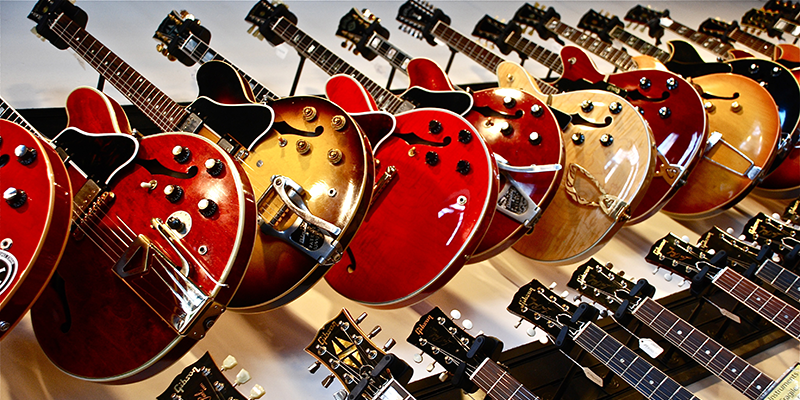 Reselling musical instruments online in good condition is a great way to make some extra cash.
Guitars, both acoustic and electric, are in high demand, with vintage models from brands like Fender and Gibson commanding premium prices.
Brass and woodwind instruments like trumpets and saxophones also have resale potential, especially if they're from reputable brands like Yamaha and Selmer.
Moreover, musical instruments can also be used as home decor, with unique pieces like pianos, harps, trumpets, and French horns often being used as eye-catching statement items in living rooms.
Baby Items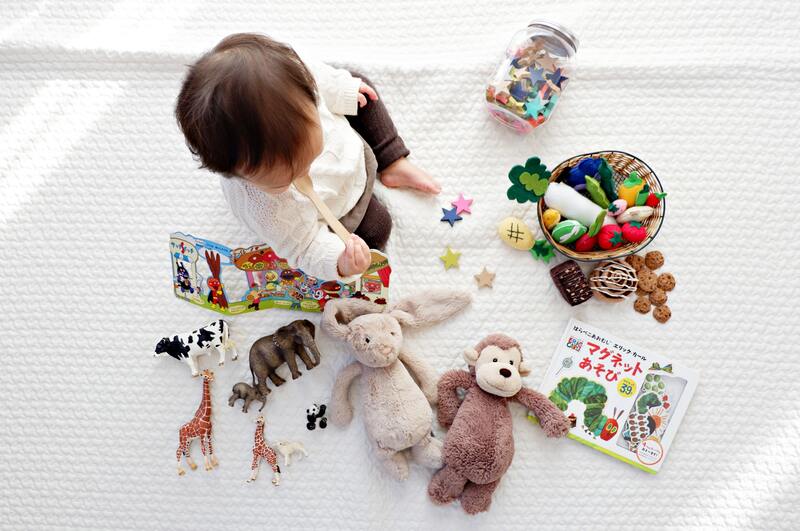 Baby items can come with a hefty price tag, prompting parents to seek affordable yet good-quality items like used clothing, toys, and books.
Here are some of the baby items that have good resale value:
Baby books: Books are invaluable tools for early childhood development. Gently used baby books in good condition provide an economical means for parents to expand their baby's library.
Clothing and footwear: Babies grow quickly, outgrowing their clothing and shoes. Reselling used baby clothing and footwear, often in excellent condition due to limited wear, is a common practice.
Toys and educational items: Parents highly value educational toys and materials that support early learning. Brands like Fisher-Price and LeapFrog are popular choices.
Exercise Equipment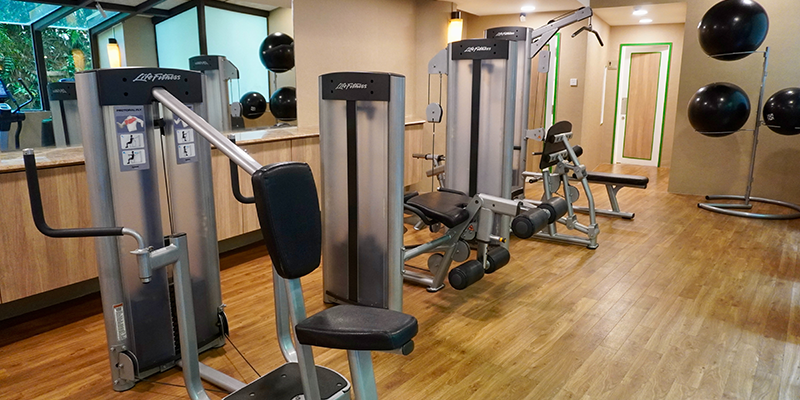 Exercise equipment, especially gym equipment, weights, and treadmills, are some of the best things to resell if you can get them for the right price.
The demand for these items is consistently high, with plenty of sellers in the market as well.
If you have fitness equipment you want to part with, list it on local marketplaces like Facebook Marketplace or Craigslist, as shipping costs can add up.
Alternatively, you can sell your gear to local retailers or online platforms like Global Fitness, which specializes in purchasing used equipment.
Power Tools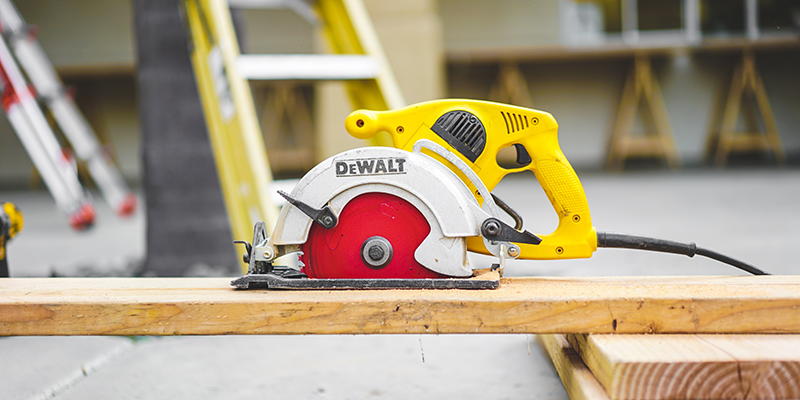 Power tools are mechanically or electronically operated devices used for tasks like construction and woodworking.
Most homeowners don't use them very often. Since they are known for their tough build and long lifespan, many opt for used tools to save money.
Look for local garage sales, flea markets, and online marketplaces to find good deals on power tools. Hardware stores occasionally host clearance sales or offer discounts on older models.
For selling, platforms like eBay and specialized online marketplaces such as Toolfetch or ToolBarn are worth exploring.
Craigslist and Facebook Marketplace are also popular choices, especially for buyers who prefer to inspect the tools in person before purchasing
Board Games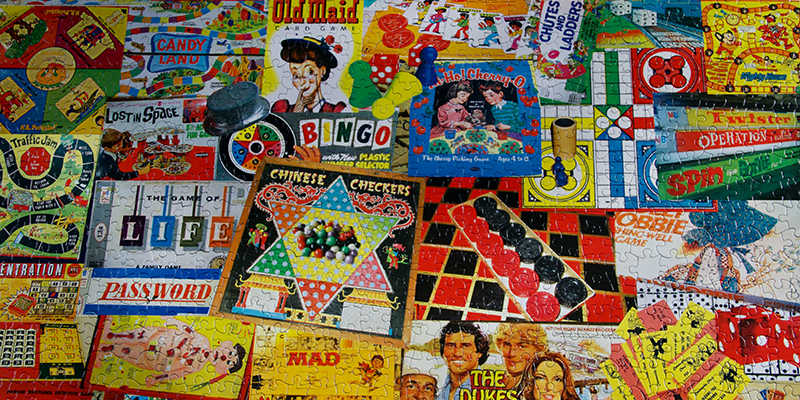 Board games are lucrative items to sell, especially during the run-up to the holidays when families seek indoor activities.
Many people cherish their childhood memories of playing board games, and this nostalgia extends to vintage or discontinued editions, making them highly sought-after collectibles.
These tabletop games offer a screen-free, social pastime, particularly appealing to parents looking to engage with their kids.
To source board games for resale, explore thrift stores, online marketplaces, niche board game marketplaces like BoardGameGeek, and board game conventions.
To fetch a high price when reselling board games, eBay, Amazon, and Facebook Marketplace are your top choices. Alternatively, Etsy is perfect for selling vintage or handmade board game accessories and collectibles.
Vintage Rugs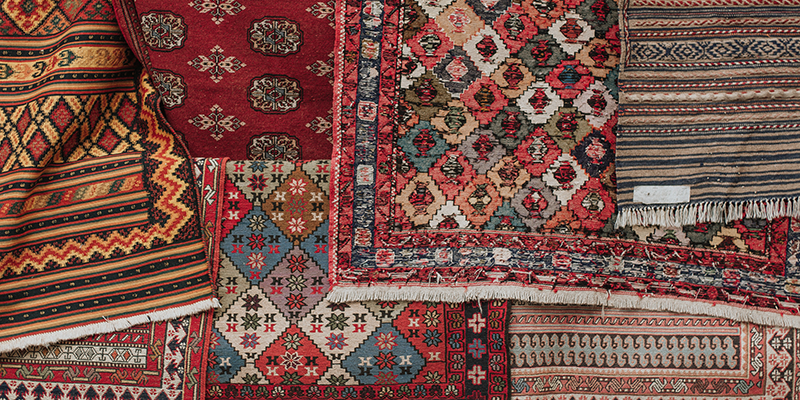 Vintage rugs, typically aged over 20 years, are handmade floor coverings known for their unique designs and craftsmanship. They are sought after for their aesthetic charm and historical value.
Look for cheap options at house clearance sales, yard sales, or online marketplaces. Keep an eye out for unique pieces with interesting patterns, colors, and history.
You can then resell them on eBay or Etsy for substantial profits. Some vintage rugs on eBay fetch prices exceeding $4500, thanks to the auction listing options that allow you to set a reserve price and run auctions for 1, 3, 5, 7, or 10 days.
Furniture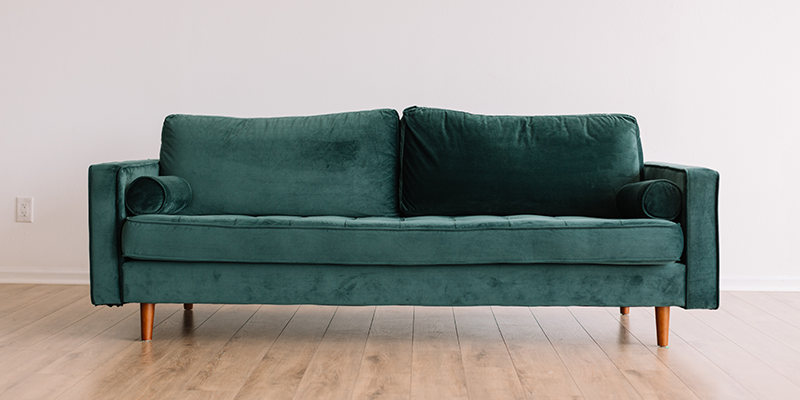 Reselling furniture is easy as people regularly update their living and workspace.
If you have old furniture in good condition, clean and repair it, take good photos, and list it on platforms like Facebook Marketplace, OfferUp, Remoov, 1st Dibs, or Bookoo.
To find furniture for resale, explore thrift stores, local furniture shops, Craigslist, and other community options. Look for people in the process of relocating as they are often willing to part with bulky items like furniture for cheap.
Given the challenges and expenses of shipping furniture, focus on local sales to minimize returns and related costs.
Vintage Dinnerware Sets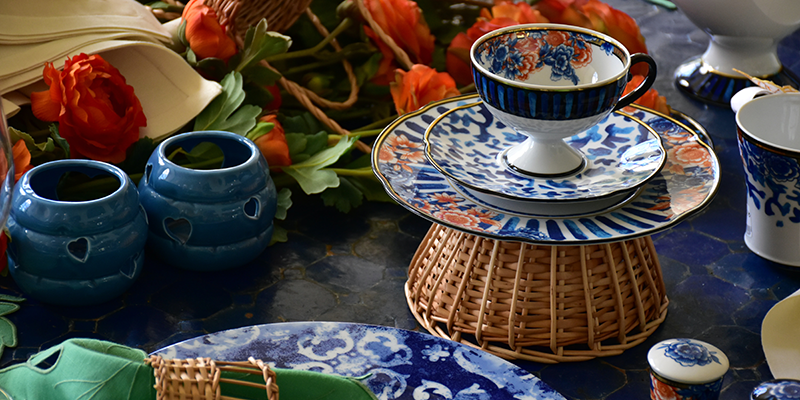 Vintage dinnerware sets consist of older items like plates, bowls, and cups, often discontinued and aged over two decades.
If you have a matching set, you can expect a good profit. Even if you have just one missing piece, it can still be lucrative for collectors looking to complete their collection.
You can find these sets at reasonable prices in antique stores, garage sales, and thrift shops.
Auction-style listings on eBay can drive up prices significantly, especially for rare sets.
Vintage Coffee Mugs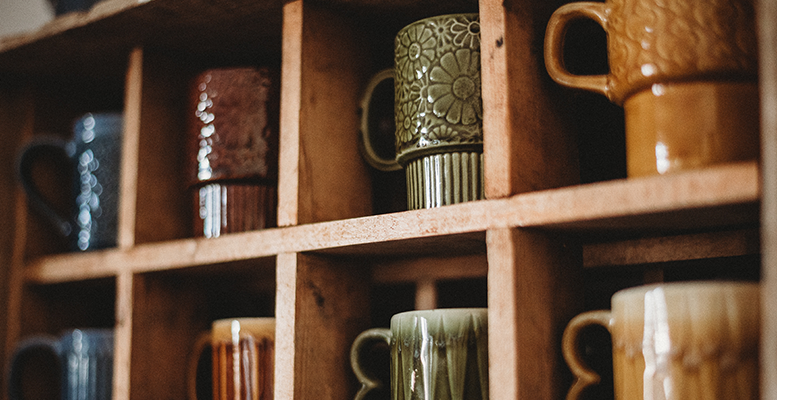 Vintage coffee mugs often have distinctive and artistic designs that are not commonly found in modern coffee cups.
They are popular among collectors and those who want to add personality to their home decor.
You can easily find second-hand coffee mugs for as low as $0.50 in thrift stores and sell them online for up to $10 to $25 each. Some collectible mugs can even fetch hundreds of dollars.
Keep an eye out for vintage Disney, Starbucks, and fine china brands like Wedgewood.
Watches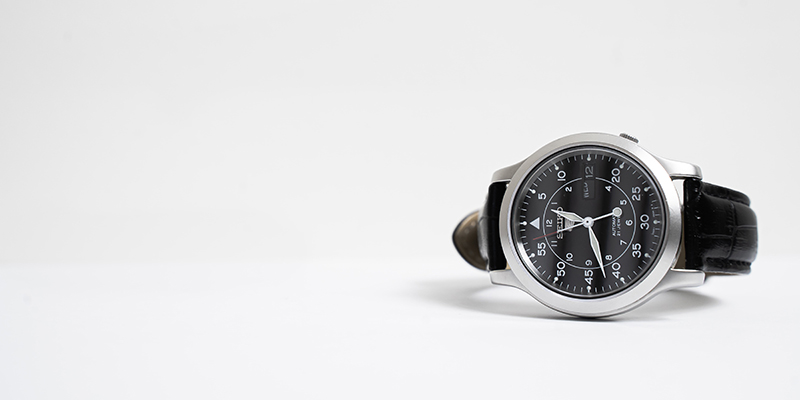 If you have a valuable watch, you can make a substantial profit by listing it for auction on eBay. In addition, you can list it on reputable platforms like Worthy, Crown & Caliber, Chrono24, and Watch Finder.
Just like sneakers, there's a market for reselling luxury watches online.
This industry is predominantly driven by collectors and enthusiasts who invest in limited editions and vintage watches from renowned brands.
Cars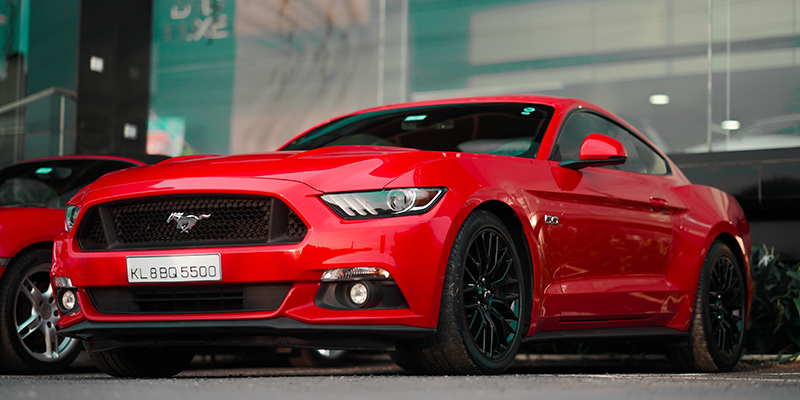 If you have some land available for storing pre-owned vehicles, there's potential profit in dismantling and selling their components.
Alternatively, you can work as an auto broker, connecting potential buyers with their desired vehicles and negotiating prices on their behalf.
In addition, you can buy, repair, and resell used cars at a premium since people prefer used cars over new luxury cars.
Vintage Lamps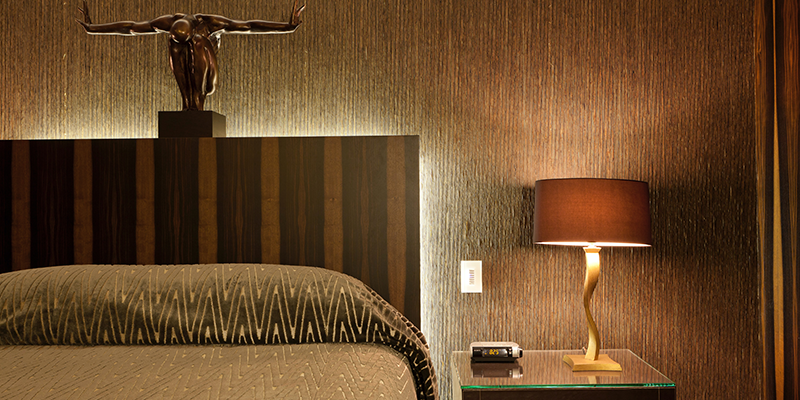 Vintage lamps are lighting fixtures produced in the past, often from the mid-20th century or earlier. They come in various styles, such as Art Deco and Victorian.
Reselling vintage lamps is highly profitable as lamps hold a unique charm that appeals to collectors, interior designers, and individuals seeking to add character to their living spaces.
You can find vintage lamps in various locations, both offline and online. Thrift stores, flea markets, estate sales, and antique shops serve as excellent offline sources.
Online platforms like eBay, Etsy, Ruby Lane and specialized vintage marketplaces are also great places to source and sell vintage lamps.
Where To Find The Best Things To Flip For Profit
Places to find the best things to flip are thrift stores, house clearance sales, junk shops, auctions, eBay, Facebook Marketplaces, Craigslist, and wholesalers.
The Best Places To Resell Items For A Profit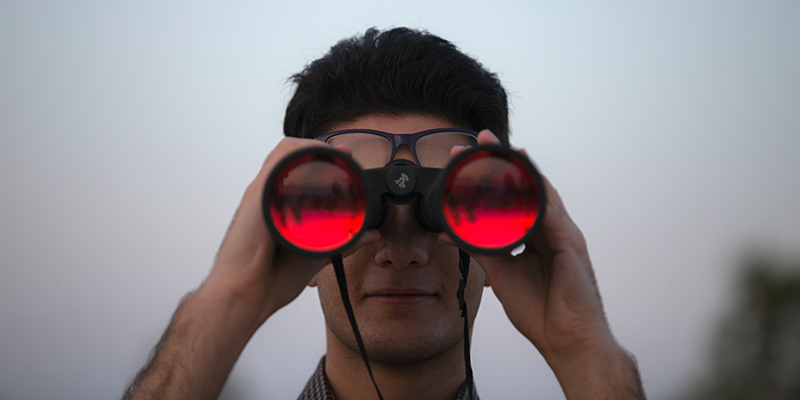 The best places to resell items are eBay, Etsy, Facebook Marketplace, social media platforms, Amazon, Amazon Renewed, Depop, and Poshmark.
Some of these overlap with my buying recommendations, particularly eBay and Facebook Marketplace. This is because these marketplaces make it easy for individuals to list and sell used goods that they're looking to offload.
To achieve higher resale prices online, focus on optimizing your listings by adding the right keywords, using a well-light background for photography, and adding a description highlighting the features in a bulleted list.
How Much Can You Make Flipping Items?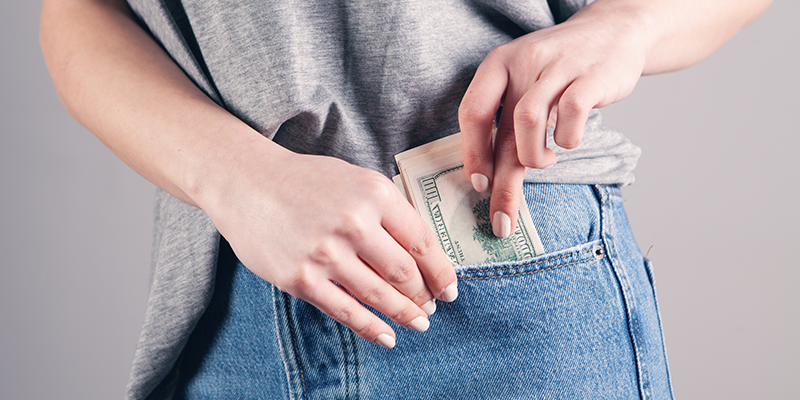 You can make a few dollars to thousands of dollars a year selling pre-owned goods, depending on the category.
For example, antiques and vintage goods can fetch hundreds of dollars each, while second-hand clothing may only provide a modest income.
However, if you have a knack for finding high-quality items to flip, you can potentially generate hundreds of dollars per month. In fact, some experienced flippers even achieve six-figure annual incomes.
6 Tips To Make Money Flipping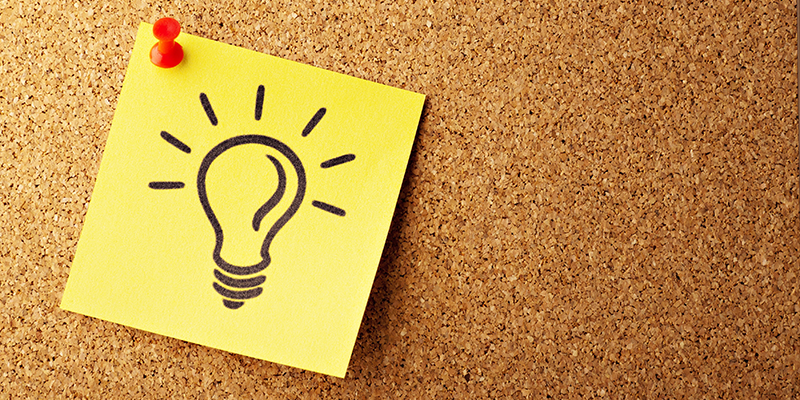 Here are six tips to help you make money through flipping items:
Sourcing is key: Your ability to find top-quality items at reasonable prices will determine your flipping success. Build a network of reliable sources to help you consistently find profitable items to flip.
Always negotiate: Unless you're participating in an auction, there's often room for price negotiation. Before making a purchase, research similar items' selling prices and use it to bring down the pricing.
Start at home: When starting on a limited budget, begin by flipping items from your own home. Reinvest the profits into new items for reselling.
Inspect and restore: Before listing any item for resale, thoroughly inspect it for any defects or issues. Cleaning, repairing, or restoring items to their best possible condition can significantly increase their resale value.
Effective marketing: Once you have your items ready for sale, it's crucial to market them effectively. Take well-lit, clear photos, write honest descriptions, and set competitive prices based on your research.
Customer service matters: Building a positive seller reputation is essential for long-term success. Ensure excellent customer service by responding promptly to inquiries, shipping items quickly, and maintaining a professional demeanor.
Is Reselling Items Worth It?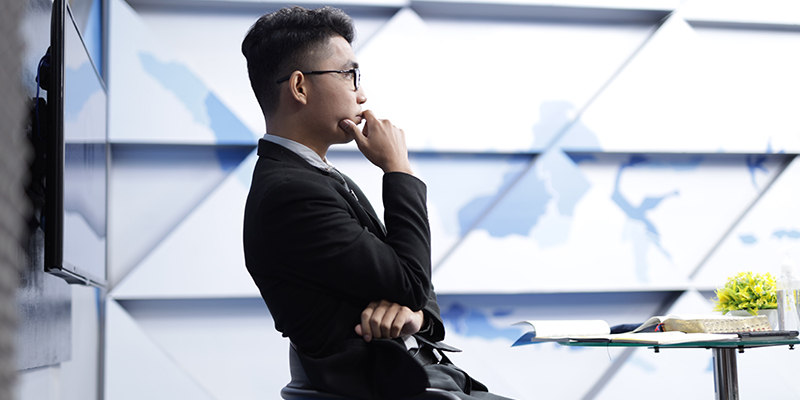 Reselling items is worth it if you're looking for a fun way to make some extra cash selling online without investing a lot of money
For most people, reselling used products is a starting point towards a full blown ecommerce business.
If you are interested in starting your own online store, check out my free guides on how to find a product to sell online and the websites for selling them.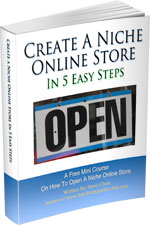 Ready To Get Serious About Starting An Online Business?
If you are really considering starting your own online business, then you have to check out my free mini course on How To Create A Niche Online Store In 5 Easy Steps.
In this 6 day mini course, I reveal the steps that my wife and I took to earn 100 thousand dollars in the span of just a year. Best of all, it's free and you'll receive weekly ecommerce tips and strategies!
Note: This post above may contain affiliate links, which means that I may receive a commission if you make a purchase when clicking a link. Please consult our privacy policy for more information.
Related Posts In Making Money
About Steve Chou

Steve Chou is a highly recognized influencer in the ecommerce space and has taught thousands of students how to effectively sell physical products online over at ProfitableOnlineStore.com. 

His blog, MyWifeQuitHerJob.com, has been featured in Forbes, Inc, The New York Times,  Entrepreneur and MSNBC.  

He's also a contributing author for BigCommerce, Klaviyo, ManyChat, Printful, Privy, CXL, Ecommerce Fuel, GlockApps, Privy, Social Media Examiner, Web Designer Depot, Sumo and other leading business publications.

In addition, he runs a popular ecommerce podcast, My Wife Quit Her Job, which is a top 25 marketing show on all of Apple Podcasts. 

To stay up to date with all of the latest ecommerce trends, Steve runs a 7 figure ecommerce store, BumblebeeLinens.com, with his wife and puts on an annual ecommerce conference called The Sellers Summit.  

Steve carries both a bachelors and a masters degree in electrical engineering from Stanford University. Despite majoring in electrical engineering, he spent a good portion of his graduate education studying entrepreneurship and the mechanics of running small businesses.