Do you believe that money is the ultimate panacea? Have you ever thought to yourself, "If I just had more money, my life would be so much easier and less worrisome?" Most people tend to think this way until they amass some wealth and the opposite happens. Their life gets harder and more stressful.
During the dotcom boom of the 90's, my stock portfolio did extremely well. I amassed a small fortune, got greedy and starting investing more and more into the markets. Sometimes I even used margin and other forms of leverage to increase my gains. Because I was risking so much money, I found myself obsessing over ever little up and every little down.
I would wake up at 6:00am PST every morning and agonize over my real time stock quotes until 9:00am when I had to go to work.
Then at work, I would monitor my stocks again at lunchtime. My mood really fluctuated depending on the market. If the Nasdaq had an up day, I was cheerful. When it tanked so did my mood. I had made a good amount of money, but money was also making my life miserable.
Looking back, my unhappiness and increased stress had to do with my unhealthy relationship with money. Relating to money is every bit as important as relating to the people you care about. You need to spend time and effort to understand its implications and to find the proper place for it in your life.
If you are not careful, money can have a negative effect on your psyche and consume your mind and soul. It's best to think of money as your eternal companion, a companion that you must get along with for the rest of your life.
I learned a lot about my relationship to money through gaining it and losing it (in a very short period I might add). Like any good relationship, you need to nurture it and establish the proper mindset and attitude. And there are certain things you can't take for granted.
Recognizing What Type Of Money Person You Are
Establishing a good relationship with money starts with understanding what type of person you are and whether you fall into any of the following categories.
Spenders
Do you frequently make purchases that are beyond your means? Do you purchase things to make yourself happy? Is there a connection between shopping and your mood? If so, then you can consider yourself a spender. Spenders have a tendency to accumulate credit card debt because shopping to them is an addiction. Spenders spend money in hopes that material items will bring happiness or provide pain relief.
Misers
On the other end of the spectrum are the misers. Misers absolutely fear poverty and constantly worry about not having enough money to live. Misers need to feel in control and are generally uncomfortable with any sort of uncertainty. Ironically, misers fear poverty yet they practically live in it because they spend so little.
Haters
Money haters absolutely detest money and what it does to people. They eschew wealth and will often live in deprived and desolate conditions. They will purposely avoid material possessions whenever possible.
Seekers
Money seekers are the ones who obsess over becoming wealthy These people put a premium on making a fortune with the belief that it will solve all of their problems. In reality, there are usually other inadequacies in their lives that they are trying to make up for with material wealth.
Looking Beyond The Money
No matter what money category you fall into, it's important to look beyond the money and to examine yourself from a scientific perspective. What are you really concerned about? If you are a spender, why do you need so many possessions? If you're a miser, why are you so worried? And for money seekers like myself, why are you constantly chasing money?
Pay close attention to yourself when you are answering these questions and you'll slowly but surely realize some of your hidden insecurities and motivations. Why am I a money chaser? I seek money because I want enough money to buy whatever I want and to be able to provide for my family.
I want to be wealthier than my friends and I want my kids to have a better lifestyle than I do when they grow up. I also want to have the opportunity to try new things that I would otherwise not be able to if I didn't have the money.
Breaking Things Down
Let's take a closer look at my own money motivations.
I want to buy whatever I want. What is the definition of "whatever I want"? After sitting down to think about it, I've concluded that there is nothing material that I really want other than a nice house for my family.
Besides a house, there's practically nothing that I desire or need. This realization was further reinforced when my daughter was born. I'm perfectly happy spending time with my wife and daughter every single day without spending a dime.
I want to provide for my family. What does this entail? I just need to cover basic needs like food and clothing and educational expenses when my daughter grows up. This isn't that big of a deal if I set aside enough cash on a regular basis. I don't need profound wealth to achieve this goal.
I want to be wealthier than my friends. I used to feel this way but now I don't really care. Life is too short to be comparing yourself to others. Let's face it, some people are going to be better or worse off than you and you just have to deal with it. Focus on your own happiness and forget about the others.
I want to try new things. The only major thing I want to do later on in life is to travel. I want to visit new places and experience new cultures. I want enough money to allow me to go freely and dine as I please in all of these places. I've put together a pretty good list of destinations and have come to the realization that profound wealth is not required to achieve this goal.
Putting it All Together
Improving your relationship with money involves a fundamental change in mindset. Getting along with money isn't about earning a huge income or making more than your friends. Once you figure out the proper place money resides in your life, you'll find that your life will become much more pleasant.
You'll place less emphasis on decisions where money is involved. You'll feel less pressured to take a job or pursue a career in which money is the only factor.
Personally, I've found that by focusing on my interests and family, that I've effectively limited my material desires altogether. I've become more in touch with my real needs and as a result, money has become more of an afterthought rather than an obsession.
The sooner you realize that money is not the answer, the sooner you'll be at peace. I think the key to a good relationship with money is to detach any and all association of money to happiness. And the only way to do that is to discover what truly makes you happy.
What money category do you fall into? What truly makes you happy?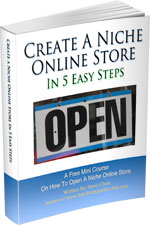 Ready To Get Serious About Starting An Online Business?
If you are really considering starting your own online business, then you have to check out my free mini course on How To Create A Niche Online Store In 5 Easy Steps.
In this 6 day mini course, I reveal the steps that my wife and I took to earn 100 thousand dollars in the span of just a year. Best of all, it's free and you'll receive weekly ecommerce tips and strategies!
Note: This post above may contain affiliate links, which means that I may receive a commission if you make a purchase when clicking a link. Please consult our privacy policy for more information.
Related Posts In Making Money
About Steve Chou

Steve Chou is a highly recognized influencer in the ecommerce space and has taught thousands of students how to effectively sell physical products online over at ProfitableOnlineStore.com. 

His blog, MyWifeQuitHerJob.com, has been featured in Forbes, Inc, The New York Times,  Entrepreneur and MSNBC.  

He's also a contributing author for BigCommerce, Klaviyo, ManyChat, Printful, Privy, CXL, Ecommerce Fuel, GlockApps, Privy, Social Media Examiner, Web Designer Depot, Sumo and other leading business publications.

In addition, he runs a popular ecommerce podcast, My Wife Quit Her Job, which is a top 25 marketing show on all of Apple Podcasts. 

To stay up to date with all of the latest ecommerce trends, Steve runs a 7 figure ecommerce store, BumblebeeLinens.com, with his wife and puts on an annual ecommerce conference called The Sellers Summit.  

Steve carries both a bachelors and a masters degree in electrical engineering from Stanford University. Despite majoring in electrical engineering, he spent a good portion of his graduate education studying entrepreneurship and the mechanics of running small businesses.