Ever wonder whether the people who brag about their small business wealth are really living the high life? Most of what you read on the web about starting your own business tends to be over glorified because everyone is always trying to sell you something.
When all you see are get rich quick tag lines everywhere, it's no wonder that many people have misconceptions about what it's like to run your own business.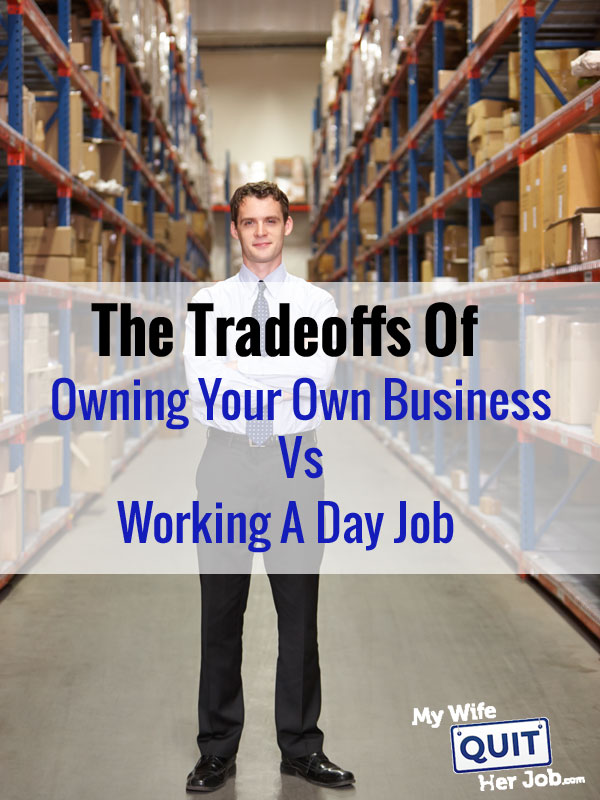 I've already given you a sneak peek into my glamorous life as a small business owner.
Don't get me wrong though, I'm absolutely 100% pro-entrepreneurship and pro-small business. But while I strongly advocate giving entrepreneurship a chance, I don't think it's the right choice for everyone.
There are many trade offs involved. Depending on what you value in your lifestyle, these trade offs may or may not be worth it to you.
Based on my own experiences, I will try and provide you with an honest account of the lifestyle trade offs I make from day to day. I will begin with the negative aspects since you've probably heard the positives ones many times already.
Get My Free Mini Course On How To Start A Successful Ecommerce Store
If you are interested in starting an ecommerce business, I put together a comprehensive package of resources that will help you launch your own online store from complete scratch. Be sure to grab it before you leave!
The Payouts Are Unpredictable
One of the biggest negatives about depending on income made from your own business is that your earnings are inherently unpredictable. Especially if your business is brand new, chances are that you'll have absolutely no clue how much you will make in any given month.
This makes expense planning and budgeting extremely difficult, not to mention stressful. Imagine having to cover your mortgage, education and everyday expenses based solely on sales projections and guesswork.
Imagine trying to make a large purchasing decision that requires financing when you have very little idea whether you'll be able to make the monthly payment.
My wife and I would like to buy a house one of these days. The problem is that we can never be 100% sure how much we can afford because the revenue from our linens store is extremely bursty.
For example, most of our business is made during the wedding and holiday season and the periods in between can be slow. (This is when my neurotic side kicks in).
I'm hoping that with time, we'll be able to accurately predict our revenues, but right now we're not quite there yet. Fortunately, I still have my day job which makes our income somewhat more predictable.
Emergencies May Take You Away From Leisure
Every business will have its share of fires that need to be put out. Sometimes these fires can come at inopportune times. For example, my wife and I have had to wake up extremely early in the morning on a Saturday in order to prep emergency orders for our customers. Sometimes, we screw an order up and have to rush things in order get a replacement product out to the customer.
There have been times when these fires have prevented us from going out with our friends. For example, we had to cancel our child's play date several weeks ago because we had to deal with a bridal emergency.
Granted, these fires don't pop up very often, but they can be extremely disruptive to your plans.
In the beginning when you are trying to establish your business from scratch, you can pretty much kiss your social life goodbye. My wife and I probably went about 3 months without seeing any of our friends in order to launch our store. Fortunately, this start up phase is only temporary and once you are past it, things start to settle down.
You Have To Deal With Customers
Depending on the nature of your business, you may have to deal with customers directly. While I'd say 99% of our customers are extremely pleasant to work with, the 1% that are unpleasant are the customers that l remember the most.
If you want to know about some of the customers that we deal with on a day to day business, be sure to check out our customer stories.
In any case, dealing with customers can be extremely draining and humbling. You may have to endure bouts of verbal abuse. You may have to bend over backwards to make a customer happy. Sometimes, you'll get tormented.
We had one customer who threatened to bad mouth our store all over the internet if we didn't agree to his ridiculous terms.
If you are not used to dealing with this sort of abuse,then you could be in for a shock. Fortunately, I was married for 3 years prior to starting the business so I was prepared:)
You Feel Personally Responsible
With a regular day job, you never feel personally responsible for things that are beyond your control. For example, if you're an engineer and your company's marketing team makes a critical mistake in positioning the product that you designed, you might be disappointed but you probably wouldn't lose sleep over it.
When you own your own business though, you'll stress out over everything, even the things that are beyond your control. Your livelihood depends on the proper execution of your business plan so there are no excuses. Every little thing becomes your problem and you have to suck it up and deal with it.
Your Hours Are Unpredictable
Unlike a day job, there is no notion of a weekend. In fact, all of the days kind of blend together. You will need to put in as many hours as necessary in order to accomplish your goals.
Our wedding linens business requires about 3 hours a day of my wife's time on average. She has to put in these 3 hours on weekends as well. If business is especially strong, sometimes she'll work for 8 hours.
Sometimes, it gets so busy that both of us have to put in longer hours as well. The time we devote to the business is inherently unpredictable.
The main advantage of the business is that we can time shift all of the work. For example, we can save up 3 days worth of work and put in a single 9 hour work day. This gives us the flexibility to manage our time as we see fit.
The other advantage is that we can hire people to help us out. Imagine trying to hire someone to do your job for you at your day job. It just wouldn't fly.
Is It Worth It?
As a wise Bleu Panda once said about his day job
It appears to me that although your hours working on the business may be long, you are spending that time much more purposefully. It's like while I am renting time from my life, you are investing time into yours.
There is a lot of truth in this statement. Any improvements that you make to your business tend to translate directly into your topline. Your earning potential is virtually unlimited and you have the option of working at your own pace.
You will also experience a sense of personal satisfaction when you run your own business as well. Even though I have to deal with irate customers from time to time, I also get to speak with extremely thoughtful customers as well. Some of these customers have said such nice things about our store that I've blushed while on the phone.
In retrospect, while I can acknowledge the disadvantages, the positives of running your own business far outweigh the negatives. Give it shot! Worse case scenario, you'll learn something about yourself that you never knew before.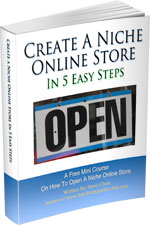 Ready To Get Serious About Starting An Online Business?
If you are really considering starting your own online business, then you have to check out my free mini course on How To Create A Niche Online Store In 5 Easy Steps.
In this 6 day mini course, I reveal the steps that my wife and I took to earn 100 thousand dollars in the span of just a year. Best of all, it's free and you'll receive weekly ecommerce tips and strategies!
Note: This post above may contain affiliate links, which means that I may receive a commission if you make a purchase when clicking a link. Please consult our privacy policy for more information.
Related Posts In Making Money
About Steve Chou

Steve Chou is a highly recognized influencer in the ecommerce space and has taught thousands of students how to effectively sell physical products online over at ProfitableOnlineStore.com. 

His blog, MyWifeQuitHerJob.com, has been featured in Forbes, Inc, The New York Times,  Entrepreneur and MSNBC.  

He's also a contributing author for BigCommerce, Klaviyo, ManyChat, Printful, Privy, CXL, Ecommerce Fuel, GlockApps, Privy, Social Media Examiner, Web Designer Depot, Sumo and other leading business publications.

In addition, he runs a popular ecommerce podcast, My Wife Quit Her Job, which is a top 25 marketing show on all of Apple Podcasts. 

To stay up to date with all of the latest ecommerce trends, Steve runs a 7 figure ecommerce store, BumblebeeLinens.com, with his wife and puts on an annual ecommerce conference called The Sellers Summit.  

Steve carries both a bachelors and a masters degree in electrical engineering from Stanford University. Despite majoring in electrical engineering, he spent a good portion of his graduate education studying entrepreneurship and the mechanics of running small businesses.