Ecommerce statistics don't lie. The biggest small business opportunity today is to start selling online.
Right now, online sales account for over 18% of all retail sales worldwide and this number continues to grow at a torrid pace.
Because of the pandemic, online shopping is quickly gaining marketshare over traditional brick and mortar retail and there is still much room to grow.
In this article, we'll take a look at the most important business trends for 2021 and why ecommerce is taking over the world.
If you've been considering entrepreneurship but unsure what type of business to start, these ecommerce statistics will help guide your decision.
Get My Free Mini Course On How To Start A Successful Ecommerce Store
If you are interested in starting an ecommerce business, I put together a comprehensive package of resources that will help you launch your own online store from complete scratch. Be sure to grab it before you leave!
Ecommerce Statistic #1: One Fourth Of The World Population Shops Online
There are 7.9 billion people in the world as of 2021.
And out of these 7.9 billion people, over 2.14 billion people are expected to buy goods and services online.
2.14 billion / 7.9 billion = 27%
One in every four people are now shopping online and this number continues to grow!
In first world countries like the United States, ecommerce is even more prevalent. Right now, the population of the US is 333 million and there are 230 million US online shoppers.
230 million / 333 million = 69%
Two out of every three people in the US shops online!
With this many online shoppers, there has never been a better time to start an online store
Ecommerce Statistic #2: Ecommerce Will Account For 19.5% Of Retail Sales In 2021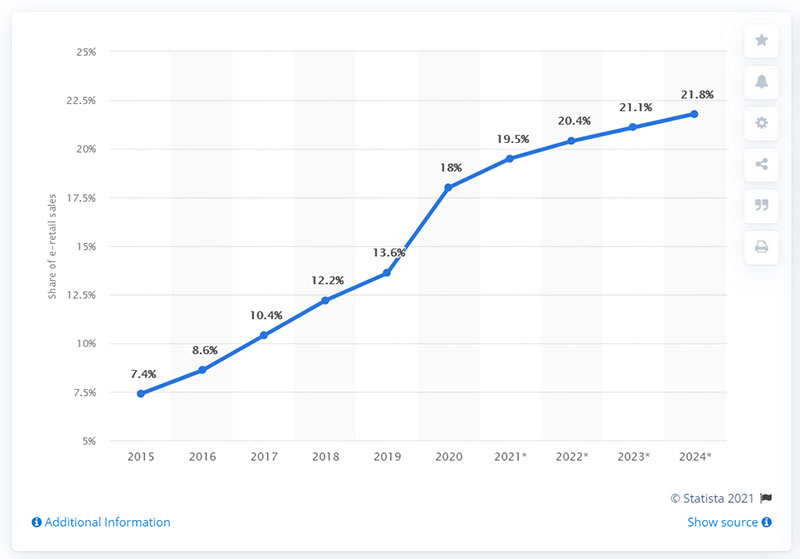 According to Statista, ecommerce sales will make up 19.5% of all retail sales in the world in 2021.
Ecommerce was never supposed to grow this quickly. If you look at the graph above, ecommerce jumped from 13.6% to 18% in 2020 alone due to the pandemic and it's expected to grow exponentially in the coming years.
In the US, ecommerce grew even faster at over 40% in 2020.
Even though 19.5% of sales is an impressive number, there's still much room to grow. If the current trend continues, ecommerce sales will exceed 22% by 2024. Looking further out to 2040, ecommerce sales are expected to reach 95%.
The continued growth of ecommerce represents a massive opportunity for small business owners selling their own products online.
Below are the ecommerce growth numbers for 2020.
Amazon's net profit increased by over 80%.
eBay's net revenue exceeded $10 billion.
Shopify's revenue grew over 85%.
Ecommerce Statistic #3: 37% Of Small Businesses Don't Have A Website
A common question that I'm often asked is whether ecommerce is saturated. And the answer is not even close!
According to a survey conducted by Visual Objects, 37% of small businesses in the US don't even have a website.
Furthermore, almost 25% of the surveyed businesses struggle with the time and expertise required to build and maintain their websites.
For many small businesses, their website is not a priority and 77% of in house employees balance running their website along with other responsibilities.
Thanks to fully hosted ecommerce platforms like Shopify, BigCommerce and Shift4Shop, starting your own online store website is easier than ever.
If you're having problems deciding which platform to choose, check out these comparison guides.
Ecommerce Statistic #4: 55% Of Small Businesses Don't Have A Documented Conversion Optimization Strategy
According to CXL, 55% of small businesses surveyed don't have a documented conversion rate optimization (CRO) strategy.
Furthermore, about 33% of website optimizers have no process in place for user research or testing.
In other words, many small businesses don't understand how to create a high converting website. In fact, 34% of businesses stated that they use their website primarily to showcase their products and services.
If you are willing to study conversion optimization, there's a huge opportunity for you to create a much better website than your competitors.
Many small businesses don't know what they are doing.
Ecommerce Statistic #5: 75% of Repeat Purchases Are Made Online
According to Statista, nearly three quarters of repeat purchases are made online.
The main reason is because there are many more ways to reach your customer online than offline.
For example, you can run automated email marketing sequences to retain your customers such as…
Post Purchase Cross Sell Campaigns
Customer Winback Campaigns
Anniversary Or Replenishment Campaigns
You can also use SMS marketing to send text messages to your customers about new products and promotions.
Facebook Messenger Marketing is also a great way to reach your customers through Messenger and Instagram DMs. In fact, you can run a customer loyalty program for free via Messenger alone.
Finally, there are a variety of ways to run Facebook retargeting ads to retain customers as well.
Bottom line, the possibilities for customer retention are limitless for an ecommerce store versus a brick and mortar store.
Ecommerce Statistic #6: People Shop Online Because They Can Shop 24/7
We live in an "on-demand" world. Think about it. When was the last time you watched broadcast television outside of the morning news or live sporting events? Services like Hulu, Netflix and Amazon allow you watch shows and movies whenever you want.
The same is true with online shopping.
Consumers want to shop when they want to shop no matter the time of day. Thanks to the pandemic, Forbes found that 59% of surveyed correspondents preferred to shop online during the busiest time of year.
Bottom line, consumers prefer to shop online and thanks to the pandemic, this will likely never change.
Ecommerce Statistic #7: 35% Of Shoppers Price Compare On Mobile While Shopping At A Brick And Mortar Store
Because ecommerce stores don't have to pay rent to maintain a physical store, the overhead is much lower.
For example, we started our online store for only $630 and ran it out of our house for the first few years. Back then, our monthly expenses were less than $30/month.
Because there is far less overhead for an online store, you can offer lower prices for customers and the upfront risk is far less.
Today, over a third of customers comparison shop on their mobile phones while shopping at a physical store. And these shoppers often find lower prices online.
This practice is called showrooming. Consumers will shop at a physical store to touch and feel the product before making their final purchase online.
By running Google Shopping Ads, you can make your products appear at the top of the search results so you can steal business from your brick and mortar competitors!
Ecommerce Statistic #8: 43% Of Consumers Conduct Online Research While Shopping At A Physical Store
One of the main reasons people prefer to shop online is because you can thoroughly research the product you want to buy.
Most and brick and mortar stores offer very little documentation and stores are often sparsely staffed to save money on headcount.
As a result, 43% of consumers conduct research on their mobile phones while shopping at a physical store.
If you can create detailed research and product comparisons on your website (along with competitive prices), then you have a good chance of stealing a sale from a brick and mortar store.
Ecommerce stores benefit from the ability to create high quality product descriptions that you can't find at a physical store.
Overall, here are the statistics for smartphone usage in a physical store.
46.8% consumers look for discounts
43.3% look up product information
35% compare prices
27.6% look up product reviews
Ecommerce Statistic #9: 86% Of Millennials In The US Shop Online
According to Statista, millennials and and Gen Xers are the biggest segments of online shoppers.
Millennials alone have a penetration rate of 86.2% for online shopping.
Below is the distribution for digital buyers in the US in 2020 according to Statista.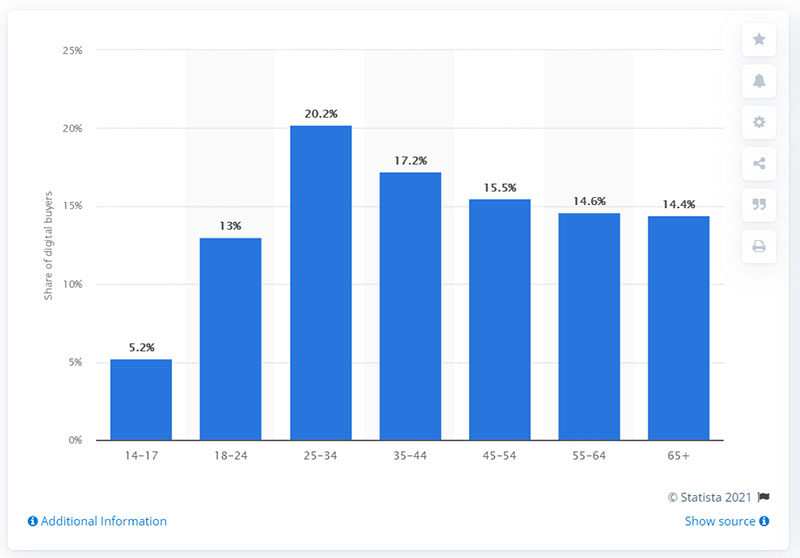 Millennials aged 25 to 34 years represent the largest group of online shoppers in the US followed closely by Gen Xers aged 35-44 at 17.2%. Surprisingly, people over the age of 45 make up an exceptionally large percentage as well.
Bottom line, every age group is shopping online today. Ecommerce is mainstream.
Ecommerce Statistic #10: It's Extremely Inexpensive To Start An Ecommerce Store
Depending on the ecommerce business model you choose to pursue, the cost to start an online store will vary. However, compared to a brick and mortar store, starting an online store will easily cost you 100x less.
Below is a table of how much it costs to start an ecommerce business based on your business model.
Dropshipping – Based on data from students in my ecommerce course (~4000 students), you should expect to pay between $3 and $500 on average to start a dropshipped online store.
Selling Wholesale – You should expect to pay between $3 – $500 on average to start a traditional online store selling wholesale products in addition to the cost of your inventory. The minimum order quantity for a wholesale product is usually on the order of $100-200.
Selling Private Label – To start a private label brand, you should expect to pay between $3 – $500 for your website in addition to $1000-$2000 for the cost of manufacturing and shipping your products.
For context, we started our 7 figure ecommerce store for only $630. Meanwhile, my 9 and 11 year old kids started their own print on demand online store selling t-shirts online over at KidInCharge.com for only $2.99 all inclusive!
Why You Should Start An Ecommerce Business
Thanks to the pandemic, ecommerce sales have skyrocketed in the past few years and there's no end in sight to the massive growth of online shopping.
However, we are still at the very beginning of the transition. Right now is the best time to get started with ecommerce while companies are still trying to figure out their online sales strategy.
Here are the facts.
Online shopping is mainstream and gaining marketshare at an exponential rate.
The cost to start an ecommerce business is 2 orders of magnitude lower than starting a physical store.
Services like Shopify, Shift4Shop, BigCommerce allow you to start selling online without any technical skills.
Many small businesses don't even have a website yet
Most repeat sales are conducted online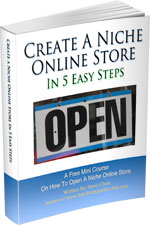 Ready To Get Serious About Starting An Online Business?
If you are really considering starting your own online business, then you have to check out my free mini course on How To Create A Niche Online Store In 5 Easy Steps.
In this 6 day mini course, I reveal the steps that my wife and I took to earn 100 thousand dollars in the span of just a year. Best of all, it's free and you'll receive weekly ecommerce tips and strategies!
Note: This post above may contain affiliate links, which means that I may receive a commission if you make a purchase when clicking a link. Please consult our privacy policy for more information.
Related Posts In Getting Started With Ecommerce
About Steve Chou

Steve Chou is a highly recognized influencer in the ecommerce space and has taught thousands of students how to effectively sell physical products online over at ProfitableOnlineStore.com. 

His blog, MyWifeQuitHerJob.com, has been featured in Forbes, Inc, The New York Times,  Entrepreneur and MSNBC.  

He's also a contributing author for BigCommerce, Klaviyo, ManyChat, Printful, Privy, CXL, Ecommerce Fuel, GlockApps, Privy, Social Media Examiner, Web Designer Depot, Sumo and other leading business publications.

In addition, he runs a popular ecommerce podcast, My Wife Quit Her Job, which is a top 25 marketing show on all of Apple Podcasts. 

To stay up to date with all of the latest ecommerce trends, Steve runs a 7 figure ecommerce store, BumblebeeLinens.com, with his wife and puts on an annual ecommerce conference called The Sellers Summit.  

Steve carries both a bachelors and a masters degree in electrical engineering from Stanford University. Despite majoring in electrical engineering, he spent a good portion of his graduate education studying entrepreneurship and the mechanics of running small businesses.