I receive many questions via email every single day but my #1 most asked question is…
How long do you think it will take for me to make money with my business?
Here's another common permutation of this same question…
I need to be able to make money in 6 months, can it be done?
And finally my favorite…
Can I expect to make 100K in the first year with my online store like you did? One year ought to be enough runway right?
So here's the truth.
Brand new entrepreneurs are horrible at predicting how far they can get with their businesses in the short term.
In fact, they often grossly overestimate how much money they can make in their first year. But on the flip side, they also grossly underestimate how much they can make in 3+ years with their businesses as well.
So anytime a reader or a student asks me any of the above questions, I immediately start to question their commitment and how serious they are about starting a real business.
Why?
It's because when someone asks me how much they can make in 6 months, it usually means that they are only willing to stick it out for 6 months to see if their business idea has a chance. This is not enough time!
Get My Free Mini Course On How To Start A Successful Ecommerce Store
If you are interested in starting an ecommerce business, I put together a comprehensive package of resources that will help you launch your own online store from complete scratch. Be sure to grab it before you leave!
Starting A Business Requires Long Term Thinking

Starting a business takes commitment. And I don't mean a year or a few years. When I say commitment, I'm talking about giving it a go for at least 3-5 years.
When my wife and I started our online store, we were in it for the long haul. Although we set a goal to make 100K before the baby arrived, we were ready to work at it and keep the store afloat indefinitely until we got the formula correct.
If we didn't have this mentality, we might have quit at 6 months because sales were not where we wanted them to be.
We weren't convinced that the store could ever make enough money to supplant my wife's income.
We didn't believe that our market was large enough. We didn't think that we could crack the first page of search to get the necessary traffic.
What's funny is that we started our online store with this delusion of grandeur that our business would start making decent money within the first 3 months. After all, we had what we thought was a fool proof strategy.
Our initial plan was to siphon away EBay customers by posting auctions online and steering them over to our online store through links in the auction description.
Then, we would roam the wedding forums and guide customers over to our shop by making recommendations to would-be brides.
But what ended up happening is that we violated EBay's terms of service and got our account temporarily suspended for posting external links on auctions. Furthermore, we repeatedly got banned on the wedding forums for being overly promotional.
There are no shortcuts. You have to be in it for the long haul.
If you are wondering whether you can start making money right away because you are in a desperate situation, then chances are you lack the resolve to see your business idea through.
Estimating Time, Money And Human Nature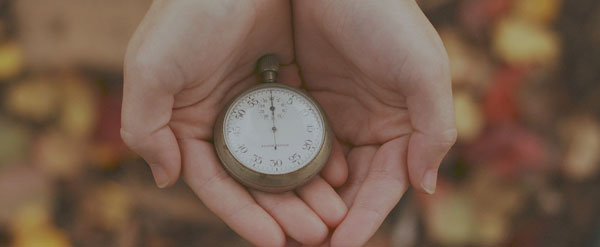 But here's what is interesting about human nature. When my wife and I reached our goal of making 100K during the end of our first year of business, we were overjoyed.
But at that point we didn't think we could do it again.
We didn't think that our business could possibly grow any more. From our perspective, the business had peaked!
After all, it was a major struggle for us to reach that number in the first place because it involved so much legwork and a little bit of luck. In fact, we didn't think that we could achieve the same sales pace ever again.
What we didn't realize was that the first year was just the tip of the iceberg. Every year since then, our business has increased in the double and triple digits! Never in a million years did we think that this could happen.
Which brings me to reiterate my second point.
As humans, we often overestimate what we can accomplish in the short term, but we vastly underestimate what can be done in the long run.
When I first started MyWifeQuitHerJob.com, I was hoping to start making significant money within a year of launch.
Even though I started my blog with a 5 year plan towards profitability, I full on expected to be making at least 5 figures by the end of year 1.
But in reality, it wasn't until well into year 3 when I started to see hockey stick growth. Today, the blog is practically growing on autopilot.
When I first launched my Create A Profitable Online Store course, I was only hoping to sign on about 30 students. But today, I have over 70X that amount and the course's growth continues to surprise me!
Setting The Right Expectations

The key to running any successful business is to set the right expectations and the right level of commitment.
When my wife and I began our online store in 2007, we full on planned to still be in business in 2012. When I started my blog in the end of 2008, I full on planned to still be blogging 5 years later.
When I launched my "Create A Profitable Online Store" course in 2011, I made a long term commitment to continuously add content to the course for many years to come.
Even though the course started out with practically no content, today I have well over 100 hours of video in the course and a 400 page PDF ebook to show for it. And the best part is that the course continues to grow and evolve!
Most people quit their businesses within their first year. If you aren't willing to devote at least 3-5 years to your business, don't even bother. Why? Because most of the wealth and the profits are to be had well after your first year.
Expecting your business to be vastly profitable within a short time frame is a half assed way to think about your business.
Let's be realistic.
During the first year of any online business, your website is probably not going to have superior search engine placement. Your business probably won't have a large customer base. Your business probably won't have much name recognition.
It takes time for word of mouth to spread. It takes time for things to snowball. Looking back at my blog, I didn't think that I was getting anywhere at all after year 1. But after doing this for 7 years now, I look back and am completely amazed at how far I've come.
Change Your Mindset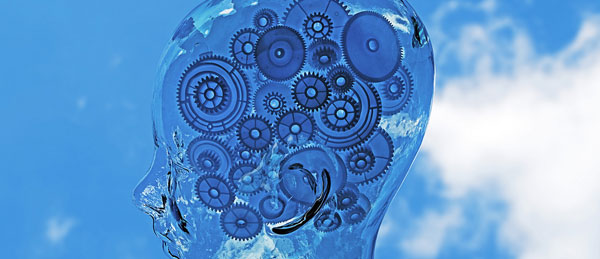 Here's the biggest problem that I see with most people.
They expect to make a significant amount of money in under a year and then they give up when they don't reach their goal. I've had several students in my course give up early and even had an extremely talented student give up on his online store after just 6 months!
The first year is going to be tough and the most awkward. After all, you know nothing during your first year. Even if you have a great mentor or teacher, you still may not be able to absorb everything right away. So you'll make mistakes…but that's fine!
That first year is also when you'll be having the most fun because you'll be learning a heck of a lot. Year 1 should not be your end game. Instead, you should treat year 1 as your learning year and expect to reap the rewards in the years ahead.
In a recent survey conducted among students in my Create A Profitable Online Store Course, 56% of students in my class who launched a product and stuck it out for a full year are now making AT LEAST 4 figures per month.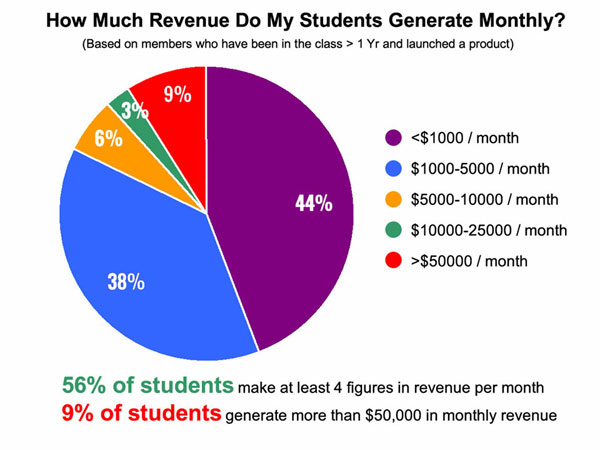 One of the most unfortunate aspects of human nature is that we all love shortcuts. We all love to believe that we can strike it rich in just 6 months.
Don't get me wrong. It's still possible to make a good chunk of change during your first year but you should go into it expecting to commit at least 3-5 years.
Avoid The Easy Short Term Money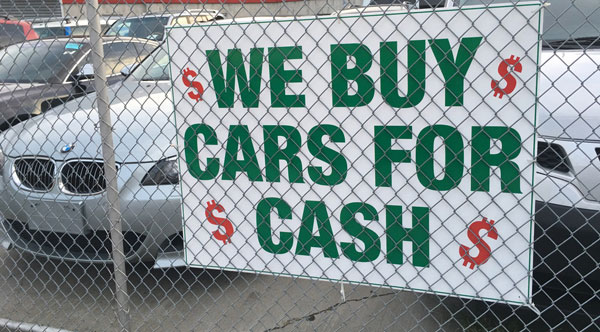 Now if you're going to commit to a business for 3-5 years, you also want to make sure your business model has long term potential.
Everywhere you look, there are a number of "make quick cash" types of schemes out there on the Internet. And yes, some of these might actually work but only in the short term.
For example, there's a popular scheme right now where people buy up goods on Amazon and sell them on EBay at higher prices and lots of people are making money this way.
But do you think this "business model" can last?
Most people are attracted to businesses that are "as easy as possible to make money" but I'm the complete opposite.
The harder it is to start your business, the more lasting power it will have.
The more value you can add, the more money you will make.
So before you choose an online business model, ask yourself how you are adding value.
Is buying up surplus goods online and selling them on Amazon providing more value than coming up with your own branded products to sell?
Are you spending all of your time trying to make short term money that will never scale?
Before you decide what to do, make sure you check out my post on the pros and cons of 8 different ecommerce business models and choose wisely.
Striking A Balance
The key to finding the right business to pursue is to avoid randomly pulling yourself in all directions at once.
Don't throw up a bunch of businesses, give them a go for 6 months as a trial and then take them all down because they aren't working out.
You should go into every business venture with a full commitment to put your best foot forward. Are you still going to want to be running this business in 3-5 years? If you don't think you'll be able to maintain your interest for that long, then don't even bother.
What you want to avoid is starting over every 6 months. If this is happening to you, then you aren't committed and you are calling it quits without giving your business a chance to grow into something bigger.
Remember, most of the profits for your business are going to occur after 3-5+ years so make sure that you pick something that you are willing to maintain for at least that long.
Take Time Out Of The Equation
In fact once you've decided what you want to do, take "time" out of the equation altogether. Don't give yourself ANY artificial constraints on how well you need to perform in a given time frame.
Instead, make your business a part of your daily or weekly routine.
That's right.
Set aside some time, the same time, every day or week to work on your business.
Don't even think about it.
Just work on it on a regular basis and tell yourself that you are going to maintain this routine FOREVER!
This way, your business will be a part of your life and time becomes irrelevant.
photo credit: Cyber Monkey swahili sunset Sun setting over Deception Bay-1= Clever Cogs! We buy cars for cash sign, 9/2016, Brooklyn, NY, Pics by Mike Mozart of TheToyChannel and JeepersMedia on YouTube. #Buy #Cars #Cash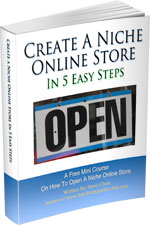 Ready To Get Serious About Starting An Online Business?
If you are really considering starting your own online business, then you have to check out my free mini course on How To Create A Niche Online Store In 5 Easy Steps.
In this 6 day mini course, I reveal the steps that my wife and I took to earn 100 thousand dollars in the span of just a year. Best of all, it's free and you'll receive weekly ecommerce tips and strategies!
Note: This post above may contain affiliate links, which means that I may receive a commission if you make a purchase when clicking a link. Please consult our privacy policy for more information.
Related Posts In Getting Started With Ecommerce
About Steve Chou

Steve Chou is a highly recognized influencer in the ecommerce space and has taught thousands of students how to effectively sell physical products online over at ProfitableOnlineStore.com. 

His blog, MyWifeQuitHerJob.com, has been featured in Forbes, Inc, The New York Times,  Entrepreneur and MSNBC.  

He's also a contributing author for BigCommerce, Klaviyo, ManyChat, Printful, Privy, CXL, Ecommerce Fuel, GlockApps, Privy, Social Media Examiner, Web Designer Depot, Sumo and other leading business publications.

In addition, he runs a popular ecommerce podcast, My Wife Quit Her Job, which is a top 25 marketing show on all of Apple Podcasts. 

To stay up to date with all of the latest ecommerce trends, Steve runs a 7 figure ecommerce store, BumblebeeLinens.com, with his wife and puts on an annual ecommerce conference called The Sellers Summit.  

Steve carries both a bachelors and a masters degree in electrical engineering from Stanford University. Despite majoring in electrical engineering, he spent a good portion of his graduate education studying entrepreneurship and the mechanics of running small businesses.