Are sales slow? Are your customers simply buying a single cheap item in your store and checking out? Does your store suffer from poor repeat business? Even though you might offer great products and write excellent product descriptions for your items, often times that's not enough to make your store a success. Besides just having an attractive storefront, there are many other aspects to selling that have nothing to do with the products or your website. This article will explore the mental aspects of selling. Here are 5 tips that should help you improve your sales.


Offer Products at a Range of Prices
Every customer that walks into your store will have different objectives, so its important to offer high end products as well as low end ones to cover the entire range of customers you may encounter. While the bulk of your sales will be at the low end, the highest margin items will tend to be your higher priced items. There are many psychological games that you can play with pricing as well.

For example, let's say you wanted to encourage customers to purchase Item A from your store because that product nets you the highest margins. If you were to price Item A similarly with the rest of the items in Item A's category, Item A would simply not stand out. However, if you were to price the rest of the items extremely high and place them next to Item A, Item A would be perceived as an absolute bargain.

To put this in perspective, let's add a few numbers to the mix. Let's say you were selling shirts and the shirts you wanted to move were 50 dollars. By selling this shirt alongside other shirts that cost 100 dollars, you will immediately perceive the 50 dollar shirt as a fantastic deal. Inexpensive and cheap are all relative terms. Make sure your "relative" prices are on the high end and you will net a higher profit. The best part is that you can assume ahead of time that the 100 dollar shirts aren't going to sell very well so you don't have to stock very many of them. The 100 dollars shirts exist only to sell your main cash crops.
Offer a Cheap Low Margin Product to Draw People In
While you'll always encounter customers who will buy your cheap sale item and leave, you'll find that the majority of people will buy additional items along the way. The trick here is to entice the customer into your store with a ridiculously cheap product and then convince them to spend the extra money that they saved on something else in your store. This tactic works almost every time.
Offer Free Shipping on Orders Over a Certain Amount
By setting a threshold with which the savings start to kick in, a customer will be encouraged to buy more than they were planning to buy. Try and set this free shipping or discount threshold at a price that is just above some multiple of the average price for your items. For example, if most of your items cost 9 dollars, set this threshold at 100 dollars. Often times, a customer will add one more item to their cart to break the savings barrier.
Cross sell your products
Most of your customers will not take the time to browse your entire store. That is why you need to "browse" the store for them. Try and display related items alongside the ones that they are already purchasing. A good and easy algorithm to implement is to display items that match or items that other customers in the past have purchased with a particular product. Further entice your customers by offering special discounts if certain items are purchased together.
Give out coupons
I see stores like the Gap and Old Navy do this all time. They give out coupons that are only active 2 weeks into the future. This encourages people to come back at a set time in the future to purchase additional items. Setting the discount date in the future gives you time to plan out your pricing strategies for your future sales. For example, you might choose to temporarily raise the prices of your best sellers during the sale while leaving the prices of the products you want to dump at the same prices.
It's All a Mind Game
The key benefit of all of these strategies is that the customer will feel like they got a great deal and your profits will increase at the same time. Its a win win situation.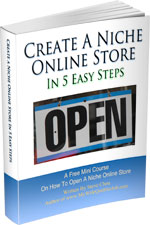 Ready To Get Serious About Starting An Online Business?
If you are really considering starting your own online business and quitting your day job, then you absolutely have to check out my mini course on
How To Create A Niche Online Store In 5 Easy Steps
.
In this 6 day mini course, I reveal the steps that my wife and I took to earn
100 thousand dollars
in the span of just a year. Best of all, it's absolutely free!

Stumble!
&nbsp &nbsp

Reddit!
&nbsp &nbsp

Digg!
&nbsp &nbsp

Del.icio.us
&nbsp &nbsp

Facebook

Get Free Updates Via RSS
&nbsp

Follow Me On Twitter

BizSugar
Similar Posts
Have you read these?
3 Responses to "5 Easy Ways To Boost Your Online Store Sales Immediately"