With Google being the number one search engine in the world, there's always a lot of emphasis on optimizing your website or online store to rank high in the search results.  One of the metrics that Google uses is something they have coined as page rank.  Page rank is the way Google ranks pages based on the relative importance of a particular website. Your page rank is directly related to the quality of webpages that directly link to your site.

Because of this, many people are absolutely obsessed with page rank and go out of their way to establish a high number of links to their website.   Our online store routinely gets requests for reciprocal linking.  The question of the day is is this worth the effort?
Getting Random Reciprocal Linking Will Get You Nowhere
In the early days, it was just a matter of getting any links to your website.  Over time however, Google's page rank algorithm has evolved to only give credit if the website linking to yours is within your same category.  For example, if I run a pet store, having a website that sells chocolate linking to me will not really have an effect on my page rank.

Furthermore, it seems that reciprocal linking is now given much less weight than before. Reciprocal linking is when your website and another mutually exchange links.  Make sure you are very careful when exchanging reciprocal links with another website.  If the website you are linking ever becomes a spam site, your website will suffer as well.  Due to these risks and the fact that reciprocal linking gains very little, I forgo this practice altogether with my websites.  In general, getting quality relevant sites to link to you is the only way to boost your rankings.
Page Rank Seems To Have Little Effect On Search Results
Page rank doesn't seem to have much effect on the search results in my experience.  Our online store only has a page rank of 4 and we routinely rank in the top 6 for our key search terms.  This has led me to believe that Google's ranking algorithm places far less emphasis on page rank than it once did.
Is it Worth Your Time?
The answer is a resounding no.  Don't worry about page rank at all.  If you write quality content and run a successful business, your website will naturally get one-sided links.  You have to trust the system.  Even if you manage to manipulate the rankings somehow, Google is constantly on the lookout for abuse and can shut down your rankings at any time.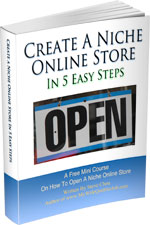 Ready To Get Serious About Starting An Online Business?
If you are really considering starting your own online business and quitting your day job, then you absolutely have to check out my mini course on
How To Create A Niche Online Store In 5 Easy Steps
.
In this 6 day mini course, I reveal the steps that my wife and I took to earn
100 thousand dollars
in the span of just a year. Best of all, it's absolutely free!

Stumble!
&nbsp &nbsp

Reddit!
&nbsp &nbsp

Digg!
&nbsp &nbsp

Del.icio.us
&nbsp &nbsp

Facebook

Get Free Updates Via RSS
&nbsp

Follow Me On Twitter

BizSugar
Similar Posts
Have you read these?
2 Responses to "Google Page Rank – Is it Worth Worrying About?"