This article was written by Tom Ewer, a regular contributor for MyWifeQuitHerJob.com!

Creating web content isn't like writing a newspaper article, or a novel. It's far easier.


As a freelance writer who specializes in online content, this is great news for me.

And it should be great news for you too, because the key to engaging with your audience is to write in a relatively simplistic and direct style.

Related: The Best Way To Attract Customers To Your Online Ecommerce Store Or Business

This style is very easy to learn, but you need someone to show you how. I carried on for months without being aware of these basics, but all I needed was a little direction.

I want to give you that direction, in five simple steps.
The One Thing You Must Understand About Your Audience
Before we get onto those five steps, I want to first explain who you are writing for. I'm not talking about demographics — I am talking about the approach to digesting web content that just about every internet user shares.

That approach is essentially based upon impatience. In the modern age, we are presented with an enormous amount of information, and we are constantly choosing what we should digest and what we should ignore. We have no time for subtlety — we immediately need to be sold on anything that calls for our attention.

For the most part, we don't read web content — we scan it. We skim until we find something that might be of interest, then we read that bit. So as an online content producer, your job is to make your content "scannable", and easy to digest. That is the one key principle of online content creation.

With that thought in mind, let's now move onto the five simple steps to writing engaging web content that converts.
1. Keep it Short
When it comes to structuring the words within your content, you should follow three simple rules:
Short words
Short sentences
Short paragraphs

The logic behind this is quite simple — shorter words, sentences and paragraphs are easier to read. Your reader is not going to reward you for using long and complicated words, or intricately constructed sentences.
2. Use Sub-Headers
When it comes to sub-headers, people typically make one of two mistakes:
They don't use them
They don't use them correctly

Sub-headers should be used to give direction. Someone who is scanning your content should be able to quickly read a sub-header, and understand what the following text will cover.

Therefore, your sub-headers should be simple and descriptive. All too often I see blog posts that are split up by obscure sub-headers that tell me nothing about the content. Under those circumstances, I typically just don't bother to read.
3. Use Lists
Lists are great. They break content up and make it look more interesting, and they are an excellent tool for highlighting key points.

People are drawn to lists — although they might be scanning your content as a whole, they will probably read a list. So if you have more than one point to make on a topic, splitting those points up into a list can really improve how much attention readers pay to your content.
4. Embolden Selectively
Words formatted in bold typeface are far more likely to be read. It's only natural, because emboldened words are far more visible on the screen.

Therefore, you should embolden key phrases and/or sentences within your content. You turn a scanner into a reader by catching their attention with a particularly interesting statement.

Whilst there is no golden rule when it comes to deciding what you should and shouldn't embolden, if you focus on selectively picking key statements, you won't go too far wrong.
5. Use Graphical Elements
Graphical elements are a fantastic way of elevating your content and making it look far more interesting.

We have already spoken about sub-headers, lists, and bold typeface — one could argue that they are all graphical elements. But additionally, I would recommend that you include images, blockquotes, graphs, tables, and any other graphical element that you can imagine.

The written word is easy to scan over absent-mindedly, but graphical elements are far more difficult to ignore. Each one you include can not only improve your content, but can also serve as a "gateway" to the bulk of your writing.
Make Your Content Interesting!
This post is around 800 words long — imagine how boring it would look if I hadn't followed my own advice. This very same content could be presented in six or seven long paragraphs, with no additional formatting or graphical elements.

If it had been presented in such a way, I can guarantee that the key engagement metrics of bounce rate and time on site would have looked far less healthy.

So the one key takeaway from all of the above is that your content should look interesting. If you keep that in mind when producing online content, you won't go too far wrong.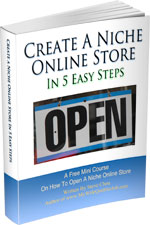 Ready To Get Serious About Starting An Online Business?
If you are really considering starting your own online business and quitting your day job, then you absolutely have to check out my mini course on
How To Create A Niche Online Store In 5 Easy Steps
.
In this 6 day mini course, I reveal the steps that my wife and I took to earn
100 thousand dollars
in the span of just a year. Best of all, it's absolutely free!

Stumble!
&nbsp &nbsp

Reddit!
&nbsp &nbsp

Digg!
&nbsp &nbsp

Del.icio.us
&nbsp &nbsp

Facebook

Get Free Updates Via RSS
&nbsp

Follow Me On Twitter

BizSugar
Similar Posts
Have you read these?
11 Responses to "5 Simple Steps to Writing Engaging Web Content that Converts"