It's rare for me to get the exact same question in the same week but I had 2 people email me last week about how I deal with credit card chargebacks with our online business.
Before I begin, I just want to explain what a chargeback is. As you know, whenever you buy anything with a credit card, the credit card company protects you from any sort of fraud that a merchant might commit.
This includes incorrect amounts charged to your card, failure to deliver the goods as promised or shipping faulty or damaged products. When any of these things happen, you can call your credit card company and they will issue you a refund if certain conditions are met. This protection is one of the primary reasons why I always use my credit card to make any large purchase.
However as with everything in life, credit card chargebacks can be abused by your customer at your expense if you own an online store. First off,I want to say that our online store has never experienced a chargeback ever (knock on wood).
The only time I had to fight a chargeback was with one of my Ebay auctions and I won the dispute handily. In any case, here's how to arm yourself against fraudulent chargebacks.
Common Claims
Some chargeback claims are legit but there will always be customers who abuse the system. The amount of sleazy customers that you have really depends on your clientele and what you sell.
My buddy who sells electronics has had many more problems than I've had because there are many more ways to complain about non functional electronic merchandise.
That is why I always stress that it's important to sell something that isn't fragile or easily damaged during shipment.
Most chargebacks usually involve one of the following situations.
A customer claims you never delivered the product. Incidentally, this is the easiest one to dispute.
A customer claims you shipped them something broken
A customer claims that they never ordered the product
A customer claims that they issued a return but you never refunded their money.
Fighting the Chargeback
Fortunately, when a customer files for a chargeback, the credit card company doesn't just randomly issue the refund. It conducts a thorough investigation and you need to be prepared.
In addition, having been on both ends of a chargeback in the past, the credit card company always wants to see a customer try and work things out with the vendor directly prior to issuing a chargeback so you almost always have a chance to make things right beforehand.
Here's how I would combat each of the items above.
To prevent undelivered product claims, the solution is simple. Use a delivery service that offers delivery confirmation. FedEx and UPS offer it for free and USPS offers a notification service at a minimal cost. This is required!! Don't go cheap and not pay for it because you will definitely be asked for this information.
To prevent broken merchandise claims during shipping, always purchase shipping insurance if your items are fragile. If the goods arrive at their destination with visible damage to the packaging, have the customer refuse shipment or have the carrier return to sender so you can file a claim. Make sure you clearly document the timeframe with which to handle these claims and make sure that the customer doesn't throw away the packaging. Usually, the insurance process takes a long time so you need to file a claim asap.
To handle claims of broken merchandise not caused by shipping, you can do one of two things. You can have the customer contact the manufacturer directly if the item is under warranty or you can have them ship the item back to you. Once again, make sure your return policy is very clear about the timeframe and the RMA process.
If the customer claims that they never ordered the product, make sure you have clear documentation of their order. Never ship any merchandise to an address other than the billing address for the credit card.
Finally if a customer claims to have made a return, ask for a confirmation number. If they can't produce one, then the credit card company will likely not issue a chargeback.
Keep Good Records
In general, your chances of winning a credit card dispute are greatly improved if you maintain good documentation. Always handle all correspondence via email if possible so you have a precise record of all conversations.
One other thing that I suggest is to make sure that your store name is what appears on a customer's credit card monthly statement. When I first set up our credit card merchant account, I set it to a shorthand version of our store name.
This caused some confusion for certain customers because they didn't recognize our store name in their monthly statement.
I would also go as far as to document the shipping and returns policy on every single document that a customer sees. This includes the invoice and at least a mention during the checkout process.
Overall, I don't worry about chargebacks. There are checks and balances on both ends to prevent fraud.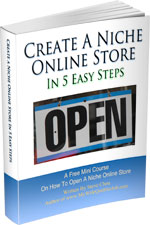 Ready To Get Serious About Starting An Online Business?
If you are really considering starting your own online business, then you have to check out my free mini course on How To Create A Niche Online Store In 5 Easy Steps.
In this 6 day mini course, I reveal the steps that my wife and I took to earn 100 thousand dollars in the span of just a year. Best of all, it's absolutely free!
Similar Posts
Have you read these?