Even though you should always be on the lookout for new customers and new markets to pursue, it's important to not neglect the customers that got you to where you are today.
According to the Small Business Administration, it's much easier drum up additional business from previous customers than it is to find new customers. The SBA even goes as far as to say that it's 65% easier to convert a sale from someone you sold to in the past.
I have no clue how they came up with this statistic, but what this implies is that your marketing dollars and marketing focus is better spent appealing to your existing customer base.
In a previous post, I already covered innovative ways to get new customers and grow your online business.
This time around, I'm going to discuss ways to sell more to your existing clientele. As always, I'll add little tidbits reflecting our experiences with these strategies.
Implement A Frequent Buyer Program
One of this easiest ways to keep a customer coming back is to reward them for making a purchase. Give away something for free after their 10th purchase and the customer will tend to stay loyal to your store.
You should make sure that you implement your frequent buyer program properly however, otherwise customers won't take notice. Make sure you inform the customer exactly what rewards are available and exactly how to redeem them. Constantly remind your customer with each purchase how close they are to earning their reward.
Since we run a wedding linens store, we don't have enough frequent bridal customers to justify implementing a rewards program. Perhaps if the divorce rate shot up to 90%, a rewards program might be justified, but I hope this never happens.
If you just look around though, these rewards programs work especially well with airlines and food establishments. The prevalence of frequent buyer programs across a wide variety of businesses clearly indicates that it works well.
Encourage Customers To Try New Things
The customer has already purchased from you and hopefully trusts that you carry only quality products. You must now try to encourage them to try purchasing other items from you that they might have missed the first time around.
Go through your best customers and compile a list of everything they have purchased in the past. Then, come up with a few additional items that you think they might be interested in and send them a little email notifying them of these items.
It always helps to sweeten the deal by offering them some sort of money back guarantee. This will place the customer at ease and more likely to try out your new products. The beauty of providing a money back guarantee is that it is rarely used in practice.
Especially if you're an online business, the customer carries the additional burden of having to repackage the item and ship it back to you. We rarely get any returns with our online store and I'm positive that the satisfaction guarantee we offer has convinced some reluctant customers into giving us a shot.
Give Out Free Samples Of New Products
If they are large enough customers, you might even want to give them a sample for free to see if they like it. We tend to do this with our wedding planning and catering clientele. When we get a new shipment of table or wedding linens, we immediately notify our top consumers.
In many cases, we'll go ahead and send them a sample without even asking. This tactic has largely been hit or miss, but when it has hit, the orders have been extremely profitable.
Give Out Discounts
Show how much you value your customer by providing them with a discount on their next purchase. Offering a discount also has the unusual effect of causing the customer to purchase higher priced items.
Psychologically, your customer is already prepared to spend a certain amount on a given shopping trip. By offering a discount, they will tend to pick the higher priced items because of the extra buying power.
In some cases, the customer may also purchase more than they were planning to in order to take advantage of a one time deal.
Give Out Rebates
I personally hate rebates, but in the interests of completeness I'll discuss them here. The main premise of offering a rebate is that a customer can redeem a cash back reward by sending in a proof of purchase along with a rebate form.
After the rebate documentation has been received, a rebate check is then sent back to the consumer. Sometimes this process can take weeks or even months. As a business, you can float this money and earn extra interest until the cash reward is redeemed.
The beauty of rebates is that according to the SBA, only about 18% of consumers actually bother completing the rebate form to redeem their cash back. What this means is that in most cases, you'll end up keeping the full profit off of the sold goods.
We don't offer rebates in our online store because rebates annoy the hell out of me. Whenever I see a rebate at a store, I tend to ignore the rebate price altogether. I guess I've been burned by rebates too many times in the past so I'm a bit jaded. But the fact that stores continue to offer them indicates that they can be effective.
What Works The Best?
In our experience, discount coupons and emails to existing customers have been the most effective catalysts for our online store. We've also had some luck giving out free samples to our service oriented clientele.
If I had to select between the 3 methods, I would choose contacting existing customers directly to suggest new items for sale. In many cases, you can automate the process and create a simple algorithm to automatically select the products to suggest. Discount coupons work well too, but you may get into a pattern where a consumer won't make any purchases at all unless they have a coupon.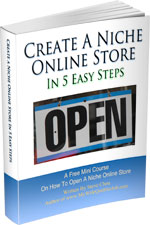 Ready To Get Serious About Starting An Online Business?
If you are really considering starting your own online business, then you have to check out my free mini course on How To Create A Niche Online Store In 5 Easy Steps.
In this 6 day mini course, I reveal the steps that my wife and I took to earn 100 thousand dollars in the span of just a year. Best of all, it's absolutely free!
Similar Posts
Have you read these?