The holidays and Christmas are always a difficult time for an online store because you have to deal with the flood of orders that come in. You have to deal with customers wanting to make returns. You have to interact with frustrated people trying to make last minute purchases for their friends and loved ones. For most retail businesses, the holidays are an absolute nightmare.
Even if you sell quality products and run a robust operation, the sheer number of orders and customers will create a variety of problems that are beyond your control. For example, every online store relies on 3rd party shippers in order to deliver their products to the end customer.
What happens when there's a breakdown with your shipper? When something doesn't get delivered, is it the shippers' fault or yours? What can you do about it? When a customer makes a complaint, do you trust that they are telling the truth?
Here are 3 situations that we had to deal with during the last 3 weeks of the holiday season. Would you place your trust with these customers?
Customer A: Package not delivered yet
This particular customer ordered some linens from us well over 3 weeks before Christmas. Under normal circumstances, her order should have been delivered within 2-5 business days through the United States Postal Service. However due to the holidays, her package was delayed in transit.
Erratic delivery times are not an uncommon occurrence with USPS and is the main drawback of using the United States Postal Service as your primary shipping carrier. Packages are usually delivered on time but all forms of delivery except express mail offer no guarantees as to the exact arrival time. We use USPS for small orders because it is the least expensive way to ship.
In any case, this customer called us inquiring what was taking so long for her order to be delivered. Checking the tracking number, her order appeared to be in transit but 3 weeks had already elapsed. Based on the delivery confirmation, she had not received her order yet and it was starting to look like her order was either lost in the mail or severely delayed.
Seeing as Christmas was rapidly approaching, we had a hard decision to make. Do we ask her to wait and jeopardize her not getting her order in time for Christmas? Do we send her another package and have her mail the extra package back to us? Do we not respond and wait it out?
We opted to send her another package. Because this particular customer ordered well in advance, we didn't want to risk her not receiving her order in time for Christmas. While it wasn't our fault her package was delayed, we felt the need to at least make an effort to rectify the situation.
So we shipped out another package to her with an extra shipping label so she could ship the extra package back to us if she ever received it. There was really nothing obligating her to send anything back to us except for mutual trust.
It still remains to be seen whether she'll send the extra package back to us. Did we make the right decision?
Customer B: Package Marked As Delivered But Not Received
This particular customer contacted us 4 days before Christmas inquiring about an order she placed way back during Thanksgiving. When we checked her tracking number, it indicated that her package was successfully delivered well over 3 weeks ago. However, even though the package was marked as delivered, the customer claimed that she never received it.
This was a tough one. How would we know whether the customer was lying or not? The package was marked as 'delivered' but do we trust the customer or the United States Postal Service?
There was no correct answer here so we simply went with our gut. The customer's order was for a very small dollar amount. If she was trying to scam us, she probably would have ordered something more expensive. Furthermore, she was extremely polite in her emails. The tone of her emails gave the impression that she was telling the truth.
The upshot is that we sent her another package and took a loss on this transaction. We really didn't have to do this. After all, even if she decided to dispute the charge, we had the delivery confirmation number as proof that she had received her order. But the bottom line was that my wife and I felt that this small loss was worth it to keep the customer happy.
Customer C: Personal Checks
Some of our customers still don't feel comfortable paying for items with their credit cards. As a result, their only recourse is to send a cashier's check or money order to make a purchase.
This particular customer placed an order with us online and opted to pay by cashier's check. The problem though was that she sent us a personal check instead. The other problem was that she needed her order delivered as soon as possible.
Normally, we don't accept personal checks at all. But this lady came across as really sweet over the phone so we decided to let it slide this one time. The only issue was that she wanted her items to be shipped immediately even though we hadn't yet deposited her check.
Because it was a personal check, we wanted to wait a full 5 days for her check to completely clear prior to sending out her order. So did we send it?
We ended up canceling this order because of the risks. In the back of my mind, this lady seemed trustworthy, but we didn't want to risk the penalty of accepting a bad check. For the sake of anyone who has never received a bad check before, the fees involved are pretty egregious.
The sad part is that you have to pay the bounced check fee just for attempting to make the deposit even though you are not at fault.
In any case, this transaction was a tough call especially since it was a very large order and the transaction amount was several hundred dollars. But in the end, we decided to stick with our policies. I must say though, the extra money would have been nice. I could have gotten my wife that Ferragamo purse! Oh well, too bad.
Should You Trust Your Customers?
It's a fine line in determining whether or not your customer is worthy of your trust. The situations described above are tough calls to make especially since your store has a reputation to uphold and money to make.
My general philosophy is that if the customer is placing their trust in your store to deliver the goods that you have advertised, that you should return their trust as well. But sometimes it can be a hard call to make. Would any of you have made different decisions? If so, how would you have handled the situation differently?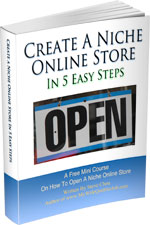 Ready To Get Serious About Starting An Online Business?
If you are really considering starting your own online business, then you have to check out my free mini course on How To Create A Niche Online Store In 5 Easy Steps.
In this 6 day mini course, I reveal the steps that my wife and I took to earn 100 thousand dollars in the span of just a year. Best of all, it's absolutely free!
Similar Posts
Have you read these?