This post will provide you with a comprehensive Gorgias review and detailed examples of how Gorgias has reduced my customer service costs by over 30% for my ecommerce store.
When it comes to running a successful online business, word of mouth is crucial. And the best way to increase your sales by word of mouth is by providing excellent customer service.
But here's the problem.
These days, there are so many different channels of communication to manage that it's extremely difficult to keep track of them all. You have to…
Answer emails in a timely fashion
Respond to your Facebook comments
Respond to Instagram comments
Reply to Tweets
Keep track of negative reviews
Managing all of these activities can put a strain on your resources because you need a dedicated staff to monitor these channels constantly.
The only way to manage your customer service efficiently is through the use of software. This is where a tool like Gorgias comes in handy.
Thanks to Gorgias, I've been able to reduce my customer support load by over 30%.
In addition, it has greatly increased the conversion rate for my store because I'm now able to answer customer inquiries much faster.
Editor's Fun Fact: The conversion rate for pre-sale chats or SMS is 28% when a customer reply is received within 10 minutes.
Enjoy this Gorgias review written by someone who has relied on this tool for the past several years.
Get My Free Mini Course On How To Start A Successful Ecommerce Store
If you are interested in starting an ecommerce business, I put together a comprehensive package of resources that will help you launch your own online store from complete scratch. Be sure to grab it before you leave!
What Is Gorgias?

Gorgias is a online software tool that allows you quickly and easily manage all of your customer correspondence.
Now there are many different platforms out there that can help you manage customer service, but what makes Gorgias special is that they specialize in ecommerce.
Plus, you can literally connect their tool to EVERYTHING and consolidate your support efforts.
For example, you can manage your email, chat, social, online ad comments, Facebook Messenger, SMS all from a single interface.
And the best part is that Gorgias ties directly into your ecommerce platform to automatically pull in customer order data(More on this later).
Prior to using Gorgias, I had to literally login to 6 different services just to answer all of my correspondence.
Gorgias will not only save you time but it will also allow you to easily manage a customer support team and measure the effectiveness of your staff.
In fact, Gorgias has allowed me to drastically cut costs for my support team and focus more on marketing and sales.
The remainder of this post will describe Gorgia's best features along with examples from my online businesses that demonstrate the savings.
Feature #1: Manage All Of Your Support Channels In One Place
As mentioned above, running an ecommerce business today requires that you monitor at least 5 different channels or more. And Gorgias allows you to do that via one simple to use interface.
Here's what my Gorgias interface looks like.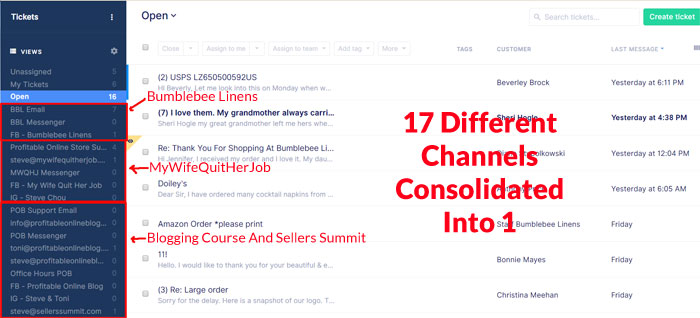 As you can see above, I've consolidated 17 different channels into 1 interface. Without Gorgias, I would literally have to login to 17 different platforms to answer questions.
This one feature alone saves a ton of time! Usually, I'll login to Gorgias in the morning and hammer out 50 or so requests in one sitting!
In general, running Facebook Messenger or SMS campaigns at scale absolutely requires a tool like Gorgias.
Every time I send out a Facebook Messenger blast, I literally gets hundreds, sometimes over a thousand messages back which would be impossible to manage without software.
Feature #2: Pull Ecommerce Data Directly Into Your Responses
When you run an ecommerce store, the number one question that you'll get asked is "Where is my order?"
Because Gorgias integrates with every major shopping cart including Shopify and WooCommerce, you can quickly and easily pull customer data into your correspondence.
Editor's Note: BigCommerce support is coming soon!
For example, here's a customer email that I received the other day displayed in Gorgias.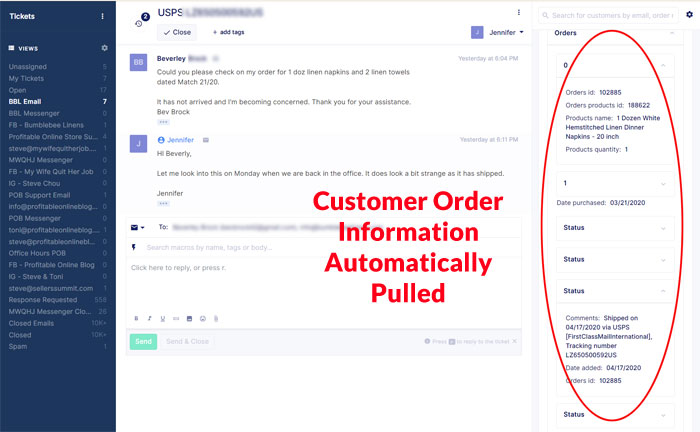 As you can see in the photo above, all of my customer's order information is automatically pulled up in the right hand column.
Prior to Gorgias, I would have to go into my shopping cart, do a search for a customer's order, dig up the tracking info and then cut and paste it into an email.
With Gorgias, everything I need is automatically displayed which saves a ton of time!
If you are using a shopping cart supported by Gorgias, you can directly pull in customer shipping and order info into your emails as shown in the video below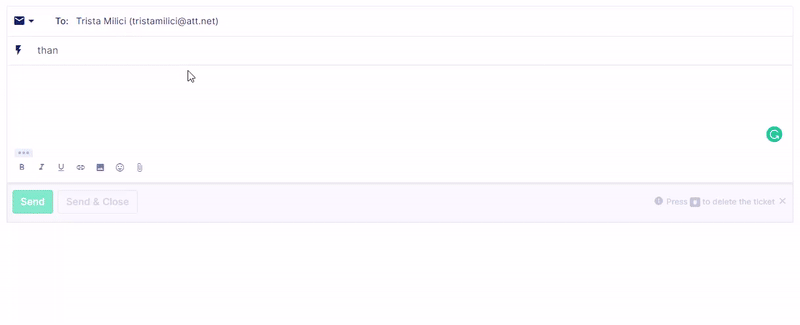 Feature #3: Create Macros For Practically Anything
The true power of Gorgias lies in the macros you can create which automate your correspondence!
Using the example above, if you are constantly getting emails from customers asking if their order has shipped yet, you can quickly create a macro that auto generates a response for you at the click of a button!
Over time, Gorgias can recognize customer support patterns through their machine learning algorithms, automatically detect questions in real time and auto populate responses for you.
In addition, you can setup automated rules to filter and categorize your correspondence.

In the example above, I'm tagging customers based on the subject lines in their emails. Specifically, I'm tagging win back customers because I want to make sure to prioritize their responses.
Overall, you can set filter rules and programmatically generate your email responses based on subject line and content.
This is a very powerful feature and used correctly, you can automate a large percentage of your ecommerce correspondence.
Feature #4: Measure The Impact Of Your Customer Service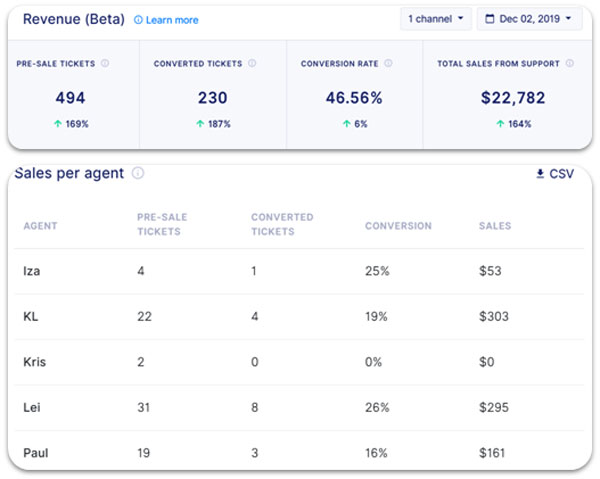 For most companies, customer support is viewed as a cost center and not a revenue generating asset. But for my business, I know that great customer service directly leads to sales.
For example, if I can have a conversation with a customer via email, chat, SMS or phone, my close rate is over 75%.
Now it's one thing to say that word of mouth and customer service generates sales, but it's also important to measure it.
Gorgias provides a nifty revenue dashboard to quickly measure how much money your customer support team is bringing in.
First off, the Gorgias revenue tracking feature isn't exact but it can provide you with a good idea of how well your team is closing sales for your business.
Here's how it works.
Let's say a prospective customer sends you an email asking questions about your product.
Then, after you answer their question, they decide to buy the product. Gorgias will attribute that sale to the agent who answered the email.
Why is this feature useful and how can it be utilized?
With these statistics, you can…
Create Incentives – Give out bonuses to your staff who hit certain numbers. Incentivize your team to hit certain KPIs with your business.
Justify Your Customer Support Costs – By adding a dollar value to your customer service efforts, it's easy to justify and measure your support spend. Customer support will no longer be considered a cost center!
Because Gorgias allows you to easily filter out sales correspondence versus support requests, you can quickly answer common questions with macros and focus your efforts on the emails/chats that make you money.
For example in our store, pre-sales questions always get higher priority and order followup questions are quickly addressed with macros.
Feature #5: Gorgias Integrates With Everything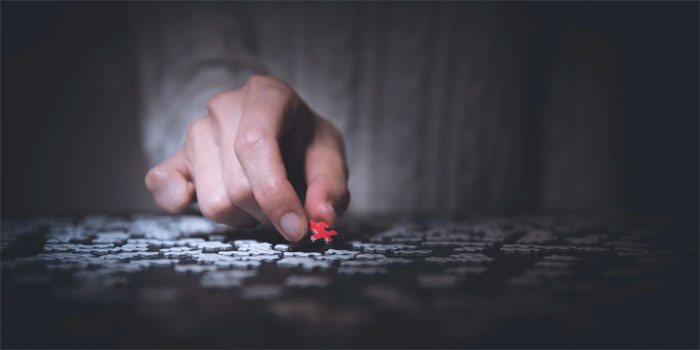 As I alluded to earlier, Gorgias literally integrates with almost every service out there, even if your application has nothing to do with ecommerce.
Every time a new tool is released, Gorgias seems to be able to create an integration within a matter of months.
If you have a tool that you are using that is not supported, Gorgias also offers an API where you can connect the dots yourself.
For example, my homegrown shopping cart is not directly supported. But after an afternoon of light coding, I managed to add support for my online store.
Here's a list of integrations that are the most commonly used. There are a lot more services in addition to what is listed below.
Shopify
Magento
WooCommerce
Instagram
Gmail
Facebook Organic
Facebook Messenger
Live Chat
Slack
Twitter
Klaviyo
SMS
ShippingEasy
Ebay
Stamped.io
AirCall
Stripe
I also love that Gorgias has a mobile app where I can easily close tickets if I'm sitting around doing nothing or waiting in line:)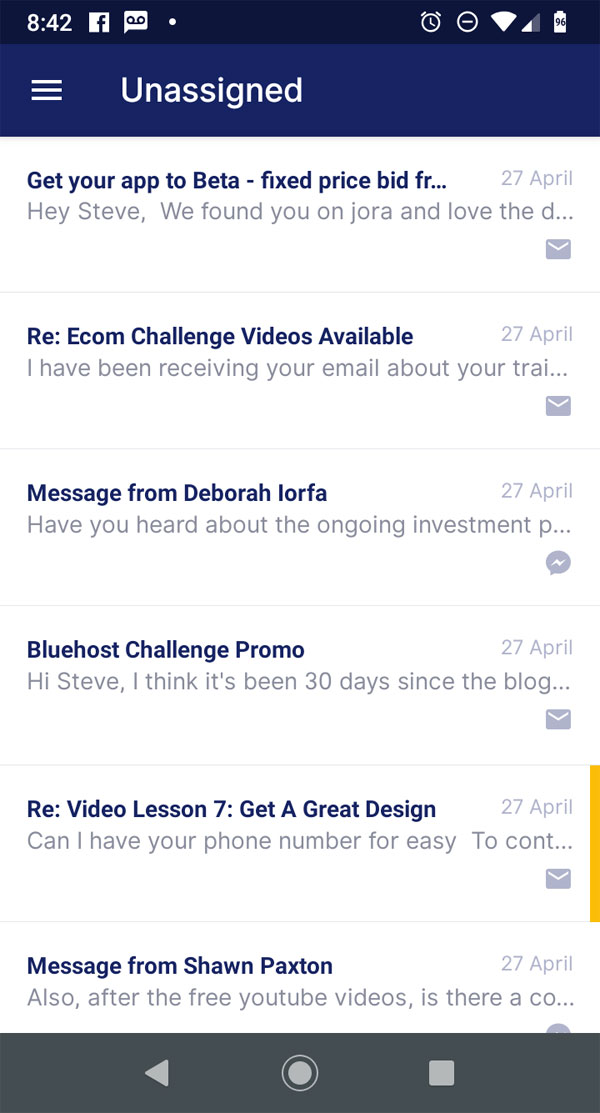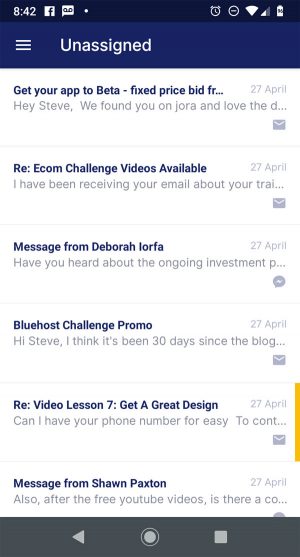 Gorgias Pricing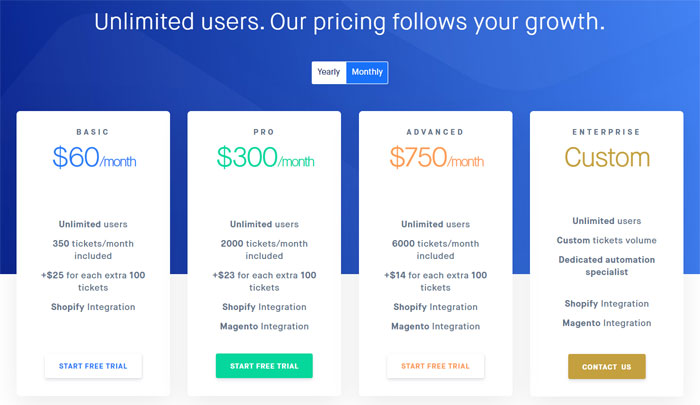 Gorgias is billed on a monthly basis depending on how many tickets you respond to. They also offer a free trial and you can schedule a live demo with one of their representatives.
Right now Gorgias offers 4 pricing plans.
Basic ($60/month) – This gets you 350 tickets per month + $25 for each extra 100 tickets
Pro ($300/month) – This gets you 2000 tickets per month + $23 for each extra 100 tickets
Advanced ($750/month) – This gets you 6000 tickets per month + $14 for each extra 100 tickets
Custom (negotiable) – If you exceed the advanced plan, contact Gorgias directly and get a quote.
If you're unsure how many tickets you receive in any given month, a good rule of thumb is to estimate roughly 1000 tickets per customer support agent on your team.
In terms of pricing, it's important to note that you only have to pay for tickets that you actually respond to within the Gorgias interface.
In other words, you are NOT billed based on the number of tickets received. As a result, for certain channels you may choose to respond directly on the platform and avoid the extra charges.
For example, Instagram is not really a source of sales for my store. As a result, I use Gorgias to monitor the channel but I don't respond from Gorgias.
Gorgias Review: Is It Worth The Money?
If you think of customer service as a cost center, you need to change your mindset.
With all of the automation that Gorgias provides, you can literally eliminate 30-40% of your customer service team depending on the nature of your business.
After using Gorgias for the past several years, I can tell you that I'm able to manage 2 seven figure businesses with just 3 staff members (5 if you count my wife and I).
And to put things into perspective, I receive over 400 emails per day for MyWifeQuitHerJob.com alone.
If you want to manage your customer service much more efficiently, I wholeheartedly recommend Gorgias especially when it comes to ecommerce.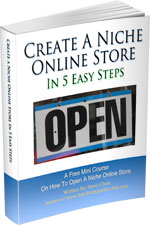 Ready To Get Serious About Starting An Online Business?
If you are really considering starting your own online business, then you have to check out my free mini course on How To Create A Niche Online Store In 5 Easy Steps.
In this 6 day mini course, I reveal the steps that my wife and I took to earn 100 thousand dollars in the span of just a year. Best of all, it's free and you'll receive weekly ecommerce tips and strategies!
Note: This post above may contain affiliate links, which means that I may receive a commission if you make a purchase when clicking a link. Please consult our privacy policy for more information.
Related Posts In Ecommerce Seller Tools
About Steve Chou

Steve Chou is a highly recognized influencer in the ecommerce space and has taught thousands of students how to effectively sell physical products online over at ProfitableOnlineStore.com. 

His blog, MyWifeQuitHerJob.com, has been featured in Forbes, Inc, The New York Times,  Entrepreneur and MSNBC.  

He's also a contributing author for BigCommerce, Klaviyo, ManyChat, Printful, Privy, CXL, Ecommerce Fuel, GlockApps, Privy, Social Media Examiner, Web Designer Depot, Sumo and other leading business publications.

In addition, he runs a popular ecommerce podcast, My Wife Quit Her Job, which is a top 25 marketing show on all of Apple Podcasts. 

To stay up to date with all of the latest ecommerce trends, Steve runs a 7 figure ecommerce store, BumblebeeLinens.com, with his wife and puts on an annual ecommerce conference called The Sellers Summit.  

Steve carries both a bachelors and a masters degree in electrical engineering from Stanford University. Despite majoring in electrical engineering, he spent a good portion of his graduate education studying entrepreneurship and the mechanics of running small businesses.