As an online store owner, designing a beautiful website with colorful images is a must. But if you're like most entrepreneurs, you probably don't have the necessary design skills in-house.
That's where Creative Market comes in. You can purchase stunning designs, illustrations, and photos from their online marketplace and use them for your business.
But is Creative Market worth paying for, and how do they compare to alternatives like Canva or Envato Elements?
In this Creative Market review, I'll explore the platform's products and pricing, pros and cons, to help you decide if it's the right tool for your business needs.
Get My Free Mini Course On How To Start A Successful Ecommerce Store
If you are interested in starting an ecommerce business, I put together a comprehensive package of resources that will help you launch your own online store from complete scratch. Be sure to grab it before you leave!
What Is Creative Market?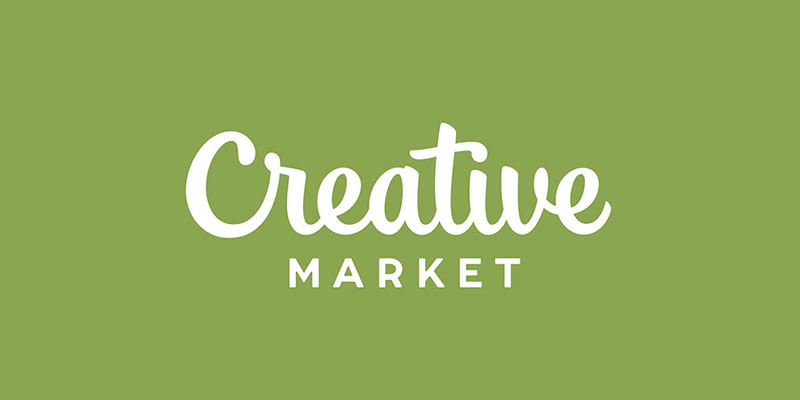 Creative Market is an online marketplace that offers a wide range of design materials, including photos, graphics, templates, themes, fonts, and more, all crafted by independent creators. You can buy ready-to-use design elements that can be instantly applied to your website.
Alternatively, you can also purchase design components like fonts or icons, which you can then tweak to fit into your other designs.
Think of Creative Market as a toolbox for your design needs. Whether you need a picture for a blog post, a sketch for a business card, or a template for a logo, they've got you covered. In addition, they offer ready-made design elements like logos, fonts, and graphics that you can use right away as is.
As a designer, you can sell your art directly on the platform to over 5 million monthly visitors. Sellers on the Creative Market platform earn 50% of the list price for what they sell.
Overall, Creative Market is an all-in-one platform for professionally crafted designs, allowing buyers to shop for high-quality brand assets and sellers to promote and sell their digital products to over five million monthly visitors.
Why Use Creative Market As A Business?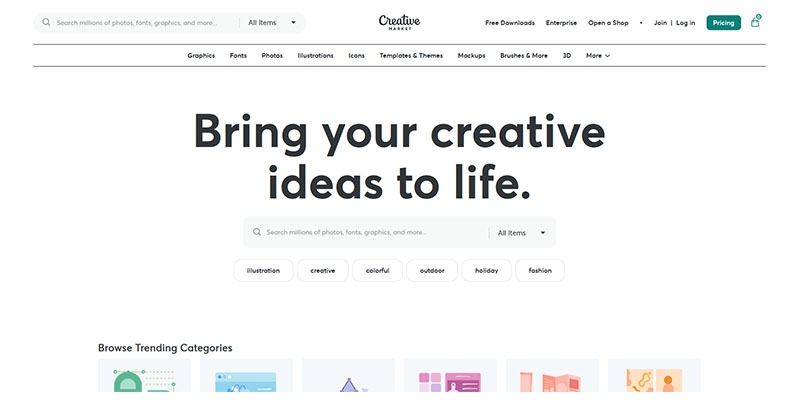 Business owners can use Creative Market's premade design content to enhance their website or to further customize their blog posts, advertisements, or other graphic designs. This includes images for blog posts, fonts, icons, illustrations, logo templates, and business card templates.
Dropshippers who sell print-on-demand goods can take advantage of Creative Market's "Collections" feature, which is available for Extended Commercial licensing.
Creative Market Collections allow you to purchase designs immediately and use them commercially without waiting for a designer to create them from scratch.
If you're on a tight budget, you can benefit from Creative Market's weekly bundle deals, discounts, and free assets on their "Free Downloads" page.
Why Use Creative Market As A Designer?
Designers can create an online store directly on Creative Market and sell their digital products to five million monthly visitors without any exclusivity lock-ins or product approvals required.
Here are the main benefits of selling on Creative Market.
Large Marketplace: Creative Market provides a platform for designers to sell their work, to an audience that is specifically interested in creative content. You have the opportunity to reach millions of customers worldwide.
Passive Income: Once your digital assets are created and uploaded, they can be sold repeatedly, creating a source of passive income.
Community: Creative Market has a community of designers, illustrators, and creatives who interact, share insights, and provide feedback. This can help you to improve your work and stay informed about current trends.
Free Promotion and Marketing: Creative Market promotes their sellers and products in weekly emails, social media, and on their website.
Create A Portfolio: You can sell a wide range of digital assets on Creative Market, including fonts, graphics, templates, web themes, and more.
Ease of Use: Creative Market is user-friendly and easy to setup for new sellers.
IP Protection: Creative Market provides secure transactions and protects your intellectual property rights.
Creative Market Pricing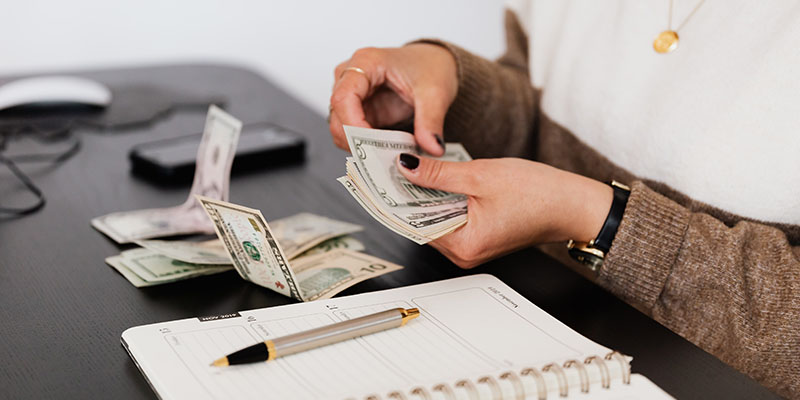 Creative Market offers four pricing plans for buyers ranging from $19.95 to $99.95 per month.
Although Creative Market has subscription plans, you can make direct purchases from their website. However, you won't be able to take advantage of any discounts or free digital goods that come with a subscription.
Here's a closer look at the features included with each plan:
| | | | | |
| --- | --- | --- | --- | --- |
| FEATURE | GROWTH | FREELANCER | PRO | STUDIO |
| Pricing | $19.95 a month | $29.95 a month | $49.95 a month | $99.95 a month |
| Discount | 10% | 12% | 15% | 20% |
| Credits | 1995 | 2995 | 4995 | 9995 |
All plans include:
A monthly drop of curated design assets that includes premium graphics, templates, fonts, and other items worth up to $1000 – all for free.
A discount on ten million design pieces.
Membership Credits. For example, if you're paying $29.95 a month, you will receive a credit of $29.95 each month that you can use towards your purchases.
Who Shops On Creative Market?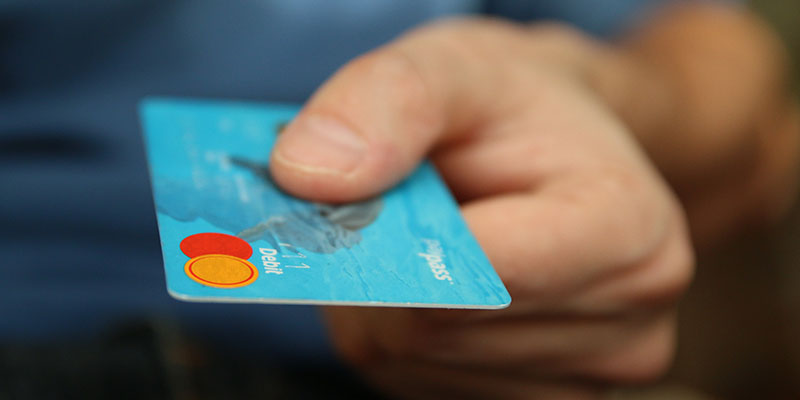 Creative Market attracts individuals and business owners who want access to premium design assets without the expense of hiring a professional designer.
As an ecommerce store owner, you will eventually need design content for various purposes, such as ad campaigns, blog post images, email newsletters, product mockups, logos, website design, and social media.
If you own a print-on-demand business, you can also use or modify designs you purchase on Creative Market for your merchandise.
How Do You Make Money On Creative Market?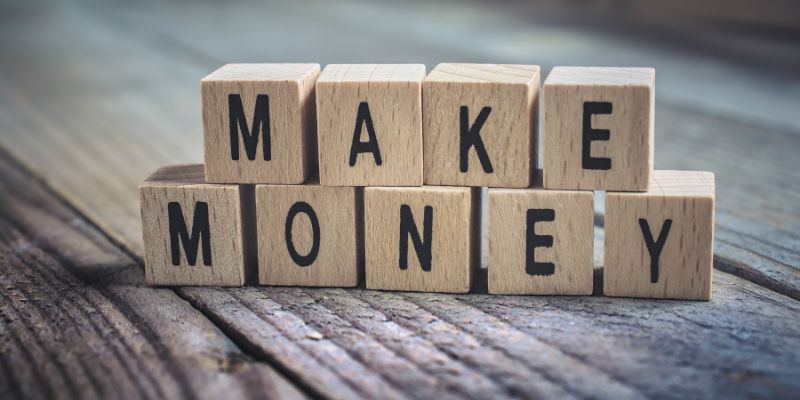 As a designer, you can make money with Creative Market by selling your own designs on their marketplace. However, Creative Market will take a 50%-70% commission on every sale you make.
Here's how to start selling on Creative Market:
Create Your Account: First, you need to sign up for a free account on Creative Market. Then, apply to become a shop owner and await approval.
Prepare Your Products: Once approved, you can start creating digital products. These can range from illustrations, graphics, and photos to fonts, templates, and themes. It's important to ensure your products are high quality, original, and cater to the needs of your potential customers.
Set Up Your Shop: After creating your products, you'll need to set up your shop. This includes uploading your products, writing descriptions, setting prices, and showcasing previews of your products. Make sure your shop looks professional and enticing to potential buyers.
Promote Your Shop: You must market your shop to drive traffic and increase sales from various sources such as social media, blogging, email marketing, or other promotional techniques.
Earn money: Creative Market will pay you a 30%-50% commission for every item you sell.
What Are The Requirements To Sell On Creative Market?
To sell on Creative Market, you must fill out an application with 10 to 20 unique, professional-quality pieces within a portfolio you submit.
The platform has no location restrictions, and Dribbble Pro members can start selling without applying.
Creative Market Products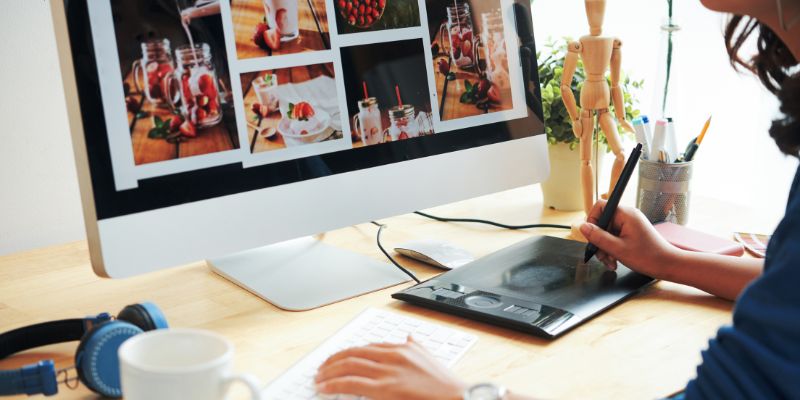 Creative Market's marketplace includes photos, graphics, fonts, illustrations, icons, templates, themes, mockups, 3D models, and brushes. Let's take a closer look at what's available.
Graphics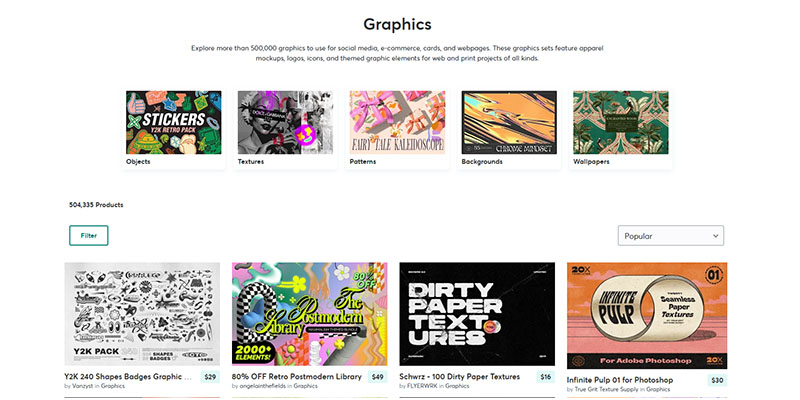 Creative Market provides 500,000 graphics like icons, illustrations, patterns, product mockups, textures, and wallpapers.
You can use them to create mockups for a t-shirt business or content for social media pages and web pages.
Photos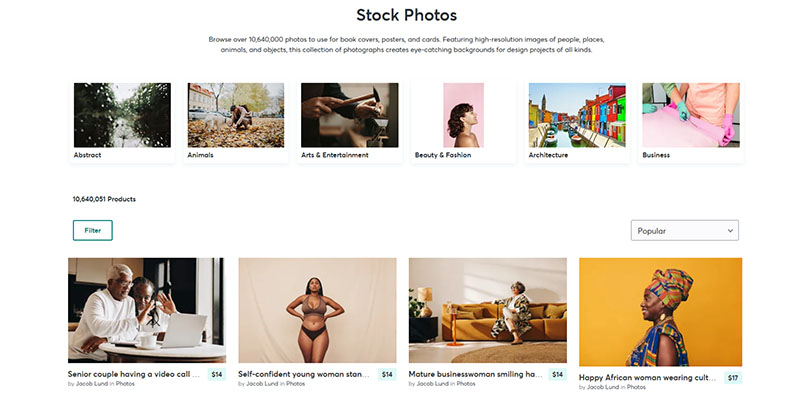 Creative Market provides a diverse selection of ten million high-resolution photos in the categories like arts & entertainment, beauty and fashion, food and drink, and holidays.
Whether you need high-quality images for your blog posts, Facebook ads, or email campaigns, Creative Market has you covered.
Themes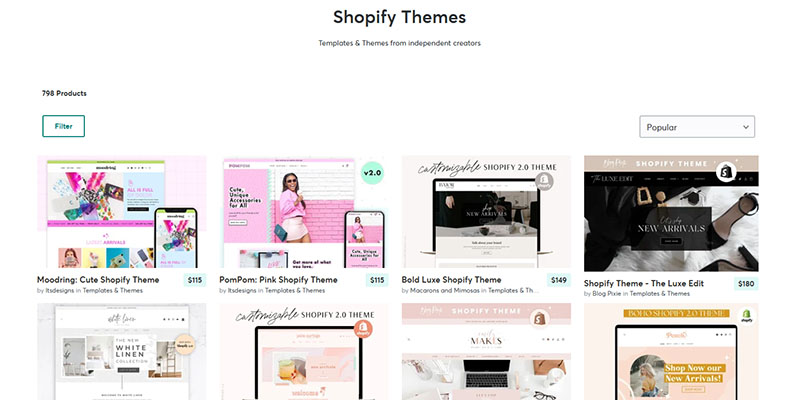 Creative Market has thousands of available themes to help you build a visually appealing landing page for your BigCommerce, Shopify, WordPress, or Wix store.
Templates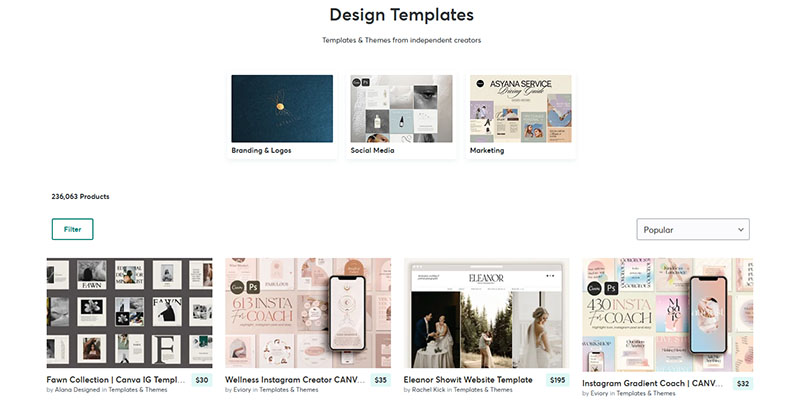 Create eye-catching content for your infographics, flyers, logos, landing pages, slides, wireframes, and webpages using Creative Market's templates.
The branding bundles in this category can also help you build an attractive and consistent brand that conveys reliability and professionalism to your audience across all your platforms.
You can use Creative Market's social media templates for platforms like Instagram, Pinterest, Facebook, and Twitter.
Fonts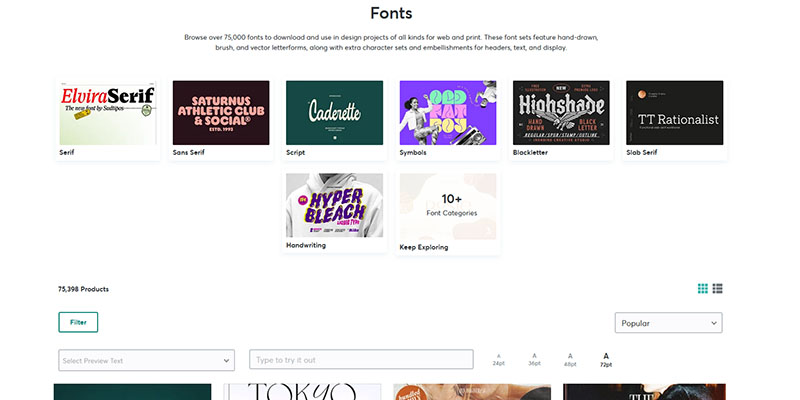 Creative Market sells over 75,000 fonts in categories like Serif, script, and handwriting to help you create the perfect tone for your brand.
Free Digital Goods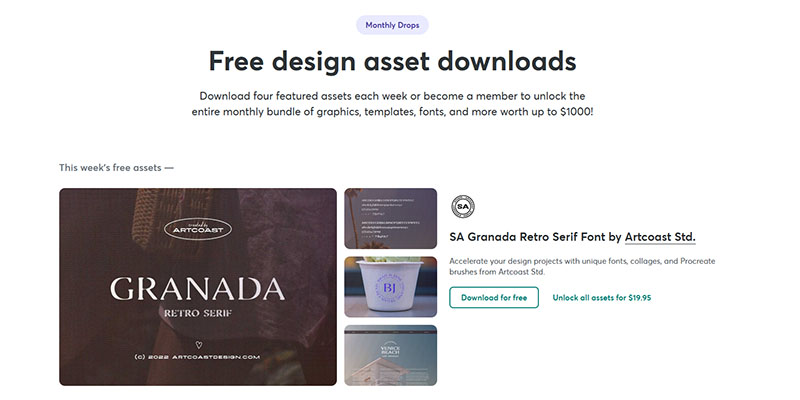 Creative Market offers a Free Downloads page if you're in search of top-notch design assets at no cost. Note that you need to subscribe to a paid plan to unlock all the free assets.
Resources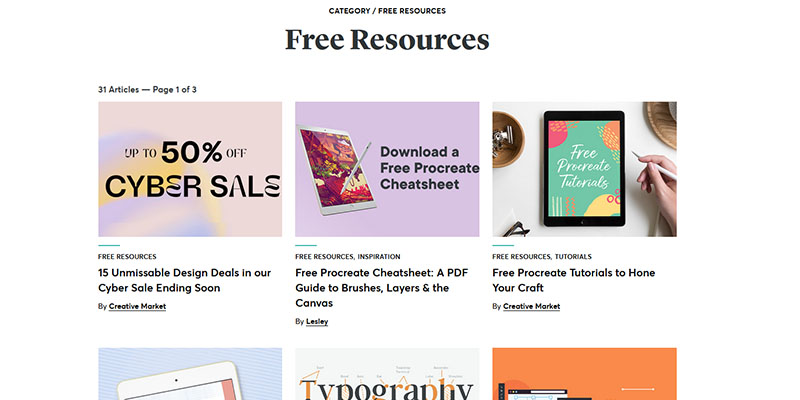 The Creative Market website also offers free resources, such as how-to tutorials, design tips and tricks, inspirational articles, and roundups of their best design assets.
Their blog is a solid resource for those looking for inspiration for their website or brand.
How Does Licensing Work With Creative Market?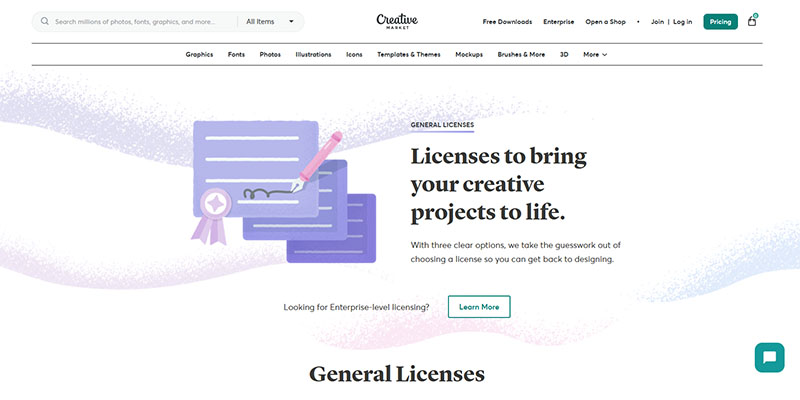 Creative Market offers three types of licensing: Personal, Commercial, and Extended Commercial.
With the Personal license, you can use the assets for non-commercial purposes and on one personal social media account. However, they cannot be used for business social media accounts, paid advertisements, or commercial end products.
A Commercial license permits you to use the designs you purchase in up to 5,000 end products for sale and digital ads with unlimited impressions. However, the license doesn't extend to native apps, web apps, or games.
The Extended Commercial license allows for use in all scenarios of the Commercial license. It also permits use in up to 250,000 end products for sale and in one native app, web app, or game downloaded or sold up to 250,000 times.
To summarize, if you want to use Creative Market products for your business that involves an exchange of money or promotion, you need a Commercial license.
Before you purchase any product, make sure to check the description so you know which license type the creator allows and select the right license type accordingly.
Pros Of Using Creative Market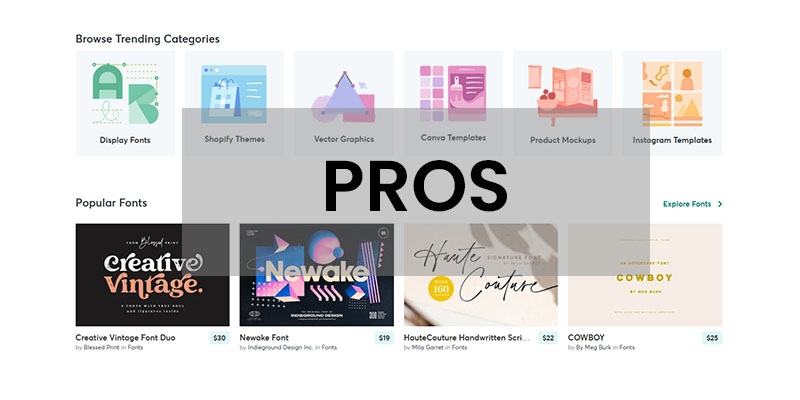 Variety: Creative Market has a vast selection of graphic design assets, including ten million stock photos and over half a million graphic designs, providing a wide range of options for you.
Professional designs: Creative Market offers professional quality designs starting from as low as $2, which makes it an affordable option to achieve a polished look for your website or marketing materials.
Competitive pricing: Creative Market offers competitive and fair pricing starting as low as $2. Users can also use pricing filters to sort content by their budget.
Flexible pricing: Creative Market allows creators to set their pricing, which provides flexibility for both the creators and the buyers.
Regular updates: Creative Market provides regular updates with up-to-date blog tutorials, roundups of the best assets, and inspiration. In addition, new products are added regularly.
Cons Of Using Creative Market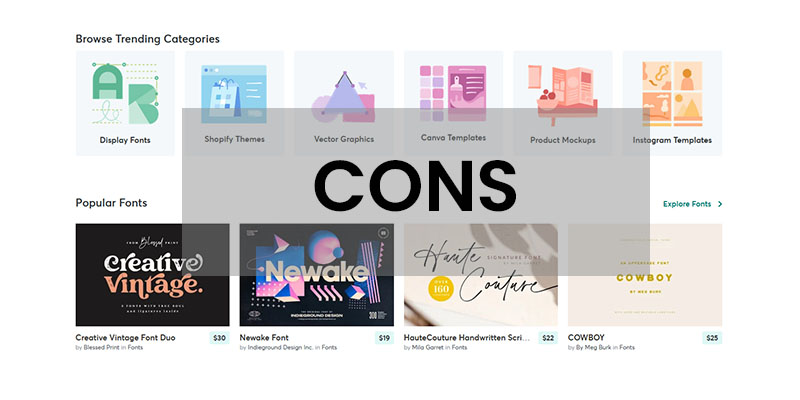 Unused credits: Users have reported losing their unused credits when downgrading their subscription or when they stop and start their subscription again.
Licensing: Creative Market's licensing terms can be restrictive and may limit how and when a product can be used and distributed.
Monthly payouts: Creators on Creative Market receive a monthly payout instead of being paid after each sale, which may not be convenient for some sellers who prefer more frequent payouts.
High commission: Creative Market charges a high commission rate of 50% to sellers, which has caused many creators to leave the platform.
Creative Market Reviews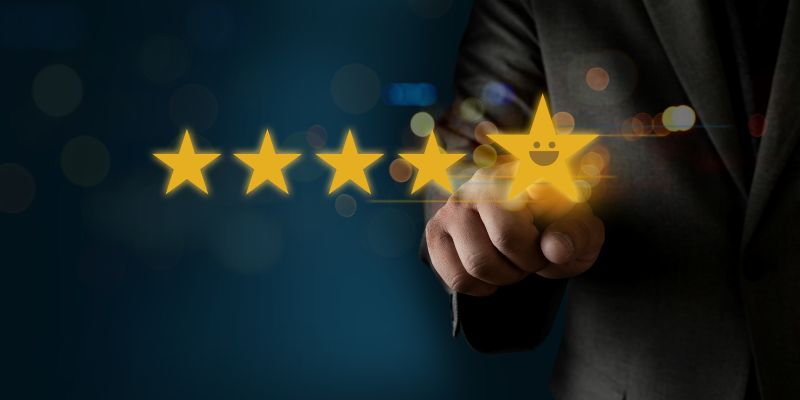 Creative Market has gotten mixed reviews from buyers and sellers. Buyers have praised Creative Market for their affordable prices and user-friendly design, reflected by Trustpilot's 4.3 out of 5 ratings.
On the other hand, creators have expressed dissatisfaction with the steep 50% commission rate, reflected in the 1.5 out of 5 rating on Sitejabber.
Here are some reviews of Creative Market: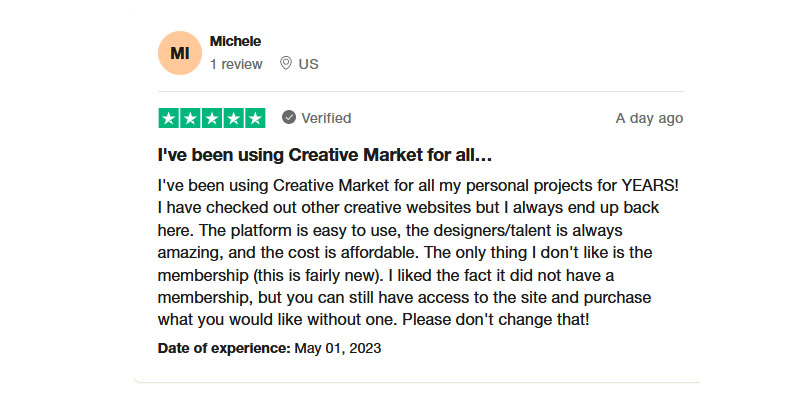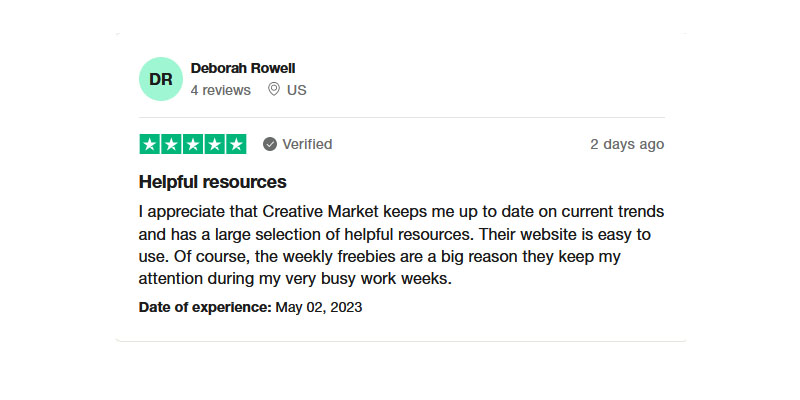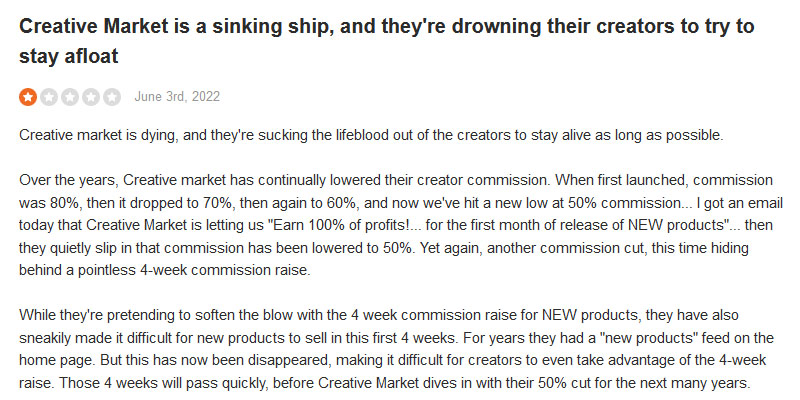 Creative Market Alternatives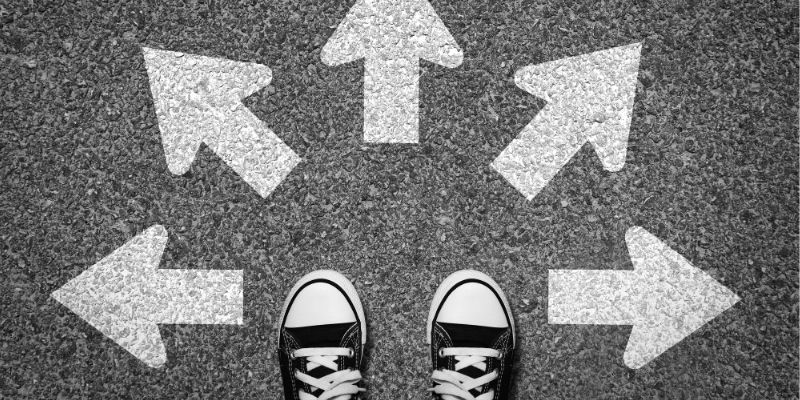 Creative Market has millions of designs available in their marketplace, but before you commit to a subscription, you should compare them to other top platforms.
The top three alternatives to Creative Market are Envato Elements, Canva, and Icons8.
Envato Elements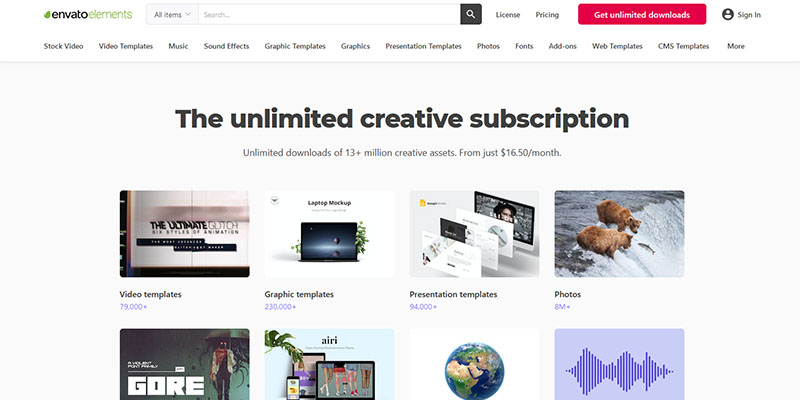 Envato Elements offers unlimited subscription services to agencies, designers, marketers, and other professionals who frequently need digital products.
They offer many different types of designs, including graphic templates, stock photos, video templates, illustrations, and 3D templates.
Envato Elements has three pricing plans:
Individual plan for $16.50 a month with simple commercial licensing.
Teams plan for $10.75 a month per member.
An Enterprise plan with custom pricing and licensing.
The main difference between Creative Market and Envato Elements is that Creative Market offers a pay-as-you-go format where users can buy individual digital assets, while Envato Elements provides unlimited downloads for a monthly fee.
Envato Elements offers a wider range of assets, including stock video templates and music, while Creative Market primarily focuses on graphics, fonts, and website themes.
Canva
Canva is a user-friendly graphic design tool that lets you easily create attractive graphics with its drag-and-drop editor.
Using Canva's extensive collection of free photos, graphics, and social media templates, you can create professional-looking designs without any prior design experience.
Canva has three pricing plans:
Free plan.
Canva Pro plan for $12.99 a month.
Canva for Teams plan for $14.99 a month per member.
If you need to create new designs from scratch or make modifications to existing designs, Canva's drag-and-drop interface makes it easy for you to do so.
If you want to buy ready-made graphics, then Creative Market is the better option.
Icons8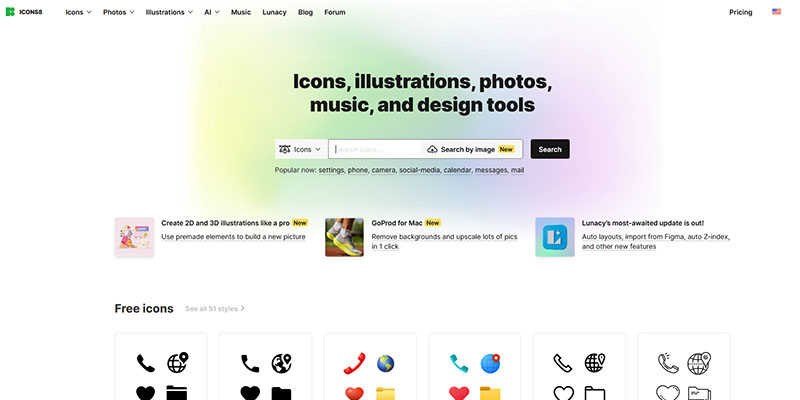 Icons8 is a marketplace for premium icons, illustrations, photos, music, design tools, and AI tools.
Icons8 has two pricing plans: free and paid. Each asset type (icons, photos, illustrations, etc.) has its own subscription, but there is no expiry period, and you only need to pay for the next subscription if you finish the current one.
One advantage Icons8 has over Creative Market is that they allow you to pay only for the type of digital product you require. And if you exceed your monthly download limit, you would only need to pay a few cents per product.
Creative Market Review: Summary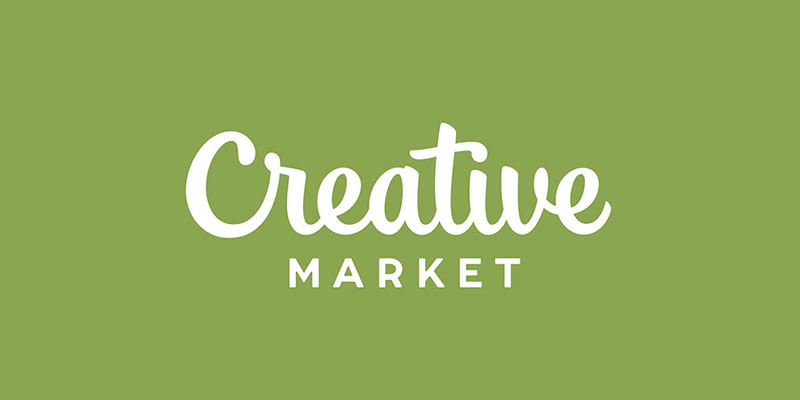 Creative Market is a smart choice for entrepreneurs who want beautiful designs without the hefty cost of hiring a professional designer, but it has limitations.
Creative Market's new subscription model has received some criticism, but you don't have to subscribe to their plans. You can create a free account and buy content directly a la carte. The downside is that you won't be able to get a discount nor will you have access to their free resources and designs.
The bottom line? CreativeMarket is a solid resource for any business that wants to elevate their visual branding.
Creative Market FAQs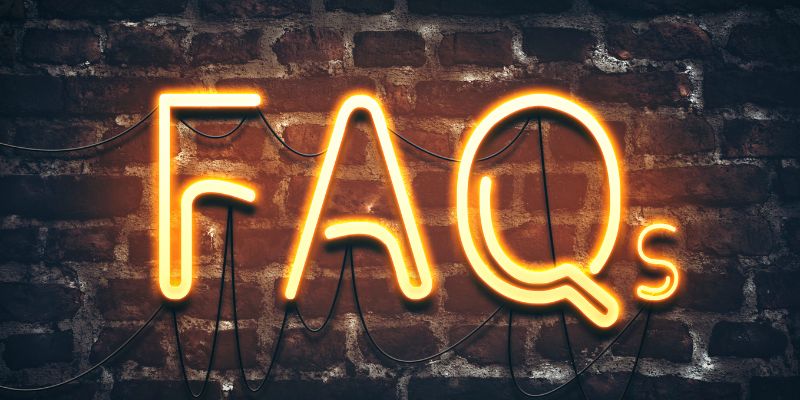 Can You Use Graphics From Creative Market To Create A New Design You Can Sell?
Yes, you can, with a Commercial or Extended Commercial license.
However, if you choose to use the Commercial License, your design must be significantly different from the original pattern. It should involve time, effort, and skill in its production and not primarily rely on the original design for its value.
Can You Use Graphics From Creative Market For Product Labeling Or Packaging?
You can use Creative Market graphics, product labeling, or packaging with a Commercial or Extended Commercial license. The Commercial license permits up to 5,000 lifetime packages, while the extended Commercial license allows 250,000.
However, if your graphic is under a Commercial license, your label or packaging must differ significantly from the original design.
Can You Use A Template To Create Marketing Materials For Your Company?
The Commercial or Extended Commercial licenses allow the use of a template for company marketing materials. Digital ads have no restrictions, but there are limitations on the use of physical ads.
For example, the Commercial license limits physical advertisements like billboards to local markets within a 200-mile radius, while the Extended Commercial license allows physical ads in local, national, or global markets.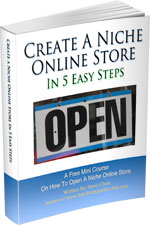 Ready To Get Serious About Starting An Online Business?
If you are really considering starting your own online business, then you have to check out my free mini course on How To Create A Niche Online Store In 5 Easy Steps.
In this 6 day mini course, I reveal the steps that my wife and I took to earn 100 thousand dollars in the span of just a year. Best of all, it's free and you'll receive weekly ecommerce tips and strategies!
Note: This post above may contain affiliate links, which means that I may receive a commission if you make a purchase when clicking a link. Please consult our privacy policy for more information.
Related Posts In Ecommerce Seller Tools
About Steve Chou

Steve Chou is a highly recognized influencer in the ecommerce space and has taught thousands of students how to effectively sell physical products online over at ProfitableOnlineStore.com. 

His blog, MyWifeQuitHerJob.com, has been featured in Forbes, Inc, The New York Times,  Entrepreneur and MSNBC.  

He's also a contributing author for BigCommerce, Klaviyo, ManyChat, Printful, Privy, CXL, Ecommerce Fuel, GlockApps, Privy, Social Media Examiner, Web Designer Depot, Sumo and other leading business publications.

In addition, he runs a popular ecommerce podcast, My Wife Quit Her Job, which is a top 25 marketing show on all of Apple Podcasts. 

To stay up to date with all of the latest ecommerce trends, Steve runs a 7 figure ecommerce store, BumblebeeLinens.com, with his wife and puts on an annual ecommerce conference called The Sellers Summit.  

Steve carries both a bachelors and a masters degree in electrical engineering from Stanford University. Despite majoring in electrical engineering, he spent a good portion of his graduate education studying entrepreneurship and the mechanics of running small businesses.