I was discussing the merits of using Adwords the other day with a few buddies of mine when I couldn't help but notice the skeptical looks on their faces.
In fact, both of my friends were quite shocked when I told them how much we were paying Google every month to use their Adwords service.
I must say that I was a bit surprised by their reaction. Even after explaining to them that our return on investment for Adwords was quite high, they still didn't see the value.
After all, they had both dabbled with Adwords in the past and felt as though it was a complete money pit.
So I dug a little deeper and asked to look at one of their accounts and soon everything became clear. There were several things that they were not doing correctly and they were optimizing for the wrong metrics.
A High CTR Means Nothing
I fell into this trap as well when I first started using Adwords. I desperately wanted customers to visit our online store so I purposely wrote my ads and chose keywords that would get me the most traffic.
I chose my keywords purely based on how many people searched for a particular term rather than considering how many of these people would actually make a purchase.
The result was that I managed to get an extremely high click through rate but not a whole lot of conversions. If you stop to think about it, it's very easy to fall into this trap especially when Google gives you a $100 check to try their service out for free.
When you don't know what you're doing, it's like handing someone $100 worth of chips at a casino and sending them to a blackjack table. They'll lose the $100 real quick and soon start wasting their own money as well.
Use Conversion Tracking
Perhaps it is because both of my friends are tech averse, but neither one of them were tracking their conversion rate or their cost per conversion with their Adwords account.
In fact, I had to explain to them that running ad campaigns using Adwords is different from running advertisements on traditional media because you can actually measure everything with near perfect precision.
If you don't run Adwords with conversion tracking, don't even bother using the service. Because if you don't know how much business the ads are getting you, there is no way for you to refine your ad campaigns to make them profitable.
Using Adwords is not like putting an ad in the paper. With Adwords, you can tell exactly how many people came to your site through the ad and what percentage of them made a purchase.
And that is why using Adwords or any cost per click service is superior to running ads on traditional media.
Adding Conversion Tracking Is Easy
Google has made it about as easy as possible to add conversion tracking to your existing website. Every shopping cart has a conversion page or a page that is displayed to a customer once their order is complete.
By adding the following little snippet of code to the end of your checkout page, you can track the conversion and the conversion amount. Just be sure to replace the adwords account information below with your own.
Also, don't forget to replace the "google_conversion_value" with the actual conversion value of the purchase.
<script language="JavaScript" type="text/javascript">
<!–
var google_conversion_id = 1234567890;
var google_conversion_language = "en_US";
var google_conversion_format = "1";
var google_conversion_color = "666666";
if (1) {
var google_conversion_value = 1; //<----Add conversion amount here } var google_conversion_label = "Purchase"; //--> ^</script> <script language="JavaScript" src="http://www.googleadservices.com/pagead/conversion.js"> </script> <noscript> <img height=1 width=1 border=0 src="http://www.googleadservices.com/pagead/conversion/1234567890/?value=1&label=Purchase&script=0"> </noscript>
Refine Your Keywords And Ad Copy
By eliminating non-performing keywords, you'll soon discover that the object of the game is not to get the most clicks but to make the most money.
After wasting a few hundred dollars of my own money, I started choosing keywords and rewriting my ad copy so that only people who were highly likely to make a purchase would be tempted to click on the ad.
Here's an example. With our online store, we sell linen dinner napkins, but mostly in white. We also don't carry a huge variety of napkins but our best selling napkins are of the lace and hemstitched variety. Our first version of our adwords ad sounded like this
Linen Dinner Napkins
Linen Napkins For Your Next Event
Save Now On Popular Napkin Styles

As you can tell, the ad is very broad and we initially did this on purpose because we wanted to capture every customer looking for linen napkins. But this was a big mistake. Eventually, we found that the following ad copy converted much better.
White Linen Napkins
Elegant Hemstitched and Lace Napkins
Save Now On Popular Napkin Styles
Arguably, this ad could have been made to sound even more specific but I think you get the point. You want to write your ad copy to draw in customers specifically looking for your product.
Give Adwords A Chance
Instead of blowing through your $100 Adwords credit and declaring that Adwords is a complete and utter money pit, make sure that you are doing things the right way.
As with any skill, using Adwords effectively takes practice and patience. Yes, you will lose money initially but you will gradually get the hang of it.
The important lesson here is to not write things off without giving it a proper chance. Millions of people are using Adwords successfully.
If you aren't making a positive return on your investment, chances are it's you. Don't blame the service.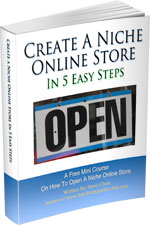 Ready To Get Serious About Starting An Online Business?
If you are really considering starting your own online business, then you have to check out my free mini course on How To Create A Niche Online Store In 5 Easy Steps.
In this 6 day mini course, I reveal the steps that my wife and I took to earn 100 thousand dollars in the span of just a year. Best of all, it's free and you'll receive weekly ecommerce tips and strategies!
Note: This post above may contain affiliate links, which means that I may receive a commission if you make a purchase when clicking a link. Please consult our privacy policy for more information.
Similar Posts
Have you read these?