Comparison shopping engines are an incredible way to market and generate sales for your online store.
For all of you who are unfamiliar with comparison shopping engines(CSE), CSE's are sites that aggregate product listings, prices and product descriptions from a large number of merchants in order to help shoppers make informed buying decisions.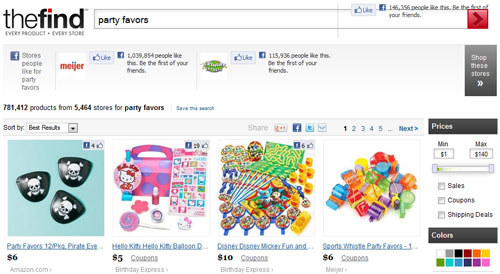 Chances are, you've already used comparison shopping sites in the past and just didn't realize it. For example whenever I shop for tech products, I use www.PriceGrabber.com to compare a bunch of vendors all at once in order to find the lowest price.
And whenever I click on one of the listings, I'm taken directly to the shop owner's website where he/she pays the CSE a cost per click for the referral of my business.
In other words, a comparison shopping engine allows a shopper to compare the prices and products from a large number of vendors in order to help them shop more efficiently.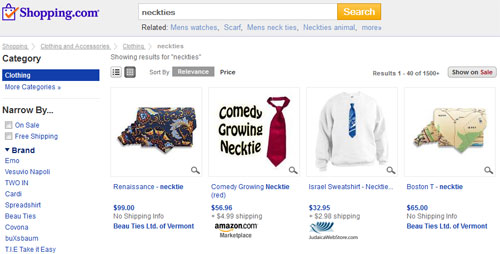 So what does this mean for your online store? Comparison shopping engines are an excellent place to market your goods to new customers. And if your products meet any of the following criteria, using CSEs to market your products can be extremely profitable from an ROI standpoint.
Your products are unique – If you sell one of a kind products, they will tend to have a high ROI on the CSEs
Your products are attractively priced – Since your products will be listed alongside a bunch of others, if you offer the lowest prices you'll have a higher chance of completing the sale
Your value proposition is well expressed – If you can adequately convey the value add for your products, your conversion rate will be high on the CSEs.
You have awesome photos – The photos you use on a CSE are crucial in attracting customers to click on your items.
Even if you are unsure if your products meet the following criteria, you should still give the comparison shopping engines a try. If they end up being profitable, then great. Otherwise, you can stop using them at anytime.
Why Comparison Shopping Engines Are Awesome


The reason why CSEs are so awesome is because the conversion rates tend to be much higher than with other forms of marketing.
For example, last month my conversion rate for Google Shopping was over 30% higher than my conversion rate with Google Adwords.
Why do CSEs tend to perform better than other pay per click services?
It's because all the prices, photos and product descriptions are presented to a customer BEFORE they click on the ad. As a result, when a customer clicks on the link that leads to your shop, there's a very high probability that they are interested in your product and they want to buy.
Some of the more popular comparison shopping engines include
Google Shopping
Nextag
Shopzilla
Amazon Product Ads
Pricegrabber
Shopping.com
TheFind.com
Pronto.com
Note: All of the comparison shopping engines shown above may perform differently depending on what you sell so it's important to give them all a try in order to see what works.
How Do Comparison Shopping Engines Work?

Almost all of the comparison shopping engines work in a similar way. You need to generate a data feed, which is a file that contains all of your products, images, descriptions, prices etc… in a single document. Most popular shopping carts can generate this for you automatically.
For example, Big Commerce, Volusion, Shopify, and Open Cart all have facilities to generate product feeds for the more popular CSEs.
This feed file is then transmitted to the comparison engine in one of 2 ways. One, you can FTP the file directly. Or, you can place the file on your server and have the CSE grab it at set intervals.
Once you have your product feed setup, your goods will be displayed online and you will pay a fee whenever someone clicks on a product. Usually the fee varies depending on the type of product and how much you are willing to bid on a particular set of goods.
Does this sound pretty straightforward? On the surface it's simple but as with everything in life, it's easy to make mistakes if you don't know what you are doing.
Here's a list of best practices that I've amassed over the years while using these services.
Rule #1: Do Not List Sold Out Items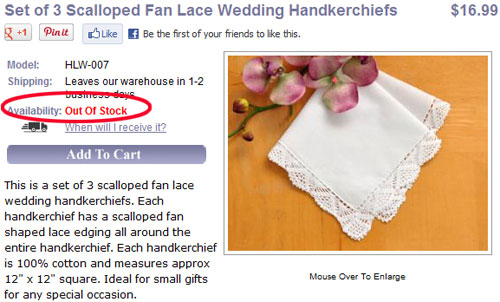 Not listing sold out products may sound like common sense but it's not and I'll tell you why. Most shopping carts out there provide plugins or special code that will automatically generate the product feed for you.
However depending on what cart you use, the automatically generated feed might include items that are either sold out or have very low quantities left in stock.
You really need to check. For example, the default product feed for my shopping cart displays goods that are active but might be completely sold out.
As a result, it's like throwing money in the garbage can when someone clicks on a link to your shop and you can't complete the sale.
In addition because the shopping feeds may not be updated very often (sometimes as long as once a month), it's important to only list goods where you have a significant quantity on hand that is unlikely to sell out.
Rule #2: Make Sure You Tag All Of Your Links
As people start clicking on links from the comparison shopping engines to your online store, it's important to track where these customers are coming from. By default, Google Analytics already tags incoming links with a referral source.
However, certain CSEs may list your products on many sites and the clicks can be coming from all over the place. For example, Shopzilla has at least 3 other partner sites and sometimes it's hard to tell which CSE is responsible for the click. The only way to definitively tell where a click originates from is to specifically tag the link.
In order to tag your links for Google Analytics, I recommend using the Google URL builder.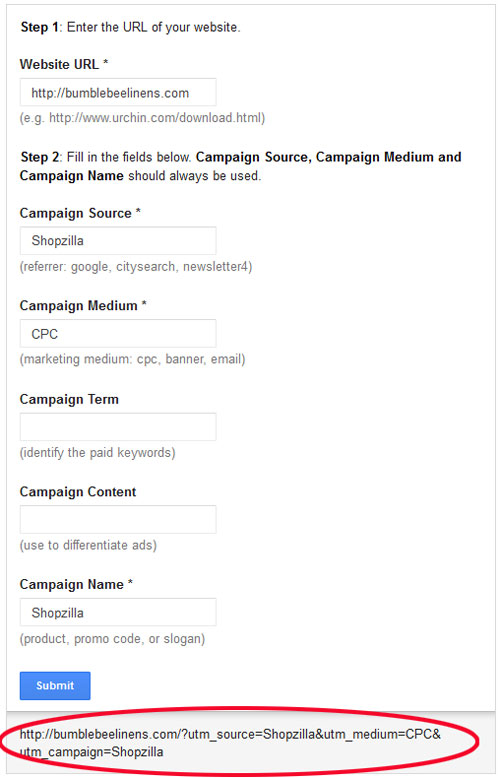 By entering in the parameters displayed above, Google's URL builder will generate a unique URL with tagging info so you know exactly where your clicks are coming from.
Once you've tagged your links, your analytics reports will clearly indicate the source of CSE traffic.
The other reason to tag all of your links is to make sure that your click reports line up with what you are getting charged by the CSE. If the clicks that you are paying for don't match your analytics reports, that means that the CSE might be charging you for fraudulent clicks.
While you might think this is rare, it's actually happened to me once already with a very well known CSE. In addition, my colleague Adam Buchanan also has experienced click fraud which you can read about in his post here
Needless to say, you have to stay on top of things, otherwise you could waste a lot of money.
Rule #3: Monitor Your ROI
I make it a habit of checking my ROI at least once a month. As you gather enough data about your sales, you'll notice that certain products sell well on certain CSEs and other products perform lousy.
If you see product clicks that simply aren't selling, it's in your best interests to remove these products from your data feed altogether. On the flip side, if you notice certain products that are selling very well, you may want to increase your click bids in order to expose that product to more traffic and more customers.
Often times, figuring out your selling trends takes several months and a lot of trial and error. But you need to stay on top of things and react accordingly. I should also probably note that most automated shopping cart data feeds do not allow you to mix and match products from your online store.
So if you purposely want to exclude certain items, you may have to edit the code that generates your product feed directly. In general, it pays to understand how your feed is generated so you can make edits accordingly. Every comparison shopping engine has its own feed format and may require slight modifications to your shopping cart.
I also have one other note of warning. Be wary of CSEs that have affiliate programs for blogs and other publishers. Often times, if your product ads end up on a blog, the conversion rate will be much lower. So just be careful when you sign up for any CSE that runs a publisher affiliate program as most CSEs won't let you turn this off.
Conclusion
The comparison shopping engines are a great way to increase sales for your online store. Because the conversion rates are so high, you can potentially get a lot of bang for your buck by advertising on these services.
So give them a shot! I would start with Google Shopping followed by Amazon Products Ads first to get your feet wet. Then you can experiment with the rest. Good luck!
Further Reading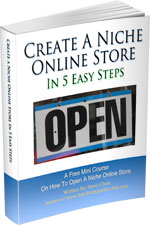 Ready To Get Serious About Starting An Online Business?
If you are really considering starting your own online business, then you have to check out my free mini course on How To Create A Niche Online Store In 5 Easy Steps.
In this 6 day mini course, I reveal the steps that my wife and I took to earn 100 thousand dollars in the span of just a year. Best of all, it's absolutely free!
Similar Posts
Have you read these?