DMOZ, also known as the Open Directory Project or ODP for short, is essentially a web directory much like Yahoo's except that it is maintained by a community of volunteer editors.
What makes ODP special is that the search engines, especially Google, place a lot of weight on your website if you manage to make it onto the directory. In the case of Google, this usually results in a higher page rank and an immediate ticket out of the Google sandbox.
Of course, DMOZ wouldn't carry so much weight if it was easy to get in. The problem with DMOZ is that because it's run by volunteers, it can take forever to make it on the directory if the person in charge of your category doesn't review sites often.
The fact that it takes forever to get in coupled with the fact that you can't really do anything about it makes it really frustrating for shop owners trying to get in. Is it really worth it?
DMOZ Won't Generate You Much Traffic
A few of my friends have made it onto DMOZ and according to their Google Analytics metrics, only a small fraction of visitors actually find their store through DMOZ or any directory for that matter. These days, people either use a search engine or a shopping engine to find the items they want to buy. There are still people who use directories, but their numbers are dwindling with time.
Is it Really Going to Help Your Search Rankings?
This one is a bit harder to quantify. Getting into DMOZ will increase your page rank but I've found that page rank matters very little to the actual search rankings.
The fact that I now consistently break the front page with my targeted search keywords even with a low page rank indicates to me that Google is weighing page rank much less than before. Many of our partner sites are seeing the same sort of behavior.
Is it Worth Your Time?
My advice to you is to submit your website once and then forget about it. Its not like you can do anything about it anyways. If you get in, you get in. If you don't, you don't. It really won't have that much effect on your site traffic. Instead of obsessing over DMOZ, you should spend your time adding content to your store and making it a great place to shop.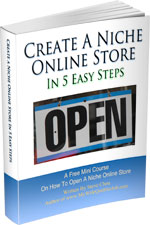 Ready To Get Serious About Starting An Online Business?
If you are really considering starting your own online business, then you have to check out my free mini course on How To Create A Niche Online Store In 5 Easy Steps.
In this 6 day mini course, I reveal the steps that my wife and I took to earn 100 thousand dollars in the span of just a year. Best of all, it's absolutely free!
Similar Posts
Have you read these?