One of the beauties of running a business online is that you don't have to be physically present to accept orders. A computer server can handle and process monetary transactions while you sleep and even fulfill orders for you if you sell digital goods!
But inevitably, you will have to deal with problems or questions about your products. And often times, answering questions will require your personal attention. There's no way around it.
Unfortunately, your time and freedom are both scarce commodities. Chances are if you run a small shop, you probably don't have much bandwidth to handle customer calls.
In addition, you probably don't want to be tied down to your desk or your computer all day either.
After all, you went into business online to give yourself more freedom right? So what is the best way to conduct customer service if you are just a small store? Here are some tips and tricks that we use with our online shop.
Avoid Using Live Chat
My wife and I used to think that Live Chat was the holy grail of customer service. With just one computer, you can answer questions from multiple customers at the same time. Live chat scales well. A lot of big name stores use it. It's very convenient and the cost is not prohibitive either. So why am I telling you not to use it?
The main problem with live chat is that someone has to be behind a computer at all times. Why? It's because as soon as you get up from your computer, your store faces a big catch-22.
On one hand, you can turn your "Live Chat" offline. But when a customer sees that you are "offline" during regular business hours, it looks really bad. Why the heck are customer representatives not standing by when the store is open? Going offline makes your store appear to be understaffed.
On the other hand, you can just place your customer on hold until you can get behind a keyboard when a live chat is initiated. Unfortunately, if you place the customer on hold too long, they'll get pissed off. Even worse, you might get up and do something else and completely forget that you have live chat activated on your site.
End result? You have to stay glued to your computer to handle customer support which kind of defeats the purpose of running your business online in the first place.
Dealing With Phone Calls
Sometimes a customer wants to speak with someone human and as a result, you may have to physically answer calls. But realistically, when you are a small business you can't always be waiting right by the phone. This is where a virtual phone service like EVoice comes in handy.
With a virtual phone service, you can have a single phone number be forwarded to as many other numbers as you want. For example, when someone calls our online store, we can have the call ring our home phone, our office phone and our cell phones all at the same time. So wherever we happen to be, we can pick up the phone and answer the call if we want to.
Related: How To Handle Customer Support With Little Or No Staff Using A Virtual Phone System
A virtual phone service also allows you to establish a menu or phone tree. In the event that you can not answer the phone call, you can have the customer leave a voicemail and bucketize their question according to priority.
If the matter is urgent, you can have them leave a high priority message which can alert you immediately. For common inquiries such as delivery times or store hours, you can direct them to a standard message or a lower priority inbox.
With the rise of smartphones, it is often easier to send email rather than pick up a phone call. For example if my wife is in a loud location like a coffee shop hanging out, she can't answer a call but she can easily send email.
So when a customer calls and we're not available, we set the voicemail greeting in such a way that encourages a customer to email rather than call.
All our representatives are on the phone or busy with other customers but if you need immediate assistance, please email info@yourstore.com and you will receive a reply within a few hours.
What usually ends up happening is that a customer will often call back, jot down the email address and hang up.
Answer Common Questions On Your Website
One of the most common questions we get is when a customer will receive their order. So, we place this information on every single product page and on the shopping cart page as well.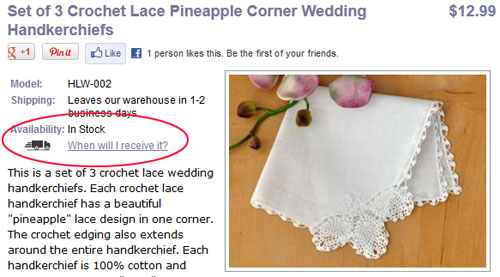 Having a comprehensive FAQ page is a good idea as well, but often times customers will either be too lazy or oblivious to find and read it in its entirety. As a result, you should answer common questions on as many different pages as you can as the customer traverses your website.
Doing so will cut down on the number of phone calls and ease a frustrated customer's concerns early on.
Don't Use Customer Service As An Excuse
I get a lot of emails from readers worried about not being able to deal with customer service in a timely fashion once they get their online store up and running. After all, a lot of new shopowners have full time jobs and/or busy schedules.
But here's my take. If you are getting a lot of phone calls and inquiries, then that's a good thing. You have a lot of people that are interested in what you have to sell and chances are you will generate a lot of sales. Once the call volume gets to a point where it's unmanageable, you'll probably be making enough money to either hire someone to help or to quit your job.
Most of the questions that we get for our online store can be addressed by highlighting content on various pages of our shop. As long as you make an effort to be responsive and answer questions in a reasonable time frame, you shouldn't lose too many customers early on.
The key is to run your store and not have it run you. Use all of the available technology at your disposal.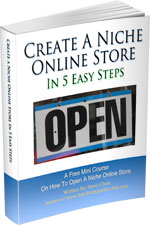 Ready To Get Serious About Starting An Online Business?
If you are really considering starting your own online business, then you have to check out my free mini course on How To Create A Niche Online Store In 5 Easy Steps.
In this 6 day mini course, I reveal the steps that my wife and I took to earn 100 thousand dollars in the span of just a year. Best of all, it's absolutely free!
Note: This post above may contain affiliate links, which means that I may receive a commission if you make a purchase when clicking a link. Please consult our privacy policy for more information.
Similar Posts
Have you read these?