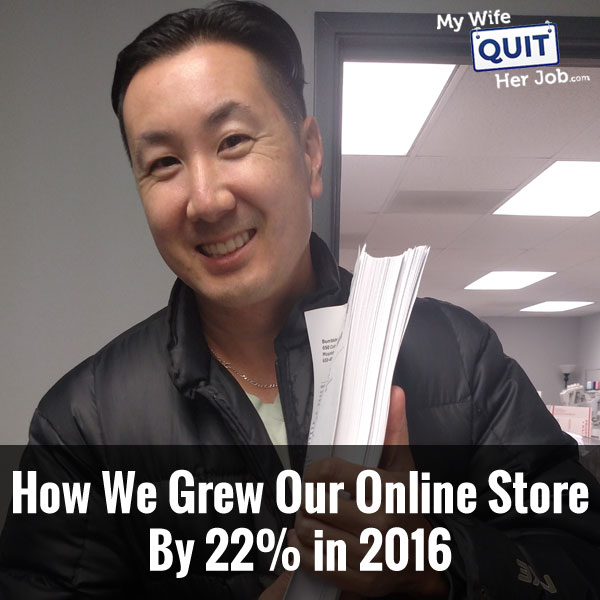 Podcast: Download (Duration: 26:15 — 36.3MB)
My wife just closed the books on BumblebeeLinens.com for 2016 and I'm happy to say that we had another year of double digit growth. In this episode, I go over in detail how we grew and what's in store for 2017.
Get My Free Mini Course On How To Start A Successful Ecommerce Store
If you are interested in starting an ecommerce business, I put together a comprehensive package of resources that will help you launch your own online store from complete scratch. Be sure to grab it before you leave!
What You'll Learn
Why it was a tough year for my shop
Our revenue and profit numbers for the year
The main contributors to growth for 2016
Why conversion optimization is so important
Why you need to keep an open mind
The importance of a mastermind group
Other Resources And Books
Sponsors
Klaviyo.com – Klaviyo is the email marketing platform that I personally use for my ecommerce store. Created specifically for ecommerce, it is the best email marketing provider that I've used to date. Click here and try Klaviyo for FREE.


Privy.com – Privy is my tool of choice when it comes to gathering email subscribers for my ecommerce store. They offer easy to use email capture, exit intent, and website targeting tools that turn more visitors into email subscribers and buyers. With both free and paid versions, Privy fits into any budget. Click here and get 15% OFF towards your account.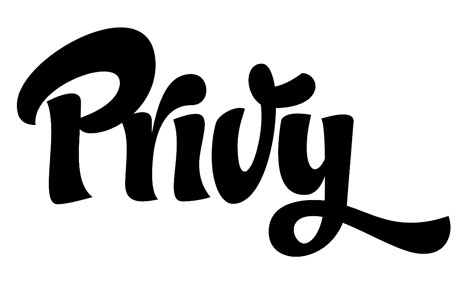 ReferralCandy.com – If you're already getting steady orders every month, adding a refer-a-friend program to your store can give you a new sales channel. And ReferralCandy is the best in the business. Click here and get a FREE $50 credit towards your account.


SellersSummit.com – The ultimate ecommerce learning conference! Unlike other events that focus on inspirational stories and high level BS, the Sellers Summit is a curriculum based conference where you will leave with practical and actionable strategies specifically for an ecommerce business. Click here and get your ticket now before it sells out.


Transcript
Steve: You are listening to the My Wife Quit her Job Podcast, the place where I bring on successful bootstrapped business owners and delve deeply into what strategies are working and what strategies are not with their businesses. I'm Steve Chou, and today we're doing another solo episode where I break down how my online store performed last year and all of the strategies to increase sales for my online store, but before we begin I want to give a quick shout out to Privy who is a sponsor of the show.
Now I'm super excited to talk about Privy, because I use and rely on Privy to build my email list for both my blog and my online store. Now what does Privy do? Privy is an email list growth platform, and they manage all of my email capture forms, and in fact I use Privy hand in hand with my email marketing provider.
Now there is a bunch of companies out there that will manage your email capture forms, but I like Privy because they specialize in ecommerce stores. Privy is easily the most powerful platform that I've ever used, and you can trigger sign up forms based on any primers that you desire. So for example let's say you offer free shipping for orders over $100, well you can tell Privy to flash a popup when the customer has $90 in their shopping cart to urge them to insert one more item.
Here's another cool use case, if someone has item A in their shopping cart, I can easily tell Privy to display a unique and special coupon code for that item or display a related item for purchase. In terms of email capture, right now I'm showing a different email lead magnet depending on what product a customer is browsing in our shop.
So bottom line Privy allows me to turn visitors into email subscribers, which I then feed to my email provider to close the sale. So head on over to Privy.com/steve, that's privy.com/steve, try it for free, and if you decide that you need the more advanced features, use coupon code MWQHJ for 15% off. Once again that's privy.com/steve to try it for free.
I also want to give a quick shout out to Klaviyo who is also a sponsor of the show. Now I'm also blessed to have Klaviyo as a sponsor because they are the email marketing platform that I personally use for my ecommerce store, and I actually depend on Klaviyo for over 20% of my revenues. Now you're probably wondering why Klaviyo and not another email marketing provider. Klaviyo is the only email platform out there that is specifically built for ecommerce stores, and here's why it is so powerful.
Klaviyo can track every single customer who has shopped in your store and exactly what they bought which makes it extremely powerful. So let's say I want to send an email to everyone who purchased a red handkerchief in the last week, done. Let's say I want to set up a special autoresponder sequence to my customers depending on what they purchased, piece of cake, and there's full revenue tracking on every single email as well.
Klaviyo is the most powerful email marketing platform that I've ever used and you could actually try them for free at mywifequitherjob.com/Klaviyo, that's mywifequitherjob.com/Klaviyo. Give them a try, it's absolutely free, and it's a no brainer, now on to the show.
Intro: Welcome to the My Wife Quit Her Job Podcast. We will teach you how to create a business that suits your lifestyle, so you can spend more time with your family and focus on doing the things that you love. Here is your host, Steve Chou.
Steve: Welcome to the My Wife Quit Her Job Podcast. Today I'm doing another solo episode, and last week I reported on the earnings for my blog, and so what I thought I do is report on the earnings for my ecommerce store as well. So those of you that know me know that I also sell handkerchiefs along with my wife at a store at bumblebeelinens.com. If you guys have never visited our site and if you're getting married go over there and I'll hook you guys up, but that's bumblebeelinens.com. If you want to check it out and kind of follow along with what I'm talking about today.
Anyways my wife just closed the books for Bumble Bee linens, and it was another double digit growth year end. This actually marks the ninth straight year of double digit growth, and if you want to put that in perspective, when I was working my full time job not too long ago towards the last several years, I was lucky just to get like a five to eight percent raise.
So when you compare that to our store where we're consistently getting double digit increases in revenue and profits, it's not even a comparison, and it just goes to show that the only way to make life changing money is with your own business. If you're working a day job and unless you have a lot of stock options, it's probably not going to happen.
So we'll get into the numbers a little bit, but 2016 was actually supposed to grow even more with our online store, and I was actually planning on devoting a full half year towards expanding our linens business. But as I mentioned in the last podcast, I ended up officially declaring that I was quitting my job on June 1st, but ended up staying on part time until October 1st.
Now in addition to that I also decided to run my own ecommerce conference and it was the first time that I had run my own event and it ended up being a ton of work. Now I kind of went in knowing that it was going to be a lot of work, but again I didn't know to what magnitude the level of work was going to be. So that ended up taking a lot of time to plan.
And speaking of conferences, I thought I just do a little quick plug for the 2017 Sellers Summit which is my conference; tickets are on sale right now at sellerssummit.com. I'm not going to talk at length about it, but here is my 30 second value proposition for my conference.
Now for those of you who know me I'm big on action and not really on inspiration. Every speaker that I invite actually gets his hands dirty in ecommerce, and will cover actionable strategies to actually grow your business. I'm also not a huge fan of large events where you can kind of get lost in the crowd. So my events will be small and intimate. Last year we only sold 100 tickets, and this way everyone gets to know each other and all the speakers as well.
I'm also not a huge fan of speakers kind of like hiding in their rooms during the event. Last year all the speakers were accessible and approachable, and that's kind of one of the main value adds for my event. So go check out the conference site at sellersummit.com, and hopefully I'll see you guys there. But anyways despite the conference, and the fact that I actually kept working until October 1st, I still made some major improvements to the site which I'm going to share with you guys today.
So first and foremost here are the numbers, so revenues went up 22%, operating profit went up 24%, traffic was flat and increased just 1.7%, but the desktop conversion rate went up 29%, tablet conversion rates increased by 18%, and mobile conversion rates increased by 88%. So a couple of things to point out about these statistics, the traffic was flat, and I actually did not really focus that much on customer acquisition. Instead this year – or last year I should say, I mainly focused on conversion optimization.
So all of my changes were aimed at making more money with what we had, and I'll go into a little bit more depth about that a little bit, but I also want to take a quick moment to talk about the pain. Now 2016 was filled with turmoil, so let's get some of the low lights out of the way first, because I honestly felt that we could have grown more had Murphy's Law not taken place. One thing that just really sucks about ecommerce is that you got to feed the machine, you got to buy physical inventory, unlike digital products everything takes up space.
Towards the latter half of 2016, we were actually at max capacity in our warehouse, and by max I mean that every single nook and cranny was filled with linens, and we had so many that I debated whether to just use our linen like as napkins in everyday use because we just had things just like lying around all over the place.
And here's the thing, we knew our lease was going to run out in 2016, and we knew this ahead of time so we actually negotiated month to month for it to stay, but here is what ended up happening. We had this huge container coming in from China, and we basically had no place to store it because we already were at max capacity in our warehouse and basically this gave us two options.
We could stay at our existing office and basically move a good portion of our business back in our house like a 24 container back in our garage and probably in our office or wherever, we had to find a place to store at our house, or we could just quickly speed things up and move into a larger office, and sign a longer term lease. What ended up happening is we had to make this decision in a hurry and ultimately we decided to move as that was the better long term solution.
So here is the thing, back when we moved into our first office it was really simple, because we didn't have that many linens, but this time around it actually took six guys an entire weekend to move our stuff over. And because we were kind of in a rush like this container was just literally coming in pretty soon, we didn't actually label everything properly, and as a result things were just really disorganized post move.
There were linens everywhere, we had problems finding everything, and to make things even worse we had the holiday season kind of rearing up just around the corner and it was kind of a disaster. Reluctantly my wife asked me to turn off ads, and I didn't want to turn off ads because that's just like leaving money on the table, and so I thought about it and I didn't want my wife to go nuts, and so I reluctantly complied.
What's funny is I just remember the conversation. I was like, "All right we can turn off ads, cool, so how about we turn it off for just like an hour, how about just two hours or four hours, you just need a half day to get back in business, right?" And my wife would come out to me, she's like, "Have you seen the office, plus we have two brand new employees to train, there is no way we can handle all this business right now."
So I didn't want her to go crazy, I value my marriage and my family and my life and so I said fine. We left some money on the table by turning off ads for a while but eventually everything got organized, but that period of I would say three weeks really, really sucked when it came to our business.
I want to take a moment to thank ReferralCandy for being a sponsor of the show. Now in this day and age word of mouth is a huge driver of business for most ecommerce stores, and the best way to amplify word of mouth marketing is through a referral program. And this is where ReferralCandy shines, with just a couple of clicks to the mouse you could add a referral program to your ecommerce store and reward your customers for telling their friends about your shop.
And this tactic works wonders, and in fact it is not uncommon to get a ridiculous return on investment. So for example Greats Footwear, who is a ReferralCandy customer is currently seeing a 20X ROI, and referral word of mouth marketing is also useful for building up your social media presence as well, because everyone is talking about your company with their friends on Facebook and Twitter.
And the best part is that ReferralCandy is a set it and forget it service, requires no technical setup and they are giving My Wife Quit Her Job listeners 50 bucks to try them out if you go to promo.referralcandy.com/steve, once again it's promo.referralcandy.com/steve to get a $50 credit to try out the service risk free. Now back to the show.
Well let's talk about the improvements really, so those are some of the main low lights, but I did get a good amount of work done to actually improve the site, and the biggest change was that I redesigned our entire site. And here is how that kind of came about, because whenever I take on huge projects like I say redesign, it really has to make sense for me to do it.
So here's how it went up. A bunch of us were in a mastermind retreat and we were doing hot seats, and basically what a hot seat is, is you go around, people ask questions and then everyone else tries to help you improve your business. And so when it came to my turn I was like, hey guys, my store the conversion rate is great, it's like we have a 3%, I've got a ton of stuff on my plate and I'm wondering if redesigning the site should be one of those items that I should prioritize for this coming year.
The response to that was very harsh and very immediate, so Mike Jackness was like, you know what, I'm looking at your site, and I don't see how you're making any sales at all. I mean this site looks like it was designed in the 90s. A couple of other guys David and Jason were like, you know I think it needs a new logo, I think it needs brand new pictures all over the place. Dina was like these are the sites I like to buy and improve because there is just so much head room.
But the comment that actually impacted me the most was Kevin Steckel when he said, you know what dude; I actually wouldn't buy your class based on how your store looks alone. And so this roasting actually went on for a good 30 minutes, and I just wanted to crawl up in a hole and die. We were actually in Montana at the time at the Ski Resort, and I just wanted to take the ski lift to the top of the double black diamond and just go straight down.
I tried my hardest not to get defensive which is actually something that I've been working on for many years now. When I'm getting constructive feedback, I try not to just argue with the person, I just take it, I just take the abuse. And so I just kind of sat there quietly and I ended up taking lots of notes. I didn't necessarily agree with everyone's comments, and here is actually my philosophy on website design.
Just because something looks pretty doesn't mean it makes sales, functionality and usability is what determines sales. One of our largest competitors actually has a heinous looking site that does really well. But that being said, there were a couple of principles that I was not doing that I was actually teaching about in the class, and I didn't want there to be this disconnect between what I was teaching and what I was actually implementing. And I actually do believe that you do have to have a minimum threshold and anesthetics on your site to not turn away customers immediately.
So ultimately it just comes down to trust, does your website design inspire trust in people that are actually coming to your site so literally as soon as the abuse or I mean the feedback was actually done, I ended up contacting my web designer that day and I started drawing out sketches in my mind about the improvements that I want to make to my site. And as soon as I got back from the mastermind, literally the day I hoped off the plane, I shut the door and I cranked out a 100% redesigned site in seven weeks.
Now it was a little bit bulky at first, but within a couple of weeks I had worked out the kinks and then I sent that site back to the people at the mastermind for another round of roasting. This time around the comments were much less severe, and it was obvious that it had made a difference based on the conversion rates that I was getting. So within the first couple of months, the uplift that I was getting was pretty dramatic, so desktop conversions were 46%, tablet conversions were 25%, mobile conversions were up 21%.
I was actually getting a lot of positive comments from customers as well who would email me saying, "I love your site, it looks beautiful." Now once again how pretty a site doesn't matter as much as you think, you just have to be kind of on par with your competitors in this department and just do things better. And so you have to express your value proposition very clearly, you have to make things very easy to find and navigate, you have to reassure the customer and establish trust, a customer has to trust you enough to hand over their money to you.
I posted about my site redesign and I'll post another link in the show notes, but I wrote about everything that I considered in my site redesign in very great depth. But if there is anything to be learnt here, it's that when people are bashing on something that you're doing or trying to actually help you by providing constructive feedback, do not get defensive. Instead listen, pick what you agree with and what you don't and then take action immediately while the iron is hot, and when you feel like jumping off the top of a mountain and crawling into a hole and dying.
All right, so back to the income report. One of the things that actually surprised me the most was that the mobile conversion ended up being 88% up in the latter half of the year, and there was actually one very minor change that I made to accomplish this feat which in retrospect I was a complete idiot for not doing this a lot earlier. That one change was actually implementing PayPal one touch.
Now what PayPal one touch is, is it allows a customer to log in to PayPal and all of their information is just magically imported into your shopping cart during check out, so they don't actually have to type out anything. And so also if they happen to be logged into PayPal, the transaction literally is like one click check out on Amazon. And so as you can imagine if you are on a mobile phone, you don't want to type anything, right? It's much easier to just go through, have everything imported from PayPal and you just have to click one button and then check out.
And so this one single change removed the friction off of mobile transactions, and probably was the largest contributor to that increase in conversion rate on mobile. Now I made a couple of other changes as well. The other major change I made was to my Google shopping campaigns after talking to Daniel Packer who I'm actually having on the podcast very soon to talk about Google shopping. Right now Google shopping is the highest converting pay per click ad platform that I personally run on, but I discovered that I wasn't doing the last 5% to maximally optimize my shopping campaign.
So for example my feed wasn't optimized, I wasn't uploading my reviews to the merchant center, I wasn't using structured mark up on my pages. These things incidentally had been on my list of to dos, but sometimes it takes a kick in the butt and talking to somebody to actually get things done, and again I've written about this also which is all included in the show notes after this is done.
Now the other thing that I did which had a pretty good effect as well is I added several new email autoresponders using Klaviyo. Now what's nice about email autoresponders is they are set it and forget it, so for example I wrote new post purchase sequences. Once again these are sequences after someone has purchased from us, and I segmented them based on what they bought. So for example if they bought hankies I sent them a custom post purchase sequence based on handkerchiefs. If they bought napkins, I sent them a very specific sequence based on napkins.
I also put in win back campaigns by sending email to customers who had purchased in the past but had not within a certain amount of time. So for example someone hasn't purchased in 60 days, I sent them a 10% coupon, they haven't purchased in 90 days, I sent them a 15% coupon. And so by sending them gradually increasing coupon amounts and this incidentally is called the discount letter, I'm trying to get customers back to make that second purchase, because it's much easier to get a customer to buy again as opposed to acquiring a brand new customer.
I also put in this nifty abandoned new sequence that basically emails customer suggestions based on what they were browsing. And if you shop on Amazon you've probably noticed this in the past, if you're looking at a certain item, within a couple of hours if you don't buy anything Amazon will send you an email with suggested products that were very similar to what you were actually looking at on your site review.
And then finally I made a bunch of miscellaneous usability fixes that I actually discovered while answering phones on Cyber Monday and Black Friday. And yes business was so good during that period that I actually had to take one for the team and answer customer support calls so we could actually have the other members of the team focus on order fulfillment. Anyway so just to give you an idea of what some of these customers are like, a lot of our repeat customers are over the age of 55, and some of them can actually barely surf the web, and so answering phones for the first time in a long time was actually pretty eye opening for me.
So for example some of my customers could not figure out how to remove items from their shopping cart. What they ended up doing is they were entering zero for the quantity, and the way I had my set up before was I had a specific button to actually remove the item from the cart, entering in zero in the quantity was not removing items from the cart.
And so I fixed that, and other people couldn't figure out, like these were 55 year olds or 65 year olds on their mobile phones. They couldn't figure out where to tap, and the reason for that is I have pictures of the products and item description and the price, but there is no real call to action like add to cart under each item. And so I'm actually still in the process of making all the products and the pictures more obviously tappable on mobile without making the site look ugly, but these are just some of the things I discovered while answering phones and talking to some of our older customers.
But yeah bottom line sometimes you just have to pick up the phone and talk to people to find out what's wrong with your site, and it actually gives you a chance to understand what your customer base is really like and what the pain points with your site actually are. But overall I'm really happy with the 22% increase in revenues, and this year I'm going to do a lot more work on the customer acquisition front now that the foundation is in place and my focus has mainly been on Facebook ads.
Naturally I'm going to report on my progress as more data becomes available, but I wanted to end this Facebook live and podcast episode by addressing a common question that has been brought out to me by several readers, and here's how it reads, "Steve I saw your income report and how you made a million dollars with your blog this past year, congratulations. My question for you is should I go into ecommerce or should I blog? Because you have to actually carry inventory or deal with physical products it seems like running a blog and digital products is so much easier."
So here is my answer to that question. If you need money sooner rather than later, then sell products online, but if you have a three to five year time frame, then in the long run maybe starting a blog makes more sense. To give you some perspective, I didn't actually make a dime on my blog until after a year, and I didn't make anything meaningful with my blog until after three years, and if you contrast that with my online store, we made six figures in our first year, because we were actually exchanging a product for money, whereas with blog and content it can be a lot more ambiguous unless you create a digital content.
And so today I actually run both because both businesses actually complement each other. I treat my ecommerce store like a laboratory where I try all these new things in ecommerce, and then I report on the results at mywifequitherjob.com and my training class at profitableonlinestore.com. I also report these results at my conference at sellerssummit.com. So my advice to you is no matter what you decide, just do something, and stop sitting round pontificating about it. And just depending on what your income goals are in the near term or the long term, pick a business model that is appropriate for you.
Hope you enjoyed that solo episode and I actually want to ask a favor of you. If you wouldn't mind leaving a comment in the show notes and let me know if you would like to see more solo episodes, and because I do them live on Facebook, it's actually good practice for me for my public speaking skills as well. For more information about this episode, go to mywifequitherjob.com/episode148.
Once again I want to thank Klaviyo.com for sponsoring this episode. Klaviyo is my email marketing platform of choice for ecommerce merchants, and you can easily put together automated flows like in abandoned cart sequence, a post purchase sequence, a win back campaign, and basically all of these sequences that will make your online store money on auto pilot. So head on over to mywifequitherjob.com/Klaviyo, that's K-L-A-V-I-Y-O and sign up for free. One again that's mywifequitherjob.com/Klaviyo.
I also want to thank privy.com for sponsoring this episode. Privy is the email capture provider that I personally use to turn visitors into email subscribers, therefore email capture, exit intent, and site targeting tools to make it supper simple as well. Now I like Privy because it is so powerful and you can basically trigger custom pop ups for any primer that is closely tied to your ecommerce store. If you want to give it a try it's free, so head on over to privy.com, that's PRIVY.com/steve. Once again that's privy.com/steve.
Now I talk about how I use these tools on my blog, and if you're interested in starting your own ecommerce store, head on over to mywifequitherjob.com and sign up for my free six day mini course. Just type in your email and I'll send you the course right away via email, thanks for listening.
Outro: Thanks for listening to the My Wife Quit Her Job Podcast, where we are giving the courage people need to start their own online business. For more information visit Steve's blog at www.mywifequitherjob.com.
I Need Your Help
If you enjoyed listening to this podcast, then please support me with a review on Apple Podcasts. It's easy and takes 1 minute! Just
click here to head to Apple Podcasts
and leave an honest rating and review of the podcast. Every review helps!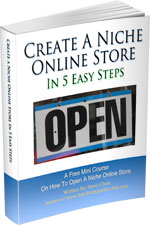 Ready To Get Serious About Starting An Online Business?
If you are really considering starting your own online business, then you have to check out my free mini course on How To Create A Niche Online Store In 5 Easy Steps.
In this 6 day mini course, I reveal the steps that my wife and I took to earn 100 thousand dollars in the span of just a year. Best of all, it's absolutely free!