I was listening to Pat Flynn's Smart Passive Income podcast the other day and his last interview really struck a chord with me.
In this particular episode, Pat featured a young couple that made over $100K in profit by selling surplus goods online.
And their business model was predicated on finding businesses that were looking to liquidate their excess stock, buying these clearance items at rock bottom prices and then selling these goods at retail prices on Amazon.com.
But there was a twist. Instead of having to stock and ship orders themselves, they relied on Amazon to handle all inventory and fulfillment using a service known as Fulfillment By Amazon.
As a result, the only aspect of their business that they had to worry about was inventory acquisition since Amazon took care of everything else.
Anyways, their story really resonated with me because it made me think about how much the ecommerce industry has evolved in the many years since I started selling online.
And their story just goes to show that there are always opportunities out there to make money. You just have to open your eyes, be decisive and take a chance.
Personal Story

The other reason I was very fond of this podcast episode was because I had a very similar business to this young couple when I first started out trying to make money online. Back in year 2000-2001, I used to comb the Craiglist ads looking for bargains.
Since people were always moving around from place to place, you could always find someone who was just trying to get rid of everything at rock bottom prices.
And when I managed to find these people, I'd end up buying all of their stuff for practically nothing. In fact, all you had to do was show up with cold hard cash and the negotiation was easy.
For example, I used to buy computers, stereos, electronics, accessories etc…pretty much anything I could find. And then I'd turn around and sell it all on Ebay for a pretty decent profit. At my peak, I was making about $2000/month in extra income and I was ecstatic.
I even ended coding up a little script which would parse the Craigslist ads and let me know when new deals were available so I could pounce on them as fast as possible. Things were very profitable for about a year until other people started catching on.
As time passed, I found myself competing with many other people for these killer deals. In the beginning, I was always the first to pounce. But after a while, I found that many people started beating me to the sale.
And even though I got real time notifications, I could not respond to the Craigslist ads fast enough and eventually, I could no longer find enough inventory to make significant money on Ebay.
Amazon Is Changing The Game


When it comes to plain vanilla arbitrage, the markets will always stabilize over time. This is what I saw with my Craiglist experience and now Amazon is threatening to stabilize the entire ecommerce landscape by commoditizing the entire sales process.
With services like "Fulfillment By Amazon" where you can pay someone to pack and ship orders for you, it has become easier than ever to sell items online without any headaches while leveraging Amazon's gigantic brand name.
As I was listening to Pat's podcast about the couple selling surplus goods, I couldn't help but think about how it was just a matter a time before these surplus stores realized that they could simply ship their excess goods to Amazon and get rid of them at a much higher profit margin.
Think about it this way, if Amazon is taking care of warehousing and fulfilling, what do they have to lose? Even though Amazon takes a 33% cut of the proceeds, 66% of retail pricing is way better than liquidation prices.
It's also just a matter of time until other people find out about these liquidation flash sales and make these opportunities much harder to find. That's just the way the free markets work.
Unless you have a real business name or brand, you are always in danger of getting pushed out.
That is why my Craigslist operation ultimately failed.
Amazon Is Turning Ecommerce Into A Commodity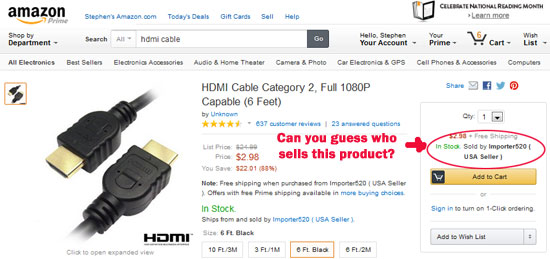 Amazon is a huge juggernaut in the ecommerce space and more and more people are selling there because they have such a huge audience. And if you've ever shopped on Amazon before, you've probably noticed that even though you might be buying from a non-Amazon store, it still looks like you are buying from Amazon.
In other words, every time a sale is made on Amazon, Amazon is getting the mind share and branding for the sale regardless of which company is actually making money selling the product.
With fulfilled by Amazon, this loss of mind share is even worse. Because Amazon is responsible for shipment (customers are eligible for prime) and returns, you may as well be buying direct from Amazon.
So what's my point here? As more and more online businesses start selling on Amazon, more and more products will start getting commoditized which will eventually drive prices and margins down to practically nothing.
Because there's no real concept of branding on Amazon, customers will simply buy based on price and it will become a slow death spiral to the bottom of the pile. This is what Amazon is doing to ecommerce and it's all a part of their master plan.
Should You Avoid Amazon Altogether?
So what can you do about this? Should you avoid selling on Amazon altogether? Should you just give in, sell on Amazon and deal with tighter margins and falling prices? No way! The best way to succeed in the ecommerce world is to sell non-commodity products.
The best way to succeed in the ecommerce world is to establish your own brand, your audience and your own legion of fanatics who are loyal to your store. If you sell commodity products that everyone else carries and you don't add any value, you will ultimately fail.
That is why I believe that people who rely on Amazon as their only marketplace will eventually see eroding profit margins over time as more and more people start listing their products there.
On the Ecommerce Fuel Forums (which I highly recommended BTW), I've even heard chatter about certain vendors in China bypassing traditional retailers and simply listing their goods on Amazon.
If you are just a vanilla online store selling vanilla products, then it just becomes a pricing game. And as with any pricing game, you will ultimately lose unless you have a special arrangement with your manufacturer that no one else has.
How To Sell Successfully Online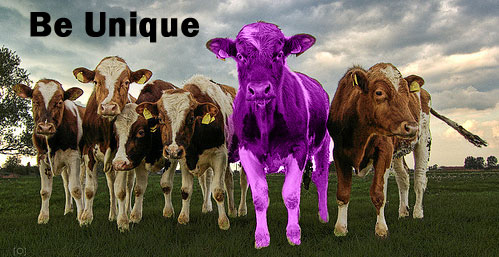 So what can you do about this? The absolutely best way to combat price erosion is by offering a unique value proposition with your store.
If you can't think of anything special about your online shop or you can't stand out in some way shape or form, then I wouldn't even bother opening a store.
There are many ways to make your store standout. Here are a few things that you must do.
Create educational content about the products you sell. Creating quality content is the best way to become an authority in your niche and being an authority is a very powerful position to be in. If customers recognize you as the expert in whatever you are selling, you will make sales even if you are priced a little higher.
Create a brand for your shop. When you sell on Amazon, you are just a nobody. But when you have a brand, then you have the power to influence the purchasing decision. Make sure you can provide some sort of value add with everything that you are selling. If possible, creating your own products or re-brand existing products. Do not underestimate the power of repeat buyers and word of mouth
Create a customer email list. Even though outside forces like Amazon and Google can bring you down, they will never be able to touch your customer list. In fact, your email list will often be the single most important marketing leverage that you'll have. Start an email list early and don't lose touch with your existing customer base
Conclusion
Amazon is changing the face of ecommerce and it has become more important than ever to make your shop stand out. If all you can do is compete on price, then you will eventually fail.

So take the time to establish a brand. If you don't have a unique value proposition for your business, then it's time to get one. Just because things might ok for your store right now, doesn't mean that your prices won't erode over time.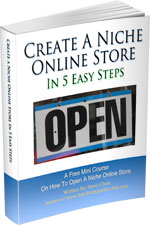 Ready To Get Serious About Starting An Online Business?
If you are really considering starting your own online business, then you have to check out my free mini course on How To Create A Niche Online Store In 5 Easy Steps.
In this 6 day mini course, I reveal the steps that my wife and I took to earn 100 thousand dollars in the span of just a year. Best of all, it's absolutely free!
Note: This post above may contain affiliate links, which means that I may receive a commission if you make a purchase when clicking a link. Please consult our privacy policy for more information.
Similar Posts
Have you read these?