LinkedIn is arguably the most powerful social media network for many online business owners. I say that from personal experience.
LinkedIn has brought my fledgling freelance writing business far more referrals than Facebook and Twitter combined.
Related: How To Get More Facebook Fans With A Facebook Reveal Tab Or Fan Gate
Don't get me wrong – I'm as much of a social media junkie as the next blogger, and I love "The Big Two", but LinkedIn has provided more of a quantifiable benefit to my business. It's that simple.
Why is LinkedIn So Good For Business?
Each social media network attracts a certain broad demographic.
Facebook tends to attract older, more modestly educated users. Twitter attracts a fairly young, technologically savvy crowd. Meanwhile, LinkedIn is purely and simply aimed at professionals – which is why over half of its users have a bachelor's or graduate degree.
These demographics should of course be taken with a pinch of salt, but the bottom line is this – people who use LinkedIn are looking to make connections that will benefit their career or business. It doesn't take much of a logical leap to understand that if you place yourself within that environment, you have a chance of benefiting your own business.
Related: Pinterest Marketing For Ecommerce And Online Stores – The Ultimate Guide
In my experience, people who seek out business associates via LinkedIn are typically motivated and willing to pay a good price for a good job. If you have been in business for any length of time, you will know that such prospective clients are worth their weight in gold. Generally speaking, I'll take one such referral over five received from other sources.
Setting Up Your Profile
Assuming that you are sold on the power of LinkedIn, you will need to spend a little time putting together a meaningful profile. Here's a screenshot of my summary profile: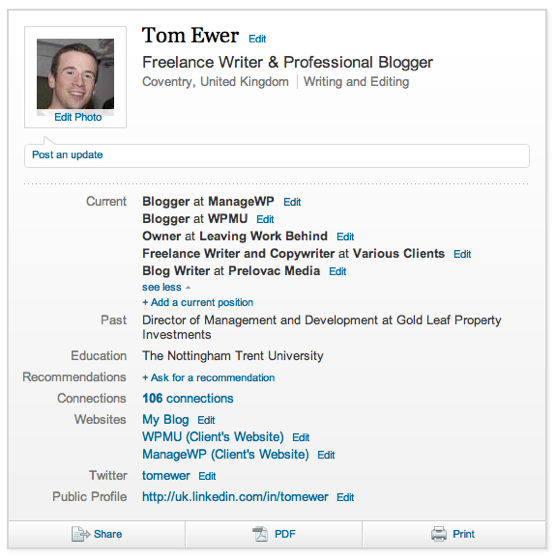 As you can see, all of the vital pieces of information are there:
Name
Location
Profession
Current clients/businesses
Past clients/businesses
Education
Recommendations
And more. Below that, you have an opportunity to expand upon your basic information with a summary, details of your experience, skills and expertise, and so on.
As far as I can tell, the more you put into your profile, the more you will get out. My LinkedIn profile was once a rather sparse, half-hearted effort. Then one day, on a whim, I spent 15 minutes working on it. The very next day, I received my first referral (which turned into my highest-paying client to date).
Making Connections
One thing I have found with LinkedIn is that people will find you – typically through search or recommendations (you can never have enough of those, and that is something I have neglected to date). However, if you are keen to seek out new business, you can certainly take the initiative.
Your first port of call will be to add any and all friends, colleagues, alumni…simply anyone that you know. You can use LinkedIn's various import/find tools to do this quickly and easily.
However, LinkedIn is not like other social networks. You must demonstrate that you know someone in order to connect with them. It is not a place for virtual "cold calling" – you want to try to establish relationships with people you know, and grow your network from there. Of course, if you have a genuine reason for wanting to connect with someone who may not know you (say you heard that a business is looking for the kind of work that you handle), it could be worth a try.
You can encourage people to connect with you via LinkedIn by:
Adding a link to your profile on your website and/or blog (I've had prospective clients find my blog, then go to my LinkedIn profile to contact me, because they see that as the "professional port of call").
Getting involved in LinkedIn Groups pertaining to your market.
Participating in LinkedIn Answers.
The more visible you are on LinkedIn, the more likely people are likely to sit up and take note.
What Then?
No social media network offers instant benefits to businesses (unless they are paid for), so may have to be patient in waiting for LinkedIn to offer a return on your modest time investment.
Once you have set up a good profile, and you're investing just a few minutes per day within the LinkedIn community, it should just be a matter of time before you receive your first referral. From that point onwards, the snowball effect should start to take over.
Has LinkedIn benefited your business, and if so, in what way(s)? Or have you used LinkedIn before, and found that it has had little to no effect on your goals? Let us know in the comments section!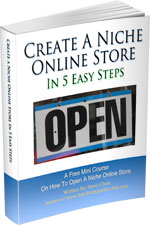 Ready To Get Serious About Starting An Online Business?
If you are really considering starting your own online business, then you have to check out my free mini course on How To Create A Niche Online Store In 5 Easy Steps.
In this 6 day mini course, I reveal the steps that my wife and I took to earn 100 thousand dollars in the span of just a year. Best of all, it's absolutely free!
Similar Posts
Have you read these?