I'm not sure why, but my stumbleupon toolbar has been sending me mostly articles lately on entrepreneurship. In just the past few days alone, I've probably read more than 5 or 6 articles focusing strictly on the traits of successful entrepreneurs.
Even though I love articles about entrepreneurship, after reading just a few of these they all started to sound generic and blended together in my mind.
"Learn to fail", "Learn from your mistakes","Understand your weaknesses" etc… Don't get me wrong. These articles all offer great advice but it is difficult to truly comprehend and describe these character traits in words unless you've truly worked with and experienced them first hand with real people.
Over the years, I've had the luxury of working with and hanging out with many successful entrepreneurs, most of whom I became friends with in school or through various clubs and projects.
While each and every one of my friends possess different attributes that allow them to succeed, I thought that I'd try my best to compile some of the best of these traits below. So here's my top list.
Successful Entrepreneurs Don't Get Bogged Down With Little Details
Almost all of my friends who started very successful companies all had this uncanny knack for staying focused and not getting sidetracked by minute details.
Personally, I rate this character trait as the most important one because it happens to be one of my greatest weaknesses.
Looking back, when I first started up our wedding linens store with my wife, I kept getting stuck on stupid meaningless details.
For example, when I first created our website, I remember one day when I spent close to 8 hours tweaking the look of the sidebar and header for the online store.
I would move our logo 10 pixels to the right, make the sidebar just a little bit wider and move things all around.
After all of that tweaking, everything still looked pretty much the same and I wasted many hours that I could have been devoting to developing the business, especially in the early stages.
Good entrepreneurs know their priorities and will rarely waste time in any activity that doesn't directly affect their end goal.
Speaking from experience, it's all too easy to become engrossed in something that appears be significant on the surface but actually doesn't really matter at all. Prioritize!
Successful Entrepreneurs Know When Someone Else Can Do The Job Better And Faster
One of the easiest traps to fall into is to try and do everything yourself especially if you aren't the right person for the job. Most entrepreneurs will often try to save money on a bootstrapped budget even if doing so is not inline with their goals.
They don't take into account the time aspect of the work and think strictly in terms of dollars.
But the best entrepreneurs know the best use of their time. They know what they are good at and when to outsource. Personally, I fell into this trap several times during the first year.
For example, not knowing anything about web development or programming php early on, I should have had no business at all designing my own website.
As a result of my lack of experience, I ended up spending a lot of time writing code that was already written by someone else before.
I devoted countless hours learning and struggling through something that I could have easily hired someone else to do in a quarter of the time.
Looking back, I don't regret my decision to learn about web programming as I'm now pretty much self sufficient when it comes to web development.
However, my wife and I could have realistically launched our online store several months earlier had we hired someone else to do the job…which brings me to my next favorite trait.
Successful Entrepreneurs Know How To Do The Bare Minimum Just To Get By
Most of time, you don't really need to know very many things in true depth unless it is one of the core competencies of your business. Successful entrepreneurs are adept at learning and doing just the right amount of research and work to get by and not an ounce more.
For example going back to the web programming analogy once again, you don't really need to master the language of the web in order to create a great looking website.
The fact is, most of the code that you require has already been written for you by someone else. You just need to do the research and find the bits and pieces that you need and put it all together.
As a result, you can get by with writing very little code that just customizes what you are trying to do.
Great entrepreneurs don't create anything from scratch unless they absolutely have to!
Successful Entrepreneurs Are Excellent With People
Going out of your way to help others is my favorite trait of successful entrepreneurs. I'm not sure if it's coincidence, but my most successful friends have gigantic networks of people who are always willing to help.
And I think they've established these networks out of creating mutually beneficial relationships with each other.
I've never met a successful entrepreneur who also wasn't an excellent people person as well. It seems as though making friends and helping others comes with the territory. Encouragement and fostering lasting relationships is what I love about networking with new people.
Above all else, being a successful entrepreneur is about listening to other peoples' problems and finding solutions. Great entrepreneurs simply have a knack for fixing things. The more people they can help, the more successful they become.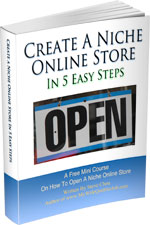 Ready To Get Serious About Starting An Online Business?
If you are really considering starting your own online business, then you have to check out my free mini course on How To Create A Niche Online Store In 5 Easy Steps.
In this 6 day mini course, I reveal the steps that my wife and I took to earn 100 thousand dollars in the span of just a year. Best of all, it's absolutely free!
Similar Posts
Have you read these?