Beginning in 2007, all of the businesses that I've been involved with have consistently grown in the double or triple digits every year. And overall, I've started 3 six figure businesses online.
First, there was my ecommerce store that I launched with my wife in 2007.
The following year I began blogging at MyWifeQuitHerJob.com. 2 years later, I launched my online store course. Last year, I started the My Wife Quit Her Job podcast.
And this year, I'm held my very first ecommerce conference called The Sellers Summit which sold out quickly and was a major success!
Editor's Note: If you are interested in learning how to start your own online store, click here to take my FREE 6 day mini course on ecommerce.
My online store, my blog and my ecommerce course EACH generate a very healthy six figures in profit and the podcast recently started earning revenue as well. (Click here to read my yearly income report for my blog and my online store respectively).
Meanwhile by day, I still work a full time job as a hardware engineering director designing microprocessors.
Update: I finally decided to quit my day job. Here's why
While this sounds like a lot of projects to take on in addition to hanging out with my 2 kids, the truth of the matter is that I still feel like I have tons of free time.
I spend every weekend with my family and rarely do I ever feel stressed out during the week.
In fact, I've been asked the same question many times in the past. How do I manage to fit so much stuff into my schedule, grow my businesses and still have time for family and a full time job? Here's how I operate.
Get My Free Mini Course On How To Start A Successful Ecommerce Store
If you are interested in starting an ecommerce business, I put together a comprehensive package of resources that will help you launch your own online store from complete scratch. Be sure to grab it before you leave!
I Avoid Context Switching
First off, I avoid context switching at all costs.
Using microprocessor lingo, context switching is when your CPU switches back and forth between different tasks. For example when you are using your smart phone to flip back and forth between apps, your processor is frantically trying to toggle between different tasks or contexts.
Now you might not be aware of this but there's a pretty major penalty every time a CPU has to do this. For example, it has to remember where it left off with the previous task, load things back into memory for that program and then continue.
Lots of CPU cycles are wasted in the process.
Humans are no different. Have you ever tried to do work on your computer only to find yourself browsing Facebook, Twitter, or Instagram and then flipping back wondering where the heck you left off?
Have you ever looked at your "To Do List" and tried to tackle more than one thing simultaneously? This used to happen to me all the time.
Every time you change tasks, you waste valuable time and brain power.
Today whenever I sit down at my desk, I aim to accomplish at most 1 or 2 goals for the day. And I crunch through all of them with zero distractions until I'm done.
And by zero distractions, I literally mean zero!
I don't answer the phone. I don't check texts. I don't check email. Heck, I don't even eat or drink! I'm in the zone.
When it's time to get work done, it helps to have only 1 thing in mind to accomplish for the day. Anymore will cause you to waste brain power switching contexts. And it's a given that you must block out Facebook and other social media distractions.
What this also means is that you have to fiercely prioritize. After all, when your objective is to accomplish only 1 thing for the day, that 1 thing better be important.
I Ensure Forward Progress

Do you ever feel like you're working hard on your businesses but not making forward progress? Do you ever feel like you are just treading water? I know I've felt this way in the past.
For me, every single week there are a lot of "maintenance" tasks that need to take place just to keep things afloat.
For example every week I publish at least 1 blog post and 1 podcast. Now on the surface, this doesn't seem like a lot but writing these posts takes a hell of a long time.
First off, every article takes hours to write. Then I have to proofread and search for images before it can be published. Finally, I have to write an email blast that goes out to my list.
Likewise with the podcast, I have to spend time arranging interview schedules with my guests. Then the audio needs to get edited along with show notes and an image as well.
Note: I also have to answer emails, take care of my students and other course related tasks as well.
All of the above is what it takes just to keep the motor running from week to week. And if this is all I accomplish, the status quo stays the same and my businesses do not grow.
In order to actually grow the business, I need to do outreach/marketing, get featured on other podcasts/blogs and work on my sales funnels and new products to sell.
So to prevent stagnation or "treading water" syndrome, I dedicate 1 day out of the week towards the pursuit of forward progress. And on this 1 day, I do not do any maintenance tasks whatsoever.
Every minute of that day is devoted to growing all of my businesses.
For example, last week I implemented a brand new abandoned shopping cart sequence for my online store. The week before that I improved and added to my email autoresponder sequence for my course. Several weeks before that, I implemented a brand new PPC ad campaign.
Because I dedicate this one day towards growth, I tend to finish my "maintenance tasks" much sooner and my businesses always move forward.
Progress is sometimes slow but it's consistently up and to the right.
I Outsource Repetitive Tasks

Before I launched my podcast, my schedule was pretty cushy. I was only writing once a week and I could easily fit everything business related within a 5 hour a week time window on my own.
But then I started my podcast and my schedule went out the window.
Here's the thing about running my podcast. I interview guests as the main feature of the show. And as a result, I have to cater to their schedules at the expense of my own. Sometimes a guest can only do an interview during lunch.
So what do I do? I have to drive 20 minutes back home, do the interview, and then schlep my way back to the office on a weekday. Sometimes, the guest can only chat at 7am so I have to roll out of bed half asleep, do the interview and then rush the kids off to school.
Then there's editing the podcast which takes a TON of time. You'll notice that my podcast audio tends to have very few pauses and ums and that's because it's all post processed for your listening pleasure.
In addition, an image needs to be created (for Pinterest purposes) and show notes need to be written as well.
For a while I was doing all of this myself and nearly burned out in the process. Thankfully, I found a friend of mine to do the editing for me and she's been awesome. These days, I just drop off the podcast audio on dropbox and it magically comes back edited within a few days.
Likewise, I drop off the audio to my transcriptionist and my podcast magically gets transcribed within a week. I've also hired people to do some of my image creation and handle my Pinterest accounts too.
While I can't outsource the actual interview portion of the podcast, almost everything else is taken care of.


After you've run your businesses for a while, it's easy to become complacent and stagnant. For example, 2 years ago my online store barely grew in the double digits because I sat back and didn't try very many new marketing strategies.
Now it's not because I was being lazy per se but it's because I didn't know what I didn't know. I didn't have much new to try because I wasn't aware of the possibilities.
Fast forward to today, I consistently meet with several mastermind groups on a regular basis. And by talking to other entrepreneurs, I'm pushed to try new strategies and tactics for my businesses.
For example, the reason I tried Bing ads was because one of my ecommerce buddies made fun of me for ignoring the #2 search engine in the US!
The reason I tried Facebook ads in the first place was because of a talk I attended at an ecommerce conference.
The reason I started selling on Amazon is because Lars Hundley hounded me into submission.
In the latter of half of this year, I plan on giving more webinars because one of my podcast guests, Grant Baldwin, got me really excited about it.
When it comes to growing your businesses, it always helps to share your experiences with other entrepreneurs. By educating each other in regards to what's working and what's not, you can be more efficient with your time.
Conclusion
When it comes to time management and growth, it's more of a mental hurdle to overcome than anything else. In reality, you have a lot more time than you think and it's just a matter of reducing the waste.
To sum up this entire post, here are the keys to the success and growth of your businesses.
Focus on 1 task at a time and remove all distractions.
Always dedicate at least one day towards growth.
Share your successes with other entrepreneurs.
Outsource repetitive tasks.
If you do these things, your revenues will consistently grow up and to the right!
photo credit: Hlpwntd Pero Mrnarevic, Americana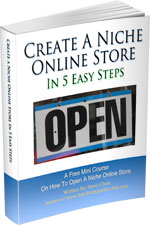 Ready To Get Serious About Starting An Online Business?
If you are really considering starting your own online business, then you have to check out my free mini course on How To Create A Niche Online Store In 5 Easy Steps.
In this 6 day mini course, I reveal the steps that my wife and I took to earn 100 thousand dollars in the span of just a year. Best of all, it's free and you'll receive weekly ecommerce tips and strategies!
Note: This post above may contain affiliate links, which means that I may receive a commission if you make a purchase when clicking a link. Please consult our privacy policy for more information.
Related Posts In Productivity
About Steve Chou

Steve Chou is a highly recognized influencer in the ecommerce space and has taught thousands of students how to effectively sell physical products online over at ProfitableOnlineStore.com. 

His blog, MyWifeQuitHerJob.com, has been featured in Forbes, Inc, The New York Times,  Entrepreneur and MSNBC.  

He's also a contributing author for BigCommerce, Klaviyo, ManyChat, Printful, Privy, CXL, Ecommerce Fuel, GlockApps, Privy, Social Media Examiner, Web Designer Depot, Sumo and other leading business publications.

In addition, he runs a popular ecommerce podcast, My Wife Quit Her Job, which is a top 25 marketing show on all of Apple Podcasts. 

To stay up to date with all of the latest ecommerce trends, Steve runs a 7 figure ecommerce store, BumblebeeLinens.com, with his wife and puts on an annual ecommerce conference called The Sellers Summit.  

Steve carries both a bachelors and a masters degree in electrical engineering from Stanford University. Despite majoring in electrical engineering, he spent a good portion of his graduate education studying entrepreneurship and the mechanics of running small businesses.