My wife just closed the books on my blog revenue for 2015 and it was an amazing year once again! If you recall, I started the year out strong by growing 122% year over year for the first half of 2015.
But unfortunately, I couldn't maintain that same level of growth for the second half of the year. I tried my best but I would have had to go nuts and sacrifice my sanity in order to maintain that pace.
All told though, I'm pretty happy with 96% year over year growth which means that my blog generated a hair over $700,000 in revenue this year.
$700K!?!? I'm still pretty amazed with that number considering I spend on average between 10-15 hours per week on the blog.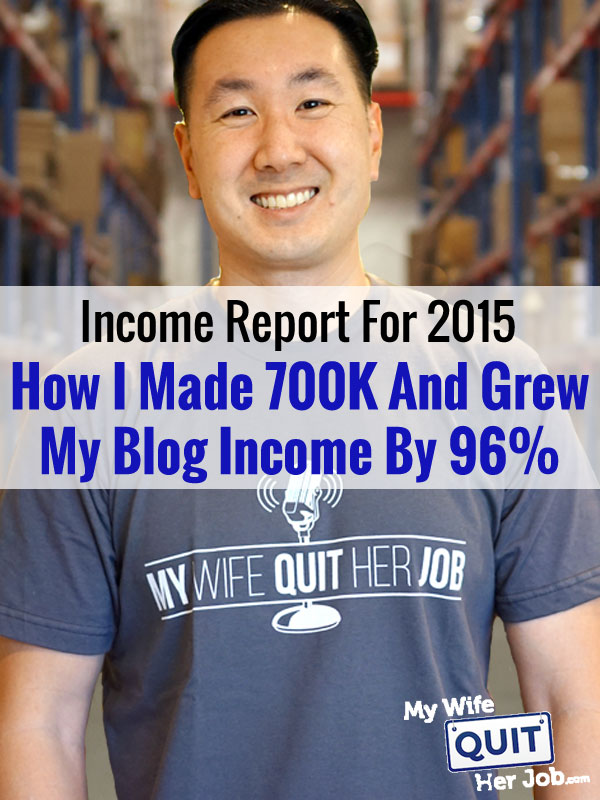 If you compare that to my paltry work salary where I devote 32+ hours per week, it's no comparison. Once again, I want to reiterate that if making money is your goal, then working for someone else is not the answer!!
Anyway when I excitedly told my mom the great news, I didn't quite get the reaction that I was looking for…
I still don't understand how you can make so much money writing and podcasting. Why would anyone ever pay you so much to hear you talk?
And that in a nutshell my friends is what it's like to grow up in an Asian household. No love for Steve.
Here Are The Numbers
First off, here are the numbers for 2015
Revenues increased by 96% from the same period last year
Profits increased by 97% from the year before
August was the highest month ever where I generated 102K of revenue in a single month!
I had my single highest day of earnings ever at 67K
Traffic increased by 82.3% from the year before
My ecommerce course continues to sell very well despite the price increase
What's incredibly awesome about blog revenue is almost all of it is pure profit. In fact, I don't really have many expenses at all with the exception of hosting, email marketing and Facebook ads.
In fact, when Amy Porterfield interviewed me for her podcast last month, we shared some of our numbers and she asked me…
Steve, how large is your staff and what software do you use to manage your team?
And I was like team? Uh….I have someone editing my podcasts but that's it. To manage my "vast" resources, I text my podcast editor and put an episode in the dropbox.
Then I told her how I still worked a full time job and she pretty much flipped out.
Here's the thing.
Blogging and teaching an online course is just about the most scalable business model out there. The only problem is that it takes FOREVER to build an audience and make your first dollar.
But after you put in the time (it took me 3 years to generate anything significant), it's all downhill.
And unlike other entrepreneurs who want to scale their businesses and hire a workforce, my goal is to purposely NOT build a large team.
In fact, I'm actively trying to avoid hiring and leverage computers as much as I can. Not only are computers more reliable but they scale much better too. But I full on realize that I need to hire for certain roles.
For example when I first started my podcast, I did all the editing myself and I knew immediately that it had to stop right away because it took too much time. So I hired someone immediately.
But outside of podcast editing, I didn't feel the need to bring on another team member in 2015.
Business gurus will probably frown upon this attitude but if you look at my lifestyle, I have tons of free time despite working full time, blogging, podcasting, teaching, running an ecommerce store and now running a conference!
Quick Plug: Let's meet in person at the 2016 Sellers Summit! Buy your tickets now before they go up in price in February.
That being said, I'm looking to hire 1 person in 2016 to help manage my various communities.
The Game Changer In 2015

When I first published my income report for the first half of 2015, I was really only expecting to make 500K by the end of the year despite the strong start.
And up until that point, my email autoresponder was responsible for most of my sales. But things changed in the middle of 2015 when I met up with my buddy Grant Baldwin at a conference and he told me about his success with webinars.
Webinars?!? Why would I give a live presentation when I could sit back and let my email autoresponder sell on autopilot?
Initially, I resisted. But heavy encouragement from both Grant and my friend Toni finally put me over the edge and I decided to launch my first webinar in August which generated $60K for 90 minutes of work.
I was dumbfounded. So I did it again and again.
Related: How My First Live Webinar and 1.5 Hours Of Work Resulted In A $60015 Payout
All told, I generated almost 200K in revenue from webinars in the last 3 months of the year which allowed me to achieve a new record for 2015.
Note: I probably would not have tried webinars if I did not meet Grant at a conference that year. Hanging out with like minded entrepreneurs is VERY important!
The Importance Of Networking And Conferences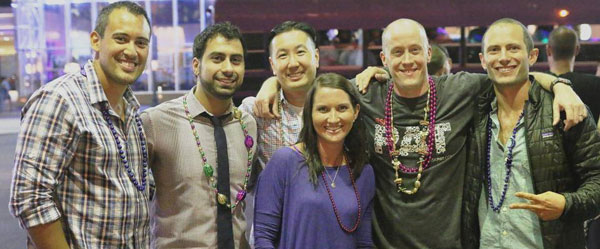 When I look back on my short entrepreneurial career, I have come to realize that my periods of greatest growth occurred after I started attending conferences.
Sure, it can be a major hassle to find babysitting (if applicable), hop on a plane and travel to a foreign destination for a weekend conference, but it's 100% worth it.
In fact, once I started to realize that networking and meeting new people was a major and essential component of business, I purposely started my podcast in an effort to reach out to more people.
You didn't think that I started podcasting for the money did you?:) Podcasting was actually my super secret way of meeting new people WITHOUT having to attend conferences.
Let's face it. With 2 growing kids and multiple businesses, I have to pick and choose my battles. I've got 4 conferences in me per year, 5 tops. And my podcast allows me to meet people virtually on a deeper level.
But that being said, there's NOTHING that can replace face to face contact which is why I've decided to launch my own conference this year!
The Sellers Summit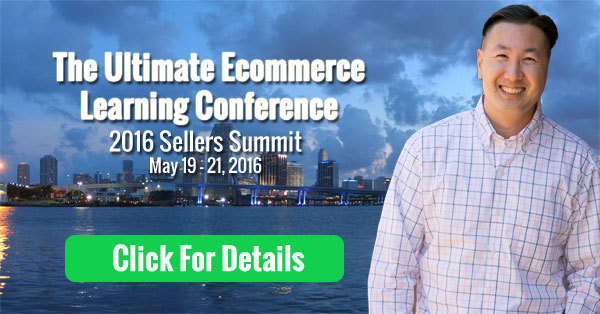 Now there are a ton of conferences out there to choose from, but I wanted to create an event that focused purely on learning and taking action.
This meant 2 things.
One, the conference had to be small and intimate in order to foster an environment conducive to learning. That is why I'm only selling 100 tickets. Picture small round table discussions as opposed to large auditoriums.
Two, I wanted all of the sessions to be actionable and teach techniques and strategies that could be implemented immediately in real time at the conference.
Have you ever attended a conference, listened to a fluffy inspirational speech, got all pumped up and ready to work only to have that feeling die down after a few weeks?
Here's the thing.
Inspiration is great but it will only get you so far. But knowledge does not wear off and you'll be inspired by your own results rather than someone else's success story.
This is why I have carefully hand picked expert speakers who will teach you specific skills that will be directly applicable to your business.
Here's a short list of who's coming and what they'll be covering.
Steve Chou – I will be giving several talks at the conference which are still TBD but possible topics include Advanced Google Shopping, Google Adwords, Facebook Advertising and Comparison Shopping Engines.
Scott Voelker – Scott runs the Amazing Seller podcast, a top 25 business podcast on iTunes, and is known for making 47K in 90 days selling on Amazon. Scott is an incredible instructor and will be teaching new people how to get started selling with their first product.
Greg Mercer – Greg makes $400K/month selling on Amazon and is also the creator of the popular tool Jungle Scout, the leading Amazon product research tool online. Greg is a master of finding profitable products to sell on Amazon.
Toni Anderson – Having run Pinterest advertising campaigns for multi-million dollar companies such as Savings.com and working with brands such as Kraft, Musselmans, Toni will teach us all about Pinterest advertising.
Andrew Youderian – Andrew is the founder of the incredibly popular blog/podcast at EcommerceFuel.com and a 7 figure dropshipped online store at RightChannelRadios.com. He's an expert in dropshipping.
Lars Hundley – Lars has been selling online since 1998 and is the founder of several 7 figure ecommerce stores. He's an expert at creating and importing custom products made in China.
Drew Sanocki – Drew founded his first ecommerce company, DesignPublic.com, shortly after receiving his MBA from Stanford and went on to sell it in 2011. He's an email marketing expert and specializes in growth strategies for ecommerce stores.
Neville Medhora – A seasoned copywriter and former ecommerce store owner, Neville regularly consults with 7,8 and 9 figure companies on how to improve their writing. His expertise lies with writing copy that sells
Eric Siu – Eric is the CEO of the digital marketing agency Single Grain and the founder of the entrepreneurial podcast, Growth Everywhere. He's an expert at Facebook ads, YouTube ads and Adwords.
Spencer Haws – Spencer is the founder of the widely used keyword research tool, Long Tail Pro. He will be leading the discussion on SEO
Daniel Solid – A seasoned Amazon seller and ecommerce strategist, Daniel specializes in product selection, sourcing & packaging, and launching profitable private label products sold on Amazon. He will be leading the discussion on advanced Amazon strategies.
Andreea Ayers – Andreea Ayers' first clothing business went on to achieve 6-figure sales in just 18 months by leveraging free publicity in magazines and the media. She's a publicity expert and will show you how to get your business featured in the media.
Note:There are still more speakers to come!
I'm a strong believer in conferences which is why I'm putting on my own event focused on the best of both worlds, networking and learning.
If you are a newbie, you will leave the conference with a product to sell and a solid strategy for making online sales.
If you are an existing store owner, you will learn actionable tactics and strategies that will take your business to the next level.
There are only 100 tickets available (many of which are sold already).
So join me next May 19-21 in Miami, Florida and let's hang out! I'm looking forward to meeting you all!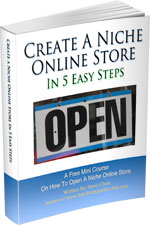 Ready To Get Serious About Starting An Online Business?
If you are really considering starting your own online business, then you have to check out my free mini course on How To Create A Niche Online Store In 5 Easy Steps.
In this 6 day mini course, I reveal the steps that my wife and I took to earn 100 thousand dollars in the span of just a year. Best of all, it's free and you'll receive weekly ecommerce tips and strategies!
Note: This post above may contain affiliate links, which means that I may receive a commission if you make a purchase when clicking a link. Please consult our privacy policy for more information.
Similar Posts
Have you read these?