It's still early on in the year, but our online store is poised for yet another 30%-40% increase in year over year profit.
And believe it or not, our little online wedding linens store has now shown 4 consecutive years of double digit growth.
At this point, the shop easily makes more than double my day job income and the business still seems to be growing every year despite my skepticism and disbelief.


My blog, MyWifeQuitHerJob.com, is also seeing similar growth, setting record traffic and income numbers that continue to grow exponentially.
The affiliate and ad revenue for my blog has more than doubled from the previous year and there doesn't seem to be any end in sight.
Furthermore, my Create A Profitable Online Store Course now has well over 125 350 3300 students and continues to grow. Because I've been consistently adding new content every single week, the course now contains well over 35 100 hours of video content which continues to expand!
In light of all of my recent success, I've been getting asked the question of why I still work at my day job. So today, I thought that I'd take a few moments to explain why I'm still employed and when to quit your job.
What Do I Do For A Living?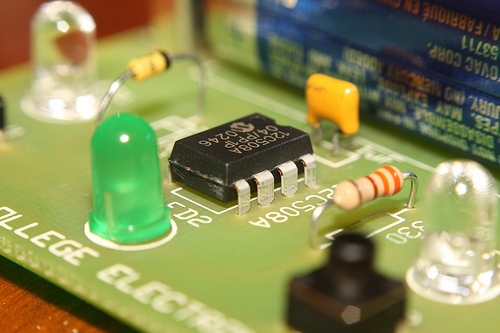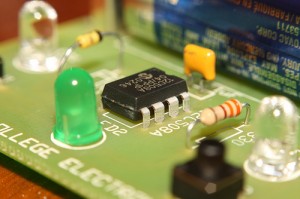 In order to understand why I still work, you have to know what I do for a living. First off, I'm proud to say that I work in technology as an electrical engineer.
In a nutshell, I'm one of a handful of people at my company that designs low level computer hardware that is used in a wide variety of consumer devices today.
In fact, our technology powers digital cameras, cell phones, digital printers etc… You name it and our technology is probably inside in some form or another.
I absolutely love what I do for a living and there's no way that I'd be able to continue designing computer hardware without the infrastructure that my company provides.
I also have the luxury of working as an engineer knowing that I do not need the money at all. As a result, I can be a little more picky in deciding what I want to work on and why.
The other aspect about my job that I enjoy is that my company is very flexible about where I physically do my work. Because I can login to my computer from anywhere there's an internet connection, I can work from home if I have to in case there's an family matter that requires my attention.
The World Is Becoming Dominated By Tech
Besides loving what I do for a living, I also work at my day job so I don't become obsolete. The world of technology moves very fast and if you stop to take a breath, then it can easily pass you by.
So while selling wedding linens online, running my blog and running my online store course is fun and very lucrative, it doesn't really exercise my brain to the same extent that my hardware design job does.
In fact, my day job allows me to stay on top of technology trends in both computer hardware and software that would be difficult to follow otherwise.
But why do I care? After all, if I don't really need the money, then why work? Why should I bother keeping up with technology?
If you stop and think about it, more and more service professions are being taken over by technology every single day.
For example, I just did my taxes last month. But instead of paying hundreds or thousands of dollars to an accountant, I filed my taxes using a computer program for only about 50 bucks.
Instead of hiring a graphic design artist to create logos or manipulate graphics for my blog, I now use Adobe Photoshop. Instead of opening a brick and mortar store and hiring workers, I now have a computer server take orders for me online 24 hours a day, 7 days a week.
The other day, I shopped at my local grocery store and noticed that 90% of the checkout aisles were now populated with self-checkout machines.
These new self-checkout machines enable just one human worker to oversee 8 or more checkout lines simultaneously! And I'm willing to bet that some supermarket workers got laid off as a result!
If you take a moment and look around, you'll realize that technology is creeping its way into every part of our lives.
And if you are not careful, your profession or business could be replaced by a piece of technology as well if you stop paying attention.
Don't Underestimate Technology
So how do you stop this from happening to you? In a nutshell, you have only 2 choices. You can continue to ignore everything that is happening around you, or you can embrace it!
Do not shun technology!
A byproduct of running my blog is that I receive emails from readers every single day asking for business advice.
"Steve, I want to make money online with an online store but I don't know anything about websites or computers. Can you help me?"
"Steve, I just want someone to set everything up for me and focus on the business. Would you be willing to do it?"
Much to my dismay, the majority of emails that I receive are from readers who are either afraid of or want absolutely nothing to do with technology. In fact, the most common question I get asked is…
I just want to sell things online and make money. Where can I find someone to do all of the computer stuff?
Wanting to focus on the business is all fine and good, but if you are opening an "online" business, shouldn't you at least understand the basics about how the "online" portion works?
Here's what usually happens next.
Entrepreneur pays a lot of money to a developer or service to create a website for them along with some custom features.
Entrepreneur has very little grasp about the extent and work involved in making certain changes. He or she ends up wasting a lot of money on features that are not well thought out
Entrepreneur's lack of knowledge leads to a major delay in launching website.
Entrepreneur finds some bugs and has to contact the developer each time there's a problem. Meanwhile, potential business is lost
Entrepreneur contacts developer for every little change that needs to be made. The costs start to add up and the turnaround time is extremely long
I have a friend that found someone on Elance to make some small edits to his online store. And while the developer implemented the features he requested properly, he did it in such a way that the code was extremely fragile and unmaintainable.
Therefore, every time he needed to make any minor change, he was forced to pay the developer's hourly fee.
How To Stay Relevant And When To Quit Your Job
So how can you avoid this situation? The answer is that you need to invest some time to learn the basics! After all, if you want to run a business online, you should at least understand how things work!
That is why I always advise the students of my class to read up on the fundamentals of html/css and how websites work so they get a feel for what is going on.
You don't have to become an expert, you just need to possess a working knowledge of how to read the language of the web! Most importantly, you must have the right attitude.
It's never too late to learn new things and you have to be willing to try.
Money Now Is Not Money Later
So where am I going with all of this? While my wife and I make a good deal of money selling linens online, we both realize that our business could become obsolete if we are not careful. If we don't keep up with the trends, we can be overtaken at a moments notice.
So by living and breathing technology on a day to day basis, we hope to stay on top of things and anticipate the next set of changes we need to make in our business and daily lives.
Is there anything truly special about my day job? Probably not. But my day job is my hedge against the future. After all, technology can't replace me if I'm the one creating the technology right?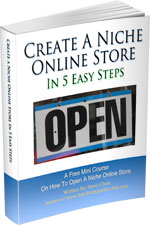 Ready To Get Serious About Starting An Online Business?
If you are really considering starting your own online business, then you have to check out my free mini course on How To Create A Niche Online Store In 5 Easy Steps.
In this 6 day mini course, I reveal the steps that my wife and I took to earn 100 thousand dollars in the span of just a year. Best of all, it's free and you'll receive weekly ecommerce tips and strategies!
Note: This post above may contain affiliate links, which means that I may receive a commission if you make a purchase when clicking a link. Please consult our privacy policy for more information.
Related Posts In Making Money
About Steve Chou

Steve Chou is a highly recognized influencer in the ecommerce space and has taught thousands of students how to effectively sell physical products online over at ProfitableOnlineStore.com. 

His blog, MyWifeQuitHerJob.com, has been featured in Forbes, Inc, The New York Times,  Entrepreneur and MSNBC.  

He's also a contributing author for BigCommerce, Klaviyo, ManyChat, Printful, Privy, CXL, Ecommerce Fuel, GlockApps, Privy, Social Media Examiner, Web Designer Depot, Sumo and other leading business publications.

In addition, he runs a popular ecommerce podcast, My Wife Quit Her Job, which is a top 25 marketing show on all of Apple Podcasts. 

To stay up to date with all of the latest ecommerce trends, Steve runs a 7 figure ecommerce store, BumblebeeLinens.com, with his wife and puts on an annual ecommerce conference called The Sellers Summit.  

Steve carries both a bachelors and a masters degree in electrical engineering from Stanford University. Despite majoring in electrical engineering, he spent a good portion of his graduate education studying entrepreneurship and the mechanics of running small businesses.