I am a big advocate of persistence. That rare quality in certain people that drives them forwards against all the odds is something that I am fascinated by, and aspire to.
Having said that, blind persistence is rarely a good thing. Einstein defined insanity as "doing the same thing over and over again and expecting different results", and that is exactly what blind persistence typically leads to.
Persistence is typically a vital factor in determining your success, but can also be your worst enemy.
So when it comes to your own business endeavors, how do you strike an effective balance? When should you keep going, and when should you call it quits and try a different tack?
When to Give Up
In my opinion, without persistence we have nothing. We should always persist on a "macro" level — i.e. we should never give up on our fundamental goals in life. The issue with persistence raises its head on a "micro" level — encompassing everything from our diet strategies to business ideas.
Related: Entrepreneurship: What Is Your Definition Of Failure?
My first rule of thumb is quite simple — if in doubt, persist. Personal experience has taught me that a near-masochistic level of persistence can eventually pay off. But that in itself is not sufficient. When it comes to assessing whether or not you should persist with a particular endeavor, there are three steps that I think you should take.
Step 1: Are You Still On The Right Path?
It is all too easy to get so involved with something that you completely lose sight of what you were trying to achieve in the first place. I do this all the time and regularly have to pull myself back to a state of greater awareness. So, if you fear that you are not achieving what you set out to do, remind yourself of exactly what that planned achievement was.
Related: Why Our Online Business Almost Failed And How We Recovered
For instance, when I was first starting out with freelance writing and was still in my full time job, I made a commitment to secure a couple of long term quality clients. My thinking was simple — I needed to establish a solid base of income from which I could take the leap and quit my job.
But before long, I was submitting pitches to some pretty low-quality clients and content mills. I felt like I was persisting in my efforts to find clients, but I was in fact going completely against my original aim (to find quality clients).
It was at that point that I stepped back, reassessed, and landed myself a great client that I still work with to this day.
Step 2: Get Honest And Objective External Feedback
When it comes to speculative endeavors, you will always have those that encourage you blindly, and those that are naturally pessimistic about your chances. Both groups are of little use to you when it comes to assessing whether or not you should persist.
Related: Stop Thinking You Are Going To Fail Just Because Someone Says You Should
What you need to find is those people operating in the middle ground — people who are willing to objectively assess your efforts and submit their opinion on your chances of success. Ideally, you would seek the advice of people who are experienced in whatever it is you are trying — their opinion is absolutely invaluable.
A lot of people make the mistake of making a decision based upon this decision only, but doing so is a mistake. Whilst other people's opinions can be valuable, only you are best-placed to make the decision as to whether or not you should persist. And that leads me directly onto step three.
Step 3: Assess Your Chances Of Success
This is the most difficult part of the equation, but perhaps the most important. You need to answer one vital question: why haven't you succeeded yet?
Answering this question requires an honest and objective assessment of your experience, skill set, and likelihood of success in the future. Your focus should be on the sum of the parts, rather than any particular factor.
For instance, a lack of skill does not necessarily mean that you should give up. I had barely even read a blog before June 2011, let alone written for one, but now I am a "professional blogger". Skills can be learned and experience can be gained.
Related: Dealing With People Who Doubt Your Business Ideas
Perhaps the most important part of the puzzle is whether or not you can see a path to your intended target. Can you see how your actions today can ultimately lead to success, or is the path completely obscured?
For instance, when I first launched my blog I had a vague idea of it eventually becoming a source of income for my business. I didn't really know how at the time, but already understood the basic principle of "traffic = income". I figured if I built up a loyal fan base, the rest would follow. My plan was far from clear, but I was confident enough to persist, and it paid off in time.
Conclusion
Persistence can be a blessing or a curse. I am willing to bet that most successful people count persistence as one of their most valuable qualities, but blind persistence is a dangerous thing. The key is to have that drive whilst also being very aware of what you are trying to achieve, and whether or not what you are working on is likely to get you there.
Do you have examples of when persistence has either worked in your favor, or resulted in prolonged failure? I'd love to read your stories.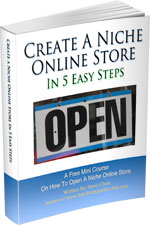 Ready To Get Serious About Starting An Online Business?
If you are really considering starting your own online business, then you have to check out my free mini course on How To Create A Niche Online Store In 5 Easy Steps.
In this 6 day mini course, I reveal the steps that my wife and I took to earn 100 thousand dollars in the span of just a year. Best of all, it's free and you'll receive weekly ecommerce tips and strategies!
Note: This post above may contain affiliate links, which means that I may receive a commission if you make a purchase when clicking a link. Please consult our privacy policy for more information.
Have you read these?