In a previous article entitled mistakes we made early on with our online store, we outlined 5 early decisions that hindered the growth of our business. While those mistakes slowed us down, none of them were showstoppers by any means.
In this article, I'd like to talk about decisions that nearly put us out of business. Sadly, most of these early choices were made due to greed and human nature. Many of our actions were downright stupid and I'm quite ashamed to even share them with you. I'll try and start with the dumbest ones first and work my way up.
We Didn't Accept Credit Cards Directly
Have you ever heard of an ecommerce shop that didn't accept credit cards? Early on, we tried to save money by using Paypal as our sole payment processor.
Paypal basically offers 2 different account types. The first one is their normal Paypal account which is free. They also offer a business account which allows you to process credit cards directly from your website. The business account carries a monthly fee of 30 dollars.
With a free Paypal account, you can also accept credit cards, but customers are first diverted from your website to the Paypal website where they enter in their payment information. After providing their credit card data, they are then redirected back to your site. All of this redirection confuses customers.
We lost a ton of potential sales early on because no one respected our store. They were all probably thinking "Why am I being taken away from the website to a completely different one just to process my payment?"
We even had a few customers complain. One of the most memorable emails we received was "Why is it so hard to make a purchase here? How am I supposed to pay?".
We Pissed Off Big Ticket Customers
Before we found quality vendors to supply us with product, we used to receive a ton of unsellable merchandise. For example, we would often receive fabric that was irregularly shaped or stained with dirt. The bad linens were always mixed in with the good so it was extremely hard to find the bad ones without thoroughly going through the merchandise.
Early on, we put way too much trust in our vendors' products and we shipped orders out without even inspecting the goods. I remember the first big order we received was from a wedding planner in Texas. We shipped her three large boxes of linens of which probably 30% were defective in some shape or form. At this point in time, this was by far our largest order.
Normally when you receive defective products, you simply return the items right? But one of our policies early on was that "All Sales Were Final" and we never let anyone make returns. So this wedding planner received bad linens and we refused to take the merchandise back.
What the heck were we thinking? This one transaction alone probably ruined our reputation and lost us a ton of potential business in her region. The main problem was that mentally, we needed the profit from this order to justify our existence.
We Stopped Innovating
After the store was up and running, my wife and I took a long break from working on the website and the business. Basically, we just sat there twiddling our thumbs waiting for customers to buy our products. After working non stop for many weekends, we both felt that we needed to distance ourselves from it all as we both were completely burnt out.
Because we weren't actively tweaking our store, we didn't catch and fix crucial website and business issues in a very timely manner. We made the mistake of assuming that most of our work was done when in reality the bulk of the work was ahead of us. For example, we didn't fix our credit card issue until well over 3 weeks had passed.
As a result, our store didn't give a good impression at launch. First impressions are extremely important, and many businesses thrive on word of mouth marketing. We probably turned away hundreds of customers in the first month alone. Who knows how many negative comments those hundreds of customers made to their friends?
We Wanted To Quit
Because of the myriad of problems we faced early on, my wife and I were extremely discouraged. Two months after the launch of the store, I think we made only 800 dollars. This was especially discouraging considering that we had to pay 300 dollars of this in Adwords fees.
If you think that 500 dollars isn't all that bad, consider that this only equals about 250 dollars a month or less than 10 dollars a day. This was hardly a sum worth sacrificing our time for.
I remember wasting a lot of my time stalking customers with our shopping cart software. A typical stalking session went as follows.
"Hey Honey! This guy put something in his shopping cart!"
"Cmon baby…that's right. Keep on shopping."
"All right…click on the checkout button. It's right there on the lower right….easy…easy…"
"Hey! I think he's headed to checkout!"
"He's creating an account!"
"He's on the payment page!!"
**silence**
"Wait, we lost him…where did he go?"
"What the heck happened?"
"What kind of a customer places items in his cart and then abandons it in the middle of the store?" "People have absolutely no store etiquette."
"This store sucks. Why didn't he check out?"
"Sorry honey, you're never going to be able to quit your job"
The Road To Recovery
In hindsight, it's easy for us to talk a big game about perseverance and not giving up. But back then, I can't even describe how close we were to throwing in the towel. We ended up pressing on with the store because one, we had already purchased a ton of inventory and two, it didn't cost much to keep the store going anyways.
If any of those 2 things were not true, we might have folded and called it a day.
We started our path to recovery by trying to salvage our reputation. Roughly 1 week after the fact, we contacted the Texas wedding planner and gave her a big discount in addition to sending her new product. We took a loss on the deal but ultimately, I think we managed to salvage some of our reputation.
We also made an active effort to fix the store and improve upon it on a constant steady basis. After fixing the many mistakes we made early on, business started picking up a bit. With each sale, we gained more and more energy and zeal.
We finally found vendors that were reliable and sold good product. We finally resolved most of our website and payment issues. We improved our packaging and extended our product line.
Looking back,we were on the verge of collapse because we were impatient, greedy and desperate. The important takeaway is that it's never too late to recover. If you screw up your reputation, fix it and move on.
If you see problems, resolve them immediately and don't be cheap about it. Your business doesn't end with the launch, it begins with the launch and you should never just sit there and rest.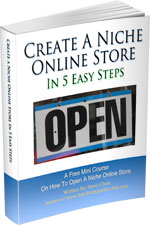 Ready To Get Serious About Starting An Online Business?
If you are really considering starting your own online business, then you have to check out my free mini course on How To Create A Niche Online Store In 5 Easy Steps.
In this 6 day mini course, I reveal the steps that my wife and I took to earn 100 thousand dollars in the span of just a year. Best of all, it's absolutely free!
Note: This post above may contain affiliate links, which means that I may receive a commission if you make a purchase when clicking a link. Please consult our privacy policy for more information.
Similar Posts
Have you read these?