Starting and running any small business requires inspiration and constant dedication. But maintaining a high level of intensity can be extremely difficult at times especially when things don't go as planned.
Whenever I'm down about my business, I always take a step back and look for outside sources of inspiration. Sometimes just talking to a friend can make me feel better. Sometimes I get fired up reading about someone else's success story. In some cases, all it takes is a good ole collection of quotes to fire me back up.
It's amazing what a few choice words can do to kick start your entrepreneurial spirit. Here are some of my favorite quotes and why they resonate with me. Thank you Trevor Crook for helping me find these.
"Success or failure is caused more by mental attitude than by mental capacity."
– Sir Walter Scott
Sometimes I feel like I'm constantly fighting a losing battle when it comes to our small business. There are a ton of competitors out there and each and every one them have something unique that they bring to the table. The sheer number of competitors can be overwhelming and a lot of times, I feel like I just don't have the energy or capacity to compete.
When this happens, I have to constantly remind myself that running a business is not rocket science. There isn't anything inherently difficult to understand and not much that goes beyond common sense in a lot of cases. The key to running any business is persevering and constantly improving no matter what the pace.
"To be conscious that you are ignorant is a great step to knowledge."
– Benjamin Disraeli
On the flip side, sometimes I can get really cocky. There are times when I look at our business and think to myself, this is a damn good niche. The business is firing on all cylinders so how can things possibly improve?
What usually results is a swift kick in the ass. There have been times when I have slacked off and paid the price. It is important to realize that you can always improve and that there's always something new to learn.
"Action may not always bring happiness but there is no happiness without action."
– Benjamin Disraeli
When my wife and I first started our business, we were completely clueless. There were so many decisions that needed to be made in the beginning that we stood there paralyzed for quite a long period of time in order consider all of the options.
Things didn't start picking up until we said "screw it" and just started winging things. It's very easy to get buried beneath too much information. Sometimes, you just have to make a choice and stop worrying about making mistakes.
"Progress is impossible without change; and those who cannot change their minds cannot change anything." – George Bernard Shaw
I can get pretty hard headed sometimes when it comes to exploring new ways of doing things. One of my biggest weaknesses is that when I find a certain way of doing something that works for me, I'm very reluctant to change my ways.
As a result, I often miss out on more efficient ways of doing things and am usually skeptical of adopting new technological advances that could potentially save me time.
For example, I didn't start using a news feed reader until relatively recently. I was quite content to physically type in the URLs of sites that I wanted to read and didn't really mind doing so.
So when my friend told me about using RSS and Google reader, I was extremely skeptical and reluctant to even try it out. When I finally gave in, I was pleasantly surprised to find that I could read all of my usual blogs and websites in a just fraction of the time. Using RSS saved me close to 45 minutes every morning!
"Do not wait for extraordinary circumstances to do good; try to use ordinary situations." – Jean Paul Richter
Reading this quote always reminds me to take action and to stop futzing around. There is no such thing as the perfect opportunity and you can't just sit around waiting for it. You have to make do with the current situation and adapt.
If my wife and I waited for the perfect time to start our business, we'd still be waiting on the sidelines. The reality is that it's far too easy to procrastinate and put things off for another day. It is human nature to make excuses and then try to rationalize our actions.
"Success is not the result of spontaneous combustion. You must set yourself on fire." – Reggie (Reginald Joseph) Leach
Did you know that my wife and I used to play the lottery in hopes of getting rich quickly? This last quote reminds me that everything that I've accomplished has been the result of hard work. I've come to realize over the years that it is nearly impossible to be successful overnight. I am constantly reminded that achieving any goal must be done gradually over time.
I hope you enjoyed reading these quotes. If you have any more to add, please share them with me.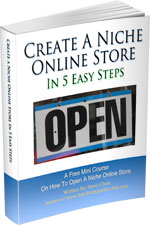 Ready To Get Serious About Starting An Online Business?
If you are really considering starting your own online business, then you have to check out my free mini course on How To Create A Niche Online Store In 5 Easy Steps.
In this 6 day mini course, I reveal the steps that my wife and I took to earn 100 thousand dollars in the span of just a year. Best of all, it's absolutely free!
Note: This post above may contain affiliate links, which means that I may receive a commission if you make a purchase when clicking a link. Please consult our privacy policy for more information.
Similar Posts
Have you read these?