Ever since I posted my article on Why Etsy Stores Are At A Disadvantage Compared To Online Stores That Own Their Domain, I've been meaning to show everyone how easy it is to install a free open source shopping cart.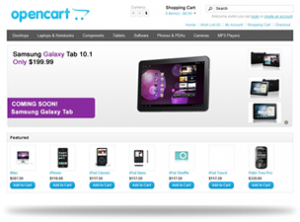 These days, there are many open source shopping carts out there that are completely free and very feature rich.
You simply have to sign up for a web host, download and install the free shopping cart and you are almost ready to go.
So today, I thought that I'd give a mini tutorial on how to install Open Cart which is one of the open source shopping carts I recommend in my free 6 day mini course on how to create a niche online store.
Open Cart is an incredible shopping cart that is easy to use and has an elegant back end interface with which to manage your orders and products. Did I also mention that it's free?
What Do I Need To Begin?
In order to install an open source shopping cart and follow my tutorial, you'll need to do the following.
Register a domain name – You can grab a domain name from Go Daddy for a dollar a month.
Sign up for a web host – I personally recommend Blue Host because I ran my online store for 2 years there and had a fantastic experience.
Get SSH access to your server – You need to contact your web host and ask for this access which usually requires a faxed in copy of your driver's license
Install WinSCP or any FTP client to transfer files to and from your webserver
Install PUTTY for SSH terminal access to your server
Have your web browser ready
Download Open Cart for free from www.opencart.com
Installing Your Open Source Shopping Cart
Once you've downloaded all of the necessary programs above and have your web host all set up, you are ready to go!
Quick Note: All of the instructions mentioned in the video below are actually not necessary if you sign up for a hosting account at Blue Host. The reason is because Blue Host offers a program called "Simple scripts" which allows you to install many programs at the click of a button.
In any case, the tutorial below will teach you how to install a shopping cart from complete scratch which applies to any web hosting account. Enjoy the video!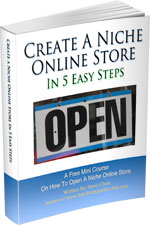 Ready To Get Serious About Starting An Online Business?
If you are really considering starting your own online business, then you have to check out my free mini course on How To Create A Niche Online Store In 5 Easy Steps.
In this 6 day mini course, I reveal the steps that my wife and I took to earn 100 thousand dollars in the span of just a year. Best of all, it's absolutely free!
Note: This post above may contain affiliate links, which means that I may receive a commission if you make a purchase when clicking a link. Please consult our privacy policy for more information.
Similar Posts
Have you read these?