Once upon a time, our online wedding linens store had a very fierce competitor.
They received a ton of web traffic every month, ranked in the top 5 for the same or similar search terms that my wife and I were targeting for our own store and I'm fairly certain that they made a good amount of cash.
In fact, they were so popular that I would often see brides and other patrons talk about their store in the wedding forums.
Their only weakness (that I could tell) was that their site wasn't very attractive and that it was built on an antiquated shopping cart engine.
But nonetheless, it served its purpose. Customers could easily find their store online and they sold quality product. (Early on, my wife and I made a few purchases from their store just to check out their offerings).
But something strange happened over the last few years. All of a sudden, I stopped hearing about their store altogether. I stopped seeing them mentioned in the forums.
When I went to do our usual round of competitor analysis, they were nowhere to be found on the search engines. Finally, when I went to check out their website to see what was going on, I noticed that their site had undergone a complete redesign using a more up to date shopping cart platform.
Whoever redesigned the site did a good job from an aesthetic perspective(the store looked good), but they made one crucial mistake. They completely dropped their search engine rankings on the floor because they screwed up their website migration.
A Good Store Is Not Just About Aesthetics
I didn't think that their old site looked horribly ugly and I obviously didn't have access to see the backend of their store, but clearly the owners wanted to invest more money into their web platform by doing a complete redesign.
The main problem was that whoever they hired was a web designer and not an SEO expert.
Back when this competitor was still on our radar screen, they pretty much owned organic search. If you typed in anything related to handkerchiefs or table linens, they would pop up in the top 5.
The problem was that when they migrated their site, all of their product URLS changed and they didn't take the time to point all of the old URLS back to the new ones. As a result, all of their old links pointed to error pages instead of product pages.
Over time, this wreaked havoc on their search rankings because Google slowly started de-indexing their site. And within a year, most of their old product pages (some of which had decent page rank) completely disappeared.
The other big issue was that some of their product titles and meta tags didn't migrate correctly to their new platform as well which prevented the search engines from indexing their new products correctly. In short, it was a complete disaster.
It's A Pain To Switch Platforms So Choose Wisely
Changing online store platforms is extremely difficult and tedious to do which is why it is important to select the right platform the first time around even if it might cost more or require a bit more effort up front.
If you go the open source route that my wife and I did, choosing a solid ecommerce platform like Prestashop or OpenCart in conjunction with a webhost like Blue Host or Storm On Demand will be essential to your long term success.
If you go with a fully hosted solution, choosing a quality provider like Big Commerce or Volusion will reduce the chances of having to switch platforms later on because their shopping carts are constantly updated behind the scenes.
Migrating shopping carts is a pain because not only do you have to move all of your products, pages and product descriptions over to your new platform, but you also have to consider the search engines and preserving all of the backlinks that you have established over time.
It's one thing if you only have a handful of products but the competitor mentioned in this article probably had over a thousand. The right way to migrate their website would have been to do the following (This is how I would have done it).
Issue a 301 redirect in the .htaccess file of my server to point each and every product in my old store to my new one.
Write an automated script that traverses the database to ensure that all of the title and meta tags are filled in with what I expect based on the product.
Manually replicate product and informational pages that require special formatting that might not conform to the new platform.
Manually go through each and every product to make sure that the product descriptions and product options migrated successfully.
As you can see, it's not a walk in the park and there's plenty of room to make mistakes if you don't know what you are doing.
Do It Right The First Time Around
This is just pure speculation on my part, but I suspect that this competitor was getting by just fine on their old shopping cart platform before some designer convinced them that they needed to upgrade.
Perhaps the owners went with a cheap platform to start with in order to save money. Perhaps, they made a few bad decisions early on with their web hosting. Who knows? But clearly, they were dissatisfied enough with their old platform to want to make the switch.
The key takeaway here is that early decisions can have huge repercussions on the future viability of your business so it's important to start with the right foundation. Don't skimp on the critical facets of your business early on.
If you are running an online store, get a good webhost and ecommerce platform. Pay for it upfront or you might be in for a world of hurt later.
The second takeaway is that before undertaking anything as large as a website migration, make sure you understand all of the implications involved and get someone to do it right. Good looks and more features doesn't equate to an improved business.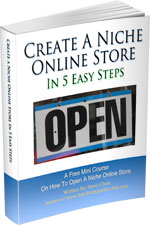 Ready To Get Serious About Starting An Online Business?
If you are really considering starting your own online business, then you have to check out my free mini course on How To Create A Niche Online Store In 5 Easy Steps.
In this 6 day mini course, I reveal the steps that my wife and I took to earn 100 thousand dollars in the span of just a year. Best of all, it's absolutely free!
Similar Posts
Have you read these?