One of the key reasons for starting your own business is that it can provide an effective tax shelter. Many of the expenses that you incur during day to day operations can be deducted directly from your taxable income. Since there are many misconceptions regarding what can and can not be deducted, I thought that I would go over some of the common items that small businesses can write off.
The Tax Code
The tax code is a little bit vague which is why many people get themselves into trouble. A deductible business expense is defined as any expense that is ordinary and necessary for the business and not extravagant.
The expense must also be primarily used for business and not for personal reasons. While it is up to you to interpret the above statement, its best to always error on being conservative. For example, if I owned a delivery business, I probably wouldn't want to try and write off a Ferrari as the company car.
For all of your expenses, use common sense and always be able to justify your deductions. Keep good documentation of all of your purchases.
Common Writeoffs for Small Businesses
While there are many items that you can deduct off of your taxes, I thought that I would just go over some of the big ticket items that will save you the most on your taxes. Depending on your business, some of these may not apply.
Keep in mind that the list below is just that. Because some of the rules can get quite complicated, you can click on the link of each associated topic to get a more in depth explanation. Also keep in mind that I am not a tax professional and that you should consult your own accountant for the specific rules that may apply to you or the area that you live in.
Key Points
Now that you know the big ticket items that can be deducted at a very high level, keep in mind that there are many specific rules involving these deductions that I will go over in more depth. As you deduct expenses for your own business, it is important to not go overboard.
In case you get audited, make sure you can adequately justify each and every expense that you are writing off.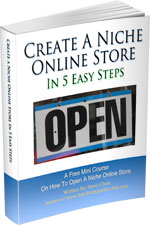 Ready To Get Serious About Starting An Online Business?
If you are really considering starting your own online business, then you have to check out my free mini course on How To Create A Niche Online Store In 5 Easy Steps.
In this 6 day mini course, I reveal the steps that my wife and I took to earn 100 thousand dollars in the span of just a year. Best of all, it's absolutely free!
Similar Posts
Have you read these?