DBA,or doing business as, is a legal term that is used when your business is operating under a fictitious business name instead of the owner's name. For example, "The Gap" is a fictitious business name because the name of the business does not include the names of the store owners.
Because it is impossible to know who is actually responsible for the business from a fictitious business name, the government requires you to file a DBA statement in the interests of consumer protection.
It's different in every state, but in the state of California, not only do you have to file a statement with the county, but you also have to publish your fictitious business name in a local newspaper for a set period of time as well.
Why does California force you to do this? It's because publishing your DBA in the newspaper cements your name and your business name together in the public record. If you were to ever commit fraud, law enforcement could easily look up your business and track you down.
Why Get a DBA?
Besides the fact that its illegal to operate your business without one in most states, a DBA also offers you the following benefits.
Other people will not be able to steal your business name.
You will be able to open a bank account under your business name.
You will be able to accept checks written out to your business
How do I get one?
First of all, you don't need a DBA if you are running the business under your own name. If you're not, you need to follow these steps. Keep in mind that it's different in every state so make sure you do your own homework where you live.
Visit your county clerk's office to obtain the necessary forms, requirements and fees.
Check to see if your business name is already taken
Publish your association with your business name in a local paper for the amount of time required by your state
If all of this seems a bit overwhelming, there are plenty of online services that do everything for you albeit at an additional cost. For our online store, we used Corpnet.com and we highly recommend them.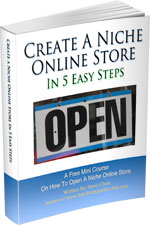 Ready To Get Serious About Starting An Online Business?
If you are really considering starting your own online business, then you have to check out my free mini course on How To Create A Niche Online Store In 5 Easy Steps.
In this 6 day mini course, I reveal the steps that my wife and I took to earn 100 thousand dollars in the span of just a year. Best of all, it's absolutely free!
Note: This post above may contain affiliate links, which means that I may receive a commission if you make a purchase when clicking a link. Please consult our privacy policy for more information.
Similar Posts
Have you read these?