In this article I present the conclusion of my experiment on whether hiring an accountant to do your taxes is better than using turbo tax or tax cut. If you missed part one of this experiment, please check it out here first before reading on.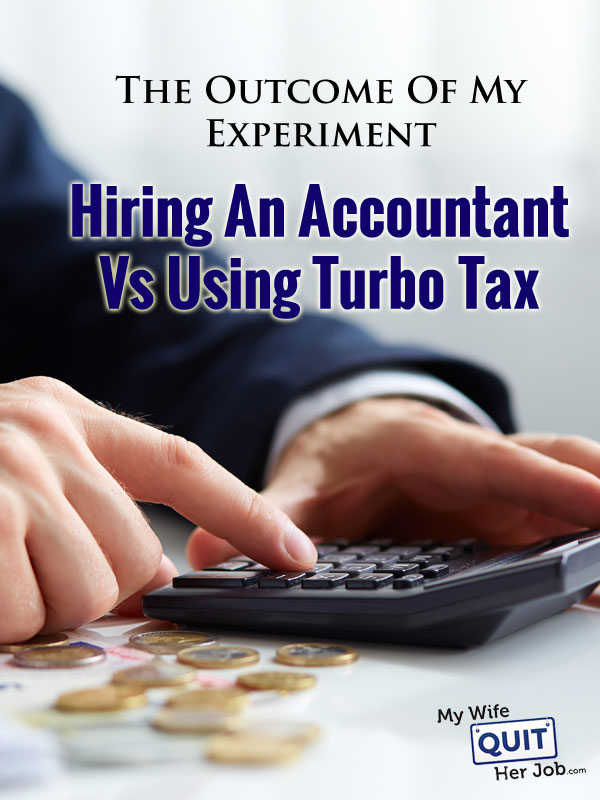 So the results are in! The good news is that our accountant fulfilled his promise and delivered our tax return way ahead of the April 15th deadline. The bad news is that our experiences with our accountant weren't exactly positive.
Before I continue, I just want to emphasize that the conclusions I'm making in this article should be taken with a grain of salt and are not indicative of accountants in general. There are thousands of CPAs out there and our experiences represent just a single data point.
To provide some background information, my wife and I have worked with this accountant for a little over a year now to discuss tax strategies for our small business.
But this is the first time that we have used him to actually file our taxes and it will probably be our last. Here's why.
We Got Off On The Wrong Foot
Because our accountant works about 40 minutes away by car, it's not very convenient for us to talk face to face or to drop things off at his office.
During the weekdays, my wife is with the kids and I'm at work. On the weekends, our accountant is not in the office. Pretty much the only convenient way to send our accountant information is through email or snail mail.
For those of you wondering why we chose an accountant that works so far away, it's because he came highly recommended by a coworker of mine.
In any case, since we didn't want to make the drive up to his office, we decided to scan all of our 1099's and other tax forms into pdf format and emailed encrypted versions to him for review. That's when the trouble started.
Because we emailed him an archive of about a dozen password protected pdf's, his assistant got fed up because she didn't feel like opening each pdf up and printing them out. So she called and asked us to mail a physical copy of our tax forms to their office instead.
Personally, I thought this was ridiculous. We wasted more time on the phone than she would have spent printing out the forms. Even though I offered to condense all of the forms into a single pdf, she said that she would have to charge us $200 an hour for her to take the time and print out our pdfs.
Needless to say, this left a bad taste in my mouth from the start. But what could we do? We ended up sending her copies via certified mail, but I was pretty annoyed (mainly by the $200/hr threat).
He Was Difficult To Get Ahold Of
Once our accountant received our tax information, things proceeded much more smoothly but what annoyed me was that it was difficult to reach him to ask even the most basic of questions.
Since it's tax season, I completely understand that he's probably swamped working on many other tax returns outside of ours but it would have been nice to receive quicker responses.
Perhaps it's because I'm impatient and am used to doing everything on my own, but I like knowing what is going on and I need reassurance that everything is proceeding smoothly.
With our accountant, after dropping off our tax forms, we basically didn't hear from him again until he was done with our return. Outside of a brief questionnaire in the beginning, there was no feedback loop and no additional questions asked.
He Made Errors
Not providing us with feedback during the process was all fine and good as long as he did a good job. But as soon as we received our tax return, we immediately noticed some errors.
For one thing, there was a typo and the cost basis for one of our stock transactions was completely off. Granted, it wasn't a straightforward transaction, but it should have been entered correctly.
To provide some background, the discrepancy was with a stock that I had purchased in several lots which had undergone a reverse split and then finally was acquired by an overseas company.
With Turbo Tax, I simply imported everything in directly from Schwab. But my accountant completely missed one of our buy transactions which resulted in a lower cost basis. In short, even though we took a loss on the stock, his return showed that we had a gain.
The second thing he missed was an energy tax credit provided by the government. Because we recently added insulation and drywall to portions of our house, Turbo Tax said that we were eligible for a 1K tax credit.
However on the return filed by our accountant, this credit was nowhere to be found. The status of this discrepancy still remains unresolved and we are trying to get ahold of our accountant to discuss whether this credit truly applies.
But based on what Turbo Tax is telling us, we should be able to take it as a tax credit.
The final discrepancy that we noticed was that information from one of our 1099's was not entered at all. We currently leave some of our money in Paypal's money market fund and there was a minuscule dividend(around 20 bucks) that we were paid during the year.
However, we could not find this amount anywhere in the return. Once again, this is something we are in the process of clearing up.
Most Of The Work Is In The Prep
My wife and I went into all of this thinking that using an accountant was going to save us time in filing our taxes. But instead, we discovered that we had to do most of the prep work.
In fact, we ended up spending several hours collating our business numbers and gathering all of the tax data for the accountant.
One of the reasons we spent extra time was because our accountant wanted our business numbers in a different format than we had them in.
In the end, all of our numbers tied out the same way but massaging them into his format took a good chunk of my wife's time.
In any case, once all of the data was ready to go, entering all of the numbers into Turbo Tax took hardly any time at all. And this prep work was required whether we used an accountant or not.
Arguably, using our accountant took more time because after finding the initial error, we went through his return line by line to check for additional discrepancies.
Benefits Of Using Our Accountant
I don't want to come across as completely negative towards our accountant because we actually really like working with him and will continue to use him as a tax advisor. It's just that my wife and I were very disappointed with the results.
That being said, one of the benefits of using our accountant to file our taxes is that we now know the right way to file our LLC paperwork.
One of our motivations for using an accountant this year was that we converted our business to an LLC midway through last year and it was unclear how to indicate this properly in our tax return. Because we used an accountant, we now know how to do this ourselves from now on.
The other benefit is that our accountant is currently working with us to avoid having such lopsided tax returns in the future. A lopsided return is when you either have to pay a large amount or receive an abnormally large refund during tax time.
To provide you with some context, I've done a bad job in the past in regards to estimating our income and our accountant is helping us do a better job.
This year, we are getting a 10k tax return whereas last year we had to pay 30k in taxes. Clearly, I need some help in this department.
Conclusion
Once again, please take these conclusions with a grain of salt because they reflect only my experiences with a single accountant. But here's what I have to say about using an accountant to do your taxes versus using Turbo Tax.
An accountant can't change the past. Therefore, using an accountant is probably not going to save you much money versus Turbo Tax for just filing a tax return. In our case, Turbo Tax did a better job of finding extra deductions.
It's good to use an accountant if something has changed with your tax situation and you are not sure how to proceed. We recently switched to an LLC and needed guidance.
An accountant can help you improve your future tax situation by suggesting things to look out for in future returns.
Even though we had a bad experience with this tax return and shelled out $550 in the process, we will continue to use our accountant as an advisor to plan for next year.
For those of you with a relatively simple tax return like ours, I doubt that an accountant will make much of a difference. In addition, if you are anal like I am, you'll end up checking up on all the numbers anyways which means you probably won't save that much time either.
The true value of having an accountant on board is to provide future guidance and answer your tax questions going forward.
Click Here To Sign Up For Turbo Tax And Do Your Taxes For Free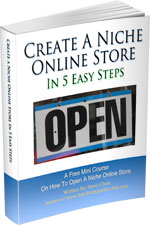 Ready To Get Serious About Starting An Online Business?
If you are really considering starting your own online business, then you have to check out my free mini course on How To Create A Niche Online Store In 5 Easy Steps.
In this 6 day mini course, I reveal the steps that my wife and I took to earn 100 thousand dollars in the span of just a year. Best of all, it's absolutely free!
Similar Posts
Have you read these?