This is part 4 of a 5 part series on how to create a profitable online store. Your online store is worthless unless you can accept payments from your end customers.
There are many different ways to accept payment. For example, you can accept payments through Paypal, Authorize.net or even check/money orders. But despite the many payment choices available, the most important one is the ability to accept credit cards online.
Looking at the payment statistics for our online wedding linens store, 97% of our customers use a credit card to checkout and the other 2.9% use Paypal.
Less than .1% use check or money order. For an online store, paying by credit card is an absolute requirement. In this article, we will discuss the different options on how to process credit cards online.
Processing Credit Cards
Virtual Terminal
First off, there are 3 main ways to take credit cards online. The first way to accept payments is to sign up for what is called a virtual terminal.
Basically how this works is that when orders come in via phone or web, you then manually enter in the credit card information on a secure terminal.
However, since the focus of this series is on building a fully automated online store, this is not a viable option in the long run.
Process Credit Cards On A Third Party Website
The second solution is to have a link from your online store during checkout that takes the customer away from your site to the website of your payment vendor.
The customer then enters in their credit card number on your vendor's website where the payment is processed. Once the transaction is complete, the customer is then redirected back to your online store. The standard Paypal account for example allows you do this for free.
The main disadvantage of this free solution is that processing credit cards is roundabout and confuses customers. Why should a customer be taken away from your website to another site that looks different only to be redirected back once again when the payment is made?
While processing credit cards this way offers the easiest setup, it can have severe consequences on your conversion rate. For example, the conversion rate for our online store was almost 50% less when we accepted credit cards in this fashion through Paypal Standard.
In fact, accepting credit cards this way was probably one of the main reasons business was extremely slow when we first opened our online store.
Process Credit Cards Directly On Your Store
The best way to process credit cards is to have a merchant account with a gateway and process credit cards directly from your online store.
It might be more of a hassle to setup and it might cost you a bit more upfront, but trust me, it's worth it. The ability to process credit cards without a customer having to physically leave your website will not only lend credibility to your store but it will increase conversions as well.
Merchant Accounts And Gateways
The downside is that the choice of where to open your merchant account and gateway can be overwhelming. For example, here are the payment modules that oscMax supports right out of the box for US shops.
To make things worse, there are many different dealers/distributors of some of these services that all have different price points.
How Do You Decide?
Deciding on a credit card merchant and gateway account can be quite intimidating at first due to the terminology and different price points.
I've written up a good guide on how to select a credit card merchant and gateway already that you should definitely read if you are shopping around.
In the meantime, I can save you some time by telling you what I've used in the past.
For our online store, we've used both Authorize.net as well as Paypal Website Payments Pro and can wholeheartedly recommend both services.
If you would like to know more about some of the other services mentioned above, feel free to check them out. But I found Authorize.net and Paypal to be the easiest and cheapest services to use especially when we were just starting out.
Authorize.net

The great part about Authorize.net is that it's supported by almost every single shopping cart out there. The confusing part about using it is that there are hundreds of resellers offering different rates.
Some of these resellers have pretty sketchy websites as well. Since rates and fees change all of the time, you should take some time and shop around for the best rates.
The Authorize.net reseller I signed up for was eMerchant and they are extremely competitive in terms of rates.
Once again for more information on shopping for merchant accounts and gateways, please refer to my article on how to select a credit card merchant and gateway.
Paypal Website Payments Pro

Paypal Website Payments Pro offers an extremely competitive merchant account and gateway solution as well.
What I like about Paypal Website Payments Pro is that you can ship your products via UPS and USPS all from the same interface. Because it is so easy to ship products and accept payments through a single website, our online store uses Paypal Website Payments Pro today.
It's not the cheapest merchant/gateway solution out there, but the convenience is worth it.
A Full Video Tutorial On How To Install SSL And Accept Credit Cards With Open Cart
The following step by step video tutorial will show you how to make your website secure with SSL and will also teach you how to install credit card processing on your online store.
Click here to learn how to accept credit cards and secure your online store with SSL without any technical experience required.
A Note About PCI Compliance
I just wanted to touch on the topic of PCI compliance because it has been a hot topic amongst would be shop owners. Because of all the credit card fraud stories you've read about in the papers, the PCI standards group has issued a set of guidelines that must be followed in order to process credit cards on your website.
The requirement of PCI compliance only applies if you either store, process or transmit credit card data. Therefore when using services like Authorize.net or Paypal Website Payments Pro, you are transmitting credit card information to the gateway so you must be PCI compliant or risk getting fined.
The issue of being PCI compliant has deterred many would be shop owners from selling items online because they don't want to go through the hassle of becoming PCI compliant. Becoming PCI compliant isn't that big of a deal. To make sure you are PCI compliant, you need to make sure of the following.
There is also this misconception that shared servers can not be PCI compliant. This is completely false. Hosts like Host Gator and Blue Host are PCI compliant and run hundreds of stores on their servers.
Disclaimer: Please note that I'm not an expert on PCI compliance. The above checklist may not be a comprehensive list and you should check the PCI Standards website for more information.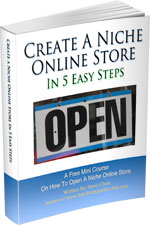 Ready To Get Serious About Starting An Online Business?
If you are really considering starting your own online business, then you have to check out my free mini course on How To Create A Niche Online Store In 5 Easy Steps.
In this 6 day mini course, I reveal the steps that my wife and I took to earn 100 thousand dollars in the span of just a year. Best of all, it's free and you'll receive weekly ecommerce tips and strategies!
Note: This post above may contain affiliate links, which means that I may receive a commission if you make a purchase when clicking a link. Please consult our privacy policy for more information.
Similar Posts
Have you read these?