Whenever there is fear and confusion, there is someone out there to exploit it. A buddy of mine contacted me the other day after he received this ominous letter demanding 239 dollars after filing for an LLC in the state of California.
The letter also threatened him with additional fines if the 239 dollars was not paid immediately.
My friend was already somewhat apprehensive about the entire filing process so when he showed me this form letter from the "Business Filings Division" asking for 239 dollars, he was pretty shocked and visibly upset.
I was surprised myself because when I filed for my LLC, I didn't remember having to pay any fee costing over 200 dollars.
In any case, when I looked carefully at this form letter, I immediately knew it was a scam and a clever one at that! These people over at the "Business Filing Division" are preying upon innocent people who don't know what they are doing or are new to the filing process.
The Scam
Anytime you file for an LLC in California, you are required to submit a "Statement of Information" within a set period of time. The true cost of filing this form is only 20 dollars and the real form usually arrives along your official LLC filing papers.
However, the "Business Filing Division" will also send you a form which looks almost exactly like the "Statement of Information" asking you to pay $239 dollars or risk getting fined by the state!
The information that you need to enter on their bogus form is the exact same information that is required on the real "Statement of Information".
If you fill out their form and pay the $239, the "Business Filing Division" just copies this information onto the real "Statement of Information" and sends it in. Since it only costs $20 to file this form, guess who pockets the other $219?
This scam is especially slick because the form and the envelope look completely official. The form itself has a government seal on it and the address of the business is located in Sacramento which is where you would expect a government building to be located.
The only real clue that it is a scam is that it says "This is not a government document" on the envelope beneath the return address.
When I saw the letter, I had to read it like 5 times before I was positive it was just a bogus letter. In other words, YOU DON'T HAVE TO FILL IT OUT!
The fact that the California state government is bankrupt lends even more credibility to this scam because you think that this could be the government's way of extracting more tax dollars.
In any case, if you ever receive anything from the "Business Filing Division", chances are it's bogus. I've attached a copy of the form letter below. See for yourself.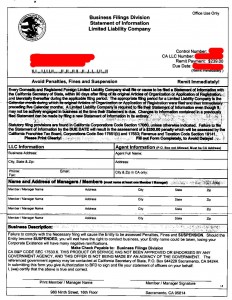 Do Your Homework
Scams like the Business Filing Division only work if you don't do your homework. If you ever receive any form that is suspicious and asks for money, you should contact the government directly or consult a small business accountant.
I'm sure that these guys scam thousands of people every day and quite frankly it really pisses me off.
I'm surprised that the government doesn't crack down on companies like these who are preying on the innocent entrepreneur. In any case, now that you know the "Business Filing Division" is a scam, please spread the word.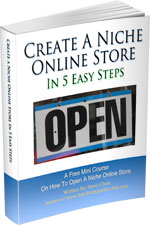 Ready To Get Serious About Starting An Online Business?
If you are really considering starting your own online business, then you have to check out my free mini course on How To Create A Niche Online Store In 5 Easy Steps.
In this 6 day mini course, I reveal the steps that my wife and I took to earn 100 thousand dollars in the span of just a year. Best of all, it's absolutely free!
Similar Posts
Have you read these?