One of the downsides of running our online wedding linens business is that we have to carry inventory and manage product shipping and storage.
It is unfortunate, but there's no way around it because we need to have our products on hand and ready to ship in order to fulfill orders in a timely manner.
My wife and I had thought about outsourcing our shipment and fulfillment operations for quite a long time but the personalization and customization portion of our business prevents us from doing so.
In any case, before we came to this conclusion, we did a good amount of research in this area and thought that it might be beneficial to pass along some of our findings to other would be shop owners.
Can You Outsource Your Inventory And Fulfillment?
The answer is a resounding yes, but only if your business fits within the following parameters.
For example, your order fulfillment operations are a good candidate for outsourcing if…
Your products can be boxed and shipped as-is without complicated instructions. If your products require personalization or very specialized packing or fulfillment procedures, then outsourcing is probably not going to work.
Your products are not physically large. This is somewhat of a gray area, but in general having products that are large and require a lot of warehouse space may be too cost prohibitive to outsource.
You don't have a ton of different products. Again, you have to check to see whether outsourcing makes economic sense but in general the more product SKUs you have, the more expensive it will be to outsource your order fulfillment.
Why Is It A Good Idea To Outsource?
If your products meet the above parameters, then your order fulfillment operations can be easily outsourced at a reasonable price. In general, outsourcing your order fulfillment offers the following advantages.
It makes your business inherently scalable. As your business grows, you don't have to worry about adding new infrastructure and new inventory controls and equipment. As your shipments increase, it's simply a matter of increasing the warehouse capacity at your product fulfillment partner.
It decreases your order fulfillment time. Often times, the companies that specialize in order fulfillment have multiple warehouses located across the country. As a result, all shipments to customers no matter where they live typically take only 1-2 business days. In addition, you save on shipping costs because on average, the physical shipping distance is less than if you shipped out of your home location.
You can concentrate on marketing and growing your business. Maintaining and organizing your own inventory can be a major pain and occupy a significant portion of your time. By allowing a third party to take over, you can focus your efforts on improving your business
You can easily expand your business into other countries. Making international shipments can be a major pain because there are additional hassles, costs and paperwork involved. By outsourcing your order fulfillment, you no longer have to worry about anything other than sourcing your products.
How Do I Outsource My Order Fulfillment?
My wife and I looked into many order fulfillment companies and we highly recommend ShipWire. In a nutshell, ShipWire has millions of square feet of warehouse facilities across the nation.
You can have your vendors ship your products directly to Shipwire and Shipwire will pack and ship your orders as they come in.
There are two main ways to do this. One way is to pre-wrap and box your products and send them directly to ShipWire.
As orders come in, Shipwire will simply place a shipping label on your box and ship it out to the end customer. Of course this method only works if you sell only a few individual products.
The other way is to send your entire inventory to ShipWire and they will pick and pack your orders as they come in. The costs associated with this service vary depending on the number products that you sell.
Using a service like ShipWire has many advantages. Here are the main ones that stood out from my research.
Shipwire can be easily integrated with all of the shopping carts I recommended in my article on Choosing the Right Shopping Cart Software. As orders come in, they can be automatically sent electronically to Shipwire for processing
Because Shipwire has warehouses across the country, shipping times are usually 1-2 days no matter where the customer is located
Your shipping costs will be reduced because Shipwire will automatically ship your products from the closest warehouse
Shipwire automatically verifies the customer's address and ensures the deliverability of your orders.
Shipwire will handle returns for you and automatically restock returned items for you
What's The Catch?
Of course all of this sounds too good to be true so what's the catch? The main issue with using services such as Shipwire is cost.
Depending on the number of products you sell, the amount of warehouse space you require and the number of shipments you make in any given month, the cost of the service can span a wide range.
In general, services like ShipWire are ideal if you
Sell high margin products
Sell products that occupy very little space
Sell only a small variety of products
Order fulfillment services like ShipWire are especially ideal if you are selling products that you've created yourself.
If you know that your business is going to scale in the future, it pays to use a service like Shipwire even at the expense of increased profits. As long as you can still make a decent amount of money, why not outsource your headaches and focus on growing your business?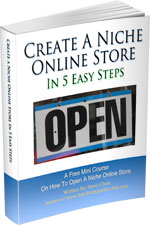 Ready To Get Serious About Starting An Online Business?
If you are really considering starting your own online business, then you have to check out my free mini course on How To Create A Niche Online Store In 5 Easy Steps.
In this 6 day mini course, I reveal the steps that my wife and I took to earn 100 thousand dollars in the span of just a year. Best of all, it's absolutely free!
Similar Posts
Have you read these?