Selecting a credit card merchant and gateway is not inherently a difficult thing to do. But if this is your first online store, the evaluation process can be a bit daunting due to the sheer multitude of options to choose from. To make things easier, you should always select a credit card merchant that is supported by your shopping cart out of the box.

For example, below is a list of merchants that are supported by OSCommerce out of the box
Authorize.net
iPayment
2Checkout
PsiGate
SecPay
Authorize.net is probably the most popular credit card processing option which is supported by a number of popular shopping carts as well.
Description of Potential Fees
The main reason it is hard to evaluate the various credit card vendors is due to the various fees that you have to sort through. I've tried to list the different kind of fees that you could encounter below along with a brief description
Registration Fee – This fee is charged just one time for signing up for the service. In my experience, you can almost always get this fee waived altogether if you just ask. Make sure you ask, since these fees can be upwards of several hundreds of dollars or more.
Discount Rate – This is the percentage that the credit card merchant charges for every transaction. Usually, there's a set processing fee of anywhere between 10-50 cents per charge in addition to a percentage of the entire transaction amount.
Monthly Fee – There is usually a monthly charge associated with using the gateway itself which can range widely across different vendors. The monthly fee can be a bit tricky to evaluate since some companies have higher monthly fees that can be waived if you rack up enough charges in the form of discount and processing fees.
Statement Fee – Personally I think this fee is bullshit. Some merchants will charge you a monthly statement fee of between 10-25 dollars. Try and negotiate this one away at all cost.
Why It Gets Complicated
Some companies charge you a minimum fee of at least 50 dollars for the monthly gateway fee. However, if you manage to accumulate more than 50 dollars in processing fees, this gateway fee is waived. But no matter what, you will have to pay at least 50 dollars every month just for the right to use their merchant services.
There's also a wide range of processing fees and discount fees. Some companies charge a higher processing fee and a lower discount rate. Some companies charge a rock bottom discount rate but charge you a high processing and monthly minimum gateway fee.
Some companies are dirt cheap but they won't provide you much if any free technical support to integrate your shopping cart. If you need help, they'll charge you a hefty fee for support.
You will need to decide which plan works the best for you based on
The amount of individual transactions you will process a month
Monthly revenue
How tech saavy you are

In the beginning when you are starting out, you will usually want to find a merchant with a low monthly gateway fee. Chances are you won't be selling in large volumes anyways so the discount rate doesn't matter as much. As you generate more and more revenue and you no longer have any troubles making the monthly minimum gateway fee, you can switch to a provider with a lower processing and discount rate.
For brand new stores, I highly recommend Stripe to get started because there are no monthly fees. But once you are processing a few thousand per month, I recommend switching over to eMerchant which is an authorized distributor of Authorize.net.
They basically offer a flat rate above interchange which always ends up being cheaper.
In any case, based on your financials, you will know when to switch to a cheaper provider when the time comes.
Further Reading
Below are some other articles and tutorials that I've written about accepting credit cards online that may be of interest to you.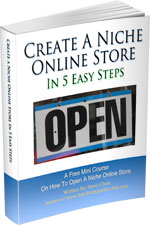 Ready To Get Serious About Starting An Online Business?
If you are really considering starting your own online business, then you have to check out my free mini course on How To Create A Niche Online Store In 5 Easy Steps.
In this 6 day mini course, I reveal the steps that my wife and I took to earn 100 thousand dollars in the span of just a year. Best of all, it's absolutely free!
Note: This post above may contain affiliate links, which means that I may receive a commission if you make a purchase when clicking a link. Please consult our privacy policy for more information.
Similar Posts
Have you read these?