This post was written by Tom Ewer, a regular contributor for MyWifeQuitHerJob.com!
We all know how it is as a small business owner.
Getting completely embroiled in the day-to-day running of your business is a near-inevitability.
It's a whole different experience to employment — there's no "showing up". For most, the value of your input directly affects your immediate income.
This was most recently revealed to me when I was so ill that I had to take the day off (an extremely rare occurrence for me).
I earned no money that day and I got behind on my work — something that any small business owner can sympathize with.
Editor's Note: This is one of the disadvantages of freelancing vs starting an online store or an online business where a computer server does most of the work.
However, the silver lining to that cloud was that by taking a close look at what I actually did with my working days, I was able to make massive efficiency savings and get back on track. That's what I want to talk about today.
Task Auditing
I've already mentioned that it's all too easy to get embroiled in the day-to-day running of your business, and that in itself is perhaps one of the biggest obstructions to efficiency that you face. When you are so close to what you are doing, the valuable exercise of actually assessing the worth of your actions often falls by the wayside.
Related: How To Make Time Equal Money 24 Hours A Day
We become overwhelmed by all of the "things" we need to do without actually considering how important those "things" are. By stepping back and objectively assessing the worth of the tasks we carry out on a day-to-day basis, you will probably find that you don't need to be as busy as you are.
I'm not proposing a revolutionary approach to productivity here. All I am suggesting is that you take the time to assess each and every task you regularly carry out and consider its priority and value to your business (what I call "task auditing"). The results may be surprising.
What I Cut Out
When I did this recently, I ended up completely changing the approach I have to each working day.
First of all, I partitioned social media and email from the rest of the day. By affording yourself two or three "blocks" of time in the day to focus on these elements, it discourages you from constantly accessing them throughout the day, which can be a huge time suck.
Related: How To Find Time To Start A Side Business
I then moved all tasks that I find quite enjoyable, such as responding to comments on my blog, to the evenings. These are the kind of things that I can do whilst watching a little bit of TV, and I don't mind doing them in my "down time".
Finally, and most importantly, I sorted my tasks by what seems important and what is important. If I actually considered the payoff between potential rewards and available time, I found that some of things I was doing simply weren't essential. I can do them, but if I don't have the time, skipping them isn't the end of the world.
Time Invested Means Time Saved
This "task auditing" process will take some time, but not a great deal. And the time invested in the process up front can save you a far greater amount of time (not to mention headaches) in the long run.
When you have a greater appreciation of the value of what you are doing, it affords you the kind of perspective that makes getting your work done a lot less stressful.
So why not give it a go? You may be surprised by your assessment of what you are doing in the day-to-day running of your business. I'd love to know how the process benefits you, so please don't be shy to give your feedback in the comments section!
Editor's Note: I thought that I would just share a few productivity tips of my own using some of the principles Tom has described above. First off, I tend to batch process everything. If I'm answering emails, then I'll go ahead and answer all of the emails I have all at once in a single sitting.
Likewise, if I'm writing a blog post, I will try to pump out as much writing as I can within that time period. I've found that I waste the most time during my day by flitting back and forth from task to task.
In the microprocessor design world, we call this "context switching". Most people are very slow at switching from task to task which is why they waste a lot of time. By focusing on a single thing at a time, you can accomplish much more than than when you try to multitask.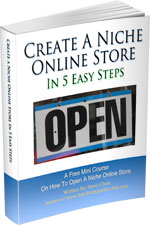 Ready To Get Serious About Starting An Online Business?
If you are really considering starting your own online business, then you have to check out my free mini course on How To Create A Niche Online Store In 5 Easy Steps.
In this 6 day mini course, I reveal the steps that my wife and I took to earn 100 thousand dollars in the span of just a year. Best of all, it's absolutely free!
Note: This post above may contain affiliate links, which means that I may receive a commission if you make a purchase when clicking a link. Please consult our privacy policy for more information.
Similar Posts
Have you read these?